There are some fantastically healthy pet foods for your kittens and cats that are available online or at your local pet food retailer. Unfortunately, most pet foods for kittens and cats available at big box pet stores do not give them the crude proteins and fats that our indoor felines require. Unlike humans, cats do not need grains and too many per day can actually cause health issues and weight gain. None of the foods that have made it to this list have fillers or by-products.
---
1

Orijen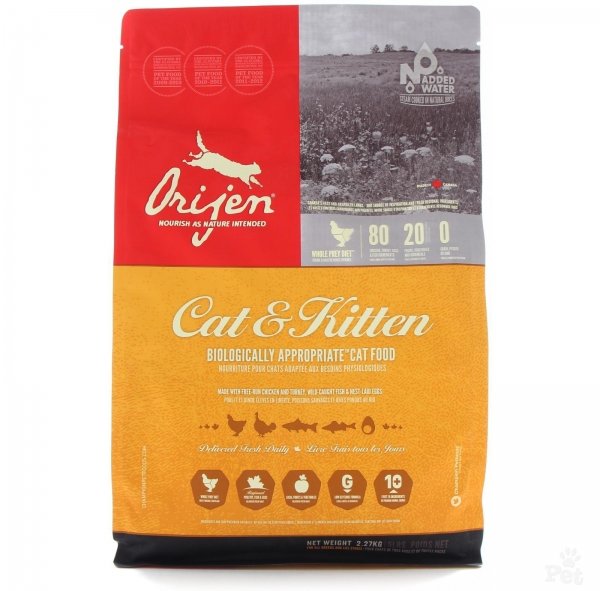 This was our home's gateway drug to the world of boutique foods for kittens and one of the more pricey options ($25 for 5.5-lbs). Orijen is a great company based out of Canada that has ridiculously good quality control and forward thinks about our environment and the effect cat food can have on it. All foods have 80% animal ingredients and 20% fruits and veggies - there is no grain at all! What I really love about the company is that all meat is from free-range chickens and turkeys and fish is wild caught. It is also infused with marine source DHA and comes preservative free.
---
2

Acana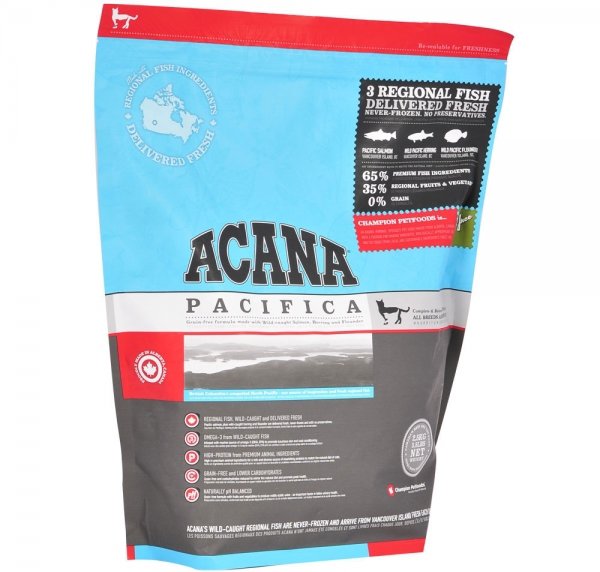 Although we have not tried Acana pet food products, I have heard great things about them. Acana is also about $25 per 5.5-lb bag. For our two cats, 5.5-lbs lasts about 15-days. Meaning that it costs less than a dollar per cat per day for them to have Acana's preservative, hormone, antibiotic, and grain-free cat food. Acana uses ranch-raised lamb, whole eggs, lake fish, and free-run chickens in all their pet foods. Acana has a ratio of 65% meat to 35% fruits and veggies.
3

Merrick before Grain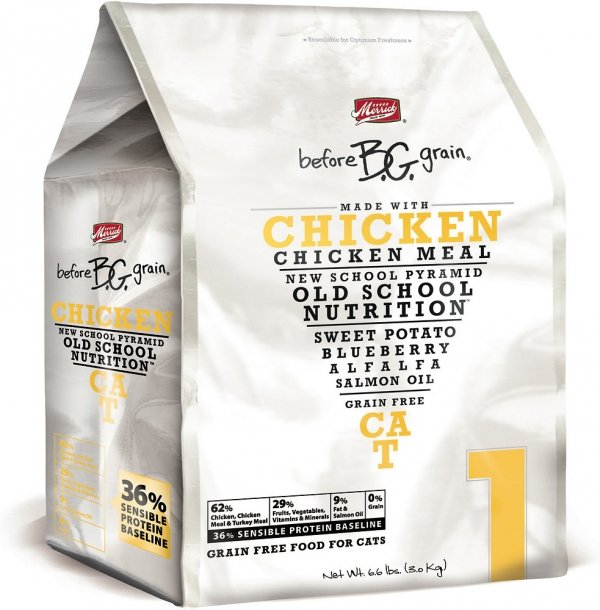 Before Grain is the least expensive food brand on this list at about $27 for 11-pounds. Vets recommend that cats not have lower than a 60% meat diet with fruits and veggies and no grains. Before Grain has 62% meat product and, obviously, no grain. Although Before Grain does not have fillers or by-products, it does still use 7% ash. This is far lower than most big box cat foods, but more than any other food on this list.
---
4

Newman's Own Canned Cat Food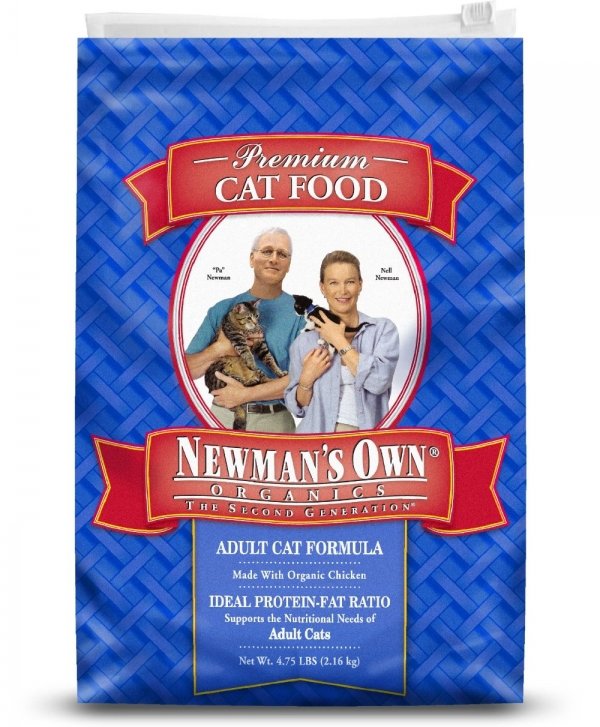 Newman's Own has a lot of canned pet food options, but the one that I have heard the most about is their Organic 95% Chicken Grain Free variety. As the [long] name implies, this food has 95% real chicken that is certified USDA organic with no preservatives, hormones, antibiotics, chemicals, or additives. The price about $45 for 24 5.5-oz cans and, like all other Newman's Own products, all proceeds go to organizations that support the well-being of animals. Newman's Own is also available in most grocery stores.
---
5

Primal Freeze Dried Formula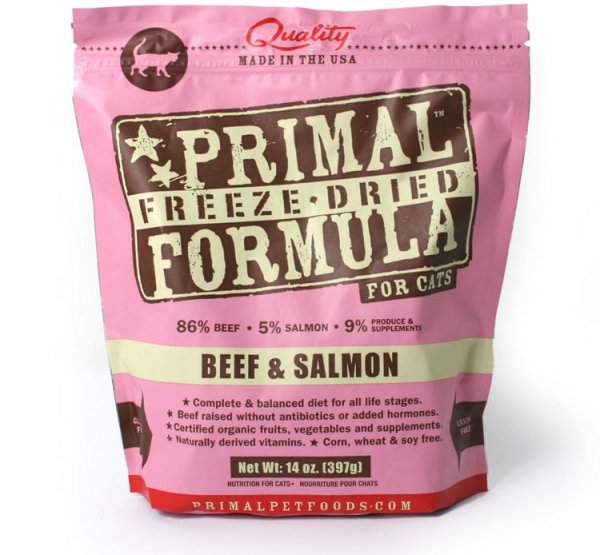 If your cats like freeze dried treats, then they just might go crazy for this! Unfortunately, our cats do not, or we may have tried this by now. Primal uses the skin, ground bones, and meat of animals along with vitamins, minerals, and fruits and veggies. All fruits, vegetables, and minerals are organic and meats are 100% human grade. This is also the most expensive option at $10 for 5.5-oz. Like Orijen, Primal focuses on pet food that is great for pets and encourages environmental sustainability.
---
6

Evo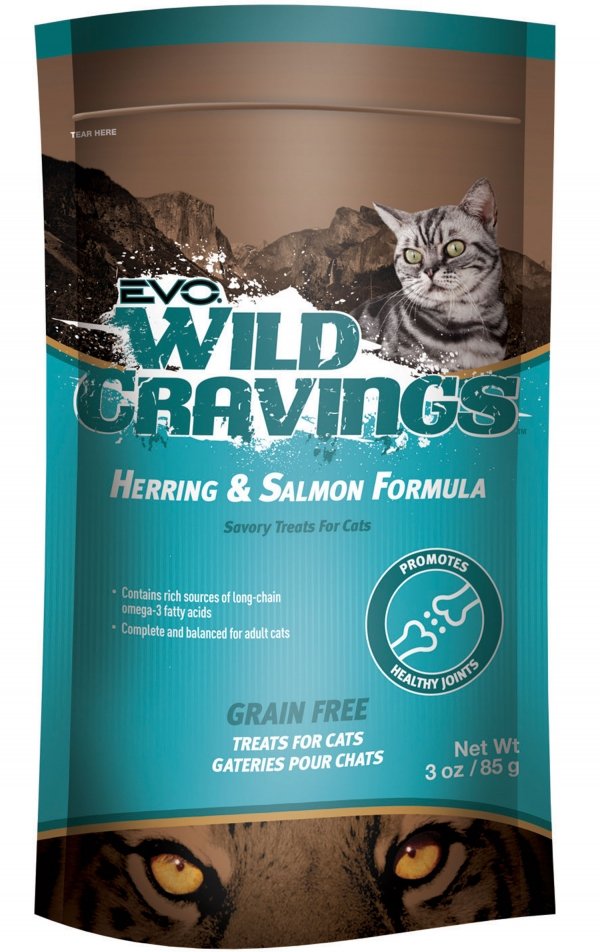 Evo has the second highest percent meat of any dry food on this list at 88%; Primal is the top with 93% meat. But, Evo is quite a bit more price conscious than the Primal counterpart at about $26 for a 6.6-lb bag. This food uses whole fruits and vegetables and an alternative manufacturing process that they say reduces the carbs found in their pet food. Evo also uses only natural ingredients, meaning that we can pronounce everything listed on the back label!
---
7

Applaws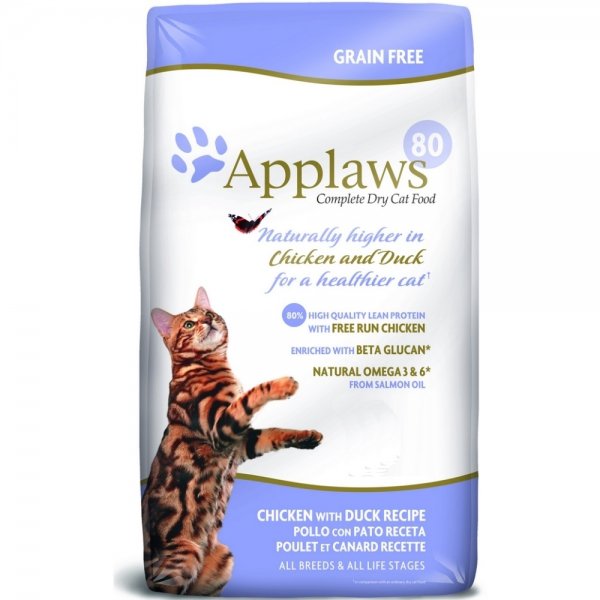 We recently changed from Orijen cat food to Applaws for our older cat. Like Orijen, Applaws prides themselves on being environmentally sound and only using free-run poultry and, unlike Orijen, uses Earth-Island certified sustainable white meat tuna. Prices are also comparable to Orijen at $26 per 5.5-lb bag. Applaws uses no preservatives, hormones, antibiotics, or chemicals that are unnatural to our kitten's diets.
Somewhere in these seven cat food brands is one that both your wallet and your feline can happily agree on. Although some on this list are healthier than others, they are all fantastic options for our cats to dine like kings. What are some of your favorite healthy treats to give your kitty?
---
Comments
Popular
Related
Recent