7 London Food Trucks You Don't Want to Miss ...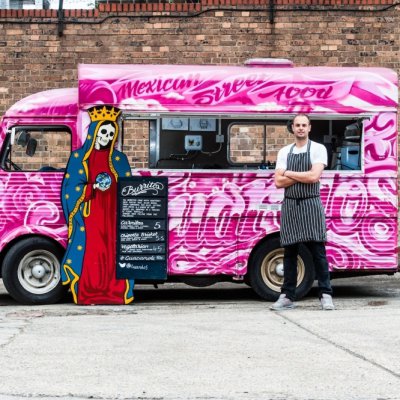 The time I spent in London several years ago was memorable for many reasons, one being the great food everywhere. You can't turn around without coming across a tasty place to eat. London is just one city that has food trucks parked all over the place. You don't always have to be scared of eating from them. Sure, some are best avoided, but many of them turn out some of the best food you'll ever taste. If you live in London or plan to visit soon, here are several London food trucks that you shouldn't miss.
The name makes it sound like a dessert truck, but this one serves a wide range of delights. The most popular item on the menu is the crispy chicken with bacon, lettuce and potatoes. You can also get sweet desserts from this truck that include yogurt mousse. Whether you're looking for a sweet or savory treat, Sweet Kitchen is the London food truck for you.
You can't miss this food truck because it's covered in astroturf. The specialty is meatballs, which are made from everything, including fish, vegetables or chicken. You can also order yours with one of the many mouthwatering sauces on top. Choose from options that include spicy marinara and herb infused creations.
When you have a Mexican food craving, the Daddy Donkey food truck will save the day. Order a gigantic burrito that will fill you up for the rest of the day. Owners of the truck suggest the carnitas with guacamole. Just make sure you get in line early because this truck gets pretty busy at lunchtime.
This is definitely the food truck to seek out on cold, blustery days. The owners serve up heaping bowls of hearty soups and stews that will warm you from the inside out. You can eat them on the go or take them back to the office. The most popular choice on the menu is the sausage, bacon and bean concoction that the owners call their breakfast stew.
Hot dogs are an iconic food truck delight and you won't be disappointed when you're visiting London. This certainly isn't the only one, but Big Apple Hot Dogs ranks high on the list of favorites. The hot dogs are made from free range meat and many are gluten-free. Choose your favorite toppings for a meal that you'll never forget.
Curry is all over the place in London. In fact, every time I get a whiff of curry, I'm instantly transported to my time in London. This food truck combines everyone's favorite burger with the mouthwatering flavors of curry. You can pair your burger with sides that include fried onion samosas or Indian chutney.
This food truck is the place to go for seafood. The seafood paella with tiger prawns, mussels and squid is the specialty of this food truck. You can also get a plethora of other meat and seafood creations. Veggie and rice dishes are also on the menu. There's something for everyone on this food truck.
What's your favorite London food truck? I found this great place to have a burger topped with a hot dog. It remains one of my favorite meals ever! I've tried to recreate it at home, but it isn't the same when I'm not sitting in a London park while I eat it. What other London food trucks would you add to the list?
{{#comments_count}} Show Commnents ({{comments_count}}) {{/comments_count}}