People have always said that the way to a man's heart is through his stomach, so it doesn't hurt to have some recipes he'll love on hand to use when you want to tell any guy in your life how much you care about them. Men seem to be drawn to meals that revolve around meat and are super filling. Thus, this list may not appeal to most of us girls, especially those of you who are dieting! But whether it's for your husband, boyfriend, father, or brother, these are definitely 8 meal recipes he'll love!
---
1

Juicy Lucy Burger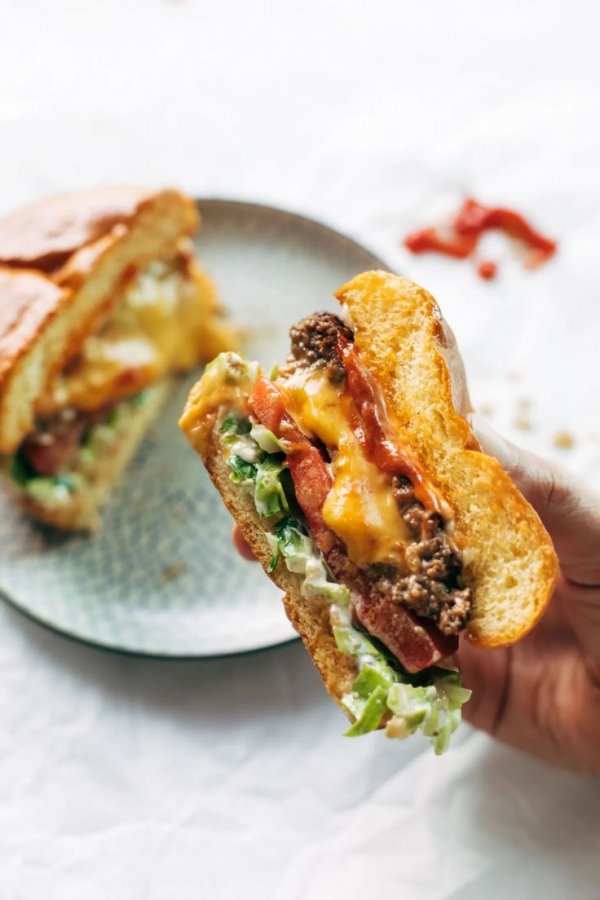 One of the simplest recipes he'll love is a Juicy Lucy burger! These cheese-stuffed burgers ooze cheesy goodness with every bite and will slip your guy into a meaty, cheesy, heavenly coma. Be sure to serve some fries on the side of one of these bad boys so your guy can be sure to aim any cheese drips over them for even more delicious comfort food! While American cheese is standard in a Juicy Lucy, other cheeses that melt well, such as mild cheddar or pepper jack, can be substituted. So have some fun making your own unique cheesy burger concoction!
Ingredients:
4 slices American cheese (about 3 ounces)
1 1/2 pounds ground chuck (15 to 20 percent fat content), chilled
1 1/4 teaspoons kosher salt
1/2 teaspoon garlic powder
1/2 teaspoon Worcestershire sauce
1/4 teaspoon freshly ground black pepper
Vegetable oil, for oiling the grill
4 (4-inch) hamburger buns, split and toasted
Sliced pickles, for serving
Directions:
• Cut each slice of cheese in half, then in half again to form 4 squares. Stack the pieces on top of each other to form 4 stacks; set aside.
• Place the meat in a large bowl and add the salt, garlic powder, Worcestershire, and pepper. Mix with your hands until just evenly combined.
• Divide the meat into 8 equal portions and place on a work surface. Using your fingertips, press 2 portions of the meat into 2 rough 1/4-inch-thick patties that are each about 1 inch wider in diameter than the hamburger buns. Place 1 stack of cheese in the center of 1 of the patties. Top with the second patty and pinch the edges to form a tight seal. Cup each patty with your hands to round out the edges, and press on the top to flatten slightly into a single thick patty. Transfer to a plate. Repeat with the remaining portions of meat and cheese to form 4 patties in total. Refrigerate while you prepare the grill.
• Heat a grill pan or outdoor grill to medium high (about 375°F to 425°F). When the grill is ready, use tongs to rub the grate with several layers of paper towels dipped in vegetable oil.
• Place the reserved patties on the grill, close the grill, and cook undisturbed (do not press down on the patties) until dark grill marks appear on the bottom, about 3 to 4 minutes. Using a spatula, flip the patties, close the grill again, and cook until grill marks appear on the second side and the patties are cooked through, about 3 to 4 minutes more. Remove to a clean plate and let rest in a warm place or tent loosely with foil for 5 minutes. Place a patty on each bun bottom, top with pickles, and cover with a bun top. Serve immediately.
2

Italian Burgers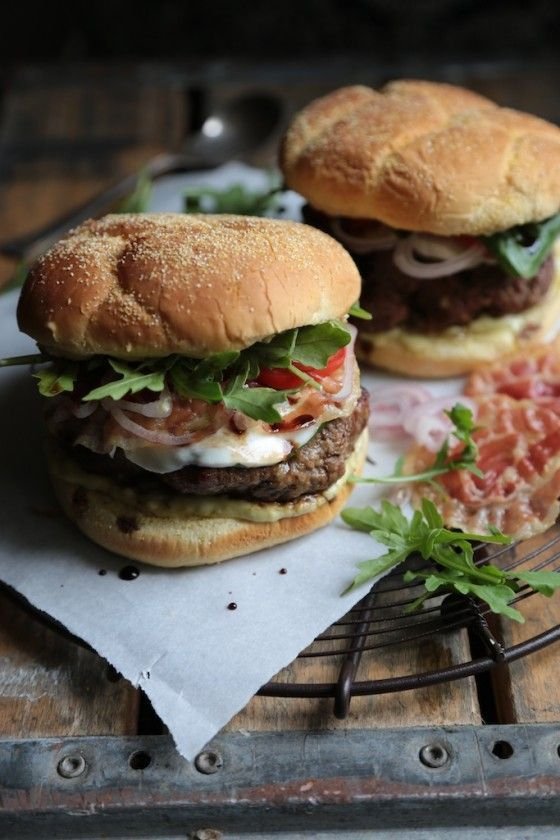 What more could your man want than two types of comfort foods merged together? Burgers and Italian food! These Italian burgers are kind of like giant bbq'd meatball sandwiches, which can be a nice change of pace from the every day bbq'd burger. These burgers come with all the classic Italian fixings that your guy loves, like mozzarella cheese and marina sauce. And if you really want to take the meal up a notch, serve it with a side of your guy's favorite pasta! Bon appetite!
Ingredients:
1 pound ground sirloin
8 ounces Italian turkey sausage
1 1/2 tsp Italian seasoning
1/2 tsp kosher salt
1/4 tsp black pepper
8-12 slices mozzarella cheese
4-6 Hamburger Buns or Italian Rolls
1 Cup Marinara sauce
Directions:
• Preheat outdoor grill or indoor grill pan.
• Place ground beef in a mixing bowl. Remove castings from sausage if necessary and add to ground beef. Add Italian seasoning, salt, and pepper and use your hands to gently combine. Divide beef mixture into equal portions, making either 6 small to medium sized burgers or 4 larger ones.
• Place patties on grill. Cook for 3-4 minutes and then flip and cook an additional 3-4 minutes until cooked through, or until a thermometer registers 165 degrees. In the last minute of cooking, add a couple slices of cheese to each burger.
• While cheese is melting, lightly butter buns and place face down on grill to toast, or place under the broiler until golden brown.
• Spread about a tablespoon of of marinara sauce on the bottom half of each bun. Place 1 patty on bottom half of each roll and top with an additional tablespoon of sauce. Add more if desired and top with other half of bun.
---
3

Crock Pot BBQ Pulled Pork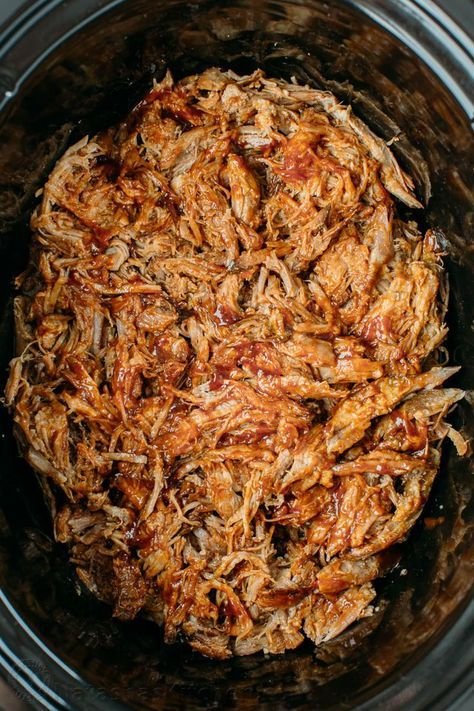 Want to cook your guy a special meal but feel like you don't have the time to cook? Well then pull out your crock pot and let it do all the work. All you have to do is put all the ingredients together in your pot, turn it on to cook low, and you're done! You will enjoy tasting this pulled pork sandwich too, as soon as you see how easily the meat breaks apart once it's finished cooking.
Ingredients:
1/2 cup Italian dressing
1/2 cup chicken broth
1 (12 oz) bottle bbq sauce
1/4 cup brown sugar
1 tbsp Worcestershire sauce
Salt & pepper to taste
1-2 pork tenderloin or roast
Any type of sturdy roll
Directions:
• Place pork tenderloin or roast in crock pot with Italian dressing and chicken broth. Cook on low 4-5 hours if thawed or 7-8 hours if frozen.
• Shred and drain most juice (all but 2 tbsp). Add remaining ingredients: bbq sauce, brown sugar, and Worcestershire sauce; mix until will combined.
• Cook for an additional 1-2 hours until the sauce has time to thicken.
---
4

Drunken Pork Chops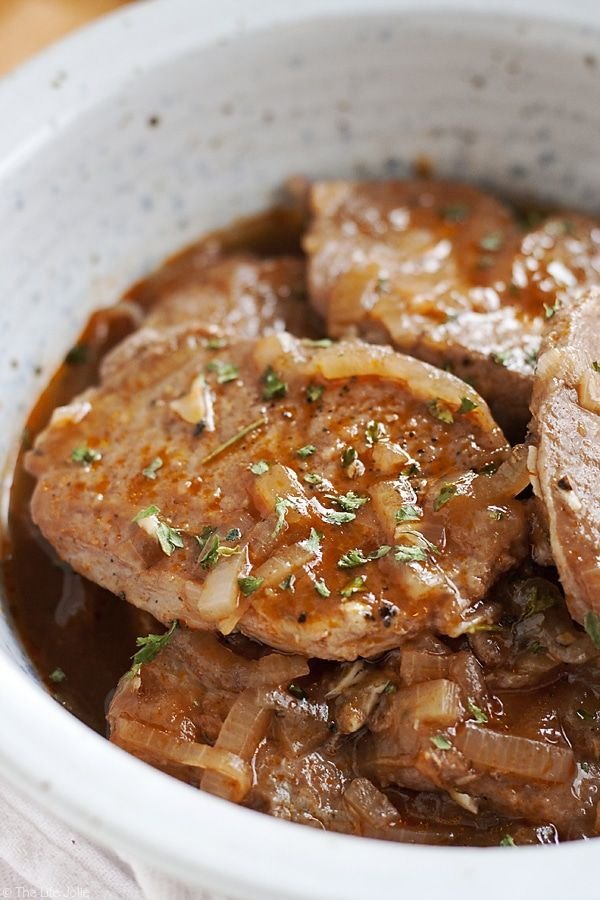 This is the perfect super fast and easy meal to make your guy after he had a hard day at work. It's also a great way to incorporate another favorite thing of his...beer! Use your guy's favorite type of beer, although I would suggest a darker brew if you want more flavor. This is also a perfect meal for a Sunday football session with your guy as it incorporates his favorite football essentials (meat and beer) into one dish!
Ingredients:
6 pork chops
2 tbs olive oil
8 oz. beer
1/3 cup ketchup
1/2 cup brown sugar
2 tbs Worcestershire sauce
Cajun seasoning
• Season chops with Cajun seasoning. Brown chops in olive oil over medium high heat.
• Meanwhile, mix beer, ketchup, brown sugar, and Worcestershire sauce in a bowl.
• After chops are browned, add sauce. Reduce heat and simmer for 45 minutes.
---
5

Outback Steakhouse Alice Springs Chicken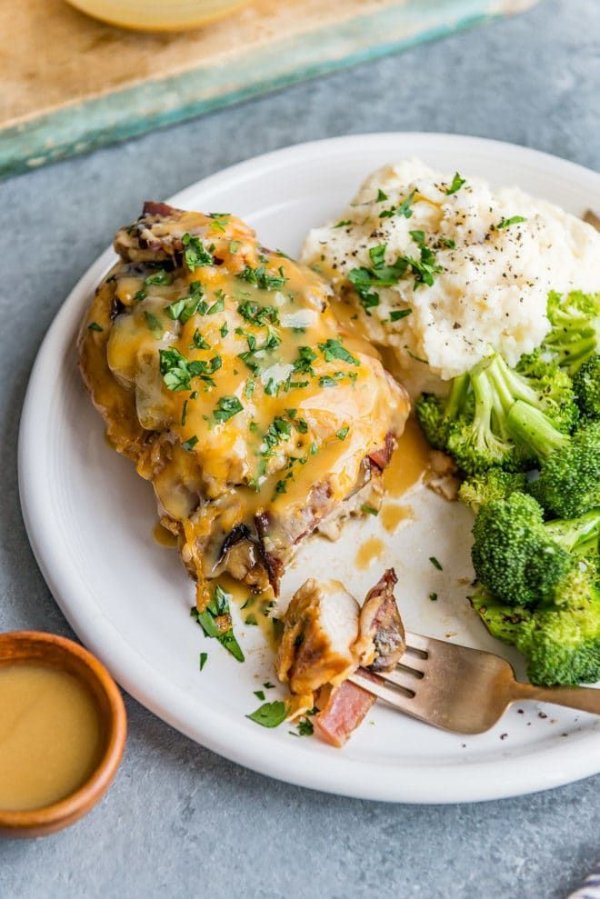 One of the best comfort meals at Outback Steakhouse has got to be the Alice Springs Chicken. If you've never had it, it's essentially a grilled chicken breast, topped with bacon and smothered in cheese. Then, as if that wasn't enough, you get a big side of creamy honey mustard to dunk your chicken into. It is absolutely amazing, except for the fact that you have to go all the way to Outback to get it. But not anymore!
Ingredients:
4 boneless skinless chicken breasts, pounded to 1/2 inch thickness
seasoning salt
6 slices bacon, cut in half
1/4 cup mustard
1/3 cup honey
2 tablespoons mayo
1/2 tablespoon dried onion flakes
1 tablespoon cooking oil
1 cup sliced fresh mushrooms
2 cups shredded Colby/Jack cheese
Honey Mustard Ingredients:
1/2 cup mayonnaise
2 tablespoons prepared yellow mustard
1 tablespoon Dijon mustard
1/4 cup honey
1 tablespoon dried onion flakes
1/2 tablespoon lemon juice
Directions:
• Sprinkle and rub the chicken breasts with seasoning salt. Cover and refrigerate for 30 minutes. Cook bacon in a large skillet until crisp.
• In a small bowl, mix the mustard, honey, mayo and dried onion flakes.
• Heat oil in a large skillet over medium heat. Place chicken in the skillet and saute for 3 to 5 minutes per side, or until browned. Move chicken to an 11x7 inch or 9x9 inch pan.
• Apply the honey mustard to each breast, then layer with mushrooms, bacon, and shredded cheese.
• Bake in a 350° oven for 20-25 minutes, or until cheese is melted and chicken is done.
6

Glazed Bacon-Wrapped Meat Loaf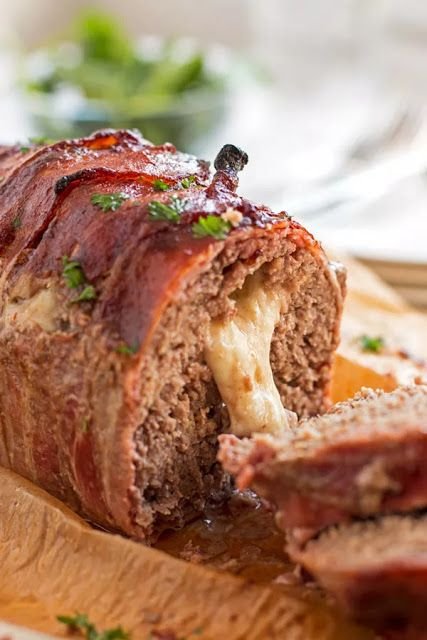 Meat on top of meat? Of course your guy would love that! This bacon-wrapped meat loaf will make your guy think he died and went to meat heaven! Be sure to make some mashed potatoes on the side for this dish. And if you want to kick up the level of comfort food even more, make them loaded mashed potatoes with some bacon bits, cheese, and sour cream. Your guy will be in debt to you the rest of the day...or week even!
Glaze Ingredients:
1/2 cup chili sauce (or substitute ketchup, but I liked chili sauce)
4 tablespoons brown sugar
4 teaspoons cider vinegar (or white vinegar in a pinch)
Meat Loaf Ingredients:
2 teaspoons vegetable oil
1 medium onion , chopped medium
2 medium cloves garlic , minced
2 large eggs
1/2 teaspoon dried thyme
1 teaspoon table salt
1/2 teaspoon ground black pepper
2 teaspoons Dijon mustard
2 teaspoons Worcestershire sauce
1/4 teaspoon hot sauce
1/2 cup plain yogurt (or whole milk)
1 pound ground beef chuck
1/2 pound ground pork
1/2 pound ground veal (I used more pork instead of veal)
2/3 cup Saltine crackers , crushed (about 18), or quick oatmeal, or 1 1/3 cups fresh bread crumbs
1/3 cup minced fresh parsley leaves
6 – 8 ounces bacon , thin sliced (8 to 12 slices, depending on loaf shape)
Directions:
• For the glaze: Mix all ingredients in small saucepan and bring to a simmer. Simmer for 2-3 minutes or until slightly thickened and set aside.
• For the meat loaf: Heat oven to 350 degrees. Heat oil in medium skillet. Add onion and garlic; sauté until softened, about 5 minutes. Set aside to cool while preparing remaining ingredients.
• Mix eggs with thyme, salt, pepper, mustard, Worcestershire sauce, pepper sauce, and milk or yogurt. Add egg mixture to meat in large bowl along with crackers, parsley, and cooked onion and garlic; mix with fork until evenly blended and meat mixture does not stick to bowl. (If mixture sticks, add additional milk or yogurt, a couple tablespoons at a time until mix no longer sticks.)
• Turn meat mixture onto work surface. With wet hands, pat mixture into approximately 9-by-5-inch loaf shape. Place on foil-lined (for easy cleanup) shallow baking pan. Brush with half the glaze, then arrange bacon slices, crosswise, over loaf, overlapping slightly and tucking only bacon tip ends under loaf.
• Bake loaf until bacon is crisp and loaf registers 160 degrees, about 1 hour. Cool 10-15 minutes. While meal loaf is cooling, re-heat remaining sauce and brush some over meat loaf if desired. Slice meat loaf and serve with extra glaze passed separately.
---
7

BBQ Beef Pie Pockets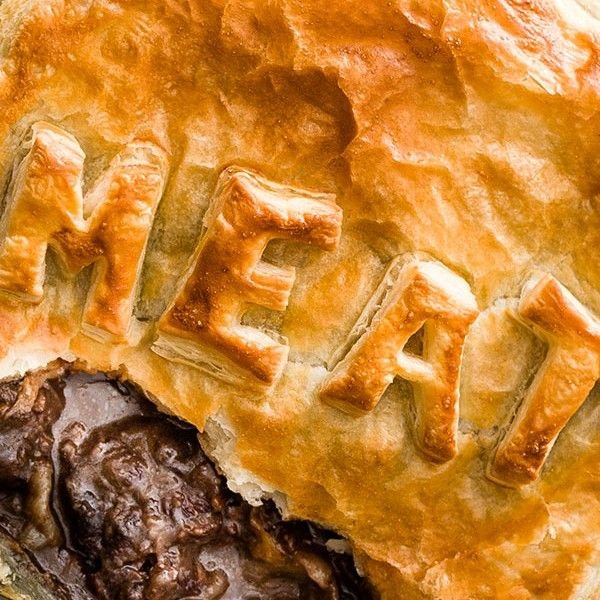 These BBQ Beef Pie Pockets are packed full of meat, BBQ sauce, and cheese… everything your guy adores! It is definitely a man pleasing meal, but also one your kids will love as well! Plus you will love how easy it is to make and the small amount of ingredients needed! You probably already have most of them in your kitchen already.
Ingredients:
1 1/2 lbs. ground beef
1 (18 oz.) bottle BBQ sauce I love Sweet Baby Rays
1 cup shredded cheese divided (I use Cheddar or Colby Jack and Monterey Blend)
1 box refrigerated Pillsbury Pie Crust
Directions:
• Cook ground beef in a skillet until browned and cooked through. Drain out juices. Pour BBQ sauce into pan and stir until ground beef is evenly coated.
• Unroll both sheets of refrigerated pie crust dough. Cut each of the round pie crusts into quarters (or smaller if you want smaller sections) On one quarter of pie crust dough, put 1/4 of ground BBQ beef (about 3/4-1 cup.) Then sprinkle on 1/4 cup shredded cheese over top of the beef. Place a second quarter of pie crust dough over the top (make sure it lines up with bottom quarter) and pinch seams to seal off. You can flute the pie crust edges for a prettier look.
• Repeat until you have 4 pie pockets (or more if you cut your pie crusts into smaller sections). Cut about three small slits on the tops of each pie pocket for breathing.
• Bake at 425 degrees F for 25 minutes or until tops are golden brown.
tracy
this was a disaster, my bottom crust stuck to the ...
---
8

Adult Macaroni & Cheese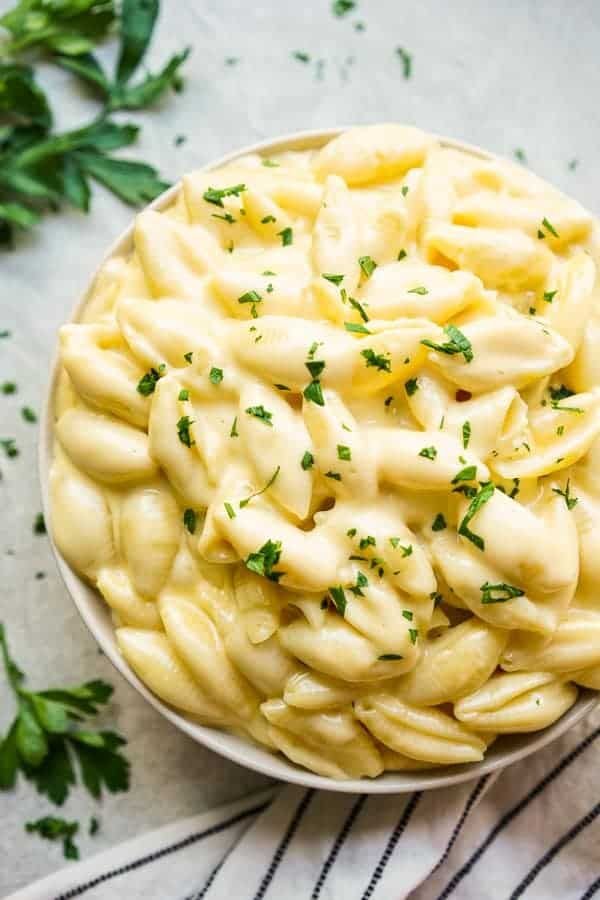 I apologize to any vegetarian readers that have stuck around up to this point. I know that not every guy adores meat. That's why I'm going to end with a vegetarian option...macaroni and cheese! Who doesn't love macaroni and cheese? This is a "more adult" version to the classic though, using penne pasta instead of elbow macaroni. Be warned, this meal is super filling and super addictive.
Ingredients:
1 box Penne Rigate Pasta
1 lb Velveeta, cubed
1/2 cup heavy cream plus more as needed to thin to taste
Directions:
• Bring a large pot of salted water to a boil. Cook pasta according to package directions. Drain.
• In a medium pot, heat cream and add Velveeta, stirring carefully so it does not scorch on bottom.
• Continue stirring until cheese is melted, adding additional cream if needed for desired texture and taste. It will thicken up quite a bit as it cools, so don't go crazy with the cream. Mix pasta and cheese sauce together, add some pepper to taste.
So whether it's for a special occasion, or just to say you love them, these recipes are guaranteed man pleasers! Plus, it doesn't hurt that you will most likely get something special in return, like a massage or having them agree to watch a chick flick with you. What is your favorite meal to make for the men in your life?
---
Comments
Popular
Related
Recent