9 Pre-workout Energy Bar Recipes That'll Help You Power through Your Workout ...
By Chloe
Pre-workout energy bar recipes are essential for those of you who want to eat more whole foods. It is probably no news to you that most store-bought energy bars are loaded with processed protein powders, soy, unnatural vitamins or minerals, and sugar. This is not what you want to be putting into your body before a workout, especially if you want to have the best workout possible! All of these ingredients are detrimental to your health and can make your energy crash during your workout. A better solution? Use one of these pre-workout energy bar recipes to tear through your workout with whole food nutrition!
---
1

Coconut Cream "Larabars"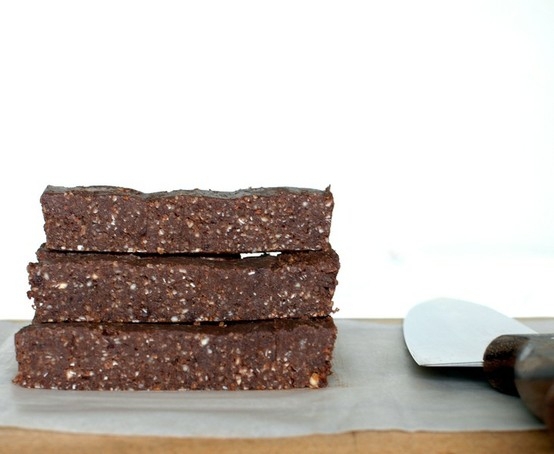 You can't go wrong when you add coconut to any of your pre-workout energy bar recipes. If you have never had a Larabar before, they are one of the cleanest energy bars on the market containing very few ingredients. They are all whole-food based, consisting mostly of dates, other dried fruit, and nuts. If you do decide to go the store-bought route, these would be the way to go. However, you can still make this delicious and smooth coconut version at home for a fraction of the cost!
Ingredients:
15 Medjool Dates, pitted (or other dried dates)
1/2 cup almonds
1/2 cup cashews
3/4 cup shredded unsweetened coconut
2 T coconut oil
2 T water
Directions:
Mix the almonds, coconut and cashews in the food processor until fine. Then add the dates, oil and water and pulse until a dough forms. Line an 8X8 pan with parchment paper leaving enough room for some to come out the sides. That way, the bars will be easy to remove and cut with a pizza cutter. Press down the down so that it is packed well and place in the fridge to set. It will take an hour or two. Slice and eat. These should keep in the fridge for a couple weeks.
**Source: **mywholefoodlife.com
---
2

Hemp Seed Apricot Chews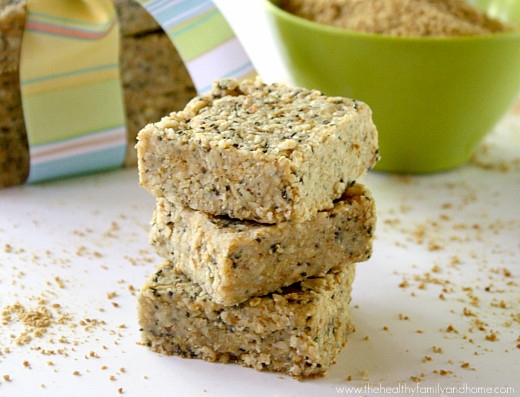 These nut-free little tidbits will get you the energy you need for your next workout. They are sweetened with dates, and that means they provide a great source of fueling carbohydrates. The addition of lemon juice creates a subtle tart flavor which is so delicious with the sweet dates. If you are allergic to nuts, no worries because there are only hemp seeds in these bars for protein and healthy fats! Oh, and for those new to hemp seeds, they do not contain any THC in them so you won't get high.
Ingredients:
3 cups (about 1 pound) dried apricots, roughly chopped
1 cup chopped pitted dates
1 cup shelled hempseeds
2 tablespoons fresh lemon juice
1 teaspoon ground nutmeg
1 teaspoon gluten-free vanilla extract
Directions:
Combine all in a food processor and keep on until smooth. Form into squares. Refrigerate to desired texture and temperature. Devour!
**Source: **nyc.wholefoodsmarketcooking.com
3

Cinnamon Cookie Dough Squares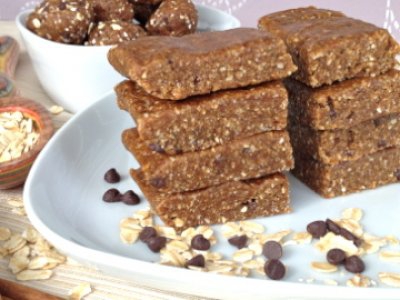 Only now is it acceptable to fuel your workout with cookie dough. Delicious, healthy cookie dough that is! This is not your average cookie dough – it's bursting with healthy fats from hemp seeds, coconut, and cashews. It also contains complex carbs from the oats and dates. All of these ingredients are real and will fuel your workout, all while tasting like a piece of cookie dough! However, there are chocolate chips in here which aren't all that real, but they are optional. If you use dark chocolate chips, they will still be healthy if you ask me!
Ingredients:
1/2 cup raw cashews (see source for nut-free version)
2 tbsp hemp seeds
1/8 tsp sea salt (scant)
3/4 -1 tsp cinnamon
1/2 cup rolled oats (touch generous; use certified gluten-free for gf option)
1 cup pitted dates (I use honey dates)
1/2 tsp vanilla
2 tbsp shredded unsweetened coconut
1-2 tbsp miniature non-dairy chocolate chips (optional, omit for oil-free option)
Directions:
In a food processor, add the cashews, hemp seeds, salt, cinnamon, and oats and whiz until crumbly. Add the dates and vanilla, and whiz again for a minute or more. It will appear as if nothing is happening at first, that the mixture is just whirring around in crumbs, but soon it will start to become sticky. When you see it start to become a little sticky, add the coconut and chocolate chips and process again (if you have larger chocolate chips, add them a little earlier, to help break them up). Continue to process until it forms a ball on the blade. Stop the machine and remove the dough. If making bars: Line a loaf dish with parchment paper along the bottom and up the sides. Press the mixture into the pan, to even and smooth out (using a piece of parchment helps to press the mixture). Refrigerate for an hour or more to chill and set, and then cut into squares/bars. If forming in balls: Take small coops of the dough (a couple teaspoons in size, and roll in your hand. Repeat until you have rolled all of the dough. Refrigerate for an hour or more until chilled.
**
****Source: **plantpoweredkitchen.com
---
4

Cake Batter Energy Bars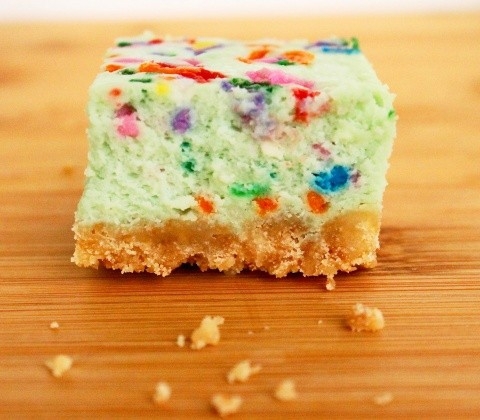 These energy bars are so addictive. Don't worry though, these are secretly so good for you! They use cashew butter for a dose of healthy fats, and rolled oats for good workout-fueling carbs. The brown rice crispies are also good for fueling your workout, and although they are more processed than the other ingredients, you can still tell they are rice-sourced. Obviously, the sprinkles will add no effect to better your workout; they are just for some cake batter fun!
Ingredients:
1 cup rice crispies (brown or white, or certified gf) (30g)
packed 1/2 cup oat flour (70g) (Or make your own by grinding rolled oats in the food processor until they turn into a fine powder. Measure after blending.)
1 tsp pure vanilla extract
1/4 tsp salt
3 tbsp roasted cashew butter (see nutrition link below, for all substitution notes)
5 tbsp agave (Honey will work, but is not for strict vegans.) (See nutrition link for substitutions)
(optional) a handful of sprinkles
(optional) replace up to half of the oat flour with your favorite protein powder
Directions:
Combine all dry ingredients and stir well. In a separate (large) bowl, combine wet and stir to form a thin paste. (If your cashew butter is cold, warm it a little for easier mixing.) Pour dry into wet (not the other way around), and stir until evenly coated. Line a baking dish or tupperware container with a large piece of wax paper and pour the mixture into the dish. Fold the extra paper over the mixture and squish down as hard as you possibly can! Use a heavy object to really press it down. (The mixture will fill a 7×5, or about 2/3 of an 8×8.) Stick in the fridge or freezer to harden before cutting into bars. Store in the fridge or freezer. Makes 6 bars.
**
****Source: **chocolatecoveredkatie.com
---
5

Blueberry Lemon Larabar Squares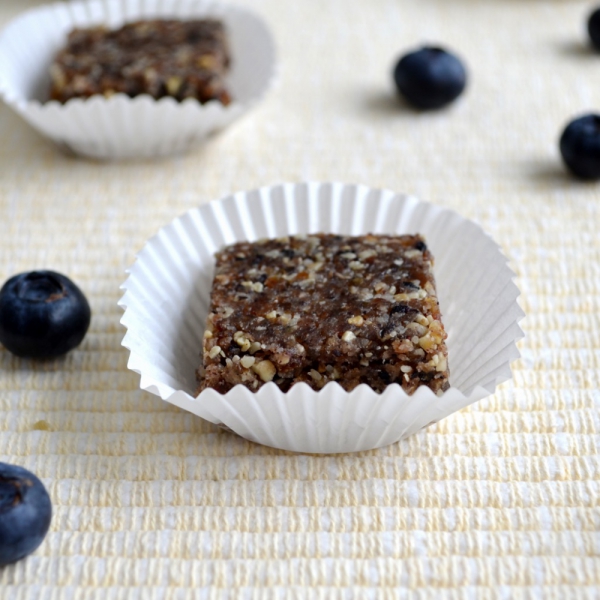 I love that this recipe tells you how to dry your own blueberries! This gives you an option even if you don't have access to them or find them quite expensive for your budget. You can still enjoy the chewy blueberries in these delicious energy bars with a lemon accent. When I made these, I used the juice of half a lemon too, but I really love lemon! They make a great pre-workout snack because they are composed of mostly dried fruit, which will provide you with sustainable carbs throughout your workout.
Ingredients:
1½ cups nuts (I used 1¼ cups walnuts and ¼ cup sunflower seeds; pecans or almonds would be good too)
1½ cups dates
½ cup dried blueberries
1 tsp. lemon zest
Directions:
If you don't have dried blueberries, you can dehydrate 2 cup of fresh or frozen berries in the oven. Set the temperature to 175 degrees and bake for 3 to 4 hours. The final product should be chewy. Combine all the ingredients in a food processor. Mix together until a paste forms, but don't process the mixture for so long that you can't see little specs of each ingredient.
Line a 9×5 inch loaf pan with wax paper. Press the mixture evenly into the pan.
Refrigerate for at least 2 hours.
Cut into 18 squares and store in an airtight container in the refrigerator.
**Source: **realfoodrealdeals.com
---
6

Apricot Grapefruit Toffee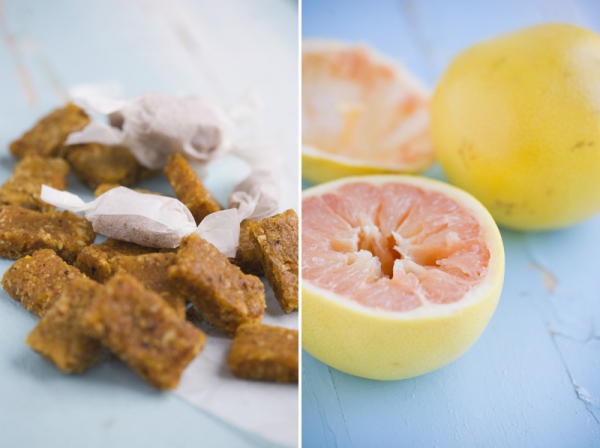 These chewy energy bites take a little longer to make than the other ones, but they are so delicious that it is worth it to go the extra steps. You will need an oven for these toffee-like bites, unlike the other recipes so far. Although these are called "toffee" because of their texture and consistency, they only contain four ingredients that are whole foods. This makes them a good choice before your workout, and the dried apricots will provide enough carbs to fuel your workout while the almonds will keep you full during it. Any excuse to eat toffee before a workout is good enough in my book!
Ingredients:
You can of course swap the almonds for other nuts and the grapefruit juice for any other citrus juice. If you have a very powerful blender or very soft apricots, you don't have to soak them.
1 1/2 cup (250 g) dried apricots
1 cup grapefruit juice (approx. 1 grapefruit)
1/2 cup (100 g) roasted almonds
2 tbsp dried shredded coconut (unsweetened)
Directions:
Start by soaking the apricots in 1 cup grapefruit juice for 3 hours.
Roast the almonds on 300F (150°C) for 7-8 minutes. Remove from the oven (leave the heat on), and add them to a blender or food processor. Pulse for 20 seconds, until the almonds have turned into a coarse flour. Pour it in a cup and set aside.
Add the grapefruit soaked apricots to the blender, together with half of the remaining juice. Pulse until everything has turned into a sticky mess. If the apricots won't blend, try adding some more of the remaining juice.
Add the almonds and the shredded coconut to the blender and pulse until everything is combined into a sticky mixture.
Line a baking sheet with parchment paper and spread the mixture out on it. Use a spatula to form the mixture into a rectangle, around 1/2 inch (1 1/2 cm) high.
Bake on 300F (150°C) for 20 mins. Remove from the heat, cut them into preferred size and put them back into the oven for 7-8 minutes more. Keep an eye on them so they don't burn.
When warm they will still be a bit loose. But if you wait until they cool off they will become firmer.
Wrap them in wrapping paper and store in an airtight container in the fridge. Eat them within a week.
**Source: **greenkitchenstories.com
---
7

Strawberry Lemon "Larabars"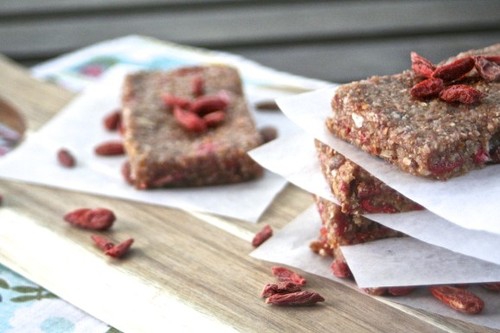 There are so many different flavors going on in these energy bars. Although Larabar does not make a strawberry lemon flavor, after trying these I think they should! All of the ingredients are nutritious and nourishing, consisting of mainly fruit, seeds, and nuts. This recipe calls for freeze-dried strawberries, which can be found at your local health food store. Alternatively, you can try drying fresh sliced strawberries in the oven for a few hours on low temperatures. You can watch them until they are slightly crisp or chewy. I'm sure both will taste excellent.
Ingredients:
1 c almonds. soaked 4+ hrs
1/2 c. hazelnuts, soaked 4+ hrs
1 c. figs (about 12 whole, can sub dates)
2 T. hemp seeds
2 T. ground flaxseeds
3 T. coconut oil, plus more for greasing
1 lemon, zest and juice
1/4 c. raw honey or agave
1 t. pure lemon extract (optional)
1 t. pure vanilla extract
1/2 t. sea salt
1 oz. package freeze dried strawberries
1/4 c. Navitas Naturals dried goji berries (optional)
Directions:
In the bowl of a food processor, combine all ingredients but the strawberries and goji berries. Pulse until well combined, about 60 seconds. Clean the sides and mix through with a spatula and pulse for another 30 seconds. The mixture will be become thick and difficult to pulse.
Grease an 8" x 8" pan and dump the mixture into the pan. Stir in the strawberries and goji berries and press into an even layer. Refrigerate for 1 hr before cutting into bars. Wrap bars individually in wax or parchment paper and store in the refrigerator for up to 2 weeks.
**Source: **barerootgirl.com
---
8

Cherry Chocolate Energy Bites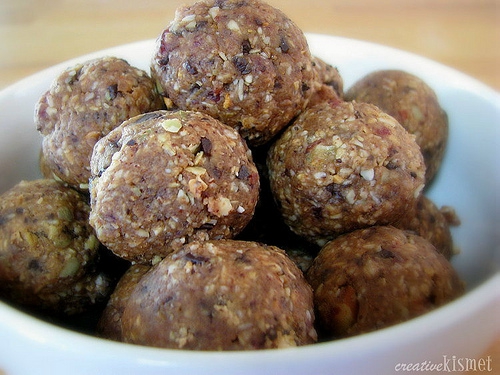 If you have never had dried cherries before, you are truly missing out because they are so delicious. Often times they never make it to my pre-workout energy bars because they make their way to my mouth! Cherries are anti-inflammatory and will help reduce the inflammation caused by working out. You can dry them in your oven like I suggested with the strawberries, but I don't think they taste nearly as good as store-bought ones do. The rest of these ingredients are packed with whole food nutrition, and the oats will provide you good carbs with the dried cherries. Okay, the chopped dark chocolate is just for fun, but it sure is tasty!
Ingredients:
1 cup oats
1 cup unsweetened coconut flakes
1/2 cup raw almond butter,
1/4 cup agave nectar (honey or maple syrup would work too)
1 handful dried cherries (or other dried fruit of choice)
1 handful pecans or walnuts
1 handful pumpkin seeds
1/2 bar (about 1-2 oz) of dark chocolate, roughly chopped (or chocolate chips)
Directions:
Throw everything into the food processor and process until everything comes together in a big ball. Roll into bite size balls. Makes 20-24. Enjoy!
**Source: **blog.creativekismet.com
---
9

Raw Oatmeal Raisin Cookie Dough Bars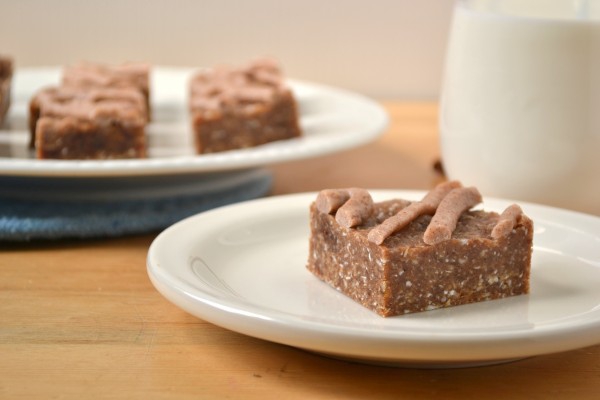 The sweetness of the raisins and dates goes so well with the pinch of sea salt (I like more of a contrast, so I add a little extra salt). If you like sweet and salty things, you will love these! They taste like chewy oatmeal raisin cookies, but you don't need an oven at all! These bars are taken to a whole new level with a cinnamon frosting on top. On top of this delicious taste, these bars are raw and healthy with oats, raisins, and dates to give you the carbs necessary for performance. Who says you can't fuel your workout with cookies?
Bar Ingredients:
3/4 C walnuts
3/4 C rolled oats
1 C Medjool dates, pitted
3/4 C raisins
1 tsp vanilla
1 tsp cinnamon
pinch sea salt
1/3 C unsweetened shredded coconut
Directions:
In a food processor grind the walnuts and oats until no large pieces remain. Remove the walnuts and oats and add the dates and raisins. Process until the mixture is mostly smooth before adding the ground up nuts and oats, along with the vanilla, cinnamon, sea salt and shredded coconut. Process until thoroughly combined. Line a loaf pan with plastic wrap or wax or parchment paper. Press the mixture evenly into the loaf pan.
Frosting Ingredients:
1 tbsp coconut oil, softened but not melted
2 tbsp liquid honey
1/2 tsp cinnamon
Directions:
In a small bowl, mix together the oil, honey and cinnamon until smooth. Spread or pipe the mixture over top of the bars. Place the bars in the freezer for 30-60 minutes before slicing. Store in the fridge in a sealed container.
**Source: **fooddoodles.com
Just because overly processed bars are easy to grab at the store, that doesn't mean you have to buy them. If you make them at home they will only take about 5 minutes to make and will be so good for you! Not to mention, a homemade energy bar is going to generally be cheaper than the one or two dollars you pay per bar for store-bought varieties. What is your favorite energy bar recipe?
---
Comments
Popular
Related
Recent