Simple Ways to Eat Healthy All Summer Long ...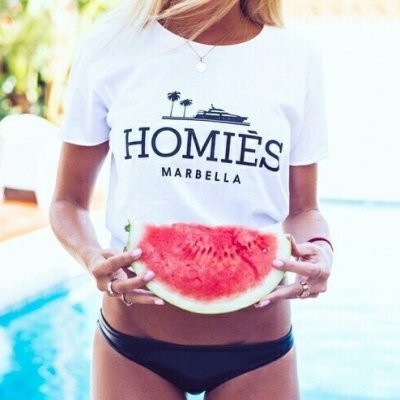 Summer is usually the time for pool parties, barbecues, and other warm-weather events. But if you're trying to stay in shape and still have a good time, it can certainly be a challenge. Our bodies are naturally designed to get out more in the summer and eat healthier food. Take advantage of biology with these seven simple summer eating tips!
1.

Focus on Raw, Fiber-Rich Foods
Many people claim they eat more raw food in the summer, and there's some truth to this observation. Raw foods like fruits and vegetables are usually in season during the spring and summer months, meaning they taste much better than when you buy them in December or January. Eating these fruits and veggies raw can be easier on your digestion, not to mention that you won't heat up your house. So enjoy all the salad and fresh fruit you want—these foods will help you maintain your weight all season long.
2.

Recall the Importance of Good Hydration
You've heard that hunger is often mistaken for thirst. In the summer, you tend to perspire more, causing your need for water to increase. Depending on the temperature, some people need an extra liter of water a day. Remember to drink up and get plenty of hydrating water into your diet to help manage hunger and cravings.
3.

Summer is the Perfect Time for Grilled Protein
What better time to grill than summer? Take advantage of the beautiful weather by cooking outdoors and grilling. Grilled chicken and steak are two high-protein choices that are relatively low in fat. Choose lean cuts of meat and season with simple ingredients like salt, pepper, fresh garlic, and fresh lemon juice.
4.

Choose Fruit-Based Desserts over Cream-Based Desserts
Everyone enjoys an ice cream or dessert on a hot summer night. But instead of eating a banana split or other cream-based dessert, try eating something more fruit based. Fruit salad, fruit-based snow cones, or Italian ice are lower in sugar and fat than traditional summer desserts, helping you stay lean all season long.
5.

Bring a Healthy Snack with You on Long Day Trips or Events
Are you going hiking with your friends this summer? Or attending a relaxing pool party? There's nothing wrong with bringing something healthy with you to keep hunger at bay. Some fruit and nuts, a healthy granola bar, or peanut butter on whole-grain bread are all healthy non-perishable snacks that will help you avoid those fattening buffalo wings and light beer.
6.

Use Club Soda and a Splash of 100% Real Fruit Juice for Alcoholic Beverages
Summer is also a time where a lot of social hangouts and gatherings occur. I obviously will encourage you to drink responsibly, but if you're also trying to eliminate excessive sugar in your drinks, try this idea. Instead of sugary mixers, use club soda and a splash of fruit juice. This will taste much better than any frozen drink loaded with extra calories from sugar.
7.

Plan Active Experiences with Family/Friends and Take Advantage of the Glorious Weather
Who says every gathering or party needs to revolve around food? The beautiful summer weather should make outdoor activities much more enjoyable. Focus on hiking, swimming, or other activities that don't always involve eating. You can definitely enjoy spending time with your friends while still living a healthy lifestyle.
Summer is almost always a season of great weather, vacations, and overall awesome times. These tips will allow you to enjoy the season while also staying healthy!
{{#comments_count}} Show Commnents ({{comments_count}}) {{/comments_count}}