There are probably quite a few spices you may never have heard of. Many of them are used in ethnic cuisines so you wouldn't have a reason to use them. One of my favorite things to do is try new things in the kitchen, so finding out about new ingredients I can work into my dishes is always fun. If you feel the same way, you are in for a treat. Here are some spices you may never have heard of. Try them out and get ready for a new taste in your meals.
---
1

Grains of Paradise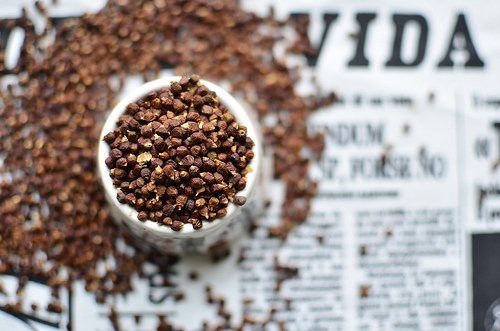 Despite the name, these aren't actually grains. They are dried seeds that are often ground and were used as a substitute for black pepper many years ago. This is one of the spices you may never have heard of that is easy to incorporate into your cooking routine. It has a flavor similar to pepper so you can use it where you would use that more common spice. It's not super easy to find, but you'll love it when you do.
---
2

Sumac

Don't worry – this isn't the same as poison sumac. It's actually made from the berries of the sumac bush and is common in certain Middle Eastern dishes. It has a tangy flavor and the red color makes many meals brighter. Middle Eastern chefs use it in salads, marinades and sauces and the flavor is one that can't be beat.
3

Long Pepper

There are loads of peppers out there used as spices, but perhaps the long pepper is new to you. It is related to black peppercorns, but is typically much spicier. It can be used grated or ground like traditional black pepper. You'll see it in dishes that are Mediterranean, Indian and African. If you like your food with a kick, this is a spice you should definitely try.
---
4

Kala Jeera

If you like fresh tasting spices that have earthy flavors, try kala jeera. Predominantly used in Indian cuisine, it's great with buttery dishes. It adds a plant flavor that you won't find with just any kind of spice. It's also sometimes called black cumin and has a very distinctive smell so you'll never mistake it for something else.
---
5

Asafoetida

It might not be easy to say, but it's tasty to eat. This spice is very popular of Indian cuisine that stars vegetables. What you'll love most about it is that it has a flavor that ranges from fennel to onion. Be prepared though because it doesn't smell very good raw. Once cooked, though, this spice has a fragrant smell and a great taste that you'll want to eat all the time.
---
6

Amchur Powder

This spice is made from dried mango, surprisingly enough. It's made with only the unripe fruit and is created after it's dried in the sunshine and ground into powder. If you plan to cook sour Indian meals, you'll need a good supply of amchur powder.
---
7

Mahlab

If you're a fan of baking and like turning out sweet treats, you'll love trying mahlab in your kitchen. Traditional in the Middle East and Mediterranean, this spice has a rich cherry flavor that is used to enhance desserts like cookies, bread and cake. It's usually used powdered.

Have you ever cooked with any of these spices? How did your meals turn out? Please let me know if there are any other wonderful spices out there that all us home cooks might like to try.
More
---
Comments
Popular
Recent