Now that the weather is getting warmer, it's time to enjoy some refreshing, low-cal cocktails! Nothing says summer like chillin' by the pool with a cool cocktail and a good read. Although regular cocktails are tasty, these low calorie cocktails are just as delicious without all the extra calories, sugar and fat that we don't even need! I included a couple of recipes for low-cal mocktails as well. Get your shopping list out so you can make a list of ingredients for these low-cal cocktails!
---
1

Basil-ade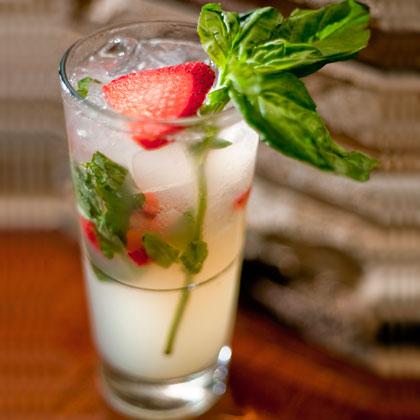 Let's start off this list of low-cal cocktails with a tasty and invigorating lemonade. This isn't just any old lemonade though, you've got strawberries, basil and vodka for the perfect blend of fruit, vodka and fragrant and peppery flavor. Sip on this 130-calorie beverage while you lounge at the pool, at a barbecue or after a long, hot day!
Ingredients:
2 to 3 strawberries
2 to 3 basil leaves, plus more for garnish
1 ounce vodka
Fresh lemonade
Directions:
Crush strawberries in a glass. Add basil leaves and gently bruise. Add vodka and lemonade, stir, add ice, and garnish with basil.
**Source: **shape.com
---
2

Sparking Virgin Cosmo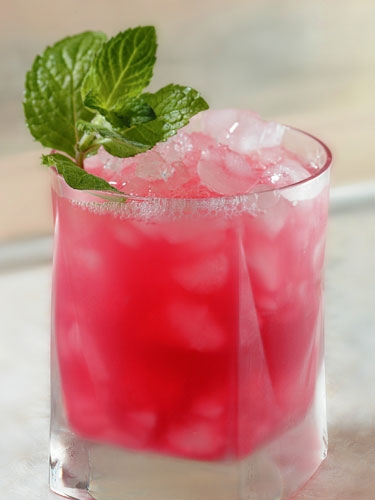 Who says you need alcohol to have fun or cool off?! There are plenty of alcohol-free beverages that you can enjoy! The great thing about mocktails is that they're lower in calories and sugar, and they're less expensive to make than traditional cocktails. This tasty mocktail comes in under 50 calories but it can vary depending on the ingredients you use.
Ingredients:
Ice
2 ounces cranberry juice
1 ounce fresh lime juice
5 ounces club soda or seltzer
Lime wedges for garnish
Sugar for frosting (optional)
Directions:
Pour ice into a shaker or tall glass. Add cranberry juice, fresh lime juice and club soda. Shake to combine. Run a lime wedge over the outside rim of a chilled martini glass. Pour sugar onto a small plate or flat surface. Dip the rim of the glass into sugar until covered with a thin border. Strain carefully in a chilled martini glass. Garnish with lime.
**Source: **sheknows.com
---
3

Slim and Sexy V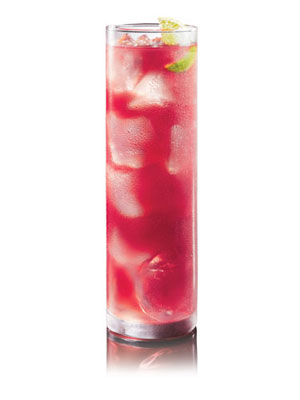 Just the name of this summer cocktail alone makes you feel sexy and confident! You won't feel guilty about guzzling this skinny cocktail that's fruity and fresh. This easy-to-make drink comes in under 150 calories and is the perfect companion to spend your summer afternoon in or outdoors!
Ingredients:
1½ oz. Rémy Martin V
1 oz. pomegranate juice
½ oz. lime juice
Garnish: lime wedge
Directions:
Combine all ingredients in a tall glass filled with ice. Stir, and garnish with a lime wedge.
**Source: **cosmopolitan.com
---
4

Mocktini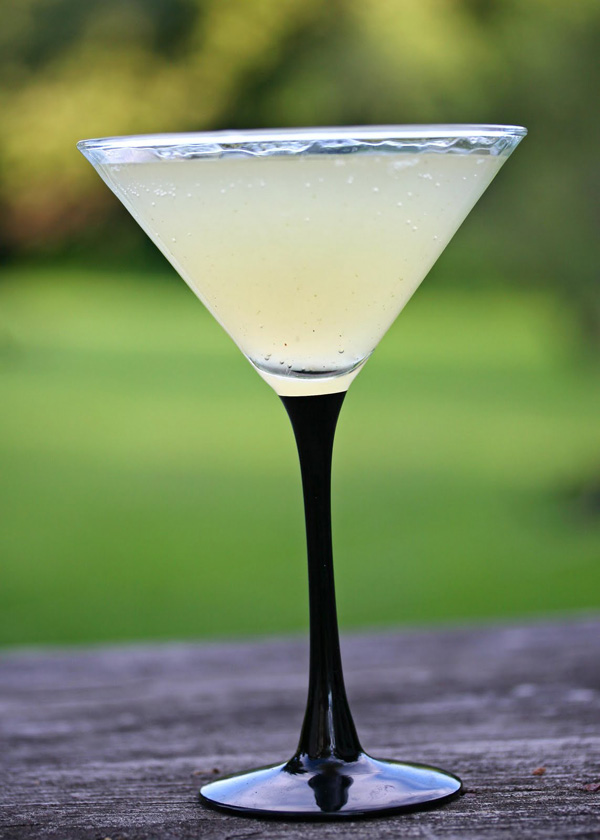 This is the mother of all skinny cocktails, ladies. It's non-alcoholic but it's refreshing, tart, citrus-y and best of all, it has zero calories! Make this your go-to refresher on a hot day, drink this in lieu of a sugary soda or enjoy this during dinner. Either way you go, you'll cool down, quench your thirst and feel good about drinking this mocktini!
Ingredients:
Ice
3 ounces of diet tonic water
1 ounce freshly squeezed lime juice
1/4 ounce freshly squeezed lemon juice
Directions: Add 3 ounces of diet tonic water, 1 ounce freshly squeezed lime juice and 1/4 ounce freshly squeezed lemon juice to a shaker with ice. Strain into a martini glass.
**Source: **nolongeragrimgirl.blogspot.com
---
5

Mo-Sweet-O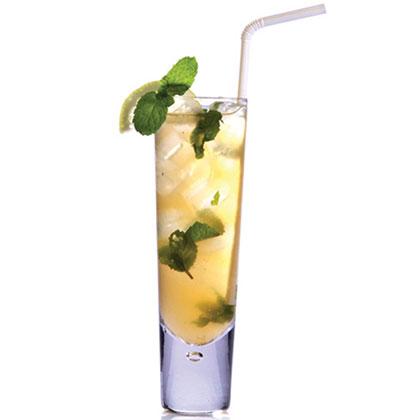 This green tea mojito, AKA Mo-Sweet-O, utilizes sweetened green tea, mint and white rum to recreate a lower calorie mojito. Some will say that mojitos are already on the lower calorie side since they start at around 160 calories, but they usually contain at least 4 tablespoons of sugar. With this recipe, you get the benefits of green tea plus it's only 84 calories!
Ingredients:
2 ounces Sweet Leaf Tea Mint & Honey Green Tea
1 ounce white rum
1 small handful mint leaves, muddled
1 sprig mint, for garnish
Directions:
Combine first three ingredients and serve over ice. Garnish with mint sprig.
**Source: **shape.com
---
6

Tequila Bramble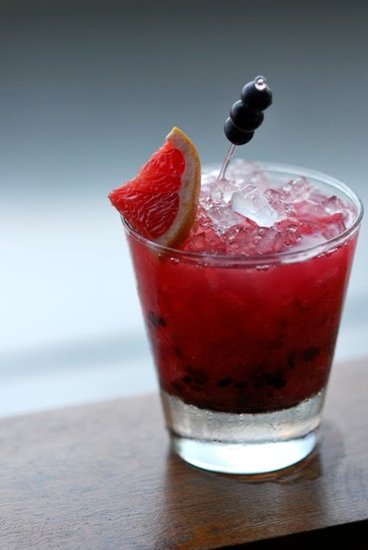 If you love fruity cocktails, the Tequila Bramble will delight your taste buds! The recipe calls for blackberries but you can use just about any berry you like. This skinny cocktail, coming in under 200 calories, uses only fresh fruit juice instead of sugary store bought juices so it's a great warm weather cocktail to enjoy!
Ingredients:
5 blackberries
3/4 ounce fresh lime juice
Crushed ice
1/2 ounce agave nectar
1/2 ounce crème de mure (blackberry-flavored liqueur)
1 1/2 ounces blanco tequila
Directions:
In a rocks glass, muddle blackberries with lime juice.
Fill the glass with crushed ice; add the remaining ingredients and stir to combine. Serve with a straw.
**Source: **fitsugar.com
7

Ginger Fizz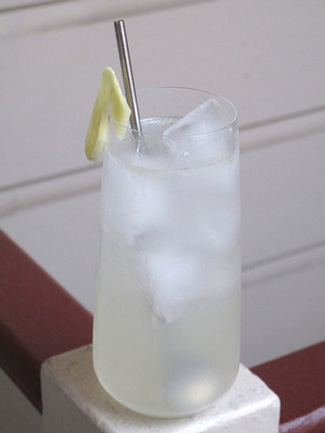 When you think of ginger it might evoke thoughts of warm and spicy flavors, but it's also a fab ingredient for low calorie cocktails! Ginger has a host of health benefits and it's also light, refreshing and totally satisfying all at 155 calories! Enjoy this on the weekend for a get-together with friends or enjoy it poolside!
Ingredients:
For cocktail:
1-1/2 ounces ginger vodka*
3/4 ounce fresh lime juice
1 ounce ginger syrup (see below)
Soda water
Ginger slice, for garnish
For ginger syrup:
2-1/2 cups water
1 cup fast-dissolving sugar (such as superfine sugar)
1 cup freshly grated ginger
Directions:
Make ginger syrup: Bring water, sugar, and grated ginger to a boil. Simmer for 10 minutes; let cool.
Make cocktail: In mixing glass, add ice, ginger vodka, lime juice, and ginger syrup. Shake vigorously; pour into a tall ice-filled glass.
Top off glass with soda. Garnish with a ginger slice.
**Source: **yumsugar.com
---
8

Creamy Pineapple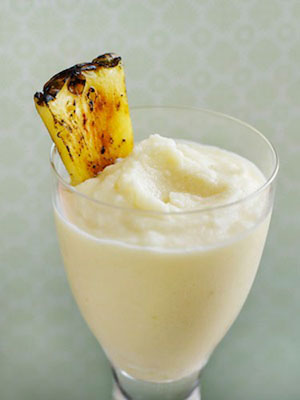 Don't have the time to take a vacation to the tropics this summer? No worries, the Creamy Pineapple is like a tropical getaway in a glass! This is one of the low calorie cocktails that looks and tastes indulgent but the calorie count comes in at under 150 calories! Enjoy this skinny cocktail while you soak up the sun or enjoy your air conditioning!
Ingredients:
1½ oz. Bacardi
¾ oz. Perfect Purée Carmelized Pineapple Concentrate
½ oz. lemon juice
½ oz. agave nectar
½ oz. pineapple juice
Garnish: grilled pineapple wedge.
Directions:
Combine all ingredients in a cocktail shaker filled with ice. Shake vigorously and strain contents into glass or flash blend in a blender. Garnish with a grilled pineapple wedge.
**Source: **cosmopolitan.com
---
9

Virgin White Sangria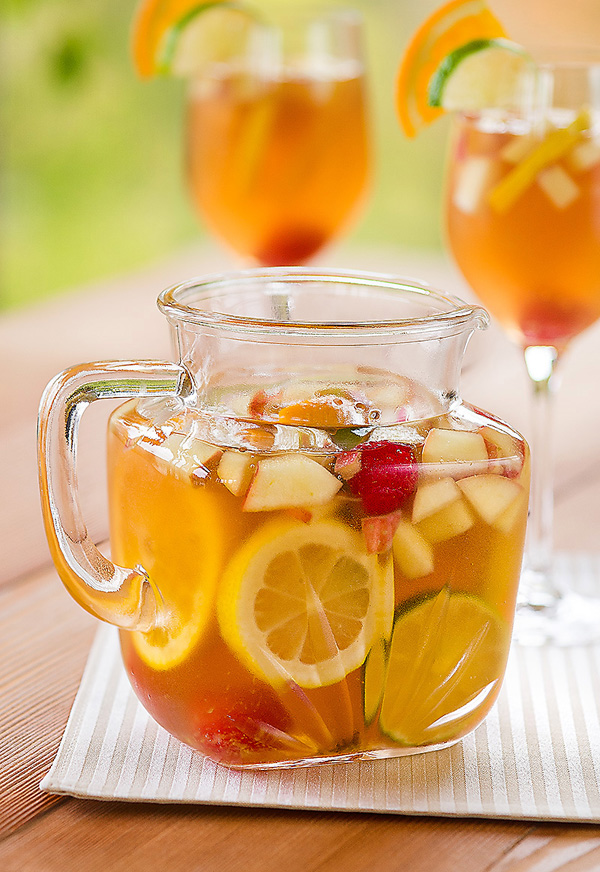 Sangria is one of those drinks that looks as good as it tastes. The colors, the fruits and all the different flavors make it quite an enticing drink, but some recipes can have over 400 calories! That's almost enough calories for a meal! Good thing there are low calorie alternatives to this decadent drink. You can enjoy a lower calorie version of the popular cocktail minus the alcohol.
Ingredients:
3 cups Ceres "Secrets of the Valley" juice, or white grape juice
1 bottle sparkling apple cider
2 tablespoons fresh lemon juice
1 apple, cubed
1 cup fresh or canned pineapple chunks, juices drained
1 orange, sliced thin
2 drops vanilla extract
Ice
Extra fruit for garnish
Directions:
In a large pitcher or punch bowl, combine juice, cut fruit and vanilla extract. Cover and let chill for at least 2 hours. Remove from refrigerator. Add in sparkling cider.
Serve in wine glasses or champagne flutes with plenty of ice and fruit for garnish.
**Source: **sheknows.com
Which one of these low calorie cocktails are you going to try?! Luckily for calorie conscious girls, there are lots of low calorie tweaks and alternatives to traditional high calorie summer cocktails. We can enjoy all the flavor and fun of summer cocktails without all the calories and guilt!
---
Comments
Popular
Related
Recent