13 Vegan 🍇🍅 IG Accounts 📱 Everyone Should Follow for Delicious 😋 Recipe Inspo ⭐️ ...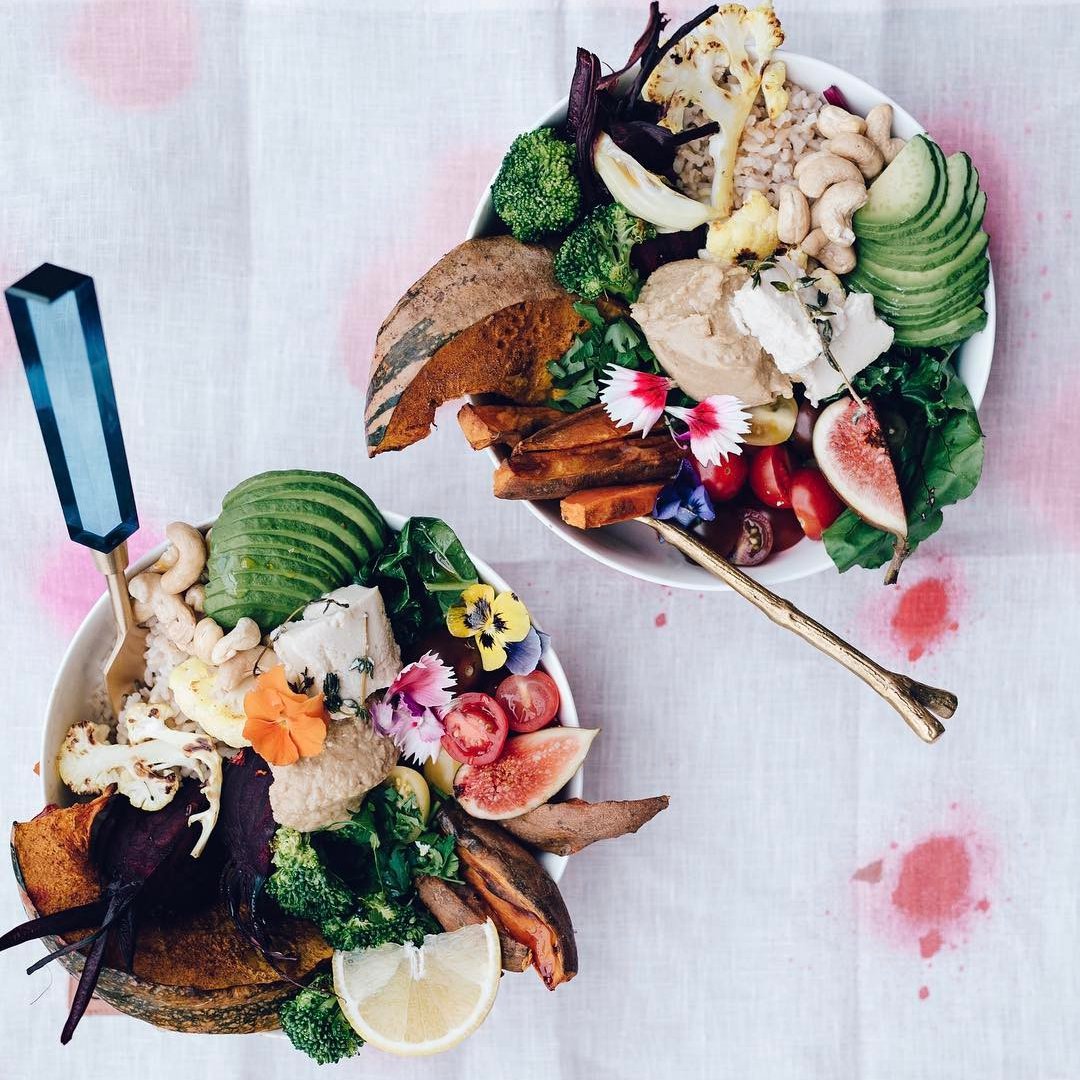 I often find myself browsing for new Instagram Vegan Accounts to follow. Why? Because I recently decided to transition from a vegetarian diet to a vegan diet in order to give my body a break. When you transition to a new way of eating, it can be challenging at first because you have to find new and creative ways to prepare food for yourself. This was my biggest obstacle. I didn't know what to eat and I knew there had to be more than lettuce. The following Instagram Vegan accounts are wonderful because they not only provide gorgeous photos for inspiration, but many of them list the recipes and make them easy for you to follow.
One of the top Instagram vegan accounts to follow is Brussels Vegan. The creator of this account, Kim Julie, has such a loving heart and takes the time to answer your questions when possible about eating vegan. She started Brussels Vegan to share her journey of being a vegan and transitioning to raw vegan. It's a growing platform to connect with like-minded people.
Fully Raw Kristina is one of the top Instagram Vegan accounts. The creator, Kristina Carrillo-Bucaram, is considered a pioneer in the local, organic food co-operative movement. Kristina is a raw vegan, which means she doesn't eat any of her food cooked. Through eating a raw vegan diet for over 7 years, Kristina rid herself of hyperglycemia and hasn't looked back. Her disposition is as colorful and sunny as her food is and her enthusiasm will encourage you if nothing else.
Yovana was once a party girl but decided to change her life by going vegan. The first time I noticed her account she had a Throwback Thursday photo that was split. On one side she was drinking a glass of champagne in a club and in the other she was drinking fresh juice outdoors. She shares that she decided to change her lifestyle habits and start eating raw vegan because it was a way for her to get out of a toxic lifestyle and begin fresh in an extremely healthy one. She instantly began seeing benefits in her physical, emotional, and spiritual health and decided to stick with it. She never thought she would eat this way permanently but after feeling so great, she didn't want to stop!
Much like Nana Ice Cream, Best Of Vegan is a great account that features recipes from different users. This account is ideal if you are looking for recipes to follow because aside from a beautiful photo, the easy to follow recipes are always included. It's practical and offers a range of recipes from dessert to heartier meals.
She doesn't post every day, but when she does post, you can count on it being of the highest quality. Belén Vazquez Amaro is originally from Spain but now resides in Sweden where she is a certified Yoga instructor and is passionate about healthy food and a healthy lifestyle. She loves to find beauty in daily things, to inspire and be inspired.
Oh, how I love Deliciously Ella! If you follow her account, you will never grow short of ideas for filling vegan meals. Ella had to go vegan after being diagnosed with a rare illness called Postural Tachycardia Syndrome. She shares that the illness had a pretty devastating effect on her life – she literally couldn't walk down the street, she slept for 16 hours a day, had never ending heart palpitations, was in chronic pain, had unbearable stomach issues, constant headaches and the list goes on – it was anything but fun! Through her doctor's advice she transitioned to a vegan diet and began to heal herself. This experience led her to create her blog with original recipes and I'm so grateful I found her.
Loni Jane made headlines several months ago for eating a plant based diet while pregnant. The media had a hard time believing that eating vegan while pregnant, especially high raw vegan, was healthy for her baby. I must admit, part of me followed her because I was curious how all of this would turn out. But as I began to browse her account I loved her recipes as well. Her baby was born a couple of months ago and is thriving, and so is Loni Jane.
I love Mommy Tang's account because she focuses on Asian plant based recipes. This woman is not only an incredible cook but a supermom who makes it look so easy. I know you'll love her colorful photos and funny personality too. She loves cooking Asian with easy to find ingredients. And her recipes are always low fat and made from scratch.
If you are vegan or at least vegan curious, I'm pretty sure you have heard of Lola Cooks. She's only 17, but this lovely lady is such an inspiration when it comes to food and cooking. She shares that the best part about eating vegan is definitely feeling more connected with the world and herself. She noticed that she just felt like a kinder and happier person ever since becoming vegan. Also she says that vegan food is "freakin' delicious".
Lina Saber has been a vegan for 2 years. She makes eating vegan look so natural and easy with her photos and recipes she posts to her account. She's passionate about health, skincare, nutrition and beauty and it puts a huge smile on her face to hear she's inspired someone by sharing her lifestyle via Instagram. I realize there is always room to go, but if this is where Lina is after only 2 years I'm excited to see her in 10. She, like many other people who were previously raised on meat, shared that letting go of cheese and eggs were the final step. Now she is moving towards raw vegan and is happy with her progress and continues to learn new things every day.
Sasha is a breath of fresh air. She shares that she chose to lead a cruelty-free lifestyle because she don't believe that we should steal and mistreat animals in the way the food industry is doing now. And she believes that we were put on this earth to co-exist, even to protect, but not to exploit. Sasha has never once regretted her choice because she now feels happier, healthier and although our society is nowhere near stopping the torture that many animals are subject to, she is glad to not have to contribute to it. Also, she often tells people that she is 'plant-based' more than 'vegan', because she believes that they are very different. You can be vegan and eat oreos, but being plant-based means she tries her hardest to eat foods that have not been processed, and look like they have come straight from a plant. Sasha also shares that she is in no way dissing vegans who do not eat a plant based diet, and is not dictating that anyone swap the way they eat, but she does believe that everyone can benefit, and the planet as well, from a some plant-based goodness every now and then!
If you are looking for someone who can coach you while you transition to a plant based diet, I'd highly recommend you check out Sweet Potato Soul. Jenne Claiborne is a plant based health coach as well as a personal chef, so you can count on her recipes being healthy and easy to make. Jenne is so warm and friendly, I'm sure you'll find her account welcoming if you are considering eating this way.
I would give Victoria's account the most colorful award for sure. Victoria is a health seeker, style lover, yoga doer and ed recoverer who happens to eat beautiful plant-based food. She shares that she spent a long time struggling with her weight, body image and health to the point of being emotionally gone and physically deteriorating. She had nothing left but to stop looking for the answers on the outside and look to what was hidden deep on the inside. That was the moment that she found health and happiness. She now has a new outlook on what her worth truly is, therefore she respects what she puts into her body and eats with love and happiness."
Whether you are seriously considering eating a plant-based diet or are just looking for inspiration for healthy side dishes, these accounts should inspire and motivate you. Can you think of any other vegan or plant-based Instagram accounts you would add to this list? I'd love to read about them in the comment section.
{{#comments_count}} Show Commnents ({{comments_count}}) {{/comments_count}}