If you're having a hard time warming up to eating 5 servings a day of veggies like we're told to do, how about I give you some yummy dishes that might just make you crave veggies? If you think I'm kidding, take my word for it! I used to hate veggies. If I ate them, I coated them in ketchup or mustard to mask the taste. Crazy, I know, right!? Well, now, I adore veggies and actually crave them if I don't eat them each day. As you start eating veggies, you'll find your taste buds change and quit craving the unhealthy stuff, however preparing them the right way is key. While I don't suggest drowning them with butter and bacon for flavor, there are some really tasty ways to flavor your foods and these dishes are great examples of how to do that. Now get your glow on the natural way and satisfy your taste buds with these beautifying, delicious recipes that will make you crave veggies in no time!
---
1

Roasted Yam and Kale Salad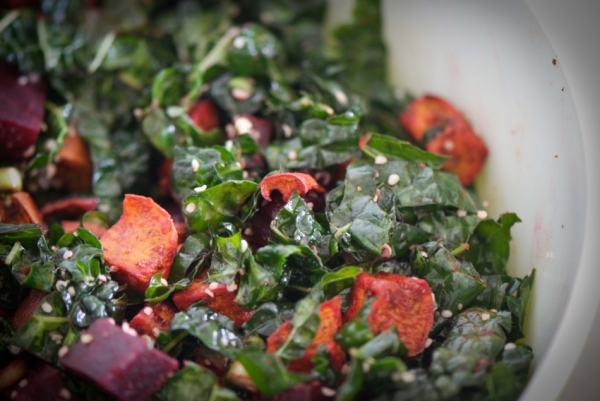 This dish is easy on the eyes and delicious, which both make you crave veggies. Be sure to look for dishes like this one when you're new to eating veggies. Finding beautiful foods enhances their appeal and pairing bright colorful veggies together like these makes you want to eat them. Plus, when flavored with ingredients like the ones in this dish, you'll also find they taste amazing, making you come back for more. Yams, or sweet potatoes, are excellent when paired with soft, buttery-like kale. Be sure to cook kale or massage it first and don't eat it straight up raw without some type of preparation or it will taste bland and be tough to chew.
****
Ingredients:
2 yams or sweet potatoes, cut into 1-inch cubes
2 tablespoons olive oil
salt and freshly ground black pepper to taste
1 tablespoon olive oil
1 onion, sliced
3 cloves garlic, minced
1 bunch kale, torn into bite-sized pieces
2 tablespoons red wine vinegar
1 teaspoon chopped fresh thyme
Directions:
Preheat an oven to 400 degrees F (200 degrees C). Toss the yams with 2 tablespoons of olive oil in a bowl. Season to taste with salt and pepper, and arrange evenly onto a baking sheet.
Bake in the preheated oven until the yams are tender, 20 to 25 minutes. Cool to room temperature in the refrigerator.
Meanwhile, heat the remaining 1 tablespoon of olive oil in a large skillet over medium heat. Cook and stir the onion and garlic until the onion has caramelized to a golden brown, about 15 minutes. Stir in the kale, cooking until wilted and tender. Transfer the kale mixture to a bowl, and cool to room temperature in the refrigerator.
Once all the ingredients have cooled, combine the yams, kale, red wine vinegar, and fresh thyme in a bowl. Season to taste with salt and pepper, and gently stir to combine.
Source: allrecipes.com
---
2

Detox Salad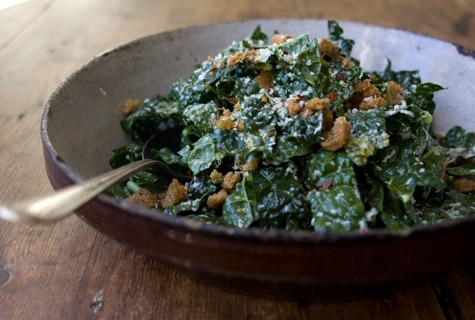 There are tons of variations out there for making a detox salad, but this is one of my favorites because it is so beautiful to the eye, and it also tastes really indulgent. You can vary the veggies in this recipe if you want, but try the original recipe first. This is so simple you don't even have to measure anything. Just toss and go! Also note if you're vegan you can sub out the Parmesan cheese for nutritional yeast for a similar flavor.
Ingredients:
Chopped kale
Shaved Brussels sprouts
Shredded carrots
Dried cherries
Celery
Parsley
Basil
Raw or toasted almonds
For the dressing:
Whisk together some olive oil, fresh lemon juice, 1 smashed garlic clove, a good drizzle of honey and some red pepper flakes.
Directions:
Toss everything together along with freshly grated Parmesan.
Source: prouditaliancook.com
---
3

Pasta Alla Formiana with Vegetables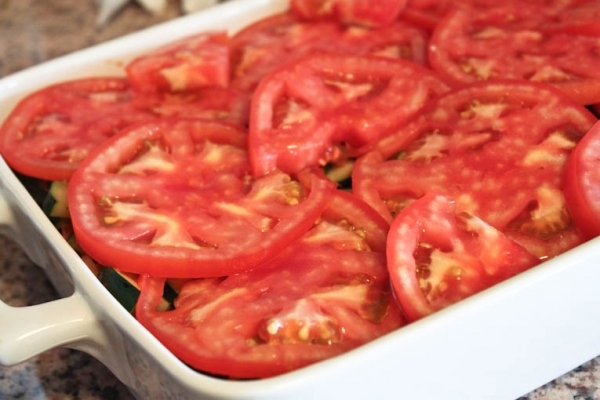 This recipe is from one of my favorite bloggers, Taralynn, from Undressed Skeleton, who adapted this recipe from an Italian pasta dish by the famous Giada De Laurentiis from the Food Network. Taralynn's adaptation uses no actual pasta and instead uses pasta-like spaghetti squash, one of my favorite veggies. The combination of Italian ingredients really make this dish extra flavorful.
****
Ingredients:
One Jar of your favorite pasta sauce.
Five cups cooked spaghetti squash.
One Green, One Yellow, and One Red Bell Pepper. Sliced.
One Large Onion Sliced.
One Tbsp Olive Oil
Ten Medium Tomatoes
Pepper
Garlic Powder
Onion Powder
Directions:
Preheat oven to 425 degrees.
Steam the peppers and onions for four minutes in a microwave steam bag.
Grease a baking pan with cooking spray or olive oil.
Slice the tomatoes 1/2 an inch thick.
Line the baking sheet with a tomato layer.
Sprinkle a pinch of: pepper, garlic powder, and onion powder over the tomatoes.
In a mixing bowl, combine: spaghetti squash, peppers, onions, and pasta sauce.
Top the layer of tomatoes with the squash and pepper mixture.
Even out the dish with a spoon.
Top the dish with another layer of tomatoes.
Add one tbsp of olive oil to the top of the tomato layer.
Sprinkle a pinch of: pepper, garlic powder, and onion powder over the top.
Put dish into the oven for one hour.
Serve with a side salad if desired.
Note: If the dish has too much liquid at the bottom from the vegetables, drain the edges into the sink.
Source: undressedskeleton.tumblr.com
---
4

Cauliflower Pizza Crust – a Must Make!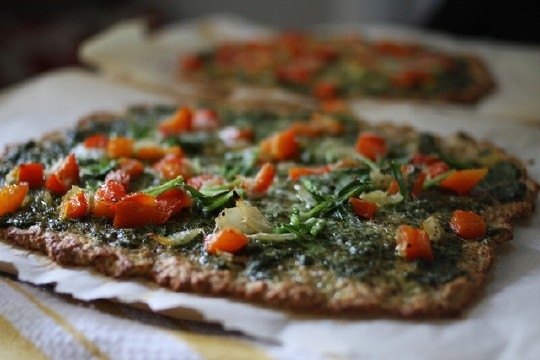 I'm in love with this recipe because it is incredibly simple. A lot of pizza crust recipes using cauliflower seem like they have a lot of steps or too much cheese and eggs. This one takes care of both that. Jessica Sepel is a nutritional professional and lifestyle coach who I adore, and her recipe for this veggie pizza is a must-make. Next time you get one of those intense pizza cravings, make this instead. It is inexpensive, satisfying and incredibly healthy.
Ingredients:
1 cauliflower
1 egg
½ onion, sliced
Salt
Pepper
Herbs, such as rosemary
Olive oil
Coconut oil
Optional toppings: goat cheese, mozzarella, broccoli, beans, zucchini slices, onion, mushrooms, avocado, tomatoes, homemade pesto
Directions:
Pulse around 1/2 a whole cauliflower in your food processor to make it a 'cauliflower rice' (to make around 1 cup- double the ingredients for a larger pizza).
Place in a tea towel and squeeze as much moisture from the 'cauli rice' as possible (the key to a crispy base).
Then mix with 1 egg, 1/2 sliced onion and salt/pepper/herbs (rosemary is great)/spices/tsp olive oil.
Once mixed flatten it on a lined tray that is greased with coconut oil and bake in oven for around 20-25 mins until firm and slightly browned.
Take out and top with ingredients of choice: Goats cheese, mozzarella, broccoli, beans, zucchini slices, onion, mushrooms, avocado, tomatoes, homemade pesto.
Pop it back in the oven for 10-15 mins.
Take out of the oven and allow it to cool for a few minutes. Then cut into pizza slices.
**Source: **jessicasepel.com
---
5

Smug Salad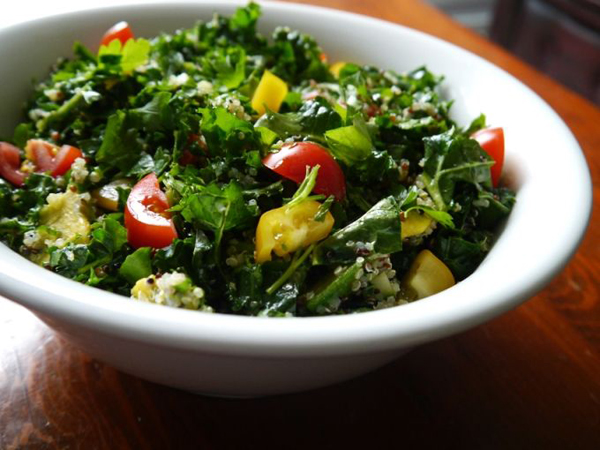 A girl can't love veggies and not love Kris Carr, the queen of tasty raw foods. Kris's book Crazy Sexy Diet is a must read if you haven't checked it out yet, as well as the Smug Salad recipe from her blog. This recipe will soon become a favorite of yours if you haven't already tried it. The flavor explosion is incredible!
****
Ingredients:
2 stems curly organic kale, stalk removed and chopped
½ cup organic quinoa, cooked to packet instructions
½ cup roughly chopped cucumber
½ cup roughly chopped tomatoes
1 avocado, roughly chopped
good handful of parsley, chopped
juice of ½ to 1 lemon
olive oil
Directions:
Rinse the cooked quinoa under the cold tap through a sieve. Push the excess water through and leave to drain.
After chopping the kale, put it into your salad bowl and pour a little olive oil over it. Now rub, rub, rub the kale in between your fingers making sure the oil is massaged into kale. It should slightly change color.
Once you're done with the kale, mix all the ingredients together in the bowl. Squeeze the lemon juice, mix around and taste. You might not need any additional olive oil and will likely need to adjust the amount of lemon juice according to your taste buds.
Enjoy and feel smug!
Source: kriscarr.com
---
6

Asparagus Artichoke Salad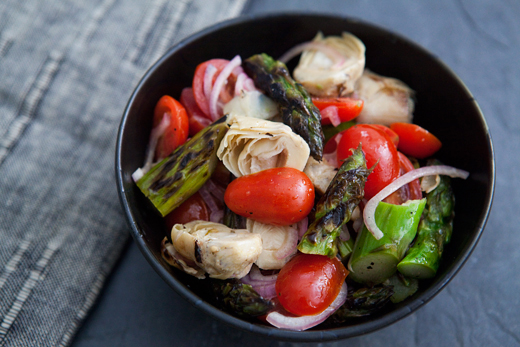 Artichokes and asparagus are two of my favorite veggies. One is slightly sweet, the other nice and salty. Both are great veggies to cleanse the liver and digestive tract, and they contain powerful nutrients that satisfy you. When seasoned with just the right touch of onion and garlic, this dish does not taste one bit like a boring bowl of veggies. Give this a try as a simple side one night when you're not in the mood for something fancy, but want something tasty. Or, perhaps, eat the whole thing like I prefer for a veggie-filled lunch, guilt-free!
****
Ingredients:
1 large shallot, sliced thin (can sub a few thin slices of red onion or some sliced spring onion)
2-3 Tbsp lemon juice
2 pounds thick asparagus, rinsed, tough ends broken off and discarded (or saved for stock)
2 Tbsp olive oil, divided
Salt
1 teaspoon garlic powder
1 pint grape or cherry tomatoes, sliced in half
1 15-ounce jar of good quality marinated artichoke hearts, quartered or cut in half (depending on the size of the artichokes)
Directions:
Soak the sliced shallots in the lemon juice as you get ready to make the rest of the salad.
To roast the asparagus, preheat the oven to 400°F. Coat the asparagus spears with 1 Tbsp of olive oil, and salt them well. Lay in a single layer in a foil-lined roasting pan, and cook for 8-10 minutes until lightly browned and fork tender.
To grill the asparagus, prepare your charcoal or gas grill for high direct heat. Coat the asparagus with 1 Tbsp of olive oil and sprinkle with salt. Grill them until nicely charred and fork tender, between 5 to 10 minutes.
Remove the asparagus from the oven or grill and cut into bite-sized pieces.
Put the asparagus and all the remaining ingredients into a large bowl and mix to combine. Add as much of the marinating liquid from the jarred artichokes as you like. Serve chilled or at room temperature.
Source: simplyrecipes.com
7

The Best Vegetable Soup Ever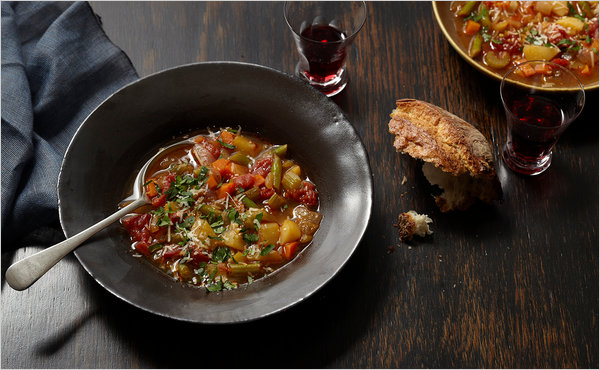 Whether you're sick or just want something cozy and warming, then try some of this soup. I like eating veggie soup when I'm feeling low on energy or have a headache or stomachache. Veggie soup is wonderful for balancing your hormones and your appetite, and it nourishes your cells and aids in healing. This veggie soup is chock full of heart-healthy ingredients, it is inexpensive, makes tons of leftovers and is so satisfying. Make a batch anytime you want some healthy comfort food or just something pretty! I usually don't use but a couple tablespoons of oil though, to cut back on the extra fat.
Ingredients:
3/4 cup olive oil, more or less
2 onions, peeled and chopped
2 carrots, peeled and chopped
2 celery stalks, peeled and chopped
Salt and freshly ground black pepper
1 bunch parsley, washed and chopped, thick stems discarded
2 or 3 cabbage leaves, chopped
1 bunch chard, preferably white, washed and chopped
1/4 cup tomato paste
3 to 4 cups cooked white beans, like cannelloni, with their liquid if possible
Directions:
Put about a third of the olive oil in the bottom of a deep pot and turn the heat to medium.
Add half the onion, carrot and celery and cook, stirring occasionally, until they soften, which takes about 10 minutes.
Add about half of the remaining oil and repeat the process, seasoning with salt and pepper as you go.
Add the remaining oil with the parsley, cabbage and chard and cook, stirring occasionally, until everything is softened but not browned.
Add the tomato paste and stir.
Mash the beans so that they're about half mashed and half more-or-less whole. Add this mixture to the pot, along with any bean cooking liquid and enough water to make the whole mixture stewy but not watery.
Continue cooking, tasting and adjusting the seasoning as necessary, until all the vegetables are very tender and the soup is hot. Serve hot or warm.
Source: foodseriously.com
Do you have a favorite vegetable dish? Feel free to share links to your favorite recipes or just give a shout out to your favorite veggies here!
---
Comments
Popular
Related
Recent