17 Delicious Vegan Desserts to Chow down on Today ...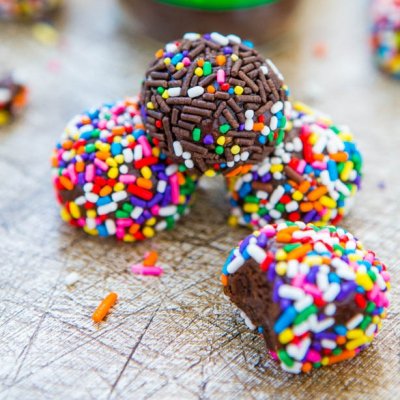 Recently, I had a vegan dessert that one of my friends cooked and I LOVED it! That got me thinking, what other vegan desserts are out there? You ready to break through the 'everything vegan tastes like cardboard' stereotype? Take a look below!
3.

Boozy Cherry Garcia Ice Cream
Booze, ice cream, cherries, everything!
Recipe: theendlessmeal.com
4.

Caramel Stuffed Vegan Chocolate Chip Cookies
How good do these look?
Recipe: thefrostedvegan.com
5.

Extra Crispy Vegan Sugar Cookies
While usually, I'm not a fan of crispy cookies, these are addicting!
Recipe: cookingwithcakes.com
6.

Vegan Coconut Whipped Cream
Just in case you want to add a bit onto some fruit.
Recipe: namelymarly.com
9.

Vegan Chocolate Crinkle Cookies
I promise, these are going to become addictive to you!
Recipe: thefrostedvegan.com
10.

Oven Baked Apples with Raspberry Preserve
SO easy and delish!
Recipe: foodmoment.com
11.

Samoa Cookie Chocolate Milkshake
This would be perfect after a good dinner.
Recipe: thefrostedvegan.com
12.

Gluten-Free Vegan Candy Cane Snowballs
Ditch the processed snowballs and get into something healthy.
Recipe: unconventionalbaker.com
13.

Chocolate Peanut Butter Frozen Banana Bites
LOVE these! Such a great summer treat.
Recipe: steworastory.com
14.

Cardamon Ice Cream with Cinnamon Swirl
I'm making this, this summer.
Recipe: ahouseinthehills.com
15.

Deep Dish Brownie Crust Peanut Butter Cream Pie
My wife would LOVE this!
Recipe: eathealthyeathappy.com
16.

Peanut Butter Mousse Cheesecake
What? Nut butter and mousse? Love it!
Recipe: coreenmurphy.com