You've heard all the hype about eating fish for your health, so if you're looking for delicious salmon recipes, I won't let you down. Salmon is a great source of omega-3 fatty acids, which are beneficial for your heart and brain. It also contains protein and it's just so yummy. Cooking it the right way can help you control your calorie intake, which is important if you're trying to lose weight. Check out these delicious salmon recipes, all of which taste decadent, but are low in calories.
---
1

Salmon Soup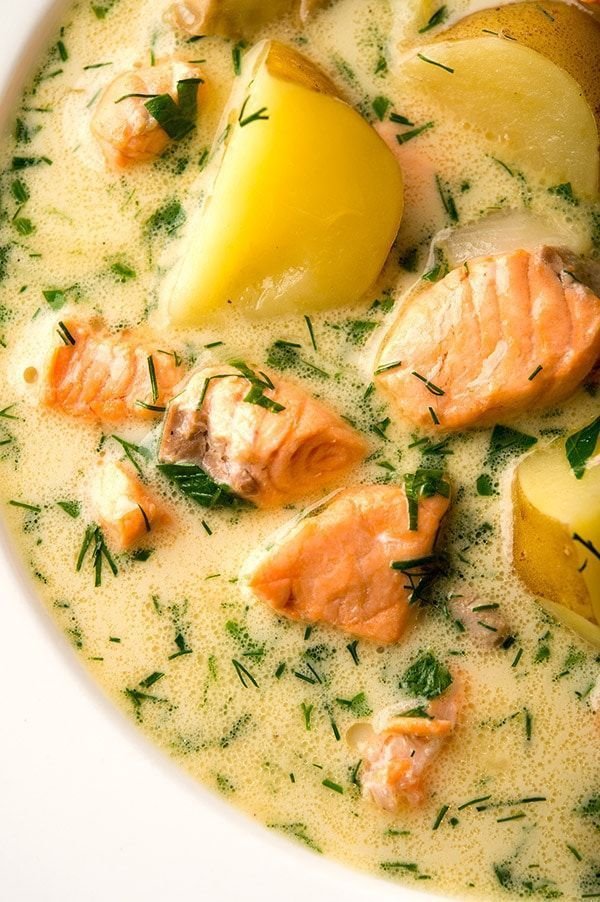 Soup isn't the first thing I think of using salmon for, but broth-based soups are often low in fat and calories, making them perfect if you want to shed some excess weight. Salmon will fill you up. This is one of the easiest and fastest delicious salmon recipes out there and you're going to love it!
Ingredients:
5 cups chicken broth
1 lb fresh salmon, thinly sliced
1 yellow onion, thinly sliced
4 tablespoons olive oil
1 bunch fresh spinach, julienned
1/4 teaspoon cayenne pepper
Salt
Directions:
Sauté the onion in the olive oil until the pieces begin to brown and soften. Add the chicken broth and bring the mixture to a boil. Add the salmon to the broth and let them simmer for about 10 minutes. Season the broth with pepper and then taste. Add salt if necessary. Add the spinach to the soup and remove the pot from the heat. Serve.
Source: food.com
---
2

Salmon Teriyaki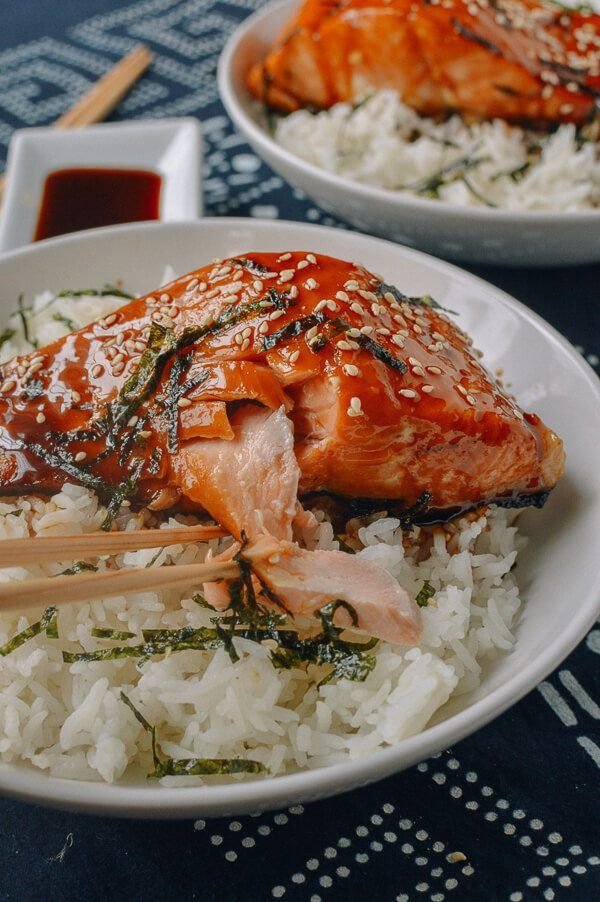 If you're looking for a recipe that's inspired by Oriental flavors, this is the one for you. The combination of sweet sauce and meaty salmon flesh is so delicious, you'll want to prepare this recipe again and again.
Ingredients:
1 pound salmon
½ cup soy sauce
2 tablespoons mirin
2 tablespoons sugar
1 tablespoon vegetable oil (optional)
Directions:
Divide the salmon into four equal portions. In a large bowl, combine the soy sauce, mirin and sugar and mix well until the sugar dissolves. Place the salmon in the sauce and coat all sides. Put the dish in the refrigerator for at least 30 minutes. Preheat a cast iron skillet under the broiler until it's very hot. Lightly brush the salmon with the oil, if desired, and put it into the skillet, skin side up. Put the pan back under the broiler for about 2 minutes, then flip the fish and cook for an additional 1 minute.
Source: thekitchn.com
3

Salmon Loaf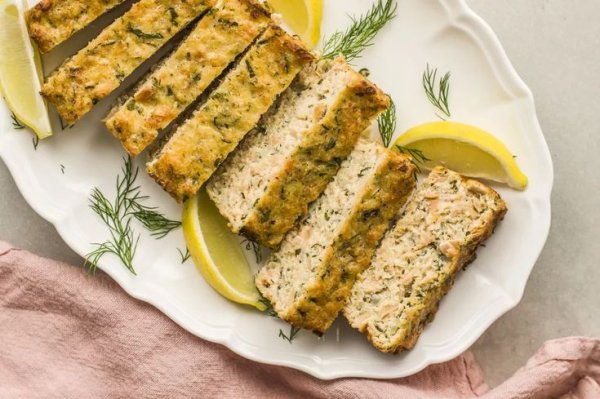 If you love meatloaf, this is a great low-calorie alternative. Not only that, but you'll save a lot of saturated fat grams. Salmon is moist so it results in this lovely and delicious loaf that tastes wonderful with whipped potatoes and steamed asparagus. Who knew you could eat something so tasty and still feel virtuous?
Ingredients:
2 ½ cups flaked salmon
½ cup cracker crumbs
2 eggs
Pimento
¾ cup evaporated skim milk
Salt and pepper
Chopped onion
Directions:
In a large bowl, combine all the ingredients and use your hands to mix everything together very well. Form the meat mixture into a loaf and place it in a greased loaf pan. Bake at 350 degrees for 45 to 50 minutes, or until it's firm throughout.
Source: cooks.com
---
4

Salmon Chowder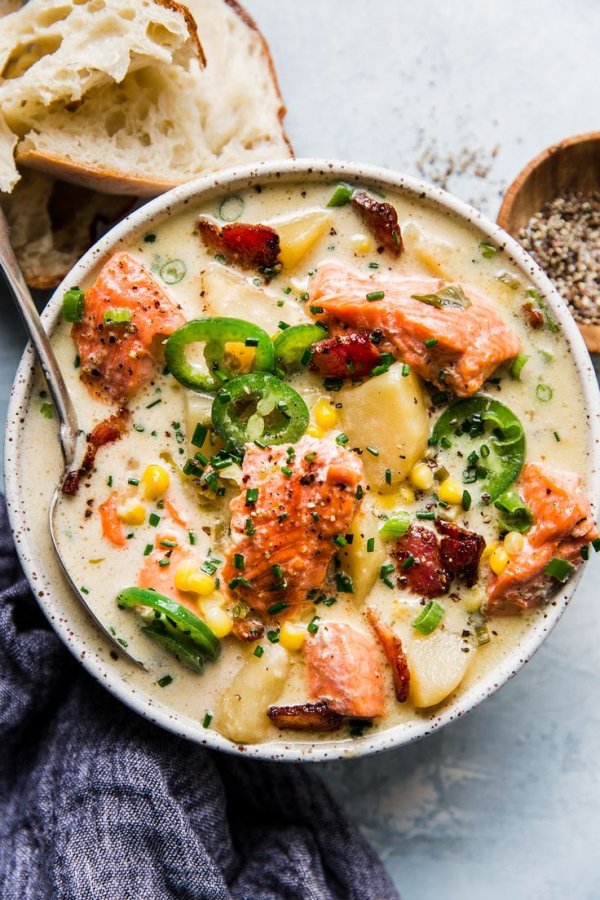 Normally, chowder isn't a soup that's all that low in calories since it often has a lot of cream and butter in it. This version lets you indulge without the astronomical calorie count. Go ahead and serve this on a cold winter night and you can stick with your weight loss goals and still have a hearty and delicious meal.
Ingredients:
1 tablespoon canola oil
1/3 cup chopped carrot
1/3 cup chopped celery
4 cups reduced sodium chicken broth
1 ½ cups water
12 ounces salmon, skinned
2 ½ cups frozen cauliflower florets, thawed and chopped
3 tablespoons chopped fresh chives or scallions
1 1/3 cup instant mashed potato flakes
¼ cup chopped fresh dill
1 tablespoon Dijon mustard
¼ teaspoon salt
Freshly ground black pepper
Directions:
Heat the oil over medium heat in a large saucepan. Add the celery and carrots and cook for about 3 to 4 minutes. Add the broth, water, salmon, cauliflower and chives and simmer for 5 to 8 minutes. Remove the salmon and flake it into small pieces. Stir in the potato flakes, dill and mustard and return to a simmer, then add the salmon back in. Season to taste with salt and pepper just before serving.
Source: eatingwell.com
---
5

Quick and Easy Pecan Crusted Dijon Salmon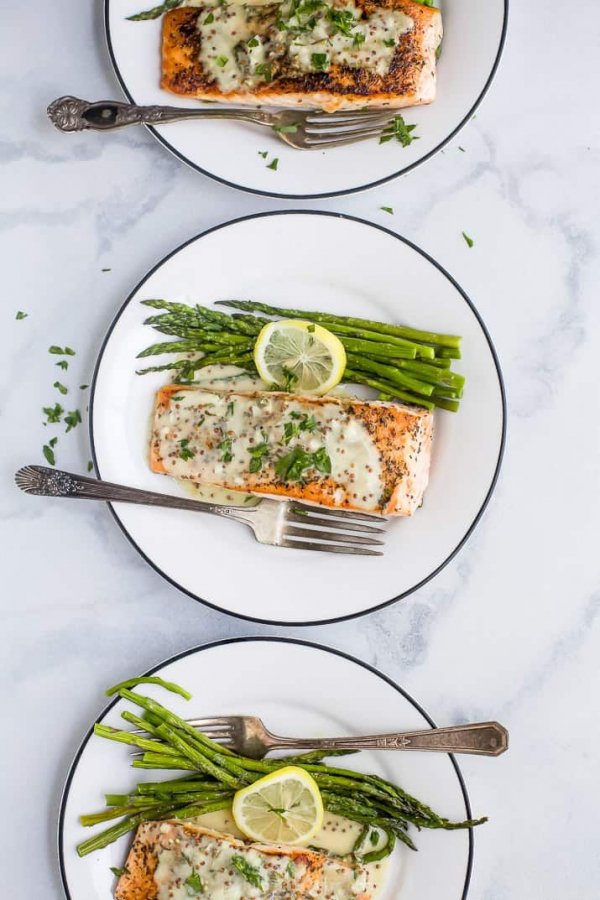 This recipes is perfect because it's healthy, it's fast and it tastes like something you'd get in a restaurant. Use this recipe to wow friends and family or to treat yourself on a night home alone. It makes a great low-calorie lunch the next day too!
Ingredients:
2 salmon fillets, 6 to 8 ounces each
Fish rub mixture of your choice
4 tablespoons chopped pecans
1 tablespoon Dijon mustard
1 teaspoon low-fat mayonnaise
Directions:
Place the salmon on a lightly greased baking sheet and bring it to room temperature. Preheat the oven to 425 degrees and sprinkle the salmon with your fish rub. Combine the mustard and mayonnaise and spread it on the salmon. Sprinkle the pecans over the fish and lightly press them down to keep them in place. Roast the salmon for 10 to 12 minutes, or until cooked through.
Source: kalynskitchen.com
---
6

Roasted Salmon with Zucchini, Lemon and Dill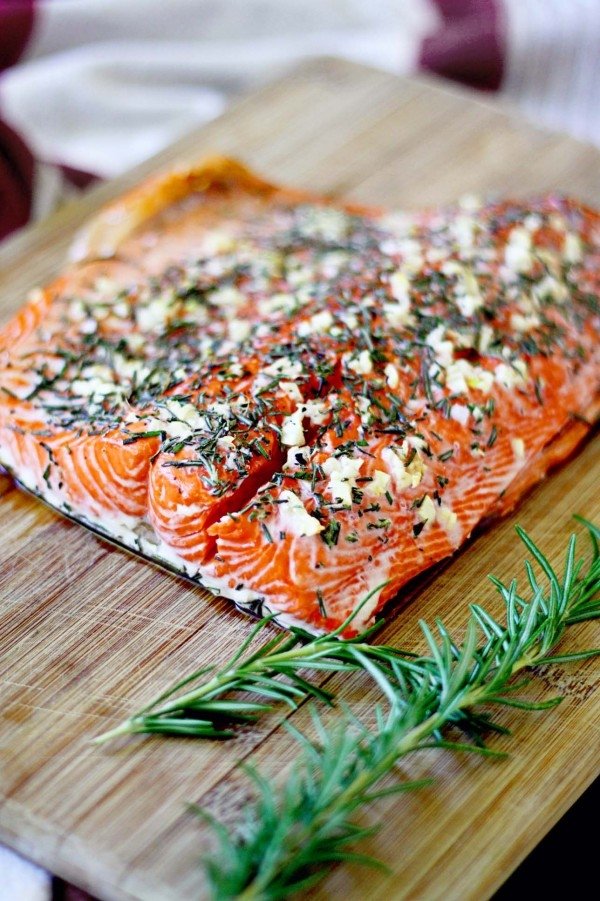 This recipes is a meal on one dish. Talk about easy clean up. This salmon cooks up fast and is on the table in no time. You're going to love the flavor of the salmon combined with the zucchini and you'll have a low-calorie meal with loads of taste. Get ready for a new favorite.
Ingredients:
1 ½ pounds zucchini, cut into 1-inch rounds
2 lemons, quartered and seeds removed
8 springs fresh dill
2 tablespoons olive oil
Salt and pepper
4 salmon fillets, 8 ounces each
Directions:
Heat a broiler rack 4 inches from the heat. Put the zucchini, lemon and dill on a broiler-proof rimmed baking dish. Drizzle with the oil and season to taste with salt and pepper. Toss the ingredients to coat. Place the salmon fillets in the vegetables and sprinkle each with salt and pepper. Broil for 15 to 20 minutes, or until zucchini is tender and the fish is cooked throughout.
Source: marthastewart.com
---
7

Roast Salmon with Salsa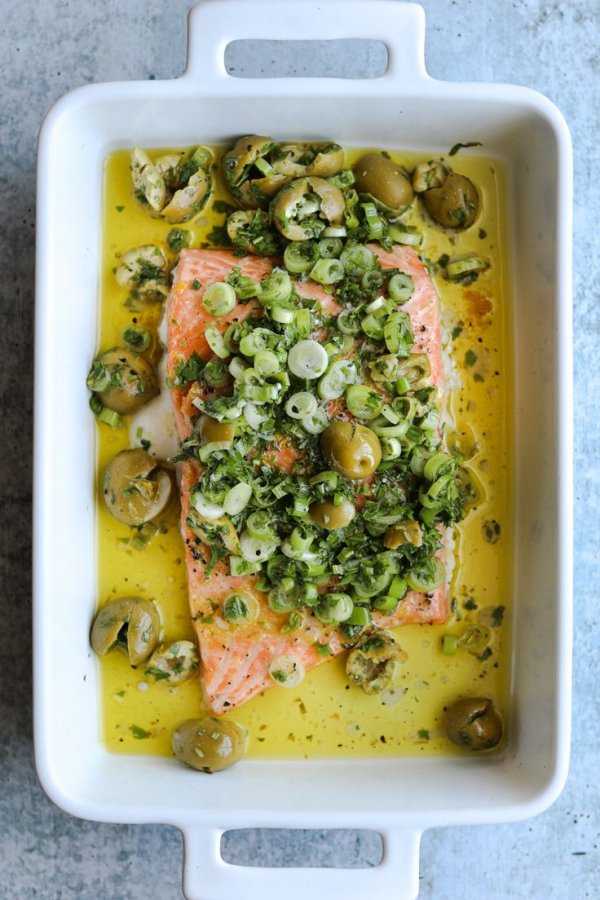 Salsa is an easy condiment that adds loads of flavor to food without a high calorie count. It pairs deliciously with salmon and is a simple way to enjoy a healthy meal that doesn't taste bland and boring. This one is yummy!
Ingredients:
2 medium plum tomatoes, chopped
1 small onion, coarsely chopped
1 clove garlic, peeled and quartered
1 fresh jalapeno pepper, seeded and chopped
2 teaspoons cider vinegar
1 teaspoon chili powder
½ teaspoon ground cumin
½ teaspoon salt
2 to 4 dashes hot sauce
1 ½ pound salmon fillet, skinned and cut into 6 portions
Directions:
Preheat the oven to 400 degrees. Place the tomatoes, onion, garlic, jalapeno, vinegar, chili powder, cumin, salt and hot sauce in a food processor. Puree the mixture until finely diced. Put the salmon in a roasting pan and cover with the salsa. Roast for about 15 minutes.
Source: main.kitchendaily.com
What's your favorite way to cook salmon? Did you know there were so many yummy recipes for it?
---
Comments
Popular
Related
Recent