Foil-Wrapped Recipes All Campers Will Love 🔥🏕 ...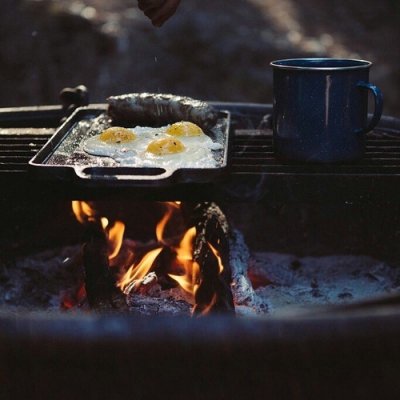 My mom is a huge camper, she loves the smell of a bonfire and absolutely loves to cook over the open flame. The problem is, when I go with her, I'm a picky eater. Do you have the same problem? Don't worry! I've got the key to roughing it yet still being elegant. All of your campers will LOVE these recipes!
1.

Indian Spiced Baked Potato and Egg
How goof does that look? How good does that SOUND? Awesome!
How to make it: cottercrunch.com
More potatoes but – who doesn't love potatoes?
How to make it: damndelicious.net
4.

CHILI-LIME BAKED SALMON in FOIL
My fave! Chili, lime? Count me in!
How to make it: littlespicejar.com
5.

FISH EN PAPILLOTE with PEACH SALSA
Just – take a moment and look at this. Imagine making this. Imagine the taste – delish!
How to make it: simplysissom.com
Shrimp, corn, campfire? I'm in!
How to make it: tastefulventure.com
Can I just tell you, I love ribs? Love, love them. This recipe is so easy and amazing!
How to make it: zestuous.com
WHAT! You can make granola, on your own, grilled? Amazing!
How to make it: thebigmansworld.com
9.

Roasted Artichokes with Lemon Garlic Breadcrumbs
This might be a little hard to eat with a plastic fork, but I'm willing to take the risk.
How to make it: alaskafromscratch.com
10.

Lemon Stuffed Mediterranean Sea Bass
Sea bass? Lemon? Stuffed? Look at it and tell me you wouldn't want to eat this!
How to make it: spiciefoodie.com
11.

Bacon & Onion Campfire Hasselback Potatoes
OMG! These potatoes look so, so effing good.
How to make it: bsinthekitchen.com
12.

Coconut-Lime White Fish with Zucchini and Corn
I just need a minute on this one.
How to make it: thescrumptiouspumpkin.com
13.

Grilled Italian Sandwiches
Sandwiches, in foil, on the grill? How easy and ever-so-clever!
How to make it: neighborfoodblog.com
14.

Italian Sausage and Pepper Foil Packet Meal
This looks like it would be perfect for a family!
How to make it: homemadeinterest.com
15.

Roasted Beets in Foil
Awesome, amazing, delish side dish!
How to make it: anyzkowo.blogspot.com
16.

Grilled Chicken Foil Packets with Soup and Veggies
A soup in a foil pack? I'm in!
How to make it: tablespoon.com