It's your turn to host the ladies, which means you have to put out some yummy snacks. The great things about girl's night is that you can indulge a little while you spend time with all your besties. You know you need nibbles, but it can be hard to come up with easy recipes that everyone will like. Well, you are in luck because I've gathered a few of the best. Get ready for a night that no one will ever forget.
---
1

Spinach Artichoke Alfredo Pizza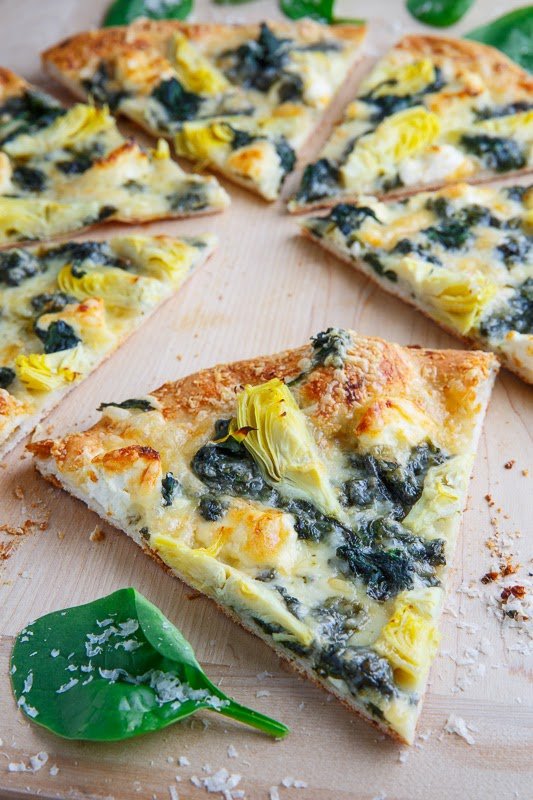 A slice of pizza is a girl's night indulgence you can never go wrong with. If you're looking for something a little more gourmet than pepperoni, you will love this heavenly white pizza.
Ingredients:
1 cup heavy cream
½ cup butter
2 tablespoons cream cheese
¾ cup Parmesan cheese, grated
1 teaspoon garlic powder
1 ½ cups shredded mozzarella cheese
6 ounces roughly chopped fresh spinach
1 can artichoke hearts, rinsed and chopped
Your favorite pizza crust
Directions:
Preheat the oven according to the directions on your pizza crust dough. Melt the cream, butter and cream cheese over low heat. Add the garlic powder and Parmesan cheese and cook for 15 more minutes. Saute the spinach over medium heat, then squeeze it in a kitchen towel to remove all the moisture. Add the spinach to the sauce, then spread it over the crust. Scatter the pizza with the artichoke hearts and mozzarella cheese. Bake for 15 minutes, then serve.
Source: thetwobiteclub.com
---
2

Bacon Double Cheeseburger Dip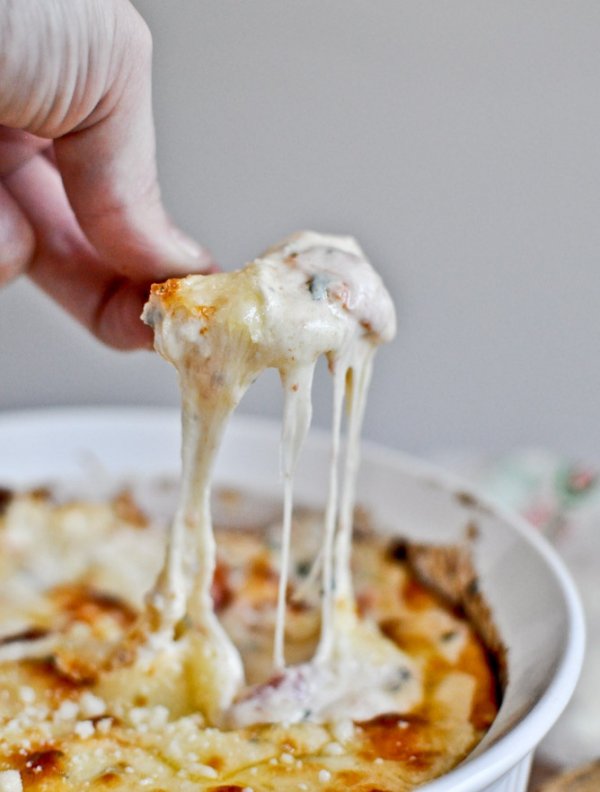 This recipe isn't going to win any health awards, but it is girl's night so go ahead and enjoy this tasty dip. After all, it's not really a party without the chips and dip, right?
Ingredients:
½ pound lean ground beef
6 strips of bacon, diced into 1-inch chunks
1 small diced onion
1 chopped garlic clove
4 ounces cream cheese at room temperature
½ cup sour cream
¼ cup mayonnaise
½ cup shredded mozzarella cheese
½ cup shredded cheddar cheese
1 tablespoon Worcestershire sauce
2 tablespoons ketchup
Directions:
Cook and drain the ground beef. Cook the bacon in the same pan until it's crispy. Drain the pan, leaving 1 tablespoon of grease. Saute the onion for about 5 minutes, then add the garlic and saute another minute. Combine the ground beef, bacon, onion and garlic with the cream cheese, mayonnaise, mozzarella, cheddar, Worcestershire sauce and ketchup until mixed well. Bake at 350 degrees for about 20 to 30 minutes, or until golden brown on top.
Source: closetcooking.com
---
3

Buffalo Balls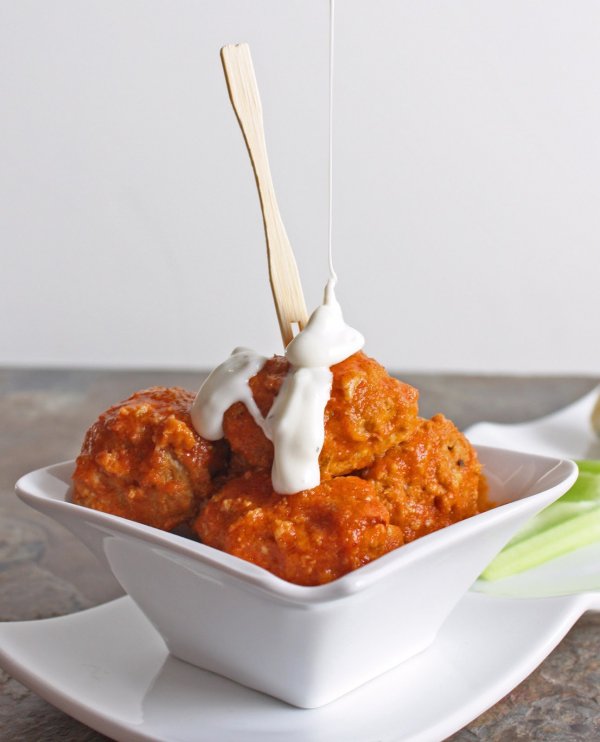 Don't be afraid to try these! They are actually a delightful chicken meatball doused in mouthwatering buffalo wing sauce. What could be more perfect for ladies night? They're healthier than deep fried hot wings!
Ingredients:
1 pound ground chicken
2 ounces softened cream cheese
2 eggs
2 tablespoons chopped celery
2 tablespoons blue cheese, crumbled
½ teaspoon black pepper
½ stick unsalted butter
½ cup Frank's red hot sauce
Directions:
Combine the chicken, cream cheese, eggs, celery, blue cheese and pepper and mix well to combine. Form the mixture into 1-inch balls. Bake at 350 degrees on a greased cookie sheet for about 10 minutes. To make the sauce, melt the butter and hot sauce together until well combined. Dunk the meatballs in the sauce, return them to the baking sheet and cook an additional 12 minutes.
Source: ibreatheimhungry.com
---
4

Lasagna Roll Ups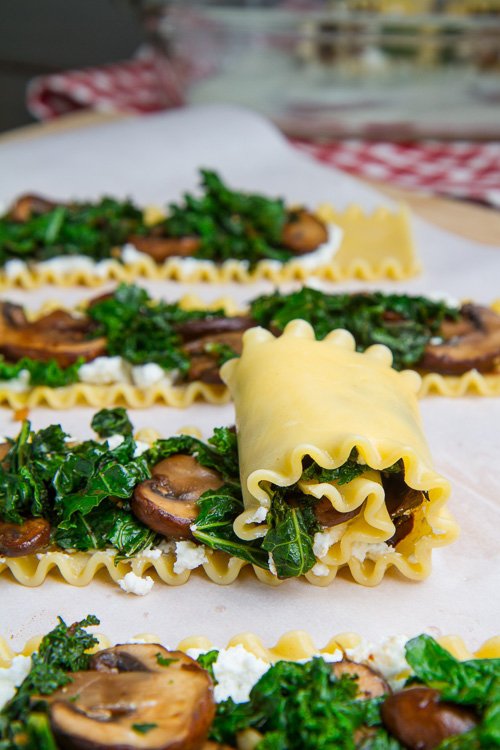 You can eat these on tiny plates or even with your hands if you have a napkin handy. They are perfect for movie night and the leftovers are perfect for lunch tomorrow.
Ingredients:
4 tablespoons extra virgin olive oil
½ pound ground beef
¼ cup yellow onion, finely chopped
28-ounce can crushed tomatoes
2 minced garlic cloves
1 ½ teaspoons dried basil
½ teaspoon dried oregano
Salt and pepper, to taste
15 ounces ricotta cheese
1 egg
1/3 cup chopped fresh parsley
2 ¼ cups shredded mozzarella cheese
¾ cup grated Parmesan cheese
1/3 cup grated Romano cheese
¼ teaspoon salt
¼ teaspoon black pepper
12 uncooked lasagna noodles
Directions:
Preheat the oven to 375 degrees. Cook the beef and onions in 1 tablespoon of olive oil over medium heat until browned. Drain. Pulse the beef in the food processor for about 5 seconds and return to the pan. Add the crushed tomatoes, garlic, basil, oregano and 1 tablespoon olive oil. Season with salt and pepper and simmer. Meanwhile, cook the lasagna noodles with the salt and 1 tablespoon olive oil. Drain and lay the noodles flat on a baking sheet. Combine the ricotta, egg and ¼ teaspoon each salt and pepper. Add the parsley, 1 ¾ cups mozzarella, ½ cup Parmesan and 1/3 cup Romano cheese. Place 1/3 cup of the sauce in a baking sheet. Divide the cheese mixture and ¼ cup of the meat evenly among the noodles. Roll and place in the baking sheet. Cover with the remaining meat sauce and cheeses and bake for 35 minutes. Garnish with parsley.
Source: cookingclassy.com
---
5

Crispy Brussels Sprouts with Garlic Aioli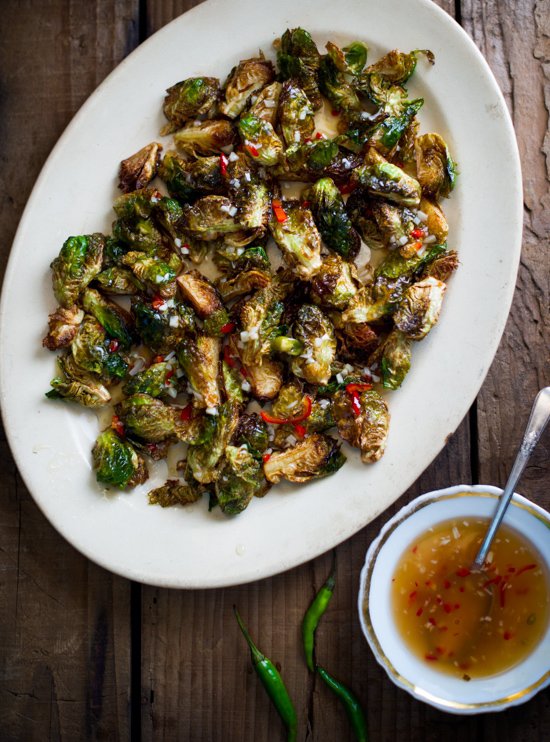 This is one of my favorites! These crispy little delights are even better than potato chips and they do have some health value when you compare them to other party snacks. The dip is to die for.
Ingredients:
20 Brussels sprouts, cut into quarters
3 or 4 tablespoons oil
Salt and pepper
6 tablespoons mayonnaise
¼ cup finely minced garlic
1 teaspoon lemon juice
1 tablespoon finely diced fresh parsley
Directions:
Spread the Brussels sprouts on a baking sheet and drizzle with the oil. Season to taste with salt and pepper. Bake for 15 minutes at 400 degrees. To make the sauce, combine the mayonnaise, garlic, lemon juice and parsley and serve with the cooked Brussels sprouts.
Source: food.com
---
6

Asian Chicken Kebabs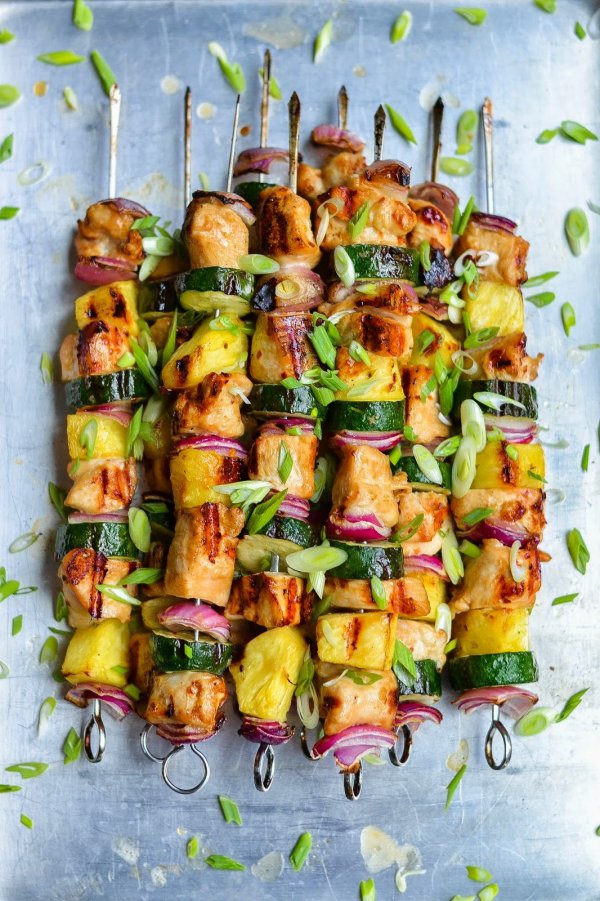 Here's something that you can serve without guilt. It's way better than a lot of traditional party foods and has so much flavor that you won't even miss the fat and calories.
Ingredients:
¼ cup cilantro leaves
¼ cup oil
1 tablespoon Sriracha sauce
1 tablespoon light brown sugar
2 teaspoons soy sauce
1 or 2 garlic cloves
2 inches fresh ginger, peeled and chopped
1 small chopped onion
Salt
1 pound chicken thighs, cut into strips
½ cup prepared sauce (ponzu or chili sauce)
Wooden skewers soaked for 30 minutes
Directions:
Place the cilantro, oil, chili sauce, sugar, soy sauce, garlic, ginger, onions and a ½ teaspoon salt in your food processor. Blend until smooth. Drain the skewers and thread the chicken strips onto them. Place in a baking dish and coat each with the cilantro mixture. Cover and marinate for 1 to 2 hours. Grill the kebabs over medium-high heat until cooked through, about 4 minutes per side. Serve with dipping sauce.
Source: foodnetwork.com
---
7

Fruit Salsa with Baked Cinnamon Chips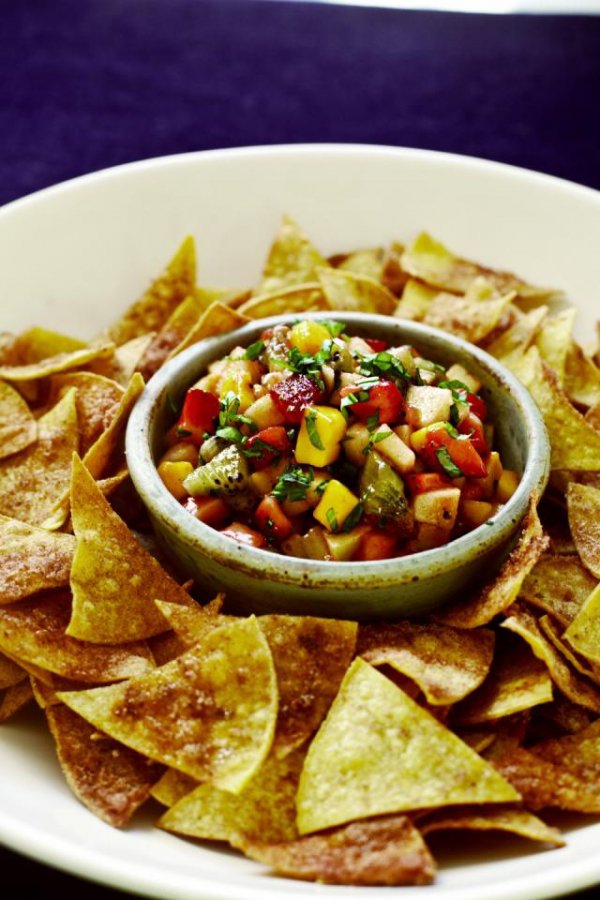 Here's a sweet treat you can feel good about eating. Fruit is a great source of nutrients and the dipping chips make you feel like you're eating a fancy dessert.
Ingredients:
2 peeled and diced kiwis
2 peeled, cored and diced apples
8 ounces raspberries
16 ounces diced strawberries
2 tablespoons sugar
1 tablespoon brown sugar
3 tablespoons any flavor fruit preserves
10 flour tortillas (10-inch)
Melted butter
1 cup white sugar
2 tablespoon cinnamon
Directions:
Mix all the fruit with the preserves and chill for 15 minutes. Preheat the oven to 350 degrees. Cut the tortillas into wedges, brush with melted butter and sprinkle with cinnamon and sugar. Bake for 10 minutes and serve with the fruit salsa.
Source: the-girl-who-ate-everything.com
Which ones will you serve at your next girl's night?
More
---
Comments
Popular
Recent