How often do you find yourself staring in your fridge or pantry, wishing you had more time to conjure up something that not only tastes good but that is healthy also? Many of us sacrifice making an awesome meal because we think we don't have the time. Jamie Oliver has proved that to be a mistake that is easily rectified. He has produced an impressive repertoire of super tasty and healthy meals that you can make in JUST 15 minutes. Here's a wee selection:
---
1

Golden Chicken, Braised Greens & Potato Gratin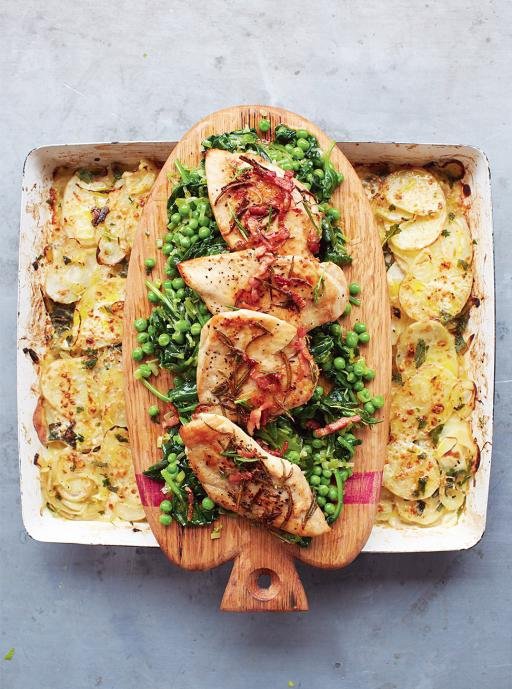 Jamie describes this as "A proper, square meal in minutes" and what's not to love about it? This is meat and two veg pimped up Jamie-style and done in less time than you imagine. And did you think you could eat a full meal that includes gratin for only 666 calories per serving?
Recipe here: jamieoliver.com
2

Griddled Tuna Kinda Niçoise Salad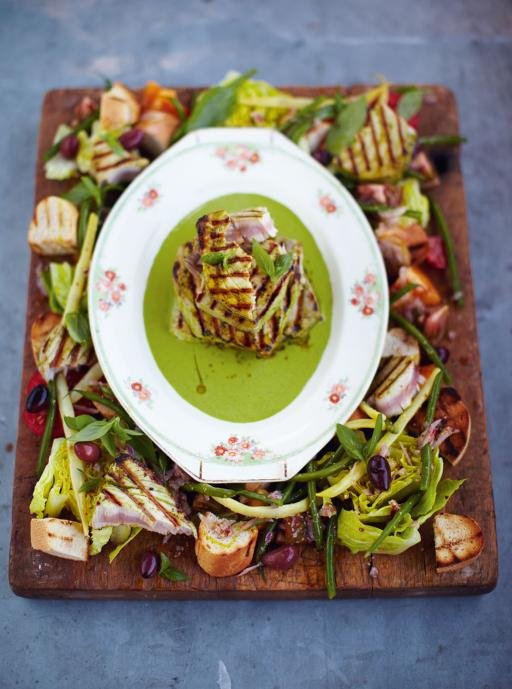 We should all eat more fish and this recipe makes you want to. If you've never tried fresh tuna you really should, 'cos it's tons better than canned. In this recipe, you get all the fabulous flavors of the classic Niçoise salad.
Recipe here: jamieoliver.com
---
3

Crackin' Crab Briks with Couscous Salad & Salsa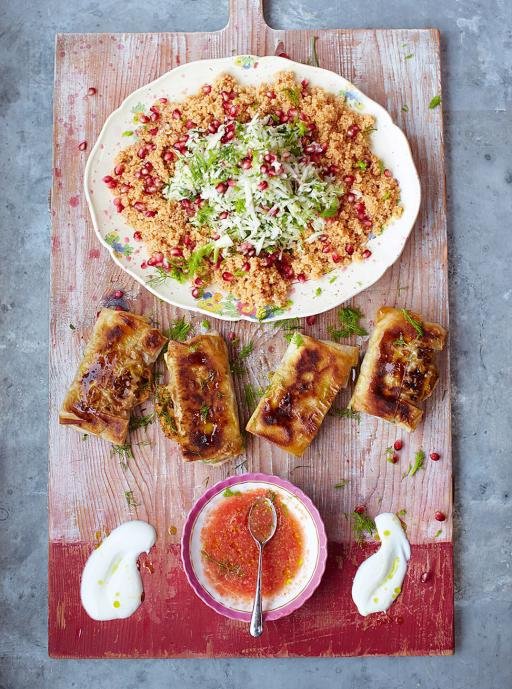 You will drool over this if you love Middle Eastern flavors. You'll be glad it only takes 15 minutes to make this concoction of sweet crab, crispy phyllo pastry and fragrant couscous because you just won't be able to wait any longer to tuck in. It's the best excuse ever to fry pastry.
Recipe here: jamieoliver.com
---
4

Keralan Veggie Curry with Poppadoms, Rice & Minty Yoghurt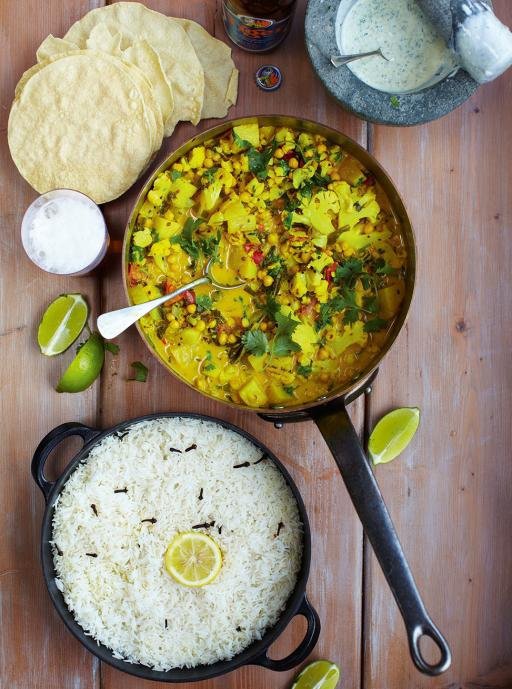 I love that Jamie is fearless when it comes to making vegetables the star of a main meal. In this homage to the delicious and aromatic flavors of the Southern Indian state of Kerala, he mixed a heady combination of cauliflower, chickpeas and pineapple. And, he gives us a foolproof method for fluffy rice.
Recipe here: jamieoliver.com
---
5

Pasta Pesto with Garlic and Rosemary Chicken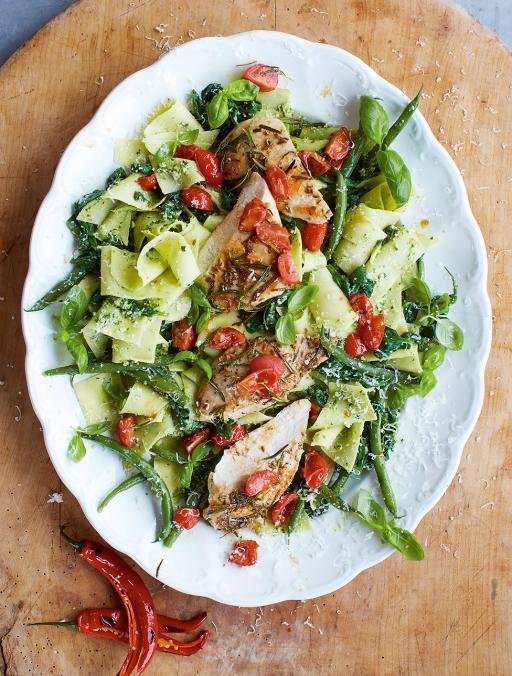 You couldn't have a Jamie Oliver collection without a pasta dish. In this recipe, he adds succulent chicken to a simple pasta coated in yummy pesto to make a good dinner or supper dish. Not forgetting the importance of and need for veggies, French beans feature too.
Recipe here: jamieoliver.com
---
6

Thai Chicken Laksa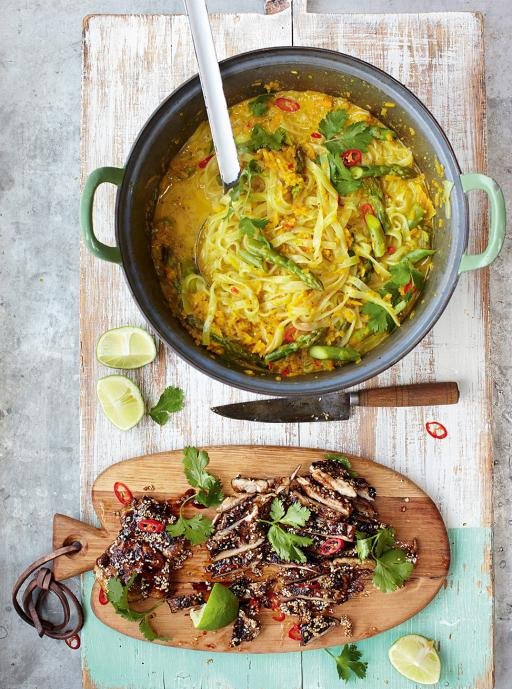 Asian food connoisseurs will know this is so wrong! Firstly, Laksa is not Thai – it is Malaysian Singaporean and Indonesian. Secondly, the beauty of a Laksa comes from the development of spices to give the broth the intense fragrance and dense flavor. But we'll forgive him because he is bringing us a dish redolent of a true laksa in a short time.
Recipe here: jamieoliver.com
---
7

Ricotta Fritters with Tomato Sauce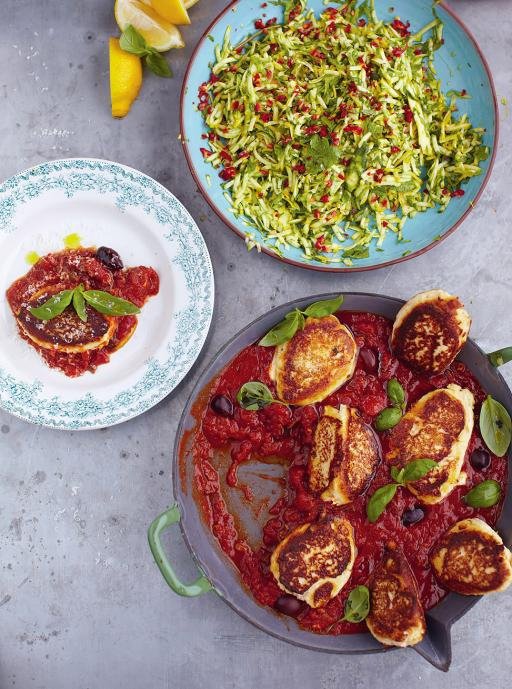 Don't be put off by the name of the recipe. Ricotta + fritters surely means a high-calorie count – yes? No! Each serving of this recipe is only 408 calories. The fritters are dense and creamy and are served in a rich tomato sauce. The whole dish is freshened up with a yummy zucchini salad.
Recipe here: jamieoliver.com
It might seem impossible to make these in 15 minutes and in all honestly, Jamie may be able to do it in that time but us amateur cooks won't. If, however, you get into the mindset of "15 minute meals," you can certainly achieve something fabulous in a short time. Here's a video explaining the ethos of the whole thing, which includes the important things of having pans on, the kettle boiling and everything laid out ready.
Are you going to put a 15 minute recipe to the test?
---
Comments
Popular
Related
Recent