Here Are the Best Things to Cook with New Potatoes Right Now ...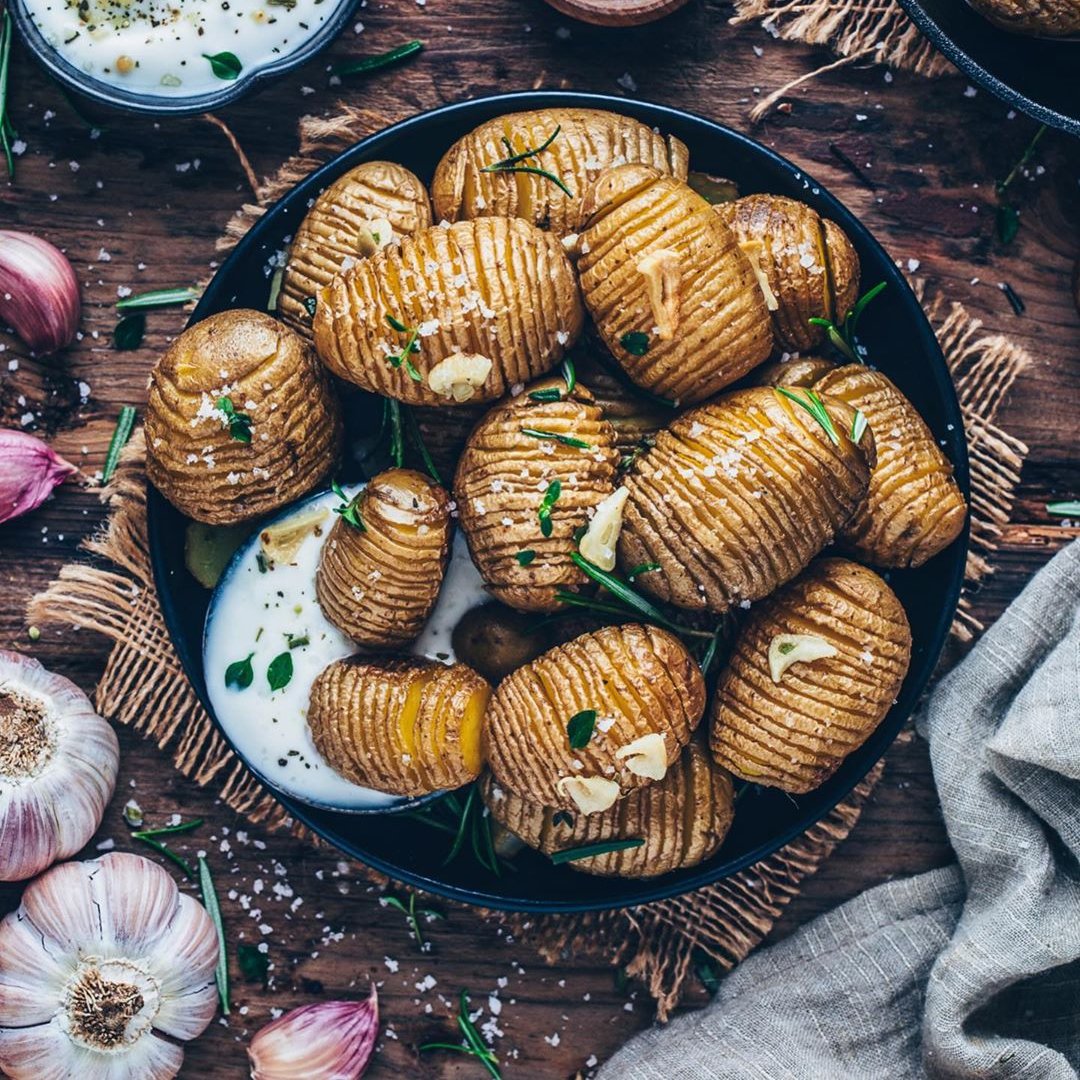 New potatoes are simply potatoes that have been harvested early so they are smaller and have a thinner skin. Their flavor is a bit milder as well. You can find new potatoes at pretty much any grocery store and they make a great choice if you want to try something different at meal time. Try one of these recipes and you'll be so glad you decided to branch out and try something new.
1.

New Potatoes with Caper Sauce
Because new potatoes are so mild in flavor, you can pair them with ingredients that have a more intense taste. In this case, capers give the potatoes dimension and turn this dish into something you'll want to make over and over again.
Ingredients:
12 new potatoes, washed
½ cup softened butter
2 tablespoons chopped capers
1 tablespoon minced green onion
½ cup Parmesan cheese, grated
2 tablespoons fresh parsley, chopped
1 teaspoon white wine vinegar
Salt and pepper
Directions:
In a small bowl, stir together the butter, capers, green onion, Parmesan cheese, parsley and vinegar. Set aside. Cook the potatoes in boiling water for 15 to 20 minutes, or until firm. You can cut larger ones into halves or quarters, if needed. Drain the potatoes and return them to the pot. Add the butter mixture and toss to coat. Serve hot.
Source: allrecipes.com
This recipe is perfect for a busy night because it's fast and easy. It lets you enjoy a glamorous meal even when time is tight. I guarantee this is will soon become one of your family's favorite side dishes.
Ingredients:
4 new potatoes
1 tablespoon olive oil
1 clove of garlic
1 tablespoon chives
Salt and pepper
2 tablespoons of your favorite cheese, grated
1 tablespoon Parmesan cheese
A handful of your favorite herbs
Directions:
Preheat your broiler. Boil the potatoes in salted water until tender, about 15 minutes. Combine the oil and garlic in a small bowl and set aside. Place the potatoes on a baking sheet and carefully crush each of them with a potato masher. Divide the garlic oil among the potatoes and season each with salt and pepper. Add the cheeses and chives and broil until the potatoes are crispy on top, about 10 minutes.
Source: inspiredreamer.com
3.

Texas Style New Potato Salad
This is the perfect side dish to take to all your summer barbecues this year. It's perfect warm, but it also tastes pretty great chilled too. Make extra because this is going to go pretty fast.
Ingredients:
3 pounds new potatoes
1 red onion, cut into slices
1 tablespoon coriander seed
Pinch of cumin
1 tablespoon oregano
2 minced serrano chilies
3 slices crisply cooked bacon, chopped
1 bunch chopped fresh cilantro
¼ cup olive oil
1 tablespoon red wine vinegar
1 teaspoon salt
½ teaspoon pepper
Directions:
Boil the potatoes until tender, about 20 minutes, then drain and cool before cutting the potatoes into quarters. Grill the onion slices for several minutes. Toast the coriander seeds and cumin in a small skillet for about 1 minute. Add the oregano and toast for an additional 20 seconds. Remove and put the spices in a bowl. Add the oil, vinegar, salt and pepper and stir to combine. Add the potatoes, bacon, onions, chilies and cilantro and gently toss to combine.
Source: shewearsmanyhats.com
4.

Lemon Horseradish New Potatoes
Looking for something with a kick? This recipe is sure to please. It's packed with flavor and has just a subtle hint of spiciness. The lemon adds a refreshing hit of taste that perfectly balances the horseradish. Enjoy!
Ingredients:
¼ cup butter
½ teaspoon salt
¼ teaspoon pepper
2 tablespoons prepared horseradish
2 tablespoons freshly squeezed lemon juice
1 ½ pounds new potatoes
Directions:
Preheat the oven to 350 degrees. Melt the butter in an oven safe dish, then add the salt, pepper, horseradish and lemon juice. Add the potatoes to the dish and toss to coat each with the butter mixture. Cover and bake for 1 hour, or until the potatoes are soft.
Source: allrecipes.com
5.

New Potatoes in Garlic Cream Sauce
Nothing tastes better with potatoes than garlic, which makes this dish a must-try recipe. The sauce gives the potatoes just the right amount of flavor and makes for a side dish that stands all on its own.
Ingredients:
2 pounds new potatoes
½ teaspoon salt
1 tablespoon olive oil
½ onion, diced
1 pressed garlic clove
¾ cup heavy cream
¼ cup chopped fresh dill
Directions:
Clean the potatoes and boil until tender. You can cut them into halves or quarters if you prefer. Saute the onion in the olive oil over medium heat until soft. Add the garlic and cook for another minute. Stir in the cream and salt and simmer the sauce for about 2 minutes. Turn off the heat and add the dill, stirring to combine. Add the potatoes and toss gently to coat them with the sauce.
Source: natashaskitchen.com
6.

Bacon Wrapped New Potatoes
This recipe is a great side dish, but also works really well for an appetizer that will surprise all your guests. Everything is better with bacon and this recipe proves it.
Ingredients:
15 small new potatoes
5 slices bacon, each cut into 3 pieces
1 package ranch dressing mix
15 toothpicks
Directions:
Preheat your grill to low heat. Wrap one piece of bacon around each potato and hold in place with a toothpick. Sprinkle the wrapped potatoes with the ranch dressing. Cook on the grill for 20 to 25 minutes, turning regularly for even cooking.
Source: allrecipes.com
7.

Roasted New Potato Salad with Olives
One taste of this delicious salad and you won't even need an entrée to go with it. It also works great as leftovers for lunch the next day.
Ingredients:
2 pounds new potatoes, rinsed and cut in half
2 tablespoons olive oil
1 ¼ teaspoons herbs de Provence
Salt and pepper
½ cup Kalamata olives, pitted and chopped
½ red onion, slivered
2 tablespoons fresh parsley, chopped
1 ½ tablespoons malt vinegar
1 tablespoon mayonnaise
1 minced garlic clove
3 tablespoons olive oil
Directions:
Combine the olive oil, herbs de Porvence, salt and pepper in a large bowl. Add the potatoes and toss to coat. Transfer the potatoes to a baking sheet, cut sides down. Place in oven, then heat to 450 degrees. Roast for 20 to 25 minutes. Place the potatoes in a bowl and add the olives, onion and parsley. In a separate bowl, combine the vinegar, mayo, salt and pepper. Slowly add the olive oil and stir to combine. Pour the dressing over the potatoes and serve.
Source: allrecipes.com
I bet you're dying to grab some new potatoes! Which recipe will you try first? What other great things would you make with new potatoes?
{{#comments_count}} Show Commnents ({{comments_count}}) {{/comments_count}}