Muffin Recipes are getting quite adventurous, even exotic. It's no longer all about blueberries and bran, y'all! I love experimenting with muffin recipes, finding ways to make them decadent and moist. After all, what are muffins but healthy cupcakes? Actually, that's probably hugely inaccurate, but that's always been my view. If you love baking and want to experiment with some really marvelous muffin recipes too, just read on!
---
1

Cream Cheese Filled Pumpkin Muffins

at allrecipes.com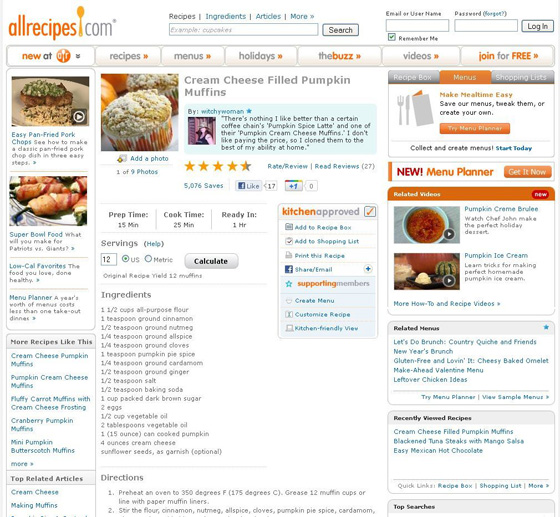 I'm always looking for pumpkin muffin recipes because I'm crazy about the pumpkin and cream cheese combo. Imagine my utter delight when I stumbled upon this one, which is almost an exact replica of Starbucks' woefully seasonal, sinfully delicious cream cheese filled delicacy! Seriously, you won't know the difference – and you won't have to spend an arm and a leg to buy just one! The recipe is incredibly easy, even the filling, but you'll want to do a checklist first, since there are so many ingredients.
2

Cherry Muffins

at muffinrecipes.net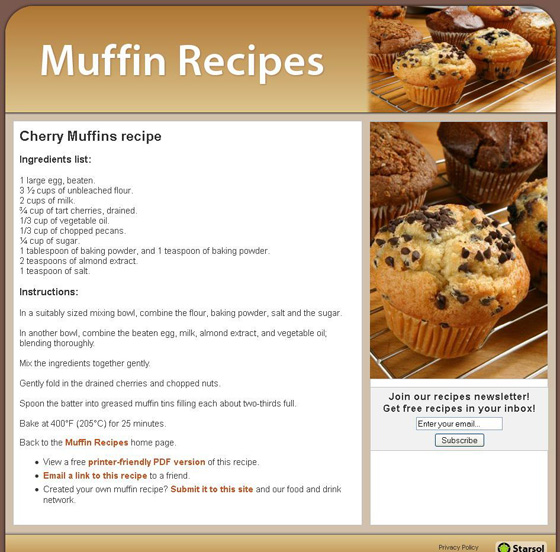 I adore cherries, and tart cherries taste excellent in muffins. This recipe is almost too simple, so the muffins take no time at all to make. They're so good, thanks to the addition of almond extract for a lovely, subtle, nutty flavor, which mixes well with the chopped pecans.
---
3

Chocolate Chip Banana Muffins

at allrecipes.com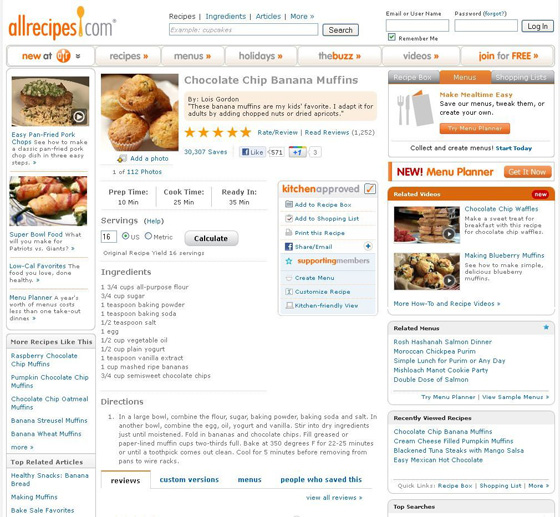 There are lots of chocolate chip muffin recipes out there, but none of them are as good as this one, because it incorporates bananas as well. I love, love, love the combination of chocolate and bananas – they go together so well! Both the bananas and the use of yogurt make these incredibly moist, and the semisweet chocolate adds a lovely richness. You'll definitely need some milk, though!
---
4

Apple Walnut Muffins

at southernfood.about.com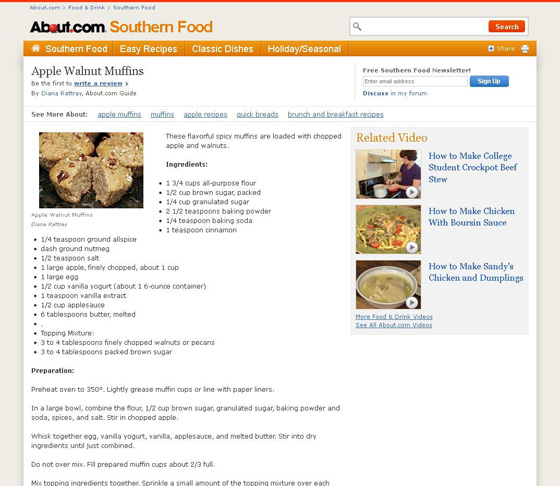 I haven't tried this recipe yet, but as soon as I gather up all the ingredients, I'm all over this. On that note, again, you'll definitely want an ingredients checklist, because you have to make both the muffins and the topping. The topping is pretty simple, though, and from what I can see, I think it would be delicious on any number of other baked goods, from muffins to cakes – it's just brown sugar and chopped walnuts (or pecans, if you prefer!), baked to a crunch. Yum!
---
5

Irish Coffee Muffins

at muffinrecipes.net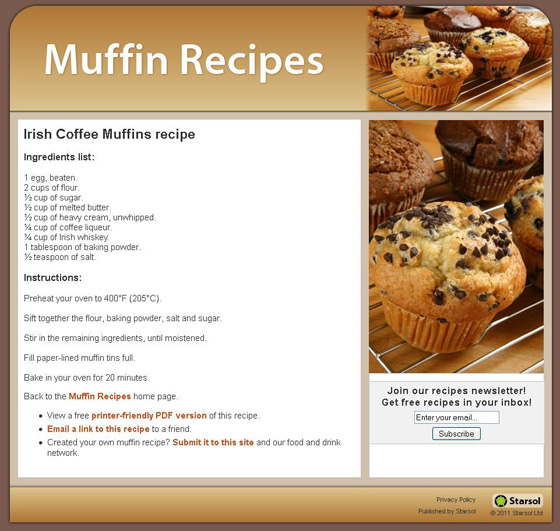 You know, there are far too few muffin recipes that incorporate a little liquor. I'm really not a drinker (that is, I'm a horrible lightweight), but I love using it in cooking and baking. The addition of coffee liqueur and Irish whiskey will make this the kind of muffin that keeps you warm and toasty on cold winter mornings.
---
6

Double Chocolate Cherry Muffins

at allrecipes.com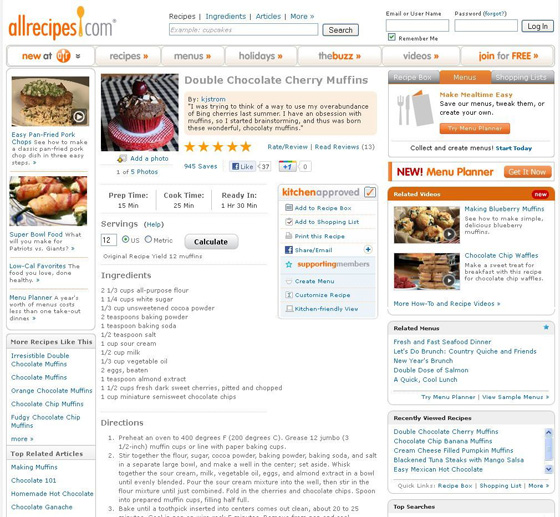 Chocolate and cherries: two of my very favorite things! This is a delicious, decadent muffin that I intend to make for a Valentine's Day breakfast treat. Something about it just screams "Valentine's Day" and "romance" to me. The "double chocolate" comes from cocoa powder and semisweet chips, which will sweeten the tartness of the cherries. Throw in a little almond extract for another, delicious layer of flavor and sour cream for luscious moistness, and you've definitely got a marvelous muffin.
---
7

Peanut Butter Muffins

at muffinrecipes.net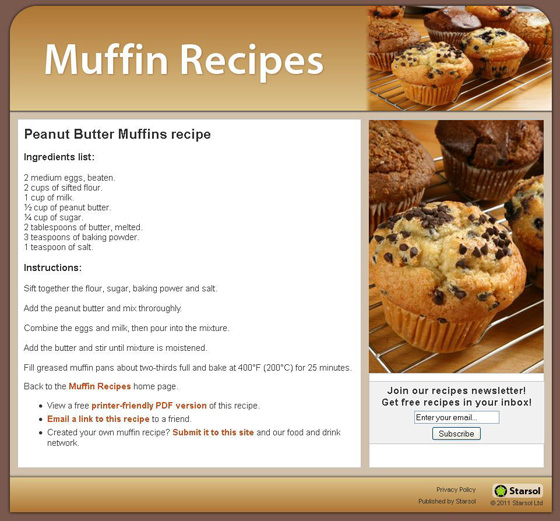 I looked all over for some good peanut butter muffin recipes, and finally, success! This recipe is so easy that you probably already have all the ingredients in your cupboard, but for all its simplicity, the muffins are so tasty! This recipe lends itself well to experimentation as well – you can add in chocolate chips, for example, or bananas, while the addition of strawberries will create incredible PB&J muffins.
---
8

To Die for Blueberry Muffins

at allrecipes.com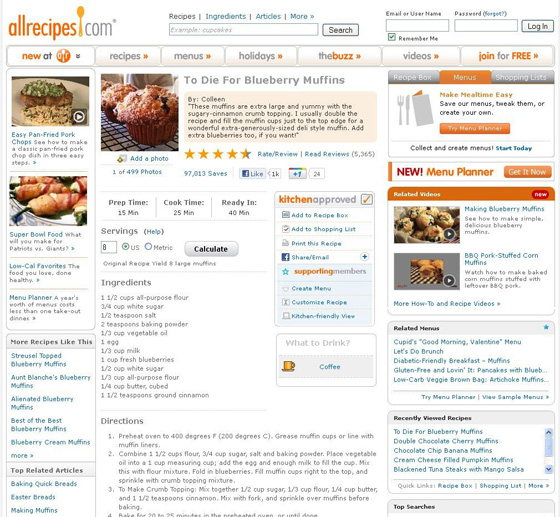 Blueberry muffins are probably the most popular kind of muffin, so I couldn't neglect to look for a great recipe! This one works best with fresh blueberries, naturally, but if you buy some frozen, let them defrost, and drain them completely, they'll honestly work just as well. I think these would be great with that walnut topping!
---
9

Chocolate Chip Muffins

at muffinrecipes.net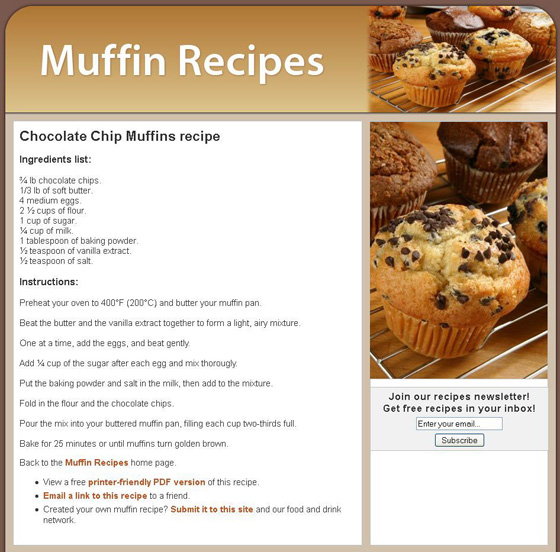 I couldn't resist this, because I adore chocolate chip muffins. Like say, there are tons of chocolate chip muffin recipes floating around out there, but I like this one because it's simple, easy, and delicious. The resulting muffins are incredibly light, but gooey with chocolate. Heat them up a little bit before you eat them – that's a real treat.
I've tried a lot of these muffin recipes (I live in a muffin crazy household!), and I'm dying to try the others. Muffins are a tasty but comparably healthy alternative to cupcakes, and the great part about many of these muffin recipes is that you can substitute a lot of the ingredients to make them even healthier. How about sharing some of your favorite muffin recipes? Protip: I'm looking for a great lemon poppy seed recipe that I can trust, and I'll give mad love to anyone who can point me in the right direction!
Top Image Source: weheartit.com
---
Popular
Related
Recent