I don't know about you, but I just can't get enough of egg breakfast dishes! Breakfast in general is my favorite meal and I've been known to have breakfast for dinner fairly often. These egg breakfast dishes are some of my absolute favorites. They are all relatively easy to make and 100% delicious!
1

Eggs Benedict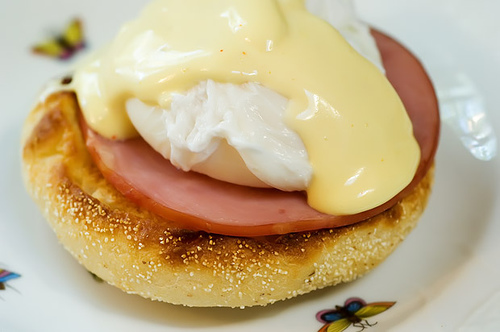 In my opinion, Eggs Benedict is one of the best egg breakfast dishes by a long shot! I have had them made every way possible with various ingredients. If it is on the menu at a restaurant I am automatically getting it. Last year I decided to give in and learn how to make it myself. Cheating and using store bought powdered mix for the Hollandaise Sauce makes this dish far easier than I ever thought possible. The first time I made it I had never poached eggs before and I thought that would be insanely hard, but once you get the technique down it's a snap!
Ingredients:
8 Eggs
1 Packet Knorr Hollandaise Powdered Mix
1 Cup Milk
¼ Cup Butter
8 Slices Cooked Canadian Bacon
4 English Muffins, Toasted
2 Tsp Vinegar
Directions:
Bring a shallow pot of water to a boil, then reduce the heat slightly.
Add the Vinegar and use a spoon to swirl the water in a circle, making a shallow whirlpool of sorts.
Cook the eggs one at a time by dropping the egg into the center of the swirl of water (It's easier to crack the egg into a small bowl then tip the bowl into the water to ensure you don't splash yourself with hot water or break your yolk).
Push the whites close to the yolk.
Cover the pot, turn off the heat and allow to cook for 4 minutes.
Prepare your Hollandaise Sauce by whisking all of the ingredients together and bringing to a boil, making sure to stir almost constantly so the milk doesn't scorch.
Top each English Muffin half with Canadian bacon, place a poached egg on top and top the whole thing with the incredible buttery Hollandaise sauce.
2

AvoEggo Sandwich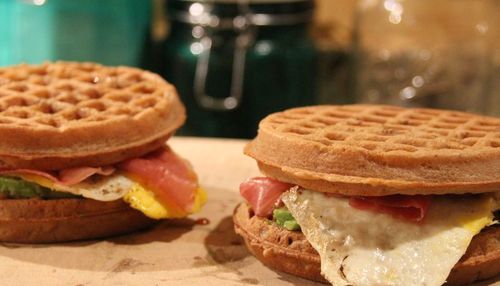 As I said, I love breakfast food. Sometimes I can't decide if I want a waffle or an egg sandwich, so I combine the two and make this delicious concoction! I am a huge fan of avocado and I think it's a great flavor to mix with eggs. The avocado also adds some moisture to the sandwich the way that mayo would. Give this odd sandwich a try, you'll love it!
Ingredients:
2 Frozen Waffles
½ Avocado
2 Eggs
2 Slices Cheese
2-4 Slices Thinly Sliced Ham
Directions:
Toast your waffles.
Fry the eggs in a non-stick pan.
Spread the avocado onto your toasted waffles; top that with the ham and cheese.
Crown the whole thing with your fried egg and the second waffle.
Trendinig Stories
More Stories ...
3

Bacon and Egg Cups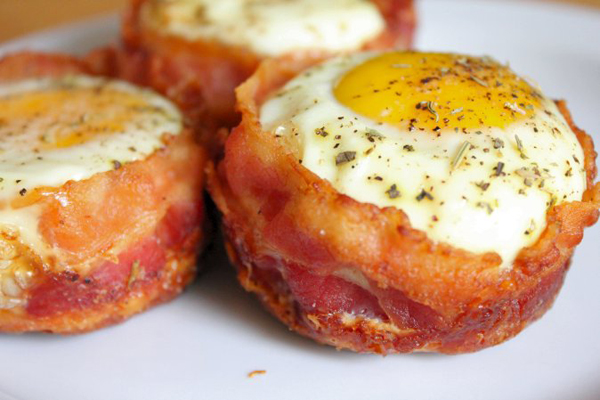 This neat little dish is one of the easiest and downright appetizing looking egg breakfast dishes I've ever made. My husband loves these too, so I make them quite a bit. I love cooking unusual dishes in my muffin tins but this one tops my list of favorites. There are all sorts of variations, you can substitute a slice of ham or a few spoonfuls of corned beef hash for the bacon, or scramble your eggs if you prefer them that way.
Ingredients:
6 Eggs
12 Slices of Bacon
Shredded Cheese (optional)
Directions:
Lightly grease your muffin tins (I didn't the first time I made them and barely got the bacon out intact)
Line each cup with 2 slices of bacon.
Bake the bacon in a preheated 400 degree oven for 5 minutes.
Remove from the oven and crack one egg into each cup.
Top with cheese if desired.
Return to the oven for 10-15 minutes or until the egg whites are set.
---
4

Crock Pot Casserole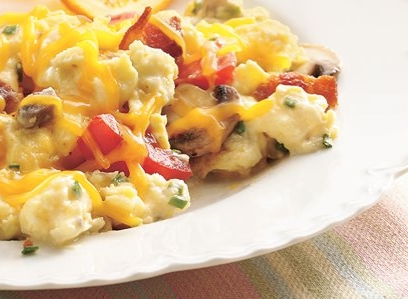 There is nothing better than waking up to a nice hot breakfast, especially one that's ready and waiting for you! Make this phenomenal meal in your crock pot before you go to bed and when you awake you will have a super tasty breakfast casserole to dig into!
Ingredients:
1 dozen eggs
1 cup milk
1 package (32 oz.) of frozen hash brown potatoes.
1 lb of bacon - cooked, drained and cut into pieces.
1 lb of sausage, browned and drained
1/2 cup green onions - diced
1 green pepper - diced
3/4 pound cheddar cheese - shredded
1/4 teaspoon dry mustard
salt & pepper to taste
Directions:
Lightly grease the inside of your crock pot for easy removal (or use a liner).
Make 3 layers: 1-Hash browns (sprinkle with salt and pepper); 2- Bacon and sausage; 3- Onion and pepper.
Top with Cheese.
Repeat the layers again.
Beat the eggs, milk, mustard, salt & pepper together in a bowl.
Pour over the whole mixture in the crock pot.
Cook on low for ten to twelve hours or until eggs are set and thoroughly cooked.
Source: momswhothink.com
---
5

Breakfast Quesadillas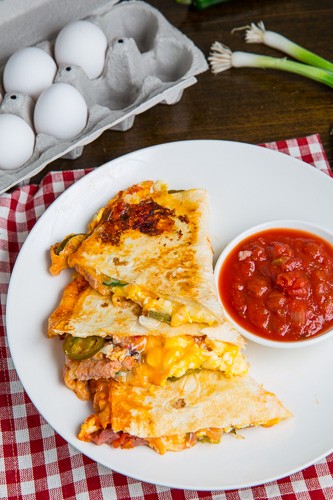 I love love love Mexican food so of course breakfast quesadillas are on my list! These are so easy to make and you can really use whatever ingredients you'd like, so don't feel that you have to stick to these choices.
Ingredients:
1 (10 inch) tortilla
1/4 Cup cheddar, shredded
1/4 Cup jack, shredded
1/4 Cup ham or bacon cooked and chopped
2 Eggs, scrambled
2 tbsp salsa
1 tbsp jalapenos, sliced
1 green onion, sliced
Directions:
Heat a pan over medium heat.
Place the tortilla in the pan and sprinkle half of the cheese over half of the tortilla.
Add the rest of the ingredients in whatever order you choose.
Top with the last half of the cheese.
Fold the tortilla in half, covering the filling.
Cook until both sides of the tortilla are golden brown (about 2-4 minutes each side).
Source: eatyourbooks.com
---
6

Tostadas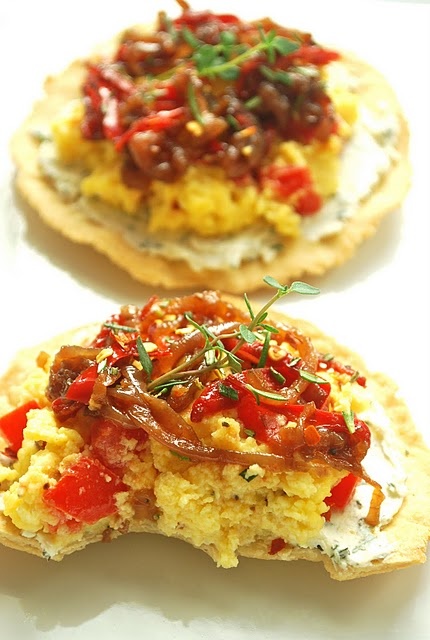 Okay, admittedly, this one is a bit more involved. But believe me when I say it is worth every solitary second you spend preparing it. The tastes mingle so wonderfully it's hard to keep yourself from devouring all of them! I love the creamy goat cheese paired with the crunch of the tortilla and the incredible caramelized onions!
Ingredients:
8 corn tortillas, fried in canola oil until slightly crispy
4oz Herbed goat cheese
2 cups thinly sliced red onion
1 cup thinly sliced red bell pepper
2 tablespoons olive oil
1 tablespoon balsamic vinegar
1/2 teaspoon salt
1/4 teaspoon pepper
4 eggs
1/2 cup diced tomato
1/4 cup grated gruyere cheese
1/4 cup heavy cream
1/4 teaspoon red pepper flakes
salt and pepper, to taste
2 tablespoons unsalted butter
Fresh Herbs (optional)
Directions:
In a medium saucepan, combine onions, bell pepper, olive oil, vinegar, salt and pepper.
Turn heat on low and let mixture caramelize for 1 hour, stirring occasionally.
Remove from heat and set aside.
In a large bowl, beat eggs and whisk in cream, tomato, Gruyere, red pepper flakes, salt and pepper.
Melt butter in a non-stick pan and pour egg mixture in.
Cook until done.
Spread about 1 tablespoon herbed goat cheese onto a tortilla.
Top with scrambled eggs and caramelized onion mixture.
Garnish with chopped herbs and red pepper flakes.
Source: tasty-trials.com
---
7

Baked Eggs Caprese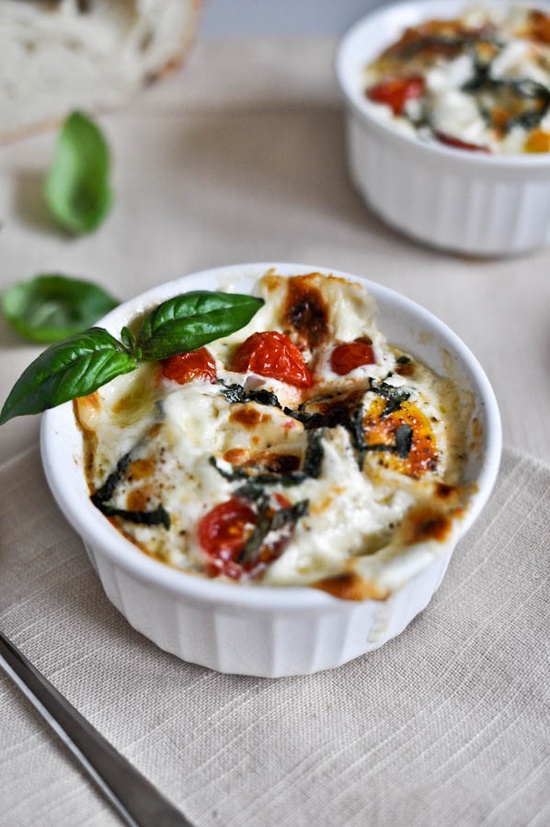 This is a great way to start your day off with some fresh veggies. The tomato, onion and pepper hiding within the baked eggs taste simply amazing! Every bite holds the melty decadence of cheese, which makes even those who aren't fond of their vegetables likely to finish the whole dish!
Ingredients:
8 Eggs
1 pint grape tomatoes, cut in half
4 ounces mozzarella cheese, chopped
8 fresh basil leaves
2 tsp cream or milk
Salt and Pepper
Butter, softened
Directions:
Preheat oven to 350 degrees.
Butter 4 ramekins and fill each with a few pieces of tomato, cheese and basil.
Crack two eggs into each and season with salt and pepper
Add 1/2 teaspoon of cream to each ramekin.
Place a few tomatoes, some cheese and basil on top.
Bake for 5-8 minutes on a baking sheet.
Turn on the broiler and bake for 3-5 additional minutes depending on how runny you like your yolks.
**Source: **howsweeteats.com
I hope you find these fantastic egg breakfast dishes as delicious as I do! These are some incredibly easy recipes mixed with some more difficult or time consuming dishes, so there is something for every level of experience. What is your favorite egg dish to eat for breakfast?
---
Comments
Popular
Related
Recent