I am always looking for ways to fit time to eat well into my schedule, and that's why I am constantly searching for new crockpot recipes. One major key to losing weight and living healthy is eating well, but sometimes my busy life does not allot me the time to cook and I am sure that all you ladies can relate. Not only do I not have time to cook but sometimes I just want to whip something up with as few ingredients as possible. Well, here is a list of some of my favorite crockpot recipes with 5 ingredients or less. Yum!
---
1

BBQ Pulled Pork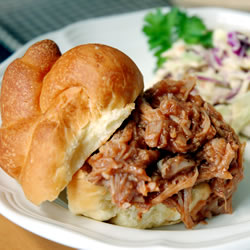 This is one of my favorite crockpot recipes, a sloppy pulled pork sandwich. Although I am not a huge pork fan, this is a goodie. When I'm serving guests I keep the recipe as is but when its just me and my family I use a roast beef or beef ribs instead of the pork and it comes out phenomenal! I love the fact that I can throw the meat in the crockpot with some BBQ sauce, leave the house and voila! I come home to the scrumptious smell of BBQ. Throw the meat on some bread and ... dinner's ready! Try this recipe and substitute the beef broth with beer! You'll be licking the plate.
INGREDIENTS:
1 (14 ounce) can beef broth
3 pounds boneless pork ribs
1 (18 ounce) bottle barbeque sauce
DIRECTIONS:
Pour can of beef broth into slow cooker, and add boneless pork ribs.
Cook on high heat for 4 hours, or until meat shreds easily.
Remove meat, and shred with two forks. It will seem that it's not working right away, but it will.
Preheat oven to 350 degrees F (175 degrees C). Transfer the shredded pork to a Dutch oven or iron skillet, and stir in barbeque sauce.
Bake in the preheated oven for 30 minutes, or until heated through.
---
2

Sweet Slow-cooked Ham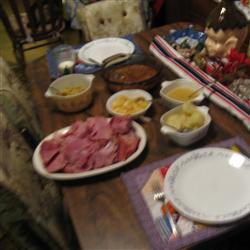 I like this recipe because it has got me through a few holidays without wanting to pull my hair out. In our family we cook a ham and a turkey on Thanksgiving, not to mention oven-baked sweet potatoes, mac and cheese and baked pies... but unfortunately we only have ONE oven! Thank goodness for crockpot ham! This recipe was sent from heaven and has made cooking for the holidays a little more pleasant and I still have a full head of hair!
INGREDIENTS:
1 (16 ounce) package light brown sugar, divided
1 (6 to 7 pound) bone-in picnic ham, rinsed
1 (20 ounce) can crushed pineapple
3/4 cup chai tea latte concentrate (such as Tazo®)
DIRECTIONS:
Spread about 3/4 of the brown sugar into the bottom of the crock of your slow cooker to cover completely.
Place ham atop the brown sugar with the flat side facing down.
Pour pineapple over the ham.
Rub remaining brown sugar over the ham.
Pour chai tea latte concentrate over the ham.
Place cover on the slow cooker and cook on low until an instant-read thermometer inserted into the center of the ham reads at least 160 degrees F (70 degrees C), about 5 1/2 hours.
Baste ham once or twice with juices while cooking.
---
3

Creamy Chicken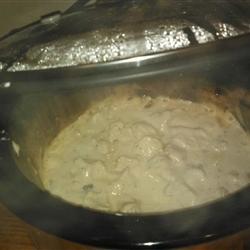 In a perfect world everything would be creamy... and this recipe is full of creamy goodness. Whether you're in the mood for pasta, rice or just vegetables, creamy chicken goes great on top or on the side. You'll enjoy this one!
INGREDIENTS:
1 (8 ounce) package cream cheese at room temperature
1 (10.75 ounce) can cream of mushroom soup
1/4 cup sour cream
1 teaspoon Italian seasoning
2 skinless, boneless chicken breast halves, cut into 1-inch pieces
DIRECTIONS:
Stir cream cheese, cream of mushroom soup, sour cream, and Italian seasoning in the crock of a slow cooker until mixture is thoroughly combined. Stir in chicken cubes. Set cooker to low and cook for 6 hours.
---
4

Chicken and Dumplings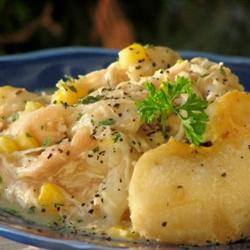 As a kid chicken and dumpling soup was a family favorite, and this recipe takes me right back. With some minor adjustments these chicken and dumplings are wonderfully familiar yet deliciously different. The cream of chicken soup adds the creamy flavor that I adore! Try this recipe with a side of roasted asparagus - I promise you will not regret it!
INGREDIENTS:
4 skinless, boneless chicken breast halves
2 tablespoons butter
2 (10.75 ounce) cans condensed cream of chicken soup
1 onion, finely diced
2 (10 ounce) packages refrigerated biscuit dough, torn into pieces
DIRECTIONS:
Place the chicken, butter, soup, and onion in a slow cooker, and fill with enough water to cover.
Cover, and cook for 5 to 6 hours on high. About 30 minutes before serving, place the torn biscuit dough in the slow cooker. Cook until the dough is no longer raw in the center.
---
5

Easy Spicy Thai Slow Cooker Chicken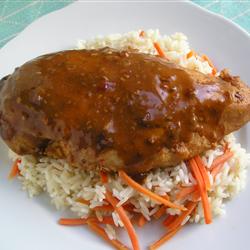 I am such a sucker for anything Asian, and this recipe is so simple it cant get any better. Best of all I always have a bottle (or two) of Kraft sesame dressing, it's a staple in my house, and there is a lite version! This Asian inspired chicken recipe is a breeze to make and a party in your mouth! I suggest you make it like... yesterday!
INGREDIENTS:
1 (16 ounce) bottle Asian-style toasted sesame salad dressing (such as Kraft® Asian Toasted Sesame Dressing & Marinade)
1 tablespoon Thai chili paste, or more to taste
1 tablespoon ginger garlic paste
2 tablespoons peanut butter
6 pieces skinless, boneless chicken (such as breast halves and thighs)
DIRECTIONS:
Stir together the sesame salad dressing, Thai chili paste, ginger garlic paste, and peanut butter in a bowl until the mixture is well combined.
Dip chicken pieces in the mixture, and place into a slow cooker.
Pour the remaining sauce over the chicken.
Set the cooker to low, and cook 4 to 6 hours, until the chicken is very tender.
---
6

Crockpot Oatmeal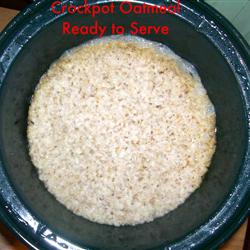 What's better than waking up to breakfast without having to do any work? Nothing! This is definitely worth adding to the recipe book, especially for those of you who are super busy in the morning and usually don't get a chance to prepare breakfast (like me). When I make my crockpot oatmeal I do it slightly different. I don't use any salt, I add the brown sugar before cooking and sprinkle cinnamon over the top before serving. Feel free to make your oatmeal the way you like it. Try adding apples or some nuts.
INGREDIENTS:
1 cup oats
3 cups water
1 pinch salt
1 cup half-and-half cream
1/4 cup brown sugar, or to taste
DIRECTIONS:
Just before going to bed, combine the oats and water in a slow cooker.
Set on low, cover, and let cook overnight. In the morning, stir in the salt and half-and-half. Scoop into bowls, and sprinkle brown sugar over the top.
---
7

Black Forest Cake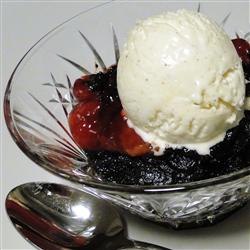 Of course I had to save the best for last... dessert! This delectable chocolate treat will have you salivating. Full of chocolate goodness and fruity flavors, this black forest cake it to die for and so easy to make. I love to experiment a bit, and I have made this recipe in so many different ways. Try adding chocolate chips, coconut flakes, walnuts or anything else you can think of. My family likes their chocolate cake warm with a scoop of vanilla ice cream. How will you enjoy yours?
INGREDIENTS:
1/2 cup butter
1 (8 ounce) can crushed pineapple, drained and juice reserved
1 (21 ounce) can cherry pie filling
1 (18.25 ounce) package chocolate cake mix
DIRECTIONS:
Melt the butter in a small saucepan, and mix with reserved juice from the can of pineapple. Set the mixture aside.
Spread the crushed pineapple in a layer on the bottom of a slow cooker. Spoon the cherry pie filling in an even layer on top of the pineapple, and empty the dry cake mix into the slow cooker on top of the cherry filling. Stir the butter and pineapple juice mixture, and pour it over the dry cake mix.
Set the slow cooker to low, and cook for 3 hours. Spoon the dessert into bowls, and let cool about 5 minutes to cool the hot pie filling before eating.
The crockpot is the best investment I ever made! If you don't have one, wait no longer, stop what you're doing and go get one now! Which recipe will you be trying today? Do you have any crockpot recipes that I can try?
Sources: allrecipes.com, allrecipes.com, allrecipes.com, allrecipes.com, allrecipes.com, allrecipes.com, allrecipes.com
More
Comments
Popular
Recent