Just because something is labeled as a healthy breakfast recipe doesn't mean that it has to be boring in flavor or miniature in size. Who wants to eat the same bland 110 calorie cereal every day just to stay healthy and fit? Not me! I want something that is going to wake me up and give me the energy I need to keep my day going. Check out these healthy breakfast recipes to give your morning routine the boost it needs...
---
1

Fresh Vegetable Omelet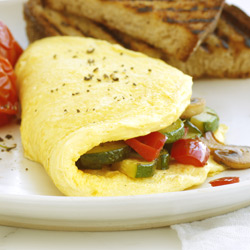 The problem with eggs for those looking for more healthy breakfast recipes is the high cholesterol count, which isn't very heart healthy. So for those who love eating eggs in the morning, but need a healthier version, you can turn to egg whites or products like Egg Beaters, which is what this delicious looking vegetable omelet is made with.
Recipe Ingredients:
1/2 cup halved lengthwise, sliced zucchini
2 tablespoons chopped red bell pepper
3 tablespoons sliced fresh mushrooms
1/8 teaspoon Italian seasoning
1/2 cup Egg Beaters® Original
Recipe Directions:
Spray 8-inch nonstick saute or omelet pan with PAM® Original No-Stick Cooking Spray, if desired. Heat over medium heat. Add zucchini, pepper, mushrooms and Italian seasoning. Cook 4 minutes or until vegetables are tender, stirring frequently. Remove from pan; set aside and keep warm.
Pour Egg Beaters into pan; cook 2 minutes or until edges start to set. Using a rubber spatula, gently lift edges while tilting pan to allow uncooked Egg Beaters to run beneath. Cook just until set.
Place vegetables over half of cooked Egg Beaters. Fold over to cover vegetables. Slide omelet onto plate.
Calorie Count per 1 serving: 83
2

Baked Oatmeal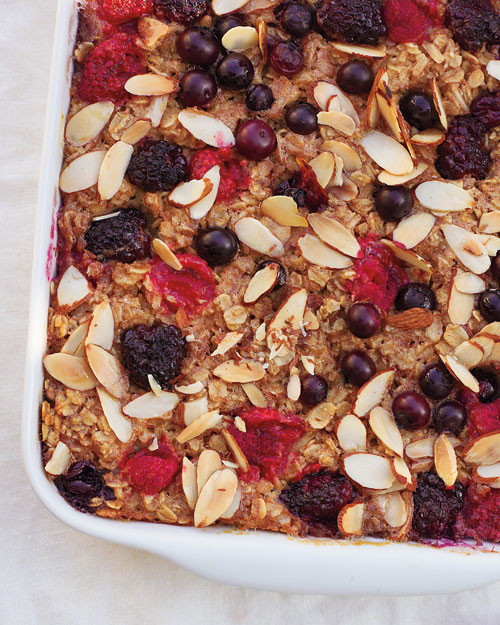 Eating healthy is about learning how to eat fewer processed foods, which is why I love this baked oatmeal recipe from Heidi Swanson. She is a photographer turned foodie blogger, and now cook book author, whose new book is called "Super Natural Every Day." Start a new journey with her cook book and learn how to eat natural ingredients like the ones seen in this recipe.
Recipe Ingredients:
3 tablespoons unsalted butter, melted and cooled slightly, plus more for coating baking dish
2 cups old-fashioned rolled oats
1/2 cup walnuts or almonds, toasted and chopped
1/3 cup fine-grain natural cane sugar
1 teaspoon aluminum-free baking powder
1 1/2 teaspoons ground cinnamon
1/2 teaspoon fine-grain sea salt
2 cups milk
1 large egg
2 teaspoons pure vanilla extract
2 ripe bananas, cut into 1/2-inch slices
1 1/2 cups huckleberries, blueberries, or mixed berries
Maple syrup, for drizzling
Recipe Directions:
Preheat oven to 375 degrees. Butter an 8-inch square baking dish.
Combine the oats, half the nuts, sugar, baking powder, cinnamon, and salt in a bowl. In another bowl, whisk the milk, egg, half the butter, and the vanilla.
Arrange bananas in a single layer on the bottom of the coated baking dish. Sprinkle with two-thirds of the berries, then cover with the oat mixture. Slowly drizzle milk mixture over the oats. Gently tap dish on a work surface to distribute liquid. Scatter remaining berries and nuts across the top.
Bake for 35 to 40 minutes, until the top is nicely golden and the oat mixture has set. Let cool slightly. Drizzle with remaining melted butter and maple syrup.
---
3

Baked Warm Pumpkin Donuts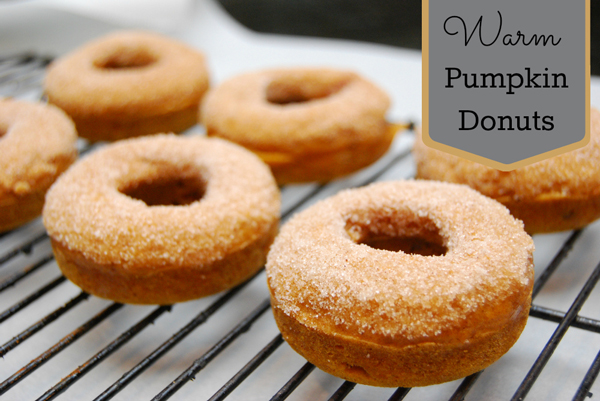 A healthy donut recipe you say? Why yes, and one that will only cost you 119 calories on your MyFitnessPal app! I'm pretty sure I need to get a donut pan and fast! My lovely friend Little Miss Mama shared this tasty little treat on her blog last month, so fear not this pumpkin recipe isn't just for Fall. Who wouldn't love eating a healthy breakfast recipe like this one all year long?
Recipe Ingredients:
Donuts
1 3/4 cups flour1 1/2 teaspoons baking powder
1/2 teaspoon salt
1 ¼ teaspoons cinnamon
1/2 teaspoon nutmeg
1/2 teaspoon allspice
1/4 teaspoon ground cloves
1/3 cup applesauce
1/2 cup brown sugar
1 egg
1 teaspoon vanilla extract
3/4 cup canned pumpkin
1/2 cup milk
Cinnamony-Sugar Coating
1/4 cup butter, melted
1/2 cup sugar
1 tablespoon cinnamon
Recipe Directions:
Preheat oven 350 F. Grease a donut pan or use silicon donut molds, like me, and set aside.
In a bowl, whisk flour, baking powder, salt, cinnamon, nutmeg, allspice, and cloves together and set aside.
In a large bowl, whisk together applesauce, brown sugar, egg, vanilla, pumpkin, and milk until combined.
Slowly add the dry ingredients into the mixture and stir until just combined, taking care to avoid overmixing.
Transfer your batter to a ziploc bag, cut the tip off a corner and pipe perfectly into your pan or silicon molds. Fill each nearly to the top. Bake for 12-15 minutes, until donuts spring back when gently pressed. Turn donuts out onto a wire rack and allow to cool for a few minutes.
All while your little donut delights are cooling, melt your butter in one bowl and combine the sugar and cinnamon in another. When donuts are still warm, use a pastry brush to spread a thin layer of butter onto one side of each donut, dipping them into the cinnamon sugar mixture to coat.
Nutritional Facts for 1 plain donut without topping:
Calories: 119, Fat: 1g, Carb: 29g, Fiber: 1g, Sugars 14g, Protein: 3g
Nutrition Facts for 1 donut with cinnamony-sugar topping:
Calories: 169, Fat: 5g, Carb: 33g, Fiber: 1g, Sugars: 18g, Protein: 3g
---
4

Whole Wheat Apple Pancakes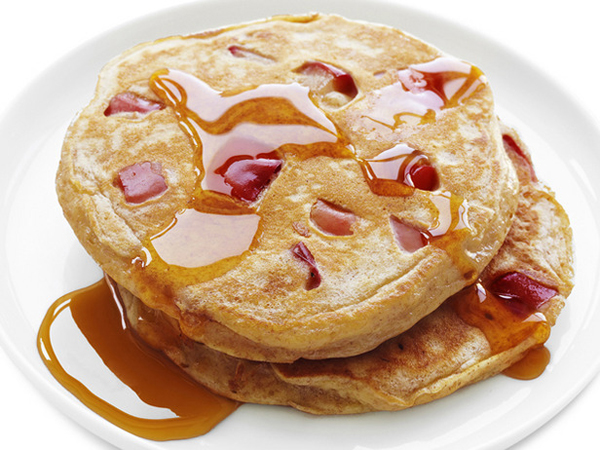 This morning when my husband made the best banana buttermilk pancakes, it got me wondering what other fruits would be interesting to try in a pancake recipe. I never thought of using apples before, so I'm looking forward to trying this recipe from The Food Network; it must be pretty good coming from them!
Recipe Ingredients:
1 cup low-fat buttermilk
3/4 cup nonfat milk
2 large eggs
1 tablespoon honey
6 tablespoons pure maple syrup
1 medium apple, diced
3/4 cup all-purpose flour
3/4 cup whole-wheat four
2 teaspoons baking powder
1/2 teaspoon baking soda
1/4 teaspoon salt
Recipe Directions:
Preheat the oven to 250. Put the apple in a microwave-safe bowl and tightly cover with plastic wrap; microwave on high until softened, about 2 minutes.
In a large bowl, whisk the flours, baking powder, baking soda and salt. In a small bowl, whisk the buttermilk, nonfat milk, eggs and honey, then slowly add the dry ingredients, stirring until just combined.
Heat a large nonstick griddle or skillet over medium heat. Spoon 1/4 cup batter onto the griddle for each pancake and sprinkle each with apple, then drizzle a little more batter over the apple. Cook until the tops are bubbly and the edges are dry, about 2 minutes. Flip and cook until golden brown, 1 to 2 more minutes. Keep the pancakes warm on a baking sheet in the oven while making the rest.
Place 2 pancakes on each plate. Drizzle with the syrup.
Nutritional Facts, P****er serving: Calories 230; Fat 3 g (Saturated 1 g); Cholesterol 75 mg; Sodium 290 mg; Carbohydrate 46 g; Fiber 3 g; Protein 8 g
---
5

Gluten-Free Egg Muffins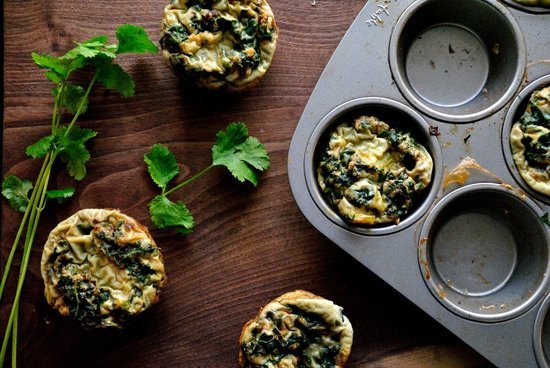 Have you ever seen an egg muffin like this one before? Well you are in for a healthy surprise with this beautiful recipe, which includes kale, fresh cilantro, jalapeno, and eggs! Kale is a super food that is believed to have cancer fighting nutrients in it, so if you aren't already cooking with it, why not start by trying this gluten-free egg muffin recipe?
Recipe Ingredients:
3 cups kale, de-stemmed and chopped into thin ribbons
1/4 small onion, diced, or 4 green onions, finely sliced
2 tablespoons fresh cilantro, minced
1 jalapeño, very finely diced (de-seed and remove the white parts to decrease spice)
1 tablespoon dried oregano
11 egg whites (I use a small carton of organic, free-range liquid egg whites. You can also just use 12 whole eggs if you don't like egg whites)
7 whole eggs
Salt and pepper
Recipe Directions:
Preheat oven to 375°F. Spray a muffin tin with cooking spray and line it with muffin liners (optional).
In a medium microwave-safe bowl, steam prepped kale in the microwave for 2–3 minutes until soft and wilted. Place in a large bowl and set aside.
In that same microwave-safe bowl, add diced onions and microwave for about 1 minute. This helps take away some of the strong, raw oniony taste. Add onions to the bowl with the kale.
Add cilantro, oregano, jalapeño, salt, and pepper to the same onion/kale mix. Stir to combine. Set aside for now.
In a separate large bowl, whisk together whole eggs, egg whites, salt, and pepper. You want the mixture to ribbon off the whisk and be fully scrambled.
Distribute the veggie mixture evenly between your 12 muffin cups.
Distribute egg mixture evenly between the cups, pouring over the veggie mix. I usually use a 1/3-cup measuring cup to do the job.
Bake for about 30 minutes until the muffins are golden brown and puffed up.
Let cool in pan for a few minutes and then remove to a cooling rack. Try to remove them to a rack as soon as you can safely do so, while keeping the muffins intact. If they sit in the pan too long, they continue to steam, and the texture can get rubbery.
Store in your fridge and reheat in a counter-top oven or microwave.
Recipe makes 12 muffins.
---
6

Too Yummy to Share Scramble Eggs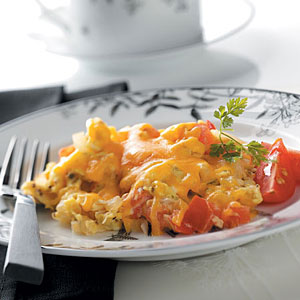 I love when my husband makes cheesy eggs, but never thought of adding other ingredients like tomato, basil, or sweet onion into the mix. Eggs aren't that difficult to make, and are probably a bit healthier for you than many sugary cereals. So step away from the cartoon character boxes and whip up this recipe for something fresh that the whole family will enjoy.
Recipe Ingredients:
1/4 cup chopped sweet onion
1/4 cup chopped tomato
1/8 teaspoon dried basil
Dash salt and pepper
1 egg
1 tablespoon water
2 tablespoons shredded reduced-fat cheddar cheese
Recipe Directions:
In a small nonstick skillet coated with cooking spray, cook and stir onion over medium heat until tender. Add the tomato, basil, salt and pepper; cook 1 minute longer.
In a small bowl, whisk egg and water. Add egg mixture to the pan; cook and stir until egg is completely set. Remove from the heat. Sprinkle with cheese; cover and let stand until cheese is melted. Yield: 1 serving.
Nutritional Facts
1 serving equals 136 calories, 8 g fat (4 g saturated fat), 222 mg cholesterol, 310 mg sodium, 7 g carbohydrate, 1 g fiber, 11 g protein.
---
7

Raspberry Cream Cheese Muffins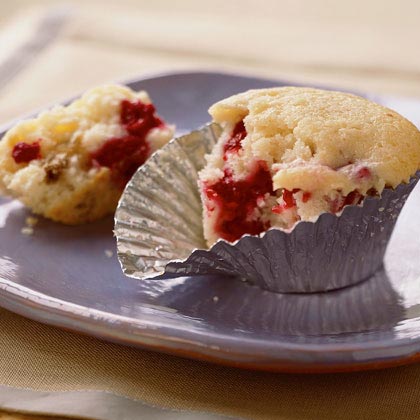 Would you believe this muffin recipe that includes cream cheese is only 142 calories! I've seen a few other "healthy" muffin recipes on my search that were 200 calories or higher... healthy? I think not! So you're wondering how this could only be 142 calories per muffin, the trick is to use ⅓ less fat cream cheese, and low fat buttermilk along with a few other low cal ingredients.
Recipe Ingredients:
2/3 cup (5 ounces) 1/3-less-fat cream cheese, softened
1/3 cup butter, softened
1 1/2 cups sugar
1 1/2 teaspoons vanilla extract
2 large egg whites
1 large egg
2 cups all-purpose flour
1 teaspoon baking powder
1/4 teaspoon baking soda
1/2 teaspoon salt
1/2 cup low-fat buttermilk
2 cups fresh or frozen raspberries
1/4 cup finely chopped walnuts
Recipe Directions:
Preheat oven to 350°.
Combine cream cheese and butter in a large bowl. Beat with a mixer at high speed until well blended. Add sugar; beat until fluffy. Add vanilla, egg whites, and egg; beat well.
Lightly spoon flour into dry measuring cups; level with a knife. Combine flour, baking powder, baking soda, and salt. With mixer on low speed, add the flour mixture and buttermilk to cream cheese mixture, beginning and ending with flour mixture. Gently fold in raspberries and walnuts.
Place 24 foil cup liners in muffin cups. Spoon batter evenly into liners. Bake at 350° 25 minutes or until a wooden pick inserted in center comes out clean. Remove from pans; cool on a wire rack.
---
8

Baked Blueberry French Toast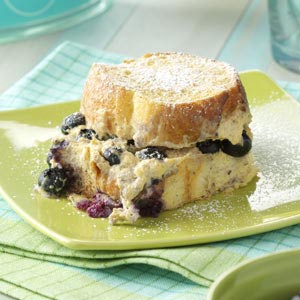 Well the saying "you learn something new every day" is certainly true when it comes to this recipe. Believe it or not, this is the first time that I'm hearing of "baked" french toast! However, now that I think about it, it does sound a lot healthier than cooking the toast in a frying pan, the way I make it!
Recipe Ingredients:
24 slices day-old French bread (1/2 inch thick)
1 package (8 ounces) reduced-fat cream cheese, cubed
2/3 cup fat-free milk
1/2 cup reduced-fat sour cream
1/2 cup fat-free plain yogurt
1/3 cup maple syrup
1 teaspoon vanilla extract
1 teaspoon ground nutmeg
1/2 teaspoon ground cinnamon
2 cups egg substitute
2 cups fresh or frozen blueberries
2 tablespoons confectioners' sugar
Recipe Directions:
Place 12 slices of bread in a 13-in. x 9-in. baking dish coated with cooking spray. In a blender or food processor, combine cream cheese, milk, sour cream, yogurt, syrup, vanilla, nutmeg and cinnamon. Add egg substitute; cover and process until smooth.
Pour half of the egg mixture over bread; sprinkle with blueberries. Top with the remaining bread and egg mixture. Cover and refrigerate for 8 hours or overnight.
Remove from the refrigerator 30 minutes before baking. Cover and bake at 350° for 30 minutes. Uncover; bake 20-30 minutes longer or until a knife inserted near the center comes out clean. Let stand for 10 minutes before serving. Dust with confectioners' sugar. Yield: 12 servings.
Nutritional Facts:
One serving (2 slices) equals 228 calories, 5 g fat (3 g saturated fat), 14 mg cholesterol, 391 mg sodium, 33 g carbohydrate, 2 g fiber, 11 g protein. Diabetic Exchanges: 1 starch, 1 fat-free milk, 1/2 fruit.
What are some healthy breakfast recipes that you make in the morning? Would you try some of the healthy breakfast recipes I have included?
Sources: tasteofhome.com, myrecipes.com, tasteofhome.com, fitsugar.com, littlemissmama.com, wholeliving.com, eggbeaters.com
---
Comments
Popular
Related
Recent