If you want to give yourself and your family a boost of delicious energy each morning, work some protein-rich breakfast recipes into your morning repertoire! As you might expect, many breakfast foods that have lots of protein revolve around eggs in some way, but there are plenty of other options as well. No matter what your preferences for this important morning meal, I've got lots of varieties. Take a look at these protein-rich breakfast recipes and start your day off right!
---
1

Tofu Breakfast Tacos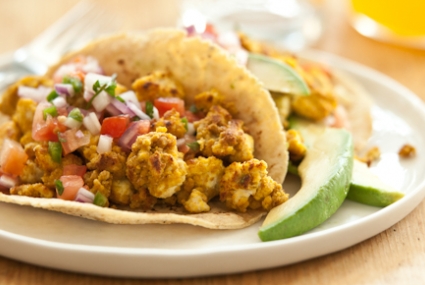 Since so many protein-rich breakfast recipes do rely on eggs, I'm starting out with something entirely different. Breakfast tacos and burritos are hugely popular, but not all of them are hugely healthy. These breakfast tacos, however, get their protein from tofu – 17 grams per serving, in fact. With plenty of delicious toppings and seasonings, the flavor is fantastic, so you'll definitely want to work these into your morning rotation!
Ingredients:
1 (14 ounces) package extra-firm tofu, drained
1/4 cup whole wheat flour
1/4 cup nutritional yeast
2 teaspoons onion powder
1/2 teaspoon garlic powder
1/4 teaspoon turmeric
2 tablespoons Bragg Liquid Aminos
8 corn tortillas, warmed
Salsa
Toppings of choice: onions, cilantro, greens, potatoes, avocado, etc.
Directions:
Drain tofu and place the block on a plate. Cover with another plate and weight the top with a food can or other object of about 1 pound. Let stand 20 to 30 minutes to extract excess liquid. Pour off liquid. Crumble tofu and place it in a bowl. Sprinkle with flour, yeast, onion powder, garlic powder and turmeric and toss. Sprinkle with liquid aminos and toss again.
Heat a large cast-iron skillet or nonstick pan over medium heat until hot. Add tofu mixture and cook, stirring and scraping the bottom of the pan frequently with a spatula to prevent sticking, until tofu is browned and crisp in places. Serve with the warmed tortillas, salsa and toppings of choice and let diners assemble their own tacos.
---
2

Green Eggs and Ham Frittata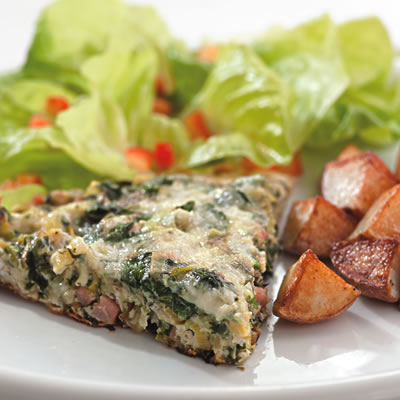 Do you like green eggs and ham? Try this recipe and you'll love them – Sam I Am! Thanks to leeks, dill, and scrumptious spinach, you can easily channel Dr. Seuss as you eat your breakfast. Since each serving provides a walloping 14 grams of protein, you really can't go wrong. Naturally, if you prefer a low-fat breakfast, you can use egg substitutes or low-fat cheeses. It's up to you.
Ingredients:
8 large eggs
1 ½ teaspoon(s) dried dill
¼ teaspoon(s) salt
¼ teaspoon(s) freshly ground pepper
2 tablespoon(s) extra-virgin olive oil
2 leeks, white and light green parts only, diced
1 bag(s) (5-ounce) baby spinach, chopped
½ cup(s) diced ham
½ cup(s) shredded havarti or Muenster cheese
Directions:
Position rack in upper third of oven; preheat to 450°F.
Whisk eggs, dill, salt, and pepper in a medium bowl. Heat oil in a large ovenproof nonstick skillet over medium heat. Add leeks; cook, stirring, until softened, about 4 minutes. Add spinach and ham; cook, stirring, until the spinach is wilted, about 1 minute.
Pour the egg mixture over the vegetables and cook, lifting the edges of the frittata so uncooked egg can flow underneath, until the bottom is light golden, 2 to 3 minutes. Sprinkle cheese on top, transfer the pan to the oven and bake until the eggs are set, 6 to 8 minutes. Let rest for about 3 minutes before serving. Serve hot or cold.
3

Blueberry Quinoa Parfait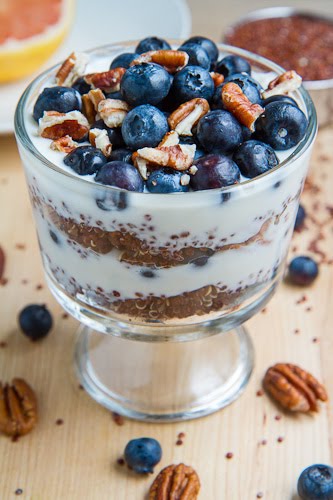 Some people like sweeter breakfasts, although high sugar options don't generally have much protein. This recipe does, however, and the blueberries provide the added bonus of wonderful antioxidants, so you really can't go wrong! The quinoa is excellent, and if you choose, you can go with a healthy Greek yogurt instead.
Ingredients:
1 cup quinoa, well rinsed
2 cups water
2 cups vanilla yogurt
2 cups blueberries
¼ cup pecans, toasted and coarsely chopped
Directions:
Bring the quinoa and water to a boil in a medium sized sauce pan, reduce the heat and simmer covered until the water has been absorbed and the quinoa is tender, about 15-20 minutes.
Chill the quinoa in the fridge.
Assemble the parfait by layering the quinoa, yogut, blueberries and pecans.
---
4

Strawberry-Banana Protein Pancakes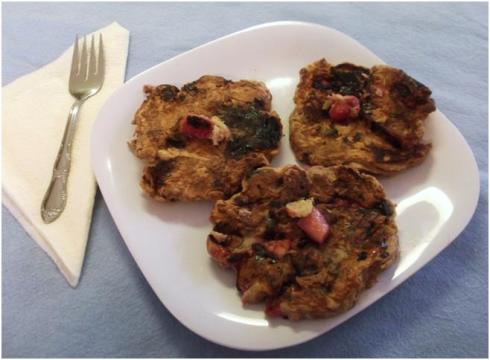 Sometimes you have to cheat a little to get a worthwhile serving of protein, and that's okay. This recipe does that, but I couldn't resist because these pancakes are ridiculously delicious. They're a fantastic alternative to traditional pancakes, and who needs loads of butter and syrup when you get your flavoring from bananas, strawberries, and vanilla almond milk?
Ingredients:
1 packed scoop (3+ tbsp) vanilla protein powder
2 tbsp ground flax
½ tsp baking powder
1 tsp cinnamon
1 tsp vanilla extract
½ cup egg whites (3 large usually work)
3 tbsp vanilla almond milk
½ cup chopped strawberries (about 5 medium)
½ banana, sliced and quartered
Directions:
Start heating up a non-stick skillet on medium heat.
In the meantime, add the protein powder, flax, baking powder, and cinnamon to a medium bowl and stir them all together. (This helps with mixing later on.) Add the egg whites, vanilla, and almond milk, and mix them in until it forms a batter.
Add the chopped strawberries and banana. (When using frozen strawberries and a frozen banana, they release liquid when the pancakes are cooked. If you use fresh strawberries and a fresh banana, you may have to add some more almond milk to the batter.) Fold them in. (The batter should be chunky.)
Lightly spray the heated skillet with non-stick cooking spray. Separate the batter into three portions and form them in the shape of pancakes on the skillet. After a couple minutes, or once the bottoms of the pancakes are golden brown (the sugar in the strawberries and bananas will caramelize, so there may be a few black spots: this is normal), flip the pancakes and allow them to cook on the other side for a couple minutes. Then once the other side is golden brown, transfer them to a plate, decorate, and devour!
---
5

Crispy Potatoes with Green Beans and Eggs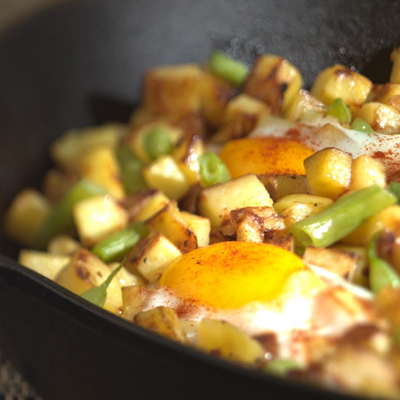 Y'all know I'm still a Southern girl at heart, yes? So I can't resist the lure of potatoes for breakfast. If given the choice, I confess, I'll always say yes to hash browns or fried potatoes. And crispy potatoes? Forget about it! Their presence in this recipe initially caught my eye, but I was intrigued by the addition of green beans too. If you need a quick but old-fashioned kind of breakfast, pick this one and enjoy! At 10 grams of protein per serving, it's a great choice for mornings that require a quick meal.
Ingredients:
1 cup(s) fresh or cooked green beans, cut into 1-inch pieces
2 tablespoon(s) extra-virgin olive oil
2 pound(s) boiling potatoes, peeled and cut into 1/2-inch dice, or 5 cups diced
2 clove(s) garlic, minced
1/8 teaspoon(s) crushed red pepper
½ teaspoon(s) salt
Freshly ground pepper, to taste
4 large eggs
paprika (optional)
Directions:
If using fresh green beans, cook in a large saucepan of boiling water until crisp-tender, about 3 minutes. Drain and refresh under cold running water.
Heat oil in a large nonstick or cast-iron skillet over medium heat until hot enough to sizzle a piece of potato. Spread potatoes in an even layer and cook, turning every few minutes with a wide spatula, until tender and browned, 15 to 20 minutes for raw potatoes, 10 to 12 minutes for cooked. Stir in the green beans, garlic, crushed red pepper, salt and pepper.
Crack each egg into a small bowl and slip them one at a time into the pan on top of the vegetables, spacing evenly. Cover and cook over medium heat until the whites are set and the yolks are cooked to your taste, 3 to 5 minutes. Sprinkle the eggs with paprika, if desired, and serve immediately.
---
6

Almond Butter Breakfast Bars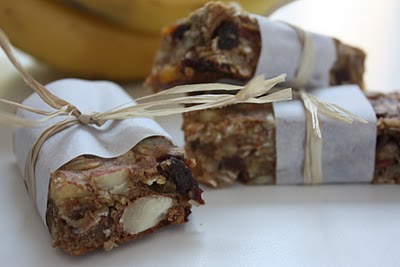 I adore almond butter. Nut butters in general are right up my alley, but I like almond butter even more than peanut butter. You get tons of proteins from the almond butter itself, plus there are additional almonds, cherries, apricots, raisins – these are really great when you're on the go! You can make them in advance and grab them on your way out in the morning.
Ingredients:
½ cup (128 grams) almond butter
2 bananas, mashed
½ cup (105 grams) brown sugar (optional...I add for kid appeal!)
½ cup (78 grams) whole almonds
¼ cup (50 grams) dried apricots
¼ cup (50 grams) dried cherries
¼ cup (40 grams) raisins
1/8 pumpkin seeds
1/8 cup sunflower seeds
1 cup rolled oats
Directions:
Preheat oven to 350 degrees F. Lightly grease then line 9x9 tin with parchment paper.
In a small pot heat almond butter, brown sugar and mashed bananas. Stir gently until well combined and sugar is dissolved. Set aside.
In a food processor, coarse chop the almonds. Use a knife to coarse chop apricots, raisins and cherries.
Transfer to a bowl. Mix in seeds and oats. Fold in the almond butter mixture. Press the batter into prepared loaf tin. Bake for 20-25 minutes. Let cool before cutting into bars/squares. Wrap individually in cellophane and store in fridge for up to 1 week.
---
7

Breakfast Burrito

I gave you a breakfast taco, but here's a breakfast burrito that yields an amazing 37.7 grams of protein per serving! It's also got lots of fiber, so you'll feel fuller for a longer amount of time. It takes the healthy route, using ground turkey instead of ground beef, egg whites but no yolks, whole wheat tortillas, and low-fat cheese, so you really can't go wrong!

Ingredients:
1 Mission Carb Balance Whole Wheat Tortilla, Burrito Size
3 egg whites
2 oz Extra Lean ground turkey
¼ cup red bell pepper
¼ cup onion
1 oz or 1/4 cup shredded low fat cheddar cheese
1-2 tbsp Cilantro
Hot sauce (Tapatio)

Directions:
Portion the turkey as soon as you get home from the market and place in ziplock bags for easy use and portion control for this recipe.

Brown the turkey in a skillet coated with some pam. Add the bell pepper and onion and saute until softened. Add the 3 egg whites and cook to desired firmness. Add desired hot sauce to skillet and toss to coat.

Take the tortilla and heat in microwave for 10 seconds. Place all the skillet ingredients down the center of the burrito. Add the cheese and cilantro and finally roll up like a burrito. Enjoy!
---
8

Sunday Sausage Strata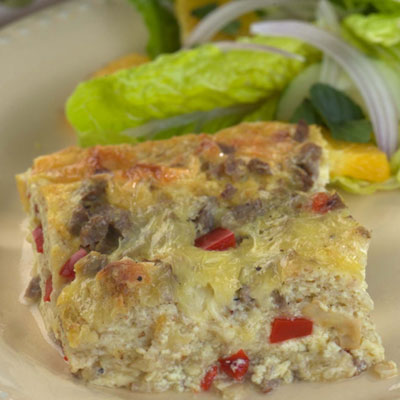 You can enjoy this recipe any day of the week, not just Sundays, although it is a great weekend breakfast treat! Although the filling casserole is a little high in fat, it's also good for 17 grams of protein per serving, so it's a bit of a toss-up. Besides, you can use healthier alternatives when choosing your cheeses, and it does call for whole wheat bread and turkey sausage. Plus, hi, sausage!
Ingredients:
½ pound(s) turkey breakfast sausage
2 medium onions
1 medium red bell pepper
12 large eggs
4 cup(s) 1% milk
1 teaspoon(s) salt
Freshly ground pepper
6 cup(s) cubed, whole-wheat country bread
1 tablespoon(s) Dijon mustard
1 ½ cup(s) grated Swiss cheese
Directions:
Coat a 9-by-13-inch baking dish (or similar shallow 3-quart baking dish) with cooking spray.
Cook sausage in a large nonstick skillet over medium heat, crumbling with a wooden spoon, until lightly browned, 3 to 4 minutes. Transfer to a plate lined with paper towels to drain. Add onions and bell pepper to the pan and cook, stirring often, until softened, 3 to 4 minutes.
Whisk eggs, milk, salt and pepper in a large bowl until blended.
Spread bread in the prepared baking dish. Scatter the sausage and the onion mixture evenly over the bread. Brush with mustard. Sprinkle with cheese. Pour in the egg mixture. Cover with plastic wrap and refrigerate for at least 2 hours or overnight.
Preheat oven to 350°F. Bake the strata, uncovered, until puffed, lightly browned and set in the center, 55 to 65 minutes. Let cool for about 5 minutes before serving hot.
Eating a protein-fueled breakfast prepares you for a busy day in the best way. You'll have lots of energy and you won't have to rely on tons of sugar, coffee, or caffeinated energy drinks. Even if you aren't a huge fan of eggs, there are lots of other amazing recipes to try. What's your favorite way to get protein in the morning?
---
Comments
Popular
Related
Recent