If you're looking for some delicious last minute St. Patrick's Day recipes for your friends and family, you're in luck! Doesn't it seem like there is always another holiday we need to prepare for? It's great because it's another get together with your friends and fam you also have to find a dish to take with you. but Not to worry, you can easily whip up one of these delightfully delicious and festive St. Patrick's Day recipes for work, school or any gathering!
---
1

Ombre Green Rice Crispy Treats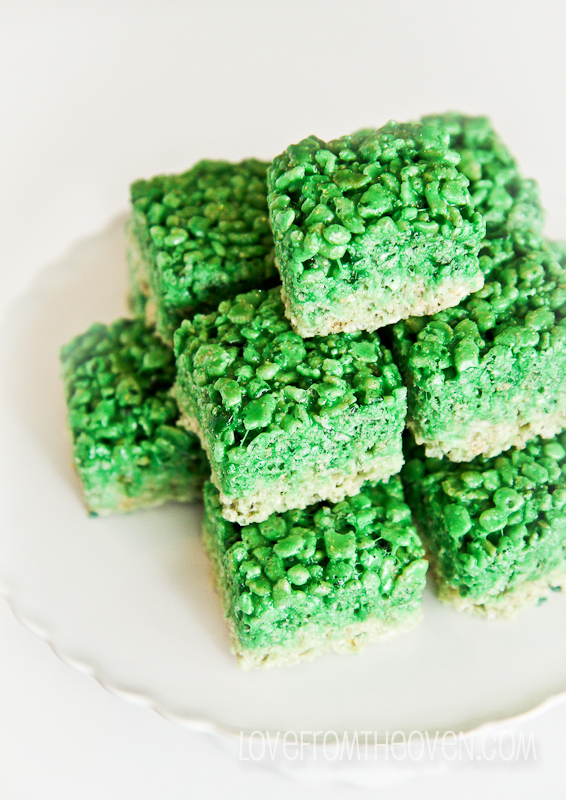 The ombre trend has found its way into St. Patrick's Day recipes! Make this trendy and tasty classic treat that's great for kids of all ages and sure to make anyone's day! This is an easy and eye-catching snack that'll breeze to make if you already know how to make rice crispy treats and you can even add peppermint to make them minty!
Ingredients:
6 Cups Puffed Rice Cereal (divided into three 2 cup portions)
6 Cups Miniature Marshmallows (divided into three 2 cup portions)
6 Tablespoons Butter (divided into three 2 tablespoon portions)
1/2 tsp McCormick Vanilla Extract
1/4 tsp McCormick Peppermint Extract
McCormick Green Food Coloring
Directions:
Prepare a baking sheet with a piece of parchment paper.
In a saucepan, combine 2 cups miniature marshmallows and 2 tablespoons butter, melt over low heat and stir until well combined. Remove from heat and add in 1/4 tsp vanilla extract and a few drops of green food coloring. This will be your lightest colored layer, so a nice light shade of green works great.
Combine melted mixture with two cups of puffed rice cereal and stir well.
Pour and press onto baking sheet lined with parchment paper.
Repeat process for following two layers, adding in 1/4 tsp of peppermint extract in place of vanilla extract to your middle layer if desired. For each layer, you will want to create a darker shade of green with your food coloring. Press each layer on top of the previous layer.
Allow to cool. Cut with knife or cookie cutter as desired. Serve and enjoy!
---
2

Corned Beef and Cabbage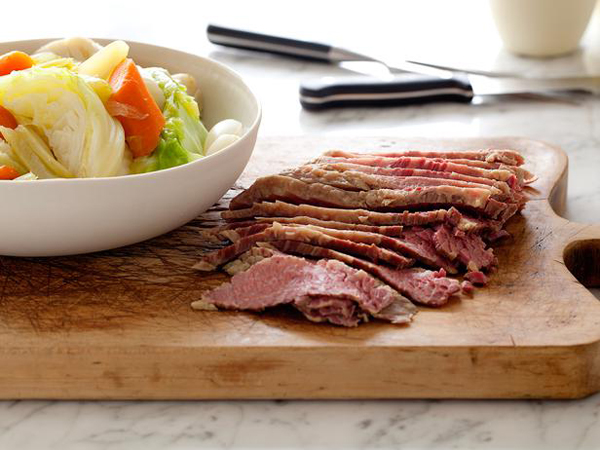 You can't make a list of St. Patrick's Day recipes without including this holiday classic! I love making (and eating) corned beef and cabbage and I never wait for St. Patrick's Day to enjoy it! This scrumptious dish can be super easy to make by buying a pre-seasoned brisket or you can go the longer but super yummy way by using the recipe below!
Ingredients:
For the brine:
1 cup kosher salt
1 cup brown sugar
1 1/2 tablespoons whole coriander
1 1/2 tablespoons whole mustard seeds
1 1/2 tablespoons whole black peppercorns
1 1/2 tablespoons whole allspice
4 sprigs fresh marjoram
4 sprigs fresh thyme leaves
2 bay leaves
1 (2 1/2 to 3 pound) brisket
3 tablespoons extra-virgin olive oil
1 onion, halved
6 carrots, coarsely chopped
1 head celery including leaves, coarsely chopped
1 head garlic, halved
3 sprigs fresh marjoram
2 bay leaves
1 small cabbage cut into 6 to 8 wedges
Herbed Root Vegetables:
2 tablespoons extra-virgin olive oil
2 tablespoons unsalted butter
1 pound new potatoes, scrubbed
1 pound baby carrots, trimmed and scrubbed
1 pound baby turnips, trimmed and scrubbed
1 pound baby parsnips, trimmed and scrubbed
Kosher salt and freshly ground black pepper
Herb Butter:
1/2 pound unsalted butter, softened
1/2 cup mixed chopped fresh herbs like thyme, mint, chives, parsley, or chervil
Kosher salt and freshly ground black pepper
Directions:
For Brine:
Combine all the brine ingredients, except the brisket, in a large non-reactive bowl. Add the brisket (you may have to cut it into 2 pieces) and rub the spice mix into the meat. Pour cold water over until the meat is covered. Weight the brisket down with a small plate so that it is completely submerged; cover and refrigerate. The meat can be brined overnight or as long as 10 days. The longer the brining the more pickled the meat.
Heat the oven to 300 degrees F. Heat a large pot or Dutch oven over medium-high heat and add the olive oil. Add the onion, carrots, celery, garlic, marjoram, and bay leaves and cook until starting to soften, about 10 minutes. Remove the meat from the brine and rinse it well. Set the meat on top of the vegetables and add water to just cover the meat. Bring to a boil skimming any foam that surfaces. Reduce the heat to a simmer, place the lid on the pot, and cook for 15 minutes. Add the cabbage pieces, cover, and put it into the oven; cook for 3 hours.
Remove the meat, cover it with foil, and let it rest for 20 minutes. Cut the fat off the corned beef, slice the meat against the grain, and serve it in shallow bowls with the cabbage wedges, some cooking liquid, and the Herbed Root Vegetables.
For Vegetables:
Put the olive oil and butter into a large pot over medium-high heat. Add the vegetables and toss to coat them well with the fat; season with salt and pepper. Add 1 cup water and bring to a boil. Lower the heat to a simmer, cover the pot, and cook until the vegetables are tender, about 20 minutes.
Meanwhile, make the Herb Butter by combining the soft butter and herbs together; season with some salt and pepper. To serve, spread some Herb Butter in the bottom of a bowl. Add the hot vegetables and dot with more Herb Butter. Moisten with some of the cooking liquid and serve.
3

No-Bake Lime Cheesecake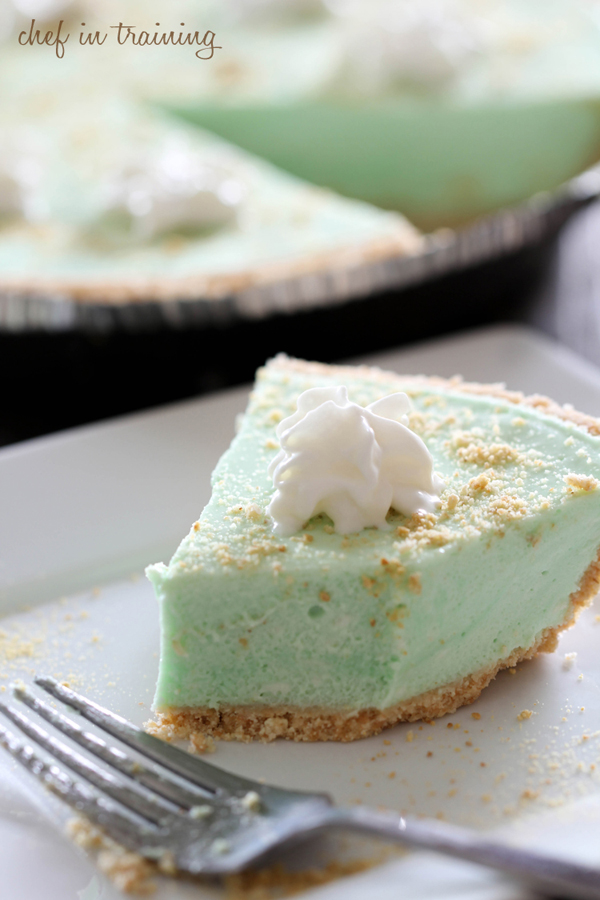 This is another fab St. Patrick's dish to make when you need to come up with something quick. Cheesecake lovers will love this cheery lime flavored treat that is perfect for any amateur cook to make. No one will know how easy this recipe was to make and it'll taste just like any professional store bought cake!
Ingredients:
1 cup boiling water
1 small package lime jello
3 Tbsp. lime juice
8 oz. cream cheese
1/2 cup sugar
1 packet Dream Whip and the milk and vanilla it requires
1 graham cracker pie crust Nilla Wafer crust works great, too
additional graham cracker crumbs for garnish optional
Directions:
Combine boiling water, lime jello and lime juice in a medium bowl. Mix and let partially set (I stick mine in the fridge for about 20 minutes and it becomes partially set enough for me) While jello is partially setting, In a large bowl, cream cream cheese and sugar together. Set aside.
Make packet of Dream Whip up according to box directions. Mine called for 1/2 cup COLD milk and 1/2 tsp. vanilla. Follow directions and store in fridge until ready to use.
Once jello is partially set, pour into cream cheese/sugar mixture bowl and beat to combine. Fold in Dream Whip. Pour into graham cracker crust and sprinkle additional graham cracker crumbs over the top if desired. Cover and place in fridge until set.
---
4

Beef Stew with Ale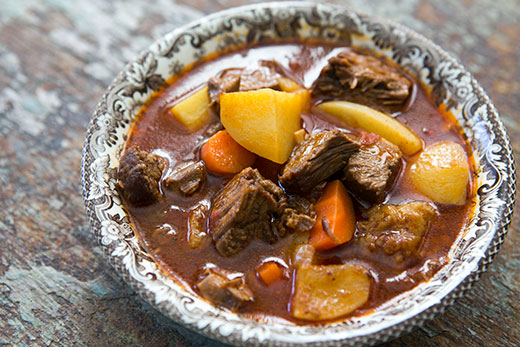 If you're looking for a delicious and hearty meal to cook for your family or dinner date, this beef stew is sure to be a winner! This St. Patrick's Day dish only takes 30 minutes to prep but takes a little longer to cook since it's a stew but it's definitely worth the wait!
Ingredients:
2 pounds beef brisket, trimmed and cut into 2-inch pieces
salt and black pepper to taste
2 tablespoons all-purpose flour
5 tablespoons canola oil
2 cups diced portobello mushroom caps
1 1/2 cups red pearl onions, peeled
1 cup diced carrot
1 cup diced celery root (celeriac)
1 cup diced turnip
2 cloves garlic, minced
2 (12 fluid ounce) cans or bottles brown lager beer
2 cups beef broth
1 cup diced potato
1 tablespoon malt vinegar
4 sprigs fresh thyme, chopped
2 sprigs fresh rosemary, chopped
Directions:
Place the brisket cubes into a mixing bowl, and season with salt and pepper. Sprinkle with flour, and toss until evenly coated. Heat the canola oil in a Dutch oven or large pot over high heat. Cook the meat in small batches until browned on all sides; about 5 minutes per batch. Set the meat aside as the batches are done.
Once the meat has been browned and set aside, stir in the portobello mushrooms, and cook until browned, about 5 minutes. Remove the mushrooms, and set aside. Stir the pearl onions, carrot, celery root, and turnips into the pot. Cook and stir until the onions begin to turn light brown, about 5 minutes. Add the garlic, and continue cooking until the onions are golden brown, about 3 minutes more. Remove the vegetables and set aside.
Return the beef to the pot, and pour in the beer. Bring to a boil, and cook until the beer has reduced to 1/3 of its original volume, about 8 minutes. Pour in the beef broth and return to a boil. Reduce heat to medium-low, cover, and simmer until the meat starts to become tender, about 1 hour. Return the browned vegetables to the pot along with the potatoes, recover, and cook 1 hour more.
Stir in the reserved mushrooms, malt vinegar, thyme, and rosemary. Simmer a few minutes until heated through. Season to taste with salt and pepper before serving.
---
5

Triple Layer Fudgy Mint Oreo Brownies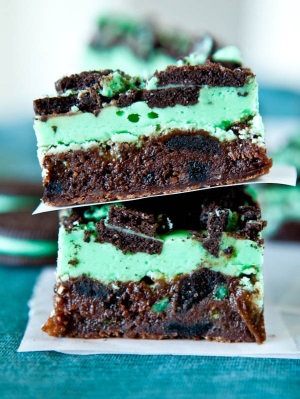 Talk about a dream within a dream! This dessert features three layers of fudgy goodness along with mint and Oreo-are you drooling yet?! This decadent, rich and minty treat will win over even the pickiest coworkers or you'll wow your family members with your awesome baking skills!
Directions:
1 7-ounce jar Marshmallow Fluff
1/8 teaspoon mint extract*
8 drops+ green food coloring, or until desired shade of green is reached
1 batch of brownies – see ingredients below in step 2 (or use 1 box of brownie mix – make according to directions on the box by adding the water, oil, eggs)
12 Cool Mint Oreo Cookies + 18 Cool Mint Oreo Cookies (almost an entire 17-ounce package), hand-crumbled
3/4 cup white chocolate chips, melted
1 cup vanilla frosting – see ingredients below in step 4 (or use 1 cup storebought vanilla frosting; use the entire plastic container if you want a thicker final green layer)
Directions:
Preheat oven to 350°F. Line a 9×13-inch pan with foil and spray it with cooking spray. In medium bowl, stir together marshmallow fluff, mint extract* (be very careful and do not use more than this unless you love mint; a little bit of mint goes a very long way), 4 drops of food coloring, or until light green is achieved (known now as 'green minty marshmallow mixture')
In a large bowl, prepare the brownie mix as directed on box, using water, oil, eggs, and fold in 12 hand-crumbled Oreos at the end.
or make brownies from scratch (based on my Fudgy Nutella Brownies):
4 ounces baking chocolate (I used 9 squares of TJ's 72% chocolate bar or use 4 squares Baker's Chocolate, semi-sweet)
3/4 cup butter or margarine, melted (1 1/2 sticks)
2 cups sugar
3 eggs
1 teaspoon vanilla extract
2 tablespoons espresso or brewed coffee, optional
1 cup all-purpose flour
12 Cool Mint Oreo Cookies, crumbled
Microwave chocolate and butter in large microwave-safe bowl for 90 seconds or until butter is melted. Stir until chocolate is completely melted. Stir in sugar (it will seem very granular, this is okay). Stir in eggs and vanilla. If adding espresso or coffee, add it now. Stir in flour until just combined, do not overmix. Hand-crumble Oreos over the bowl and fold them in.
Spread brownie batter in prepared pan. Drop about 1/2 cup of green minty marshmallow mixture onto brownie batter and reserve the remainder. Gently pull a table knife through the batter in S-shaped curves for a swirled design. Bake 23 to 25 minutes or until brownies are set, taking care not to overbake. (Some people's ovens and taste preferences may require 25-30 minutes, bake until brownies are done and to your liking) Cool completely, about 1 hour, or put the pan into the freezer for 10 minutes if you're rushed.
While brownies are cooling, make vanilla frosting by combining the following and beating until fluffy (or use 1 cup store bought vanilla frosting – or use entire can if you want a thicker final green layer) and set finished frosting aside.
1/2 cup butter or margarine, softened
3 to 4 cups powdered sugar
1 teaspoon vanilla extract
A splash of milk, if necessary for consistency
In another small microwave-safe bowl, melt the white chocolate chips (microwave on high for 30 seconds; stir and microwave 30 seconds longer; stir until smooth, taking care not to scorch it as white chocolate scorches easily). Add the melted white chocolate chips and the vanilla frosting to the reserved green minty marshmallow mixture. Stir in 4 drops+ food coloring, or until light green color is reached, and spread over cooled brownies. Sprinkle with 18 hand-crumbled Oreo Cookies, slightly pressing them into the green mixture. Allow top layer to set fully before slicing and serving. I prefer these bars chilled and I store them in the refrigerator in an airtight container or store in the freezer for up to 3 months. Note: Use regular Oreos if you can't find Mint Oreos and possibly add a touch more mint extract to the 'green minty marshmallow mixture' in Step 1 if desired.
---
6

Colcannon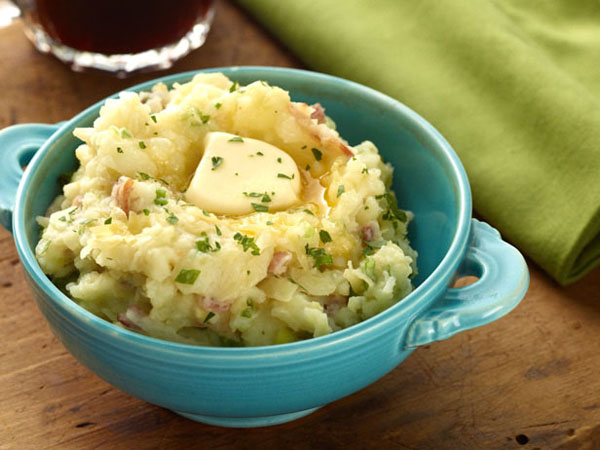 If you're in need of a tasty side dish to take to a party or potluck, this is the one! This traditional Irish side dish goes wonderfully with ham or corned beef. This buttery dish uses potatoes, cabbage and ham or bacon to make a lip-smacking side dish that'll leave you wanting more!
Ingredients:
3 pounds potatoes, scrubbed
2 sticks butter
1 1/4 cups hot milk
Freshly ground black pepper
1 head cabbage, cored and finely shredded
1 (1-pound) piece ham or bacon, cooked the day before
4 scallions, finely chopped
Chopped parsley leaves, for garnish
Directions:
Steam the potatoes in their skins for 30 minutes. Peel them using a knife and fork. Chop with a knife before mashing. Mash thoroughly to remove all the lumps. Add 1 stick of butter in pieces. Gradually add hot milk, stirring all the time. Season with a few grinds of black pepper.
Boil the cabbage in unsalted water until it turns a darker color. Add 2 tablespoons butter to tenderize it. Cover with lid for 2 minutes. Drain thoroughly before returning it to the pan. Chop into small pieces.
Put the ham in a large saucepan and cover with water. Bring to the boil and simmer for 45 minutes until tender. Drain. Remove any fat and chop into small pieces.
Add cabbage, scallions, and ham to mashed potatoes, stirring them in gently.
Serve in individual soup plates. Make an indentation on the top by swirling a wooden spoon. Put 1 tablespoon of butter into each indentation. Sprinkle with parsley.
---
7

Lucky St. Patrick's Day Jello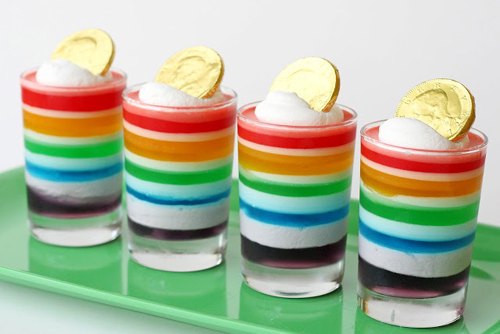 Here's a super fun St. Patrick's Day treat that's sure to be a hit with kids and adults! This colorful and festive dessert not only tastes good but it looks amazing! What a bright and beautiful way to add some color to a table and celebrate the holiday!
Ingredients:
You'll need 1 small box of jello in each color (red, orange, yellow, green, blue, purple).
1 large container of cool whip (you may use sour cream or yogurt in place of the cool whip).
Directions:
You might notice I skipped yellow for these because I wasn't sure I'd be able to fit 6 colors in these small glasses. The glasses shown are 5 oz. juice glasses, you'll have to make adjustments as needed depending on the size of glasses you use.
Follow these directions for each layer…
Chose the color you want on the bottom (in this case purple). Dissolve jello as directed on the box using the "quick chill" method (which includes some ice). Once dissolved, pour the liquid into your glasses, reserving about 1/3 of the jello liquid. Put all of the glasses in the refrigerator for 15-30 minutes, until jello is slightly set. Mix about 1/3 cup cool whip (sour cream or yogurt) into the remaining jello liquid. Pour cool whip/jello mixture on top of partially set first layer. Place all cups in the refrigerator and allow to set (at least 15-30 minutes) while you mix the next color.
Repeat process with each color, allowing each layer to set 15-30 minutes before adding another layer. The total process will take several hours.
Top the finished rainbow jello with a dollop of cool whip, or whipped cream and add a chocolate gold coin.
---
8

Stuffed Baby Red Potatoes Recipe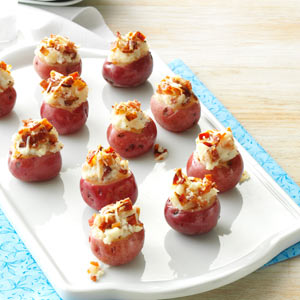 We can't leave out the appetizers on this list St. Patrick's Day dishes! If you need to whip up a quick and easy appetizer that looks like you spent all day working on it, this is the dish for you! Little red taters stuffed with cheese, bacon and sour cream is great for any occasion!
Ingredients:
24 small red potatoes (about 2-1/2 pounds)
1/4 cup butter, cubed
1/2 cup shredded Parmesan cheese, divided
1/2 cup crumbled cooked bacon, divided
2/3 cup sour cream
1 egg, lightly beaten
1/2 teaspoon salt
1/8 teaspoon pepper
1/8 teaspoon paprika
Directions:
Scrub potatoes; place in a large saucepan and cover with water. Bring to a boil. Reduce heat; cover and cook for 15-20 minutes or until tender. Drain.
When cool enough to handle, cut a thin slice off the top of each potato. Scoop out pulp, leaving a thin shell. (Cut thin slices from potato bottoms to level if necessary.)
In a large bowl, mash the potato tops and pulp with butter. Set aside 2 tablespoons each of cheese and bacon for garnish; add remaining cheese and bacon to potatoes. Stir in the sour cream, egg, salt and pepper. Spoon mixture into potato shells. Top with remaining cheese and bacon; sprinkle with paprika.
Place in an ungreased 15-in. x 10-in. x 1-in. baking pan. Bake at 375° for 12-18 minutes or until heated through. Yield: 2 dozen.
---
9

Irish Car Bomb Cupcakes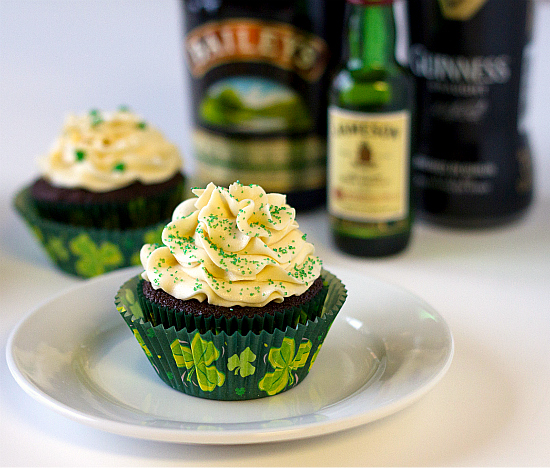 These adult-themed cupcakes are perfect to surprise your friends at a holiday gathering! Who doesn't love cupcakes and these cupcakes contain Guinness in the cupcake, whiskey ganache filling and Bailey's Irish Cream frosting! These cupcakes area rich, moist and made with lots of boozy goodness!
Ingredients:
For the Cupcakes:
1 cup Guinness stout
1 cup unsalted butter, at room temperature
¾ cup Dutch-process cocoa powder
2 cups all-purpose flour
2 cups granulated sugar
1½ teaspoons baking soda
¾ teaspoons salt
2 eggs
2/3 cup sour cream
For the Whiskey Ganache Filling:
8 ounces bittersweet chocolate
2/3 cup heavy cream
2 tablespoons butter, at room temperature
2 teaspoons Irish whiskey
For the Baileys Frosting:
2 cups unsalted butter, at room temperature
5 cups powdered sugar
6 tablespoons Bailey's Irish Cream
Directions:
To Make the Cupcakes: Preheat oven to 350 degrees F. Line 24 cupcake cups with liners. Bring the Guinness and butter to a simmer in a heavy, medium saucepan over medium heat. Add the cocoa powder and whisk until the mixture is smooth. Cool slightly.
Whisk the flour, sugar, baking soda and salt in a large bowl to combine. Using an electric mixer, beat the eggs and sour cream on medium speed until combined. Add the Guinness-chocolate mixture to the egg mixture and beat just to combine. Reduce the speed to low, add the flour mixture and beat briefly. Using a rubber spatula, fold the batter until completely combined. Divide the batter among the cupcake liners. Bake until a thin knife inserted into the center comes out clean, about 17 minutes. Cool the cupcakes on a rack.
To Make the Whiskey Ganache Filling: Finely chop the chocolate and transfer it to a heatproof bowl. Heat the cream until simmering and pour it over the chocolate. Let it sit for one minute and then, using a rubber spatula, stir it from the center outward until smooth. Add the butter and whiskey and stir until combined. Let the ganache cool until thick but still soft enough to be piped.
To Fill the Cupcakes: Using a 1-inch round cookie cutter (or the bottom of a large decorating tip), cut the centers out of the cooled cupcakes, going about two-thirds of the way down. Transfer the ganache to a piping back with a wide tip and fill the holes in each cupcake to the top.
To Make the Baileys Frosting: Using the whisk attachment of a stand mixer, whip the butter on medium-high speed for 5 minutes, scraping the sides of the bowl occasionally. Reduce the speed to medium-low and gradually add the powdered sugar until all of it is incorporated. Add the Baileys, increase the speed to medium-high and whip for another 2 to 3 minutes, until it is light and fluffy.
Using your favorite decorating tip, or an offset spatula, frost the cupcakes and decorate with sprinkles, if desired. Store the cupcakes in an airtight container.
Don't show up at your next gathering when you've got all these fabulous St. Patrick's Day dishes you can make! You and your friends and family will love these recipes and love you for making it! What's your favorite St. Patrick's Day dish?
Source: lovefromtheoven.com, foodnetwork.com, chef-in-training.com, allrecipes.com, loveveggiesandyoga.com, foodnetwork.com, glorioustreats.com, tasteofhome.com, browneyedbaker.com
More
---
Comments
Popular
Recent