Who doesn't love making raw energy bites for snacks on the go, or to enhance your workout? I personally adore them for being the perfect snack when I want something sweet and healthy, that also gives me a mood and energy boost at the same time. The best part is, raw energy bites are incredibly healthy for you and satisfy your cravings very quickly. They also provide easy to digest fuel pre-workout if you want to eat them before your next power session. They won't leave you hungry either. Check out this collection of my favorite raw energy bites and let me know if you have any yourself!
---
1

Raw Nutella Energy Bites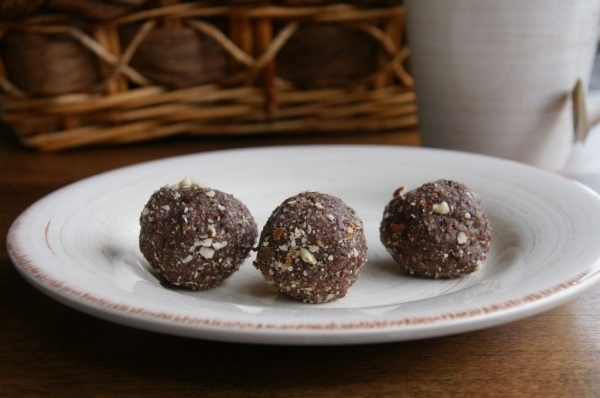 I'm a huge fan of the blog The Naked Avocado, and this is one of my favorite raw energy bites I've found to date. First, these bites feature hazelnuts, which give these treats that incredible Nutella taste we all love! These bites also feature three of my favorite superfoods, including hemp, maca and cacao, which are all so nutritious for you and also very energizing!
Serves: 12 balls
Ingredients:
2 cups hazelnuts
12 medjool dates
⅓ cup honey (more or less to taste)
3-4 tablespoons cacao, to taste
2 teaspoons maca
1 teaspoon vanilla extract
½ cup hemp hearts
Directions:
Very lightly (no more than 1-2 minutes) toast hazelnuts to bring out their flavor.
Transfer to a food processor, and process until coarsely ground.
Remove ¼ cup of coarsely ground hazelnuts, and set aside.
Add the dates, honey, cacao, maca, vanilla, and hemp hearts to the food processor, and process until a dough forms.
Remove the blade of the food processor, and using your hands, form balls out of the dough.
Roll the balls in the coarsely ground hazelnuts.
Store in the refrigerator.
---
1

Dreena Burke's Raw Energy Bites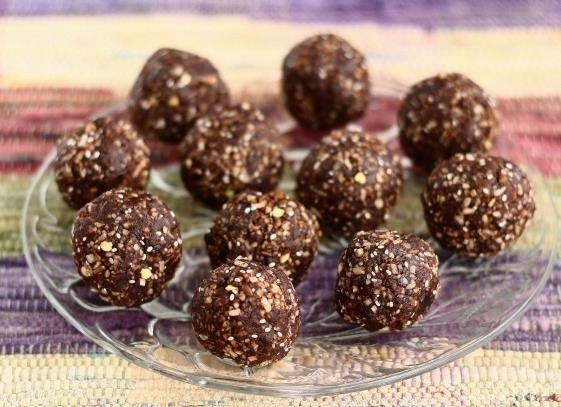 Dreena Burke is a vegan powerhouse, and her raw energy bite recipe is one to keep around for your favorite go-to recipes for sure. Dreena's recipe features some really neat ingredients that I like, which most people don't include. For instance, she uses sweet and tart cranberries for an added flavor twist, and pairs them with coconut, while also allowing you to choose what type of nuts you like. I recommend almonds or cashews in this recipe, which work amazing with the other flavors!
Serves: 12-14 balls
Ingredients:
A couple handfuls of raw walnuts/almonds/cashews/pecans
1 TBSP of organic cacao powder
1-2 TBSP of organic shredded coconut
1-2 TBSP of Flaxseed Meal
1-2 TBSP of Hemp Seeds
1-2 TBSP of Chia Seeds
Approx. 20 Figs/Pitted Dates (If using dates, be sure to soak them for about an hour in water before using.)
Handful of unsweetened Cranberries
A couple scoops of Almond Butter (optional but helps hold them together)
Directions:
Combine your dry ingredients in a food processor until the nuts are all broken down. Empty contents into a mixing bowl.
Combine the figs, dates, and cranberries in the food processor until they form a sticky mixture.
Add the sticky mixture and almond butter to the dry ingredients and mash/mix it up with your hands.
Once the mixture is moist, form it into small balls, a little smaller than golf balls.
Place in the fridge or store in the freezer.
They should be good for 7-10 days in the fridge, if they last that long!
If you don't like the taste of the figs or dates, use less of them and more of the almond butter or even natural peanut butter. The use of the seeds (hemp, chia, flax) and cacao powder is really important because they are amazing sources of protein, antioxidants, and omega-3s. So don't be stingy with these ingredients!
3

Basic Energy Bites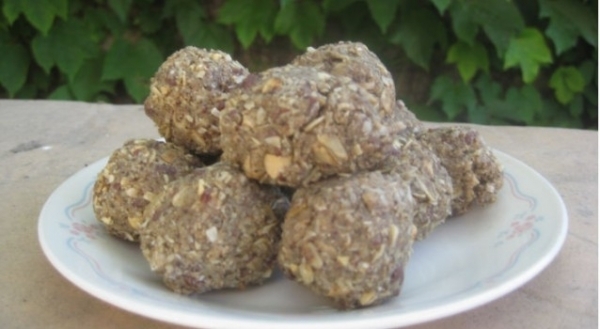 Here is one simple, basic, and incredibly delicious energy bite recipe to make. I suggest using whole rolled oats instead of instant, which taste so much better and are less processed. Technically, they are not completely raw, but you won't be baking them here, so you can consider them a no bake recipe anyway. The rest of the ingredients are completely raw and are also very filling, tasty and nutritious! These make perfect snacks for your kids, by the way, since their flavor profile is much like those sugary granola bars kids love, but without the unhealthy ingredients.
Serves: 20-24 balls
Ingredients:
2 Cups Oats
2 Cups shredded unsweetened raw coconut
3/4 cup raw Almond Butter
1/3 cup raw Coconut Oil
1 cup of mixture (Cocao Nibs, Nuts, Raisins)
1 1/3 powder mixture (Ground Flax, Oat Fiber, Ground Chia)
1/2 cup of Raw Honey
2 tsp Vanilla
Directions:
Combine ingredients (except for coconut oil and honey) into a large bowl.
Heat honey and coconut oil and pour into large bowl.
With your bare (washed hands) mixed the ingredients all together.
Make little ball and place onto a tray.
Put tray of energy ball into fridge so they can harden quicker.
---
4

Raw Chocolate Energy Bites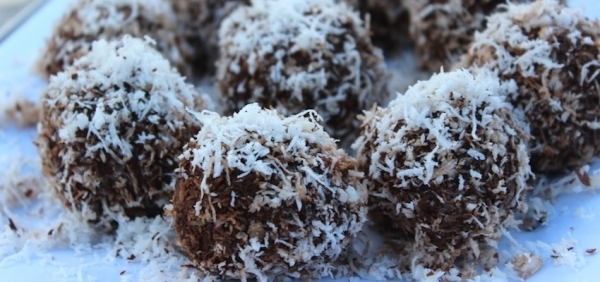 If I caught you at the word chocolate, good! Chocolate is a must in my personal energy bites, and this recipe that was featured on Mind Body Green also uses the amazing energizing properties of chocolate. This energy bite recipe contains pretty basic ingredients that have one phenomenal effect when mixed together. They are also excellent for teaching anyone new to making these, or for anyone new to tasting them. You'll have someone hooked on the benefits and ease of raw foods in no time!
Serves: 20-24 balls
Ingredients:
2 cups pitted Medjool dates
1 cup shredded coconut
1 cup pecans or walnuts
¼ cup raw cacao powder
1 tablespoon liquefied coconut oil
½ teaspoon vanilla extract
Pinch of cinnamon
Additional shredded coconut for rolling
Directions:
Process everything (except the extra coconut for rolling) in a food processor until well combined.
Press the dough into balls with your hands, then roll in the shredded coconut.
Put in the freezer for at least an hour and they'll be ready to serve! Then these amazing balls can be stored in an airtight container in the fridge.
---
5

Raw Mango, Date, and Sunflower Tropical Energy Balls
I have to tell you, until I saw this recipe, it would have never occurred to me to use these flavors together, but you'll be glad you did! This is one of the tastiest recipes I've ever had and is so simple! These are creamy, filling and so sweet and tart! They make the perfect alternative to traditional energy bite recipes you may tire of.
Serves: 12 balls
Ingredients:
1/2 cup (60g) raw cashews
1/2 cup (60g) raw sunflower seeds
2/3 cup (100g) medjool dates
2/3 cup (90g) dried mango
1/2 tsp vanilla
pinch salt
2-3 tsp water, if needed
Directions:
Combine everything (except for the water) into a food processor and pulse until the mixture comes together in a cohesive and slightly-sticky ball.
Add water if needed.
Roll into balls and store in the freezer.
---
6

Raw Chocolate Gingerbread Truffles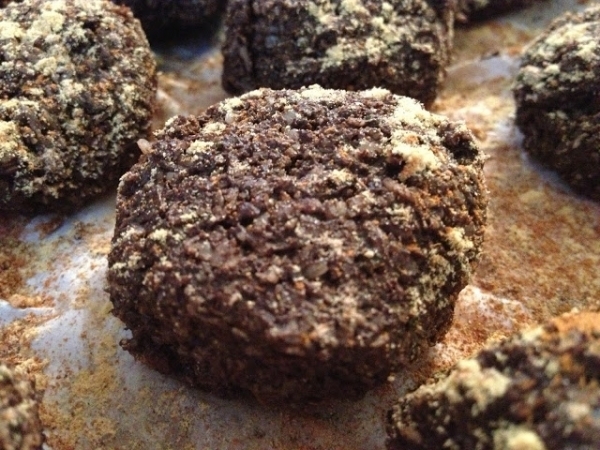 This is one of my latest recipes that I created for my blog, The Soulful Spoon. It got such a great response, I thought I would share it with you. These are my favorite raw energy bites of the moment because they're just so yummy and filling. I have the biggest mood and energy boost after eating these, and they're pretty to look at too!
Serves: 12-14 (1 inch) sized balls
Ingredients:
4 figs (soaked first for one hour in 1/2 cup filtered water to soften)
1/2 cup soaking water from figs
1/2 cup Manitoba Harvest Organic Hemp Seeds (hearts)
1/4 cup chia seeds
1/2 cup unsweetened shredded coconut
1/2 tsp. cinnamon
1/4 tsp. ginger
dash of nutmeg
1/4 cup raw cacao powder, or you can use dark cocoa powder like Hershey's
additional stevia for sweetness (I used 1/4 tsp. of Nu Naturals stevia extract)
Directions:
Soak the figs in the 1/2 cup soaking water for one hour first. This softens them and helps the process go much smoother.
After soaking, chop the figs into 6 smaller pieces each to break them up a bit. Add them to the food processor.
Add the soaking water and remaining ingredients until a thick dough is formed.
Scoop the dough into ball sized shapes. Yes, your hands will be a mess, but indulge in your inner child and enjoy yourself! You're making something healthy and yummy!
Pop these in a freezer safe container for long term storage. They take just 5 minutes on the counter to soften, or they will keep in your fridge for one-two days.
---
7

Superfood Truffles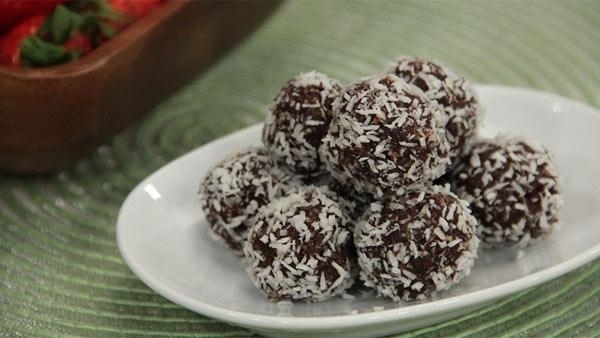 One of the first raw energy bite recipes I created was for these truffles, which are also featured on my blog. They're a basic raw energy bite recipe taken to a new level with a few of my favorite superfoods. I hope you enjoy them as much as I do!
Serves: 6 Truffles
Ingredients:
1/4 cup raw shelled hemp seeds (I like Nutiva brand)
1/4 cup shredded raw unsweetened coconut (I like Nutiva brand)
5 large dates (soaked for an hour to soften in 1/2 cup water)
1 tsp. maca powder
1 tsp. mesquite powder
1 ounce of pure dark chocolate, chopped (I used Ghiradelli 100% cacao)
*dash of cinnamon- optional but I like using it*
*dash of Himalayan Pink Sea Salt -optional- (I did not use it but many people like this ingredient)
additional 2 tbsp. shredded coconut for garnish
Directions:
First, soak the dates in a little water (as noted above) so they soften a bit for at least an hour before hand. This helps the mixing process along.
Drain the dates but keep the soaking water because this will be used. Just drain them over a bowl and save the water in the bowl. You will only need 2 tbsp. of the soaking liquid to keep so you can discard the rest.
Place the dates in your food processor and add the coconut, maca, mesquite, hemp seeds and ounce of chopped dark chocolate. Add the 2 tbsp. soaking water from the dates last. Using it last will help everything mix better in the food processor. This will also help soften the truffles faster.
*Optional* Add a pinch of Himalayan pink sea salt for a nice touch if you want. I don't use salt as I'm not big on salty foods at all but I did add a dash of cinnamon.
Start your food processor and let it mix everything together until it starts to clump up like dough. The chocolate pieces will still be in chunks like chips, which is what you want. You could always sub in 2 tbsp. cocoa powder if you don't want hard chocolate pieces in your truffles, but I like the hard pieces the best for that authentic chocolate chip taste.
You may need to scrape down the sides if it starts spinning and not mixing well and process again. Usually mine completes the whole process within 15-20 seconds and I just use a mini food chopper.
Scrape the dough out into a bowl and shape into bite sized truffle balls (about the size of a lollipop or cake pop).
Roll in shredded coconut and place on a plate. Once you have made all the truffles, place the plate in the fridge to firm up for about 1 hour.
Dig in!
Energy bites are the perfect alternative to processed snacks and they keep well in the fridge for a week or in the freezer, when wrapped well, for a month. Do you make your own energy bites at home?
Sources: nakedavocado.com, drandreaburke.wordpress.com, rawfoodm.com, mindbodygreen.com, rawfoodrecipes.com, soulfulspoon.com, soulfulspoon.com
---
Comments
Popular
Related
Recent