These summer appetizer ideas are exactly what you'll need for a summer get-together of any size or even just a light meal or snack for yourself! When it's hot and sticky out, the last thing you should eat is something hot, heavy or fried. If you stick to cool veggie and fruit based apps, you won't have that overly full, sluggish feeling. You want something light, easy to make and delicious, so try some of these summer appetizer ideas!
---
1

Cucumber Boats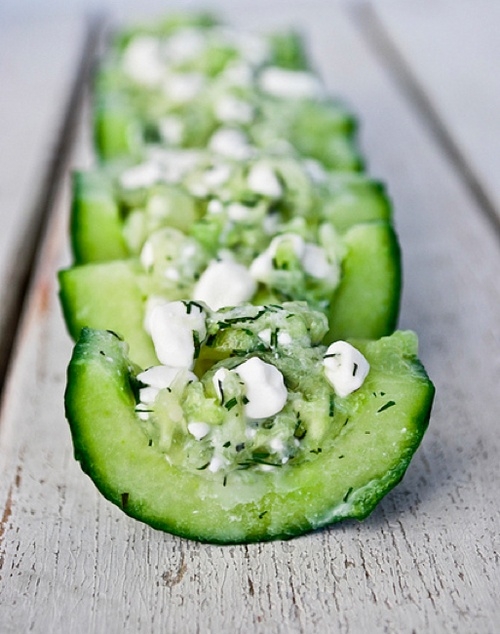 This is one of the summer appetizer ideas that I am head over heels in love with! I adore cucumbers! I put slices in my water, you can use them in skin treatments; they are simply amazing! These Cucumber Boats are probably the easiest thing you can possibly make. If you have a few friends who text you to let you know they'll be dropping by to say hi…whip this up quickly, it only takes a few minutes!
Ingredients:
2 cucumbers (about 1 pound each)
2 ounces crumbled feta cheese
1/4 teaspoon salt
1 teaspoon fresh parsley or dill, chopped
freshly ground black pepper, to taste
Directions:
Cut the cumbers lengthwise.
Remove the seeds.
Cut a small strip off the bottom of one side so that the cucumber half will sit sturdily and won't wobble back and forth.
Dice the other half of the cucumber into 1/4 inch pieces.
Combine the diced cucumbers with feta cheese, dill, salt and pepper.
Divide the mixture between the 2 cucumber "boats," then slice into 1 1/2 inch pieces.
Source: bitedelite.com
---
2

Grilled Pepper Poppers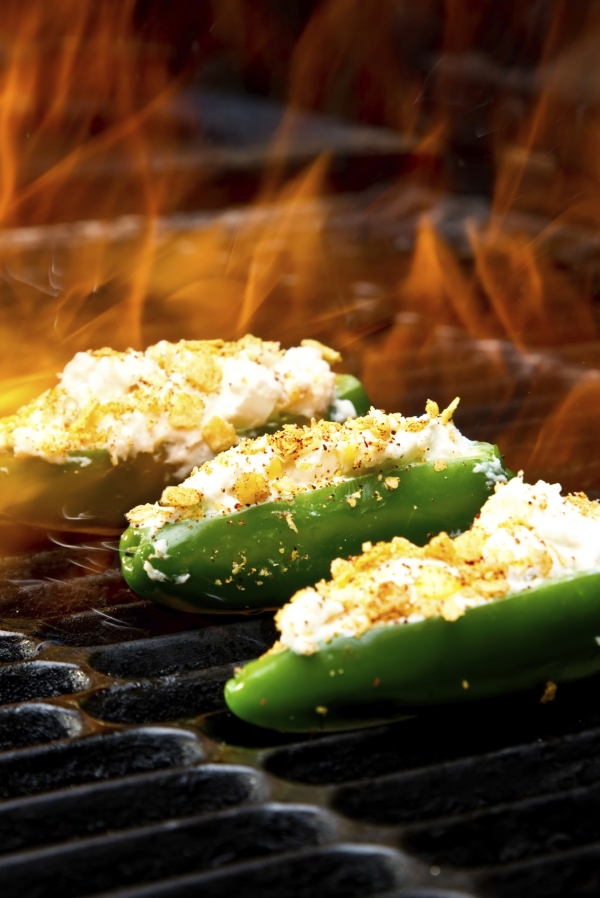 I am a huge fan of Jalapeno Poppers, but in the summer eating them tends to make me feel icky. This recipe is a summer version of the wonderful pepper popper that keeps that heavy breading away and it's much healthier without the deep frying! Don't worry, it is still incredibly delicious!
Ingredients:
1/2 cup (4 ounces) soft goat cheese
1/2 cup (4 ounces) cream cheese, softened
1/2 cup (2 ounces) grated cheddar
1/2 cup finely chopped seeded tomato
2 tablespoons thinly sliced green onions
1/2 teaspoon salt
16 jalapeño peppers, halved lengthwise and seeded (about 1 1/2 pounds)
Cooking spray
Cilantro (optional)
Directions:
Prepare grill to medium-high heat.
Mix all ingredients except for peppers and cilantro.
Spoon approximately 2 teaspoons of the mixture into each pepper half.
Grill cheese side up on the grill until peppers are charred and cheese is lightly browned.
Top with Cilantro.
Source: cookinglight.com
3

Green Gazpacho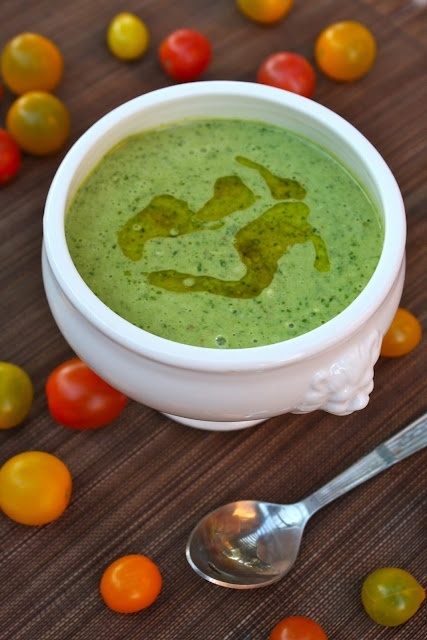 When it's 90 degrees outside, the last thing you want to ingest is hot soup. You can, however, have delicious, creamy, cold gazpacho! This isn't your typical tomato gazpacho, it is green and the hint of mint gives you a little more pep!
Ingredients:
1 Japanese cucumber, chopped
2 banana peppers, seeded and chopped
1 avocado, halved, peeled and chopped
3/4 cup plain yogurt
8 green onions, chopped
1/2 cup fresh mint, chopped
1 tablespoon white wine vinegar
2 cloves garlic, minced
1 cup water
Salt and pepper to taste
Directions:
Place all ingredients except the water and salt and pepper into a food processor or blender.
Blend thoroughly until smooth.
Add water, salt and pepper.
Chill for 1 hour and top with 1 Tbsp of plain yogurt.
Source: sheknows.com
---
4

Strawberry Bruschetta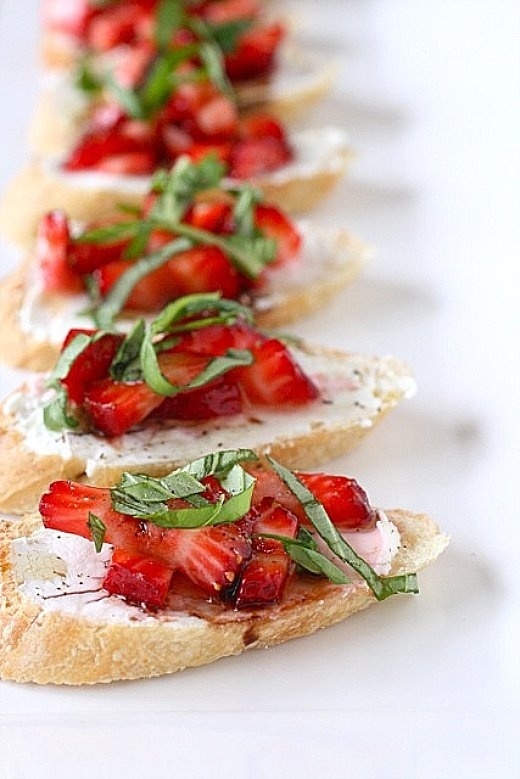 There is absolutely nothing wrong with having traditional bruschetta as an appetizer, but have you ever tried the strawberry version? Oh. My. God. It is so delicious! I was introduced to this amazing dish a little over a year ago and, let me tell you, I was shocked by how good it was! Of course it's full of strawberries, so it's bound to be good, right?!
Ingredients:
1 cup balsamic vinegar
1 teaspoon sugar
8 (1/2-inch thick) slices French baguette
1 pint strawberries, hulled and sliced (about 2 cups)
1 tablespoon chopped fresh basil
Pinch kosher salt
1/2 cup goat cheese, divided
Directions:
In a small saucepan, bring vinegar and sugar to a boil.
Cook until reduced by half, about 15 minutes.
Remove from heat, let cool to room temperature, about one hour.
In a medium bowl, stir together balsamic reduction, strawberries, basil and salt. Refrigerate, covered, one hour.
Preheat broiler to high.
Place baguette slices on cookie sheet and broil until toasted, about two minutes each side. Remove pan from broiler.
Spread one tablespoon of goat cheese on each slice of baguette. Top with balsamic strawberries, and if desired, garnish with additional basil leaves.
Source: sheknows.com
---
5

Mozzarella Bites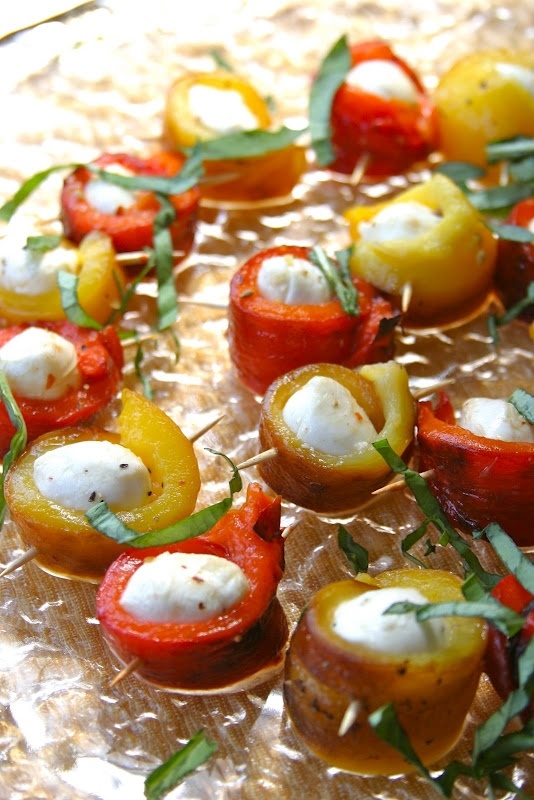 This pretty looking appetizer only has two main ingredients and is really easy to make. It looks impressive though, doesn't it? Better yet, it's so yummy! It does take a bit of time because you have to broil the peppers, but the time you have to spend doing that is well worth it for that roasted pepper flavor. I love this one and I hope you will too!
Ingredients:
2 bell peppers, one yellow and one red
1 tub cherry sized fresh mozzarella
olive oil
salt and pepper
3-4 fresh basil leaves
Ingredients:
Set oven to broil and line a baking sheet with foil.
Place the whole peppers on the foil and place under broiler.
When the tops of the peppers have turned black, take tongs and rotate peppers. Keep turning peppers until the skin is completely charred. Place peppers in a large zip lock bag. Let steam for 10 minutes.
Remove peppers to a cutting board and let cool.
Carefully remove all skins, then cut in half and remove stems and seeds.
Slice each pepper half into about 5 or 6 strips. Season pepper strips with salt and black pepper.
Drain mozzarella balls and drizzle some olive oil on them.
Sprinkle them with salt and pepper.
Take each mozzarella ball and wrap with a strip of pepper. Secure with a toothpick and place on serving platter.
Top with Basil!
Source: staceysnacksonline.com
---
6

Tulip Tomatoes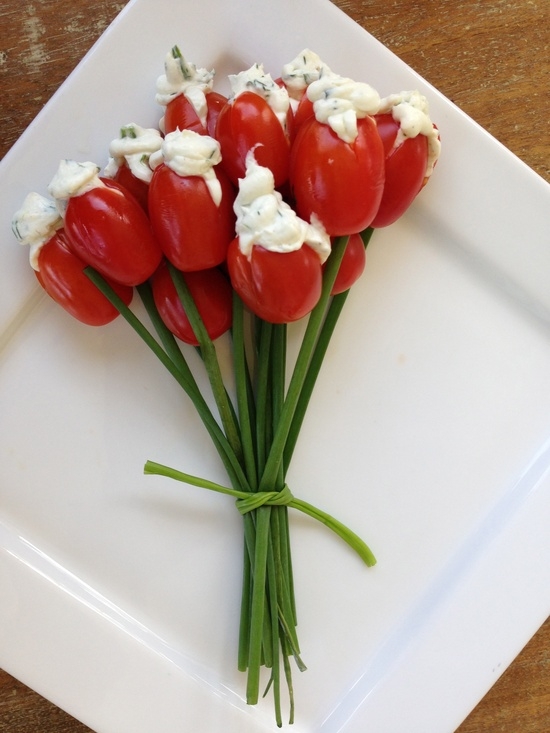 If you are looking for a pretty, decorative appetizer, this one is just darling! This little chive and tomato bouquet tastes just as good as it looks! I don't even like cottage cheese, but mixed with the cucumber it was actually surprisingly scrumptious! You can always substitute ricotta if you would like, though!
Ingredients:
13 large cherry tomatoes
14 stalks of chives
200g cottage cheese
1 cucumber
½ teaspoon dried basil
salt
pepper
Directions:
Dice or grate the cucumber very finely.
Stir in cottage cheese and basil, season with salt and pepper.
Cut a cross shape on the top of each tomato. Make holes for the stalks at the bottoms.
Fill tomatoes with the mixture of cottage cheese, cucumber and spices.
Stick these on the chive stalks, place on a plate and tie the bouquet with the last chive.
Source: bibliasmakow.pl
---
7

Bacon Asparagus Garlic Twists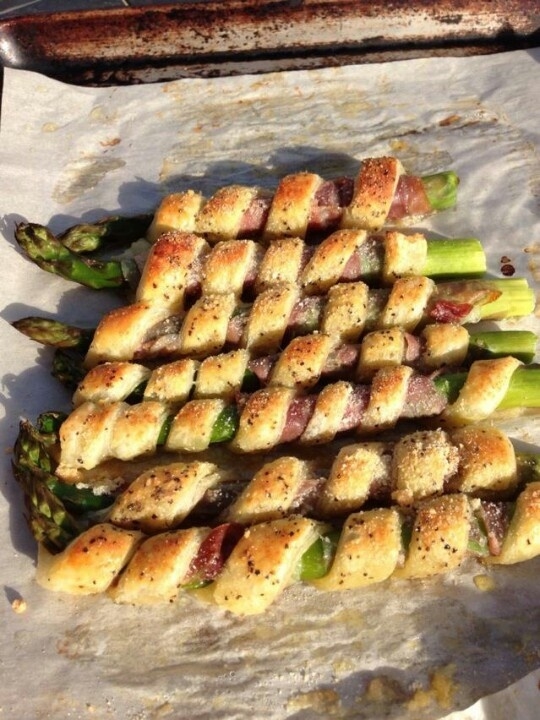 Alright, I decided to throw a less healthy choice on the list, because as much as I try to be good… bacon exists. I cannot get enough bacon! I outright hate asparagus. If you asked me to eat it I'd probably throw it at you, but this recipe is divine! What can I say? Bacon makes everything better!
Ingredients:
16 thick Asparagus spears, bottom 2-3" removed
8 slices thick cut Smoked bacon, sliced in half lengthwise (you will have 16 slices)
1 can Pillsbury Garlic flavored breadsticks
Directions:
Bring water in a large pot to a boil.
Blanch asparagus in two batches for 1 to 1 1/2 minutes each.
Remove from boiling water to iced water for 2-3 minutes.
Repeat with second batch.
Dry completely on a tray lined with paper towels.
Preheat oven to 375 degrees F.
Line a cookie sheet with foil and place bacon strips on tray and bake for 7 minutes. Remove from tray and place on paper towels to drain some of the grease.
Turn down oven to 350 degrees F.
Open can of breadsticks and unravel each piece of sliced dough.
Using a pizza cutter, slice each breadstick in half lengthwise so you end up with 16 pieces.
Secure one piece of bacon to the bottom of the asparagus spear with a toothpick. Continue to wrap the bacon up to where the tip of the spear begins; secure with another toothpick.
Take one slice of the breadstick dough and wrap around bacon slice so that it secures the bacon around the spear and you can remove both toothpicks.
Bake on foil lined sheet for 18-20 minutes (at 350 degrees), or until breadsticks are golden brown.
Source: noblepig.com
I hope these summer appetizer ideas give you some inspiration for all of your BBQs and dinner parties in the upcoming months! Try a couple of them out at home beforehand, most of them make fantastic lunches. What is your favorite appetizer to serve during the summer months?
---
Comments
Popular
Related
Recent