25 Tantalizing Grape Recipes You Need to Try Today ...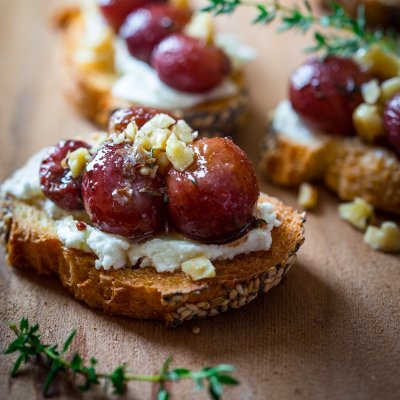 Grapes are a delicious fruit that have just as much nutrition as they do flavor. Grapes are available year round, sometimes at really cheap prices. Grapes are a perfect thing to serve with a sandwich at lunchtime, but there are so many other fantastic things to do with them. Check out these really awesome recipes and you'll be ready to hit the grocery store and stock up on grapes.
3.

Broccoli Grape Harvest Salad

Via Top 10 Skinny Pasta Recipes ...
Halved grapes in this pasta salad give it just the right amount of juiciness and sweetness.
21.

Roasted Red Grape, Brie and Rosemary Flatbread

Via simplyscratch.com
This is different than anything you've ever had before, but it will be totally worth it.
22.

Concord Grape Pie

Via Concord Grape Pie | SAVEUR
I cannot wait to try this tasty pie recipe! Don't you think it will be delicious?