7 Terrifyingly Delicious Cocktails for Halloween That'll Stun Your Party Guests ...
By Madison
Cocktails for Halloween are a great way for adults to get into the spirit of the season. Of course, if there are kids around, you can always make these cocktails for Halloween without the alcohol. I hope you'll enjoy these terrifyingly delicious cocktails as much as I do!
---
1

Candy Corn Cordials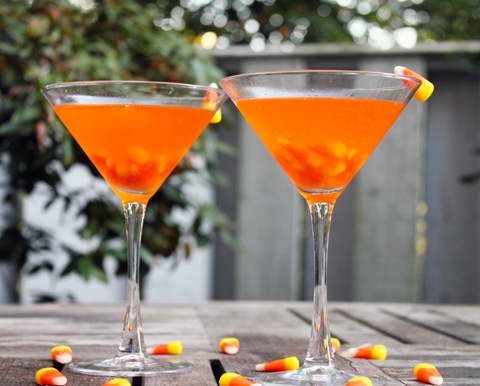 If you're looking for sweet cocktails for Halloween, try out this candy corn cordial. The candy corn infused vodka mixed with orange liqueur and lemon juice is the perfect amount of sour and sweet.
Recipe from: foodnetwork.com
Ingredients
For the infused vodka: 1/2 cup candy corn 1 1/2 cups vodka For the cordials: 2 ounces orange liqueur Juice of 1/2 lemon 1 large egg white Candy corn, for garnish
Directions
Infuse the vodka: Combine the candy corn and vodka in an airtight container; set aside for at least 3 hours, then strain.
Make the cordials: Add 4 ounces of the candy corn vodka, the orange liqueur, lemon juice and egg white to a cocktail shaker filled with ice. Shake vigorously for at least 30 seconds. Strain into 2 chilled martini glasses and garnish with candy corn
2

Alien Brain Hemorrhage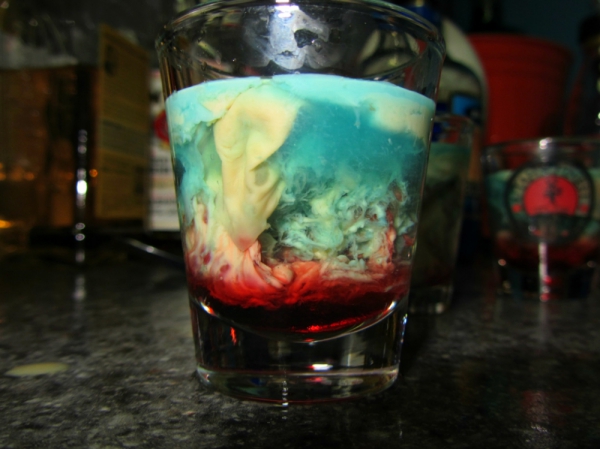 This Alien Brain Hemorrhage cocktail is so creepy yet so delicious. There is no exact recipe to the drink, so you just have to play around with it until you get it to the consistency you want. Here's how to do it.
Recipe from: thatsnerdalicious.com
Ingredients
Peach Schnapps Bailey's Irish Cream Blue Curacao Grenadine syrup
Directions
To make an Alien Brain Hemorrhage Cocktail, fill a shot glass halfway with peach schnapps. Gently pour Bailey's Irish Cream on top. After the shot is almost full, carefully add a small amount of blue curacao. After it settles, add a small splash (or a few drops) of grenadine syrup.
---
3

Pina Ghoulada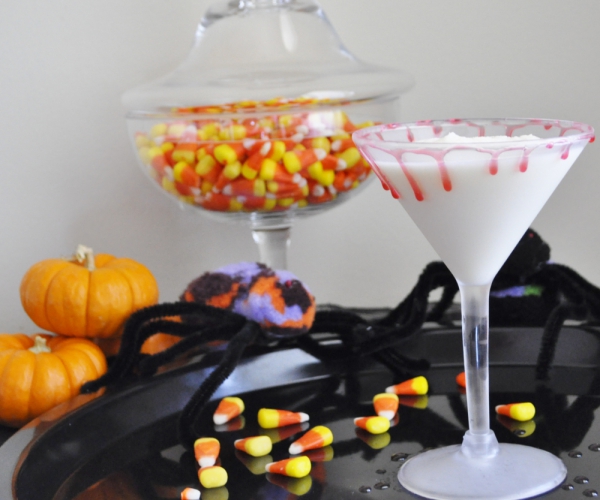 This ghoulishly fabulous Halloween cocktail will certainly be a crowd pleaser. Be careful though, the fake blood around the rim contains red food coloring, so make sure it won't drip on your carpet or furniture.
Recipe from: marthastewart.com
Ingredients
For the blood:
3 tablespoons corn syrup ¼ teaspoon red food coloring
For the drink:
20 ounces pineapple juice 1 can (15 ounces) cream of coconut ½ cup heavy cream 1 cup orange juice 10 ounces good-quality rum
Directions
Pour the corn syrup in a shallow bowl. Dip a toothpick into the food coloring, and stir a very small amount into the syrup to combine. Hold a glass by the stem, dip rim into the syrup mixture, and turn glass, coating entire rim. Turn the glass upright, allowing mixture to drip down sides. Dip the remaining glasses. Set aside.
Whisk together drink ingredients. Place 2 1/2 cups ice in a blender, and add 1 cup drink mixture. Blend until smooth; add more pineapple juice if mixture is too thick. Repeat with remaining ice and mixture. Carefully pour into prepared glasses; serve.
---
4

A Witch's Potion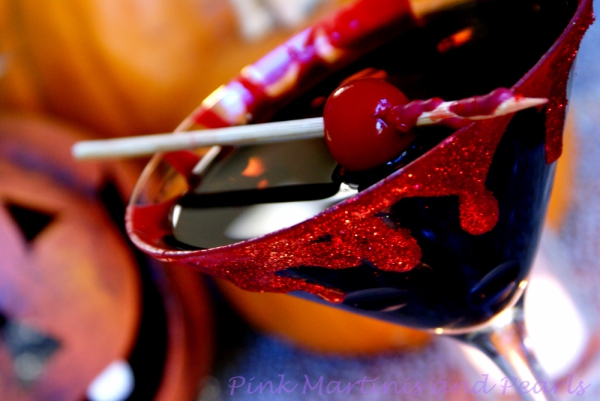 I love the black color of this spooky cocktail. The red sugar rim adds a nice touch for the season as well, but you could use any colored sugar to fit the theme of your Halloween party.
Recipe from: theskinnyconfidential.com
Ingredients
* Makes one spooky martini 1 1/2 ounces white tequila 1 1/2 ounces of fresh watermelon juice 1 splash of Cointreau 2 ounces water 2 drops black food coloring
Directions Use a lime to dampen the rim of the martini glass. Rim glass with red salt or red sugar. Add ice and all ingredients to martini shaker. Shake well then strain into glass. Add a spooky garnish for an added touch.
---
5

Bleeding Heart Martini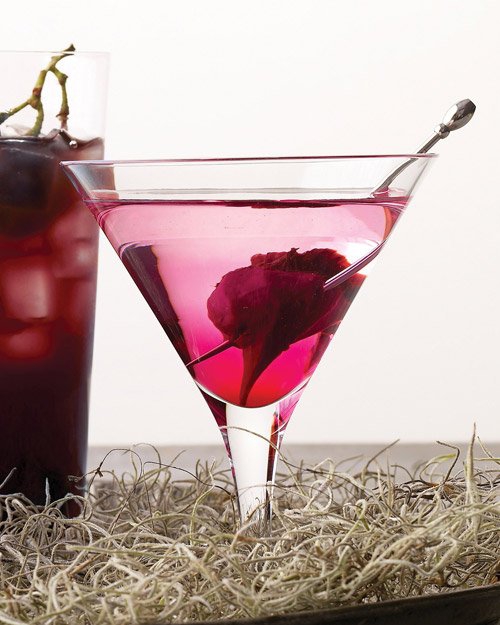 I love the way the pickled beats resemble a heart in this creepy martini. The color of the cocktail makes it look like the heart is bleeding out after being stabbed by the cocktail spear.
Recipe from: marthstewart.com
Ingredients
2 ounces dry vermouth 8 ounces premium gin Ice cubes Pickled baby beets each placed on a cocktail skewer
Directions
Chill 4 martini glasses in the freezer or fill with ice water and let sit until frosty, about 5 minutes (pour out water). Add the vermouth, dividing evenly; swirl to coat the glasses, then pour out. Add gin to a cocktail shaker filled with ice. Shake vigorously until chilled; divide among chilled glasses. Garnish each with a skewered pickled baby beet, and serve immediately.
---
6

Drunken Spider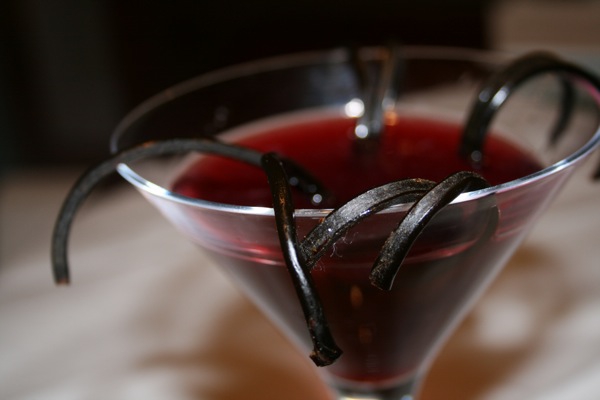 This is such a fun take on Halloween cocktails! I love how the licorice strings look like spider legs coming out of the drink.
Recipe from: talkoftomatoes.com
Ingredients
Cream de Cassis
 Vodka
 Triple sec
 Fresh lemon juice Pomegranate juice Licorice strings
Directions
For two cocktails (or one cocktail shaker): 2 parts cassis, 3 parts vodka, 1 part triple sec, 1 part lemon juice, 1 part pomegranate. Shake together and pour into glass. Add licorice strings in the drink as a garnish to resemble spider legs.
---
7

Black Lagoon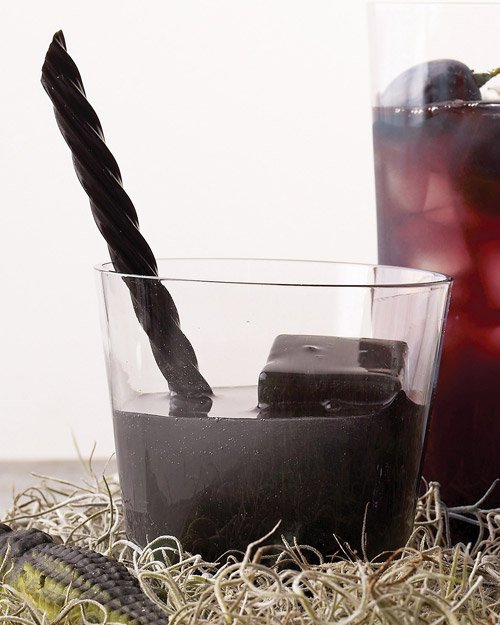 I love how creepy this all black cocktail looks. As a note, when you first pour the drink, it will be clear but it will start to darken after the licorice ice cubes begin to melt. Garnish with a black licorice straw to really amp up the black!
Recipe from: marthastewart.com
Ingredients
4 ounces vodka 2 ounces Rosemary-Lemon Syrup 2 teaspoons fresh lemon juice Licorice Ice Cubes
Directions
Combine vodka, syrup, and juice in a cocktail shaker, stir to combine. Add seltzer, and divide between two glasses filled with licorice ice cubes. Serve immediately.
These cocktails for Halloween are equal parts spooky and delicious. They are guaranteed to be a hit at any party! Will you be trying out any of these cocktails for Halloween this year? Do you have a favorite Halloween drink?
---
Comments
Popular
Related
Recent