7 Yummy Foods to Eat on the Fourth of July ...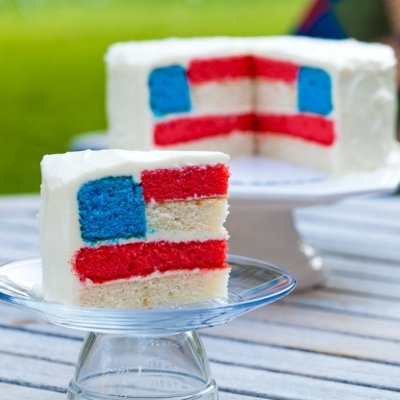 There are so many fantastic foods to eat on the Fourth of July. It's amazing how you can decorate all different types of foods! The ones on this list are sure to be a major success this year at your family BBQ! They're all really easy to recreate, which is incredibly convenient. Check out some of the delicious foods to eat on the Fourth of July this year!
This year, you can start off your day with a very patriotic breakfast. Spread some cream cheese (or butter) over your slice of toast. Add some raspberry jam for the red color (and ultimately for its yumminess). Then, you can get creative by using fruits to create the stripes and stars of the flag! Cut up some banana pieces and position them across your bread. Those will be your stripes! Group together some blueberries for the stars and you're all set. This is just one of the yummy foods to eat on the Fourth of July!
A cookie platter is a must have at your BBQ this summer! It's perfect for the kids to munch on. Plus, decorating cookies is one of the funnest things to do! You can get super creative with the designs. Just be sure to keep the colors red, white, and blue in there! How you choose to incorporate them is up to you!
Pretzels are everybody's go-to snack, which means you HAVE to have them around this Fourth of July! To make them holiday-ready, use colored candy melts. That's what'll help you recreate the cool stripes! Remember, it doesn't have to look perfect. It's going to end up in your belly anyways!
This holiday, you can get very creative with your drink options! Since it's the summer and everyone's having fun in the sun, swap your glasses for mason jars. I don't know about you, but I just think those are so much cooler! You can fill them up with a smoothie, some lemonade, or even some homemade slushies. The possibilities are endless! If you're drinking a strawberry smoothie, throw in some blueberries on the top of your drink. Use ice cubes to get the color white and there you go - red, white, and blue all in one cup.
5.

Dress up Your Ice Cream
Ice cream is the perfect dessert! My personal favorites are the ice cream sandwiches. You can decorate those with some red, white, and blue sprinkles on the side! Of course, if you prefer some vanilla scoops, that works just as well!
Chocolate covered strawberries? Yes, please! It's such a great addition to any event and occasion. You can decorate them any way you like. Patriotic strawberries are a must-have this upcoming holiday.
Mmmm, I can't picture a summer BBQ without fruit kabobs! They're amazingly satisfying and totally healthy, which is so great. You can definitely try out different fruits to see which ones you like best. Personally, I'd use strawberries and blueberries!
Well, there you have it. These are just seven out of many awesome and delicious foods to eat on the Fourth of July. The possibilities are really endless! Of the list, which idea was your favorite? Feel free to share the cool foods you eat/make in the comments section!
{{#comments_count}} Show Commnents ({{comments_count}}) {{/comments_count}}