7 Avocado Recipes That Don't Taste Healthy but Are Actually Awesome for You ...
By Heather
Many people love avocados, yet sadly, many people hate them, so I've compiled a great list of avocado recipes that can even make the people most critical of avocados seem interested in them. Avocados don't have to be eaten in a standard fashion. There are many fun, creative ways to eat them that most people don't even think of. Let's start with these healthy avocado recipes that don't actually look like diet food, but are wonderful for you in every way!
---
1

ALT Sandwich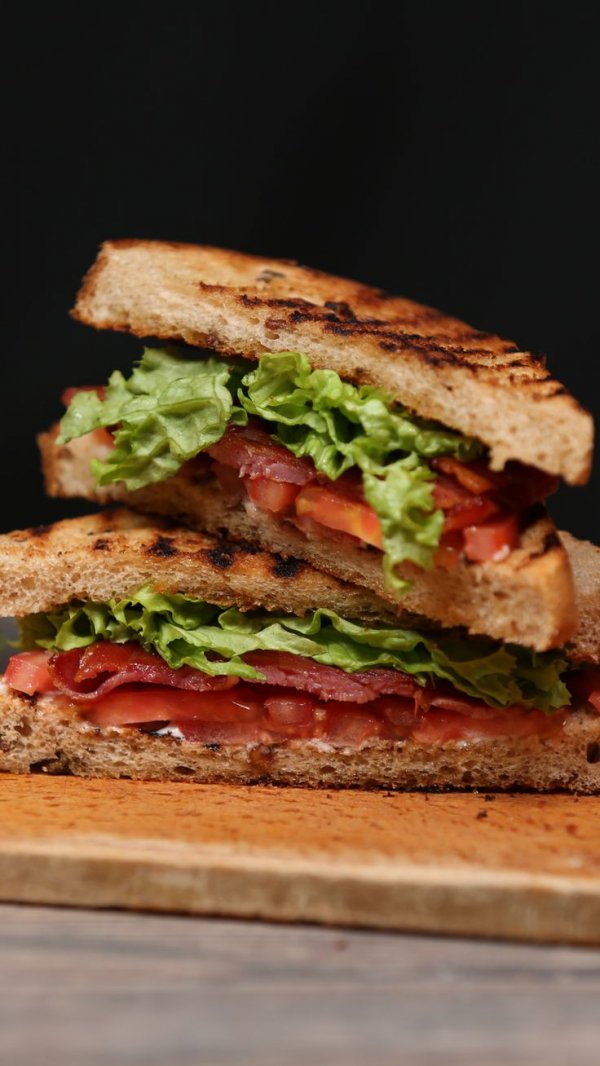 If you like sandwiches, then you'll love the first of my healthy avocado recipes. The ALT sandiwich is a great way to start eating avocados if you like sandwiches and typically use mayo. You'll simply take avocado, tomatoes and lettuce to create a vegan version of the famous BLT sandwich. Make this and you won't believe just how indulgent tasting it actually is! It's crunchy, rich and creamy and so amazing for you!
Serves: 1
Ingredients:
2 pieces sprouted, whole-grain bread
2 pieces of romaine lettuce,
1 Roma tomato, sliced
½ a cucumber, sliced
2 thin red onion slices
½ an avocado sliced into pieces or slivers
Cracked black pepper
lemon juice from ½ a lemon
Directions:
Pit the avocado, and layer on each side of the bread. Add the romaine lettuce, red onion slices, tomato and cucumber. Sprinkle the black pepper over the top and add a squeeze of half a lemon to give it a little zing. Place the other piece of the bread on top of one piece, and press down to ensure everything mashes together. Enjoy!
Source: health.com
---
2

Cilantro Shrimp and Avocado Fajitas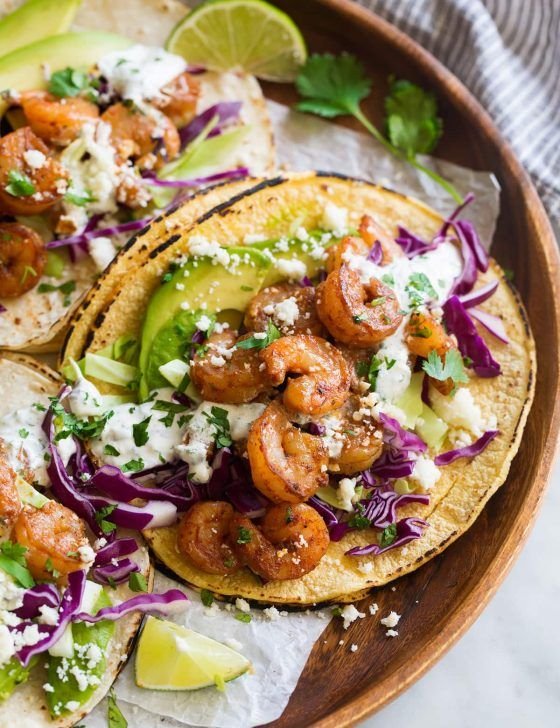 This recipe is wonderful to serve for dinner or at a gathering. It is full of flavor, zest and protein, plus lots of fiber. Yet, it tastes as good as something you'd get at your favorite Mexican restaurant!
Serves: 4
Ingredients:
½ pound of shrimp, deveined and pre-cooked
1 (15-ounce) can black beans, rinsed and drained
1 medium diced peeled avocado
1/4 teaspoon freshly ground black pepper
1/2 cup fresh or bottled salsa
1/4 cup chopped fresh cilantro
2 tablespoons fresh lime juice
8 (6-inch) whole grain tortillas or flatbread wraps
1 1/4 cups red bell pepper, cut into 1/4-inch strips (about 1 pepper)
Lime wedges, for serving
Chopped fresh cilantro, for garnish
Directions:
Preheat the oven to 350 degrees. In a large bowl, combine shrimp, beans, and avocado. Season with pepper. In a separate bowl, stir together the salsa, cilantro, and lime juice. Toss shrimp mixture with 1/4 cup salsa mixture. Arrange 3–4 pepper strips in the center of each tortilla. Top with 1/2 cup of the shrimp-and-bean mixture. Place the tortillas on a pan in the oven for 15 minutes to warm. After removing, drizzle about 1 tablespoon of the salsa verde mixture over each taco. Serve with lime wedges and cilantro.
Source: health.com
3

Avocado French Fries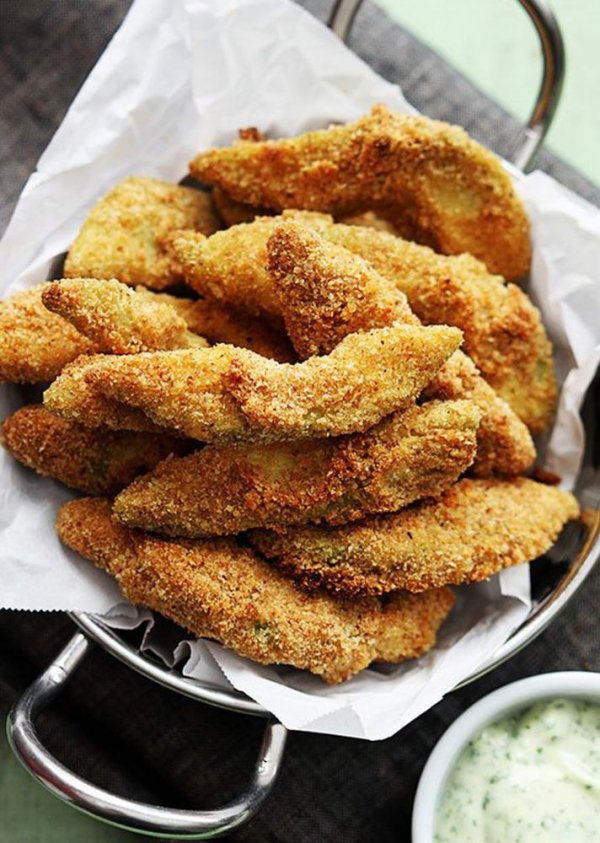 If you think I'm crazy, give me just a few minutes to persuade you to try this. When baked and coated in a healthy gluten-free crumb, these fries are actually amazing! Avocado is so firm and fatty, it makes a great baking aid. When coated in high fiber flaxseeds with some spices, this is a great way to make yourself a batch of healthy fries that actually taste great!
Serves: 2
Ingredients:
1 large slightly ripe avocado, sliced into slivers like fries
¼ cup ground golden flaxseeds
2 tsp. your favorite all purpose seasoning or your favorite spice blend
black pepper
paprika
Directions:
Preheat your oven to 400 degrees. Prepare a greased baking pan, or one coated with nonstick spray and set aside. In a bowl, mix up the flax and the seasoning. Set aside. Slice the avocados as directed and dredge each one in the spice/flax mix. Place them on the pan and then sprinkle with a little extra black pepper and paprika if you wish. Bake for 15 minutes until firm or until just golden brown. It could take up to 20 minutes, depending on your oven.
Source: health.com
---
4

Avocado Breakfast Pizza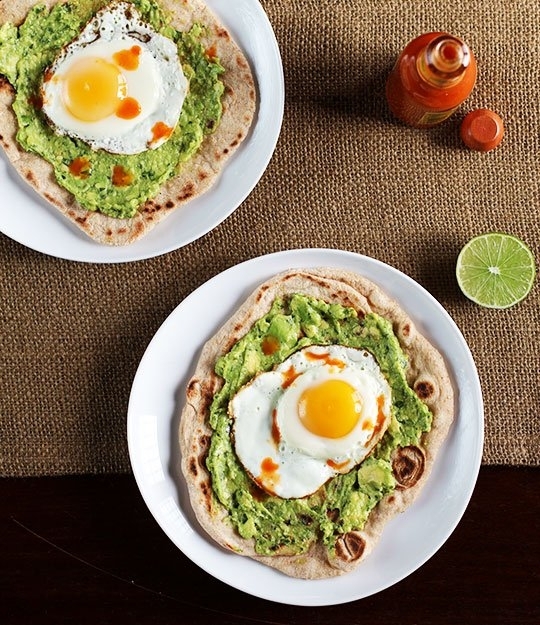 If you like pizza for breakfast, try this healthy alternative to the cold stuff left over in a pizza box! This avocado breakfast is filling and is so indulgent and hearty - perfect for your mornings! I recommend adding some salsa for a Southwestern flair, or you can just eat it as it is.
Serves: 2
½ large Hass avocado
½ tablespoon finely chopped cilantro
1 1/2 teaspoons lime juice
1/8 teaspoon salt
sprinkle of pepper
2 store bought flatbreads of your choice, or tortillas
2 large eggs
1 tablespoon coconut oil
Srichacha or Tabasco sauce for serving (optional)
Directions:
Next, scoop out the flesh of the avocado into a bowl ( remove the pit of course) and add in the cilantro, lime juice and salt. Mash with a fork until smooth with a few chunks of avocado remaining for texture. Taste and add anything else you like such as extra seasonings or pepper. Heat a well-seasoned cast iron skillet (see note) over medium-high heat until very hot. Place one of the flatbreads in the center of the skillet. Cook for 1-2 minutes, until the underside is browned and starts to crisp up. Flip and cook other side until browned. It may be charred in spots, which is fine. Remove to a plate and repeat with the other flatbread. Spread the avocado mixture onto each flatbread. Next, cook the eggs by first heating the oil on the same skillet as you cooked your bread on. Heat the oil in a skillet over medium heat. Fry eggs to desired doneness and place each one on top of your avocado pizza. Serve immediately, with or without a drizzle of hot sauce.
*Note- a stainless steel pan will work in replacement for a cast-iron skillet
Source:thekitchn.com
---
5

Gluten-Free Dark Chocolate Avocado Cookies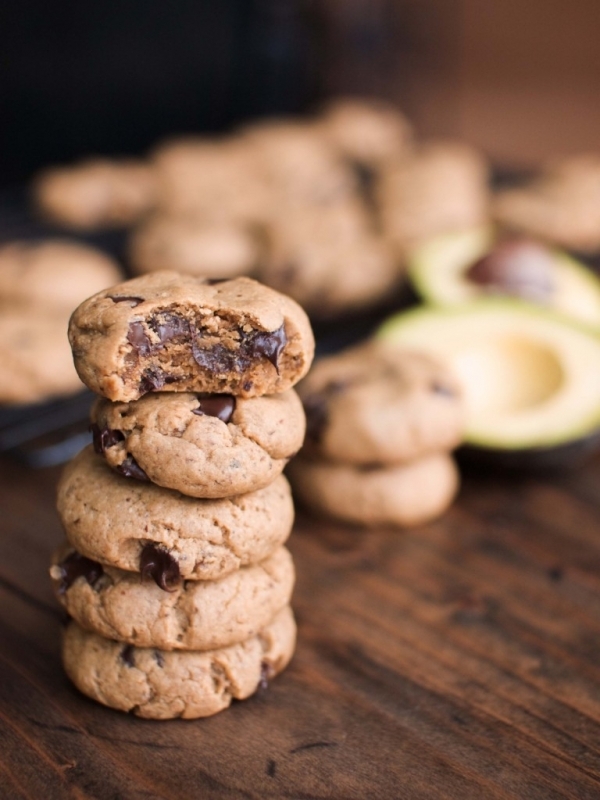 If you're in the mood for cookies, but also desire of a guilt-free way to eat them, enjoy this indulgent, yet also healthy, recipe. It is so rich and the heartiness of the avocados is a great replacement for oil and butter. Plus, with the rich taste of cocoa added, you'll never know you're actually eating something that's good for you!
Serves: 10-12 Cookies
Ingredients:
1/2 cup mashed avocado
1 bag dairy-free chocolate chips ( I like Enjoy Life brand)
3/4 cup Bob's Red Mill gluten-free flour mix
1/2 tsp baking soda
1/2 cup xylitol or Stevia in the Raw
2 liquid droppers of vanilla alcohol-free stevia
2 tsp vanilla extract
½ tsp. cider vinegar ( reacts with the baking soda and cocoa powder to help it rise)
1 tsp cinnamon
2 tablespoons dark ( Dutch) cocoa powder
Directions:
Preheat oven to 350 degrees. In the bowl of a food processor, combine the avocado and xylitol or Stevia in the Raw and process until combined. Add the vanilla, cider vinegar, baking soda, cocoa powder, and cinnamon and mix to combine.Add in the flour, and mix until the batter is smooth and the ingredients are evenly incorporated. Take the cookie batter out of the food processor and put into a mixing bowl. Stir in the chocolate chips. Line a baking sheet with parchment paper, or spray with nonstick spray. Scoop out 1 tbsp. droppings of dough onto the pan. Shape them with your fingers or the spoon to flatten them out into a round, even-sized cookie. The dough won't spread when it bakes, so don't worry! Bake for 10 minutes and remove from the oven. Cool on the counter on the pan for at least 15 minutes away from the stove. Serve and enjoy, or put these away for the rest of the week. They'll last about a week or two in the fridge or you can freeze them for a month and thaw for 10 minutes on the counter and they're ready to eat!
Source: greatist.com
---
6

Tuna Avocado Salad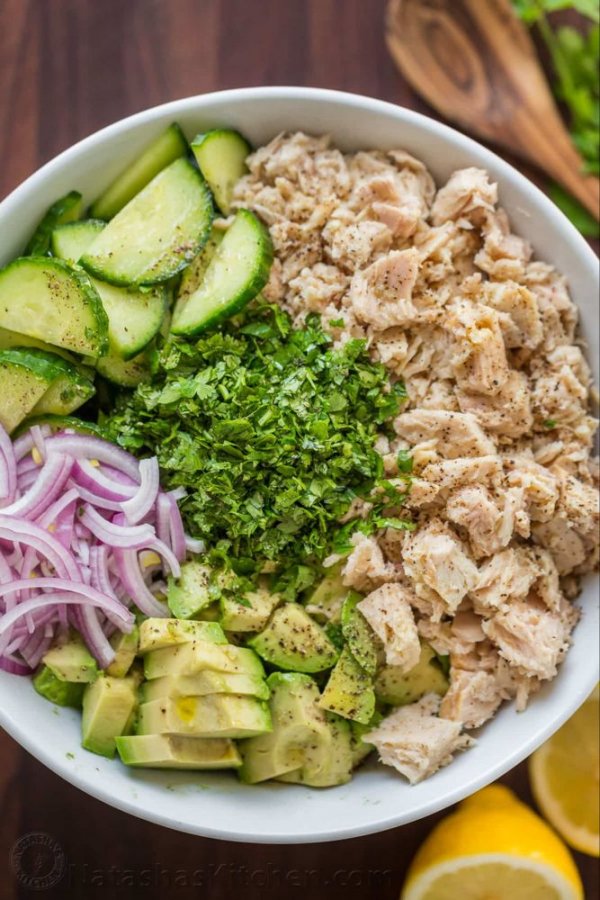 I"m a big fan of tuna for lunch. It is one of my favorite go-to foods and I try to buy the healthiest source possible to avoid high mercury. Tuna is a great source of selenium, B vitamins and protein. It is also a great source of omega 3 fatty acids. When you combine it with avocado, it is reminsent of traditional tuna salad made of mayonnaise, yet this tuna salad has no cholesterol like mayo, nor does it contain any saturated fat. Enjoy this for a filling lunch, or as a tasty snack with some carrots or celery sticks.
**Serves:**1
Ingredients:
juice from one lemon
¼ cup avocado
1 small 5 ounce can of low sodium Wild Albacore tuna ( I like Wild Planet brand)
cracked black pepper
optional: 1 tsp. mustard
Directions:
Place the ingredients in a bowl and mash up well. You can add in any onions, carrots, celery or whatever else you like. Place this in the shell of an avocado for a pretty serving display, or into a bowl. Serve and enjoy!
Source: deliciousbydre.com
---
7

Chocolate Avocado Banana Smoothie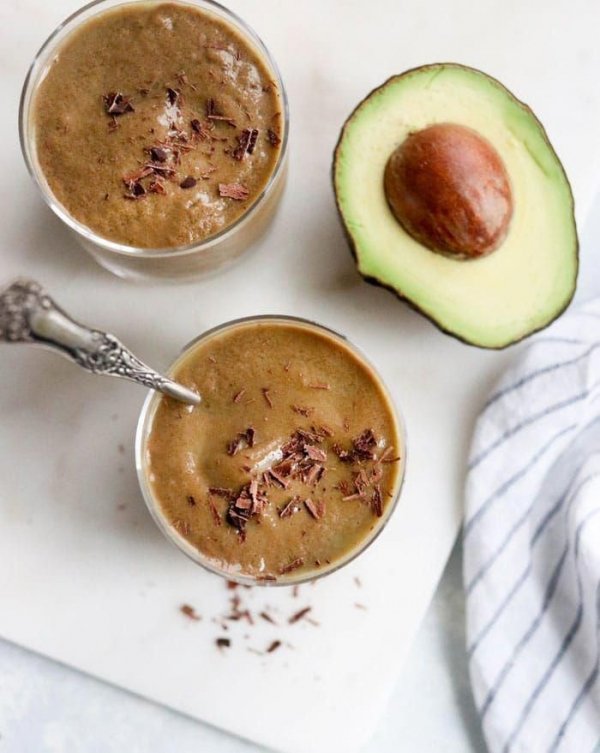 Avocados are one of the best ways to make a healthy smoothie or milkshake. They add a plumpkin, fatty factor that is just excellent in most any kind of milkshake or smoothie recipe. Seriously, don't knock it until you try it! This recipe is a great first recipe to make if you're new to the idea of using avocados in your shakes or smoothies. I actually crave one if I haven't had it in awhile!
Serves: 1
Ingredients:
Ingredients
1 ½ cups of Silk unsweetened vanilla almond milk
1 ripe banana, sliced and pre-frozen if possible
2 liquid droppers full of NuNaturals Vanilla alcohol-free stevia ( or 1 tsp. honey will work)
½ avocado (about ¼ cup)
1 tsp. chia seeds
2 tablespoons raw cacao or Dutch cocoa powder
2 tablespoons raw almond butter or cashew butter
5 ice cubes
Directions:
Place all the ingredients in the order listed into your blender. Blend on low, then high just until the ice is crushed and serve with a straw, spoon, or, just drink it right up!
Source: againstallgrain.com
Do you eat avocados? What's your favorite way to enjoy them?
---
Comments
Popular
Related
Recent