So, salad is delicious, obvs. It's a quick way to get a ton of veggies, vitamins, and minerals without spending a lot of time and money on a meal. You can have it as a side dish, a snack, lunch, or even as an entree for dinner. The best part? Many scrumptious salads are also simple – so simple that they take no more than five ingredients. Imagine throwing together a quick, cool, yummy meal at the end of a long day … and needing less than half a dozen ingredients to do it.
Table of contents:
1

Arugula Salad with Grapes and Onion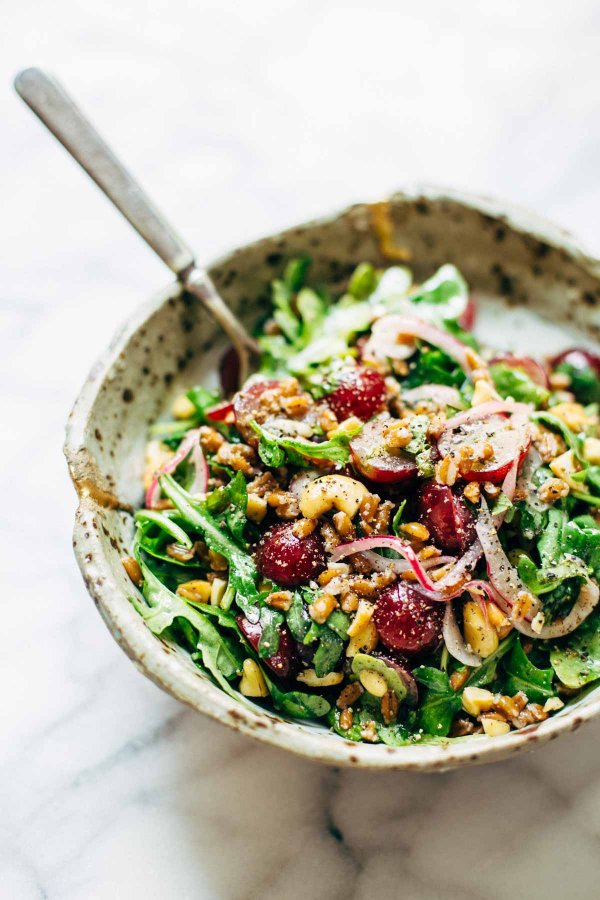 Recipe: pinchofyum.com
A little arugula, some tomatoes, and onion for pizzazz – that's practically all you need for this salad. Let me say, too, that you'll be using that black pepper vinaigrette on all your favorite salads.
2

Spinach Chicken Pasta Salad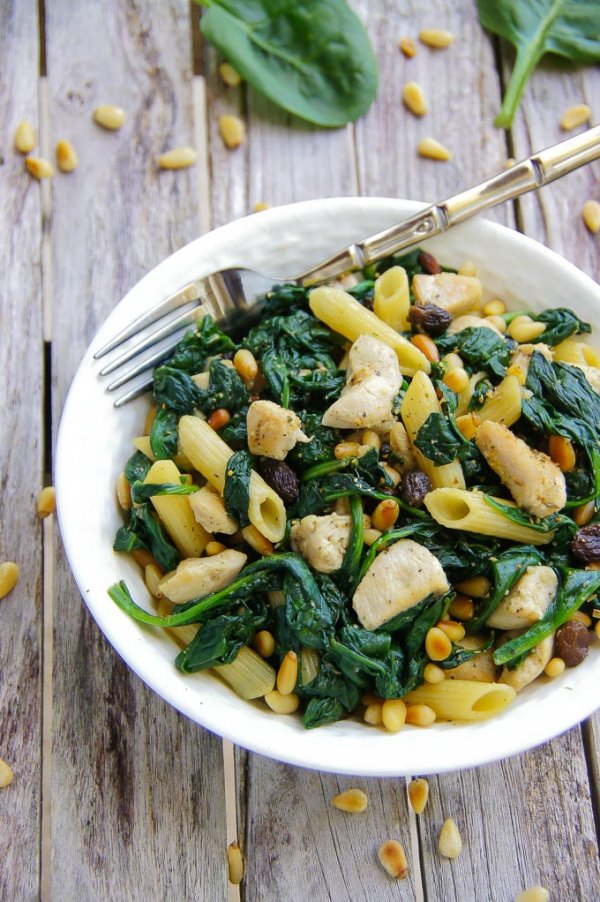 Recipe: garlicmatters.com
This salad easily makes a meal, and the best part is that you can tailor it to your tastes with regard to the pasta you use, the veggies you include, and the way you cook your chicken.
3

Mediterranean Cucumber Tomato Salad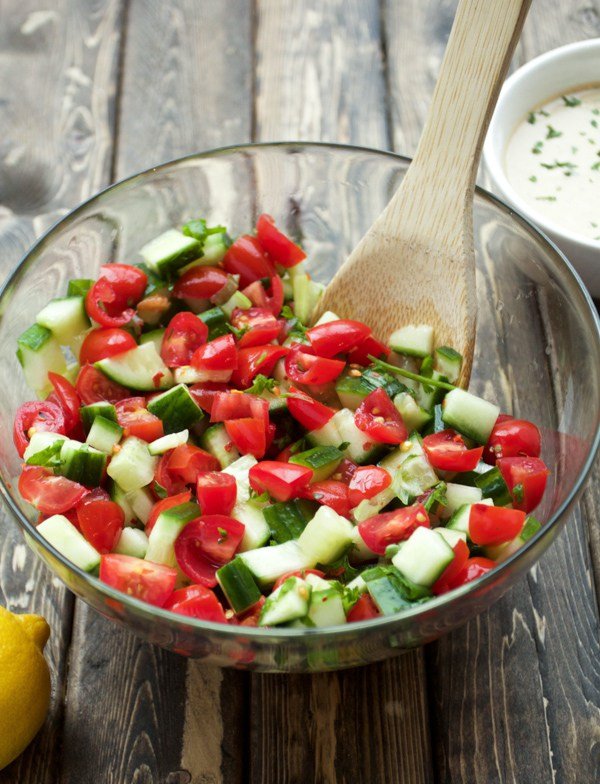 Recipe: twosisterskitchens.com
Need something light, fast, and refreshing? Here you go.
4

Spinach, White Beans, and Bacon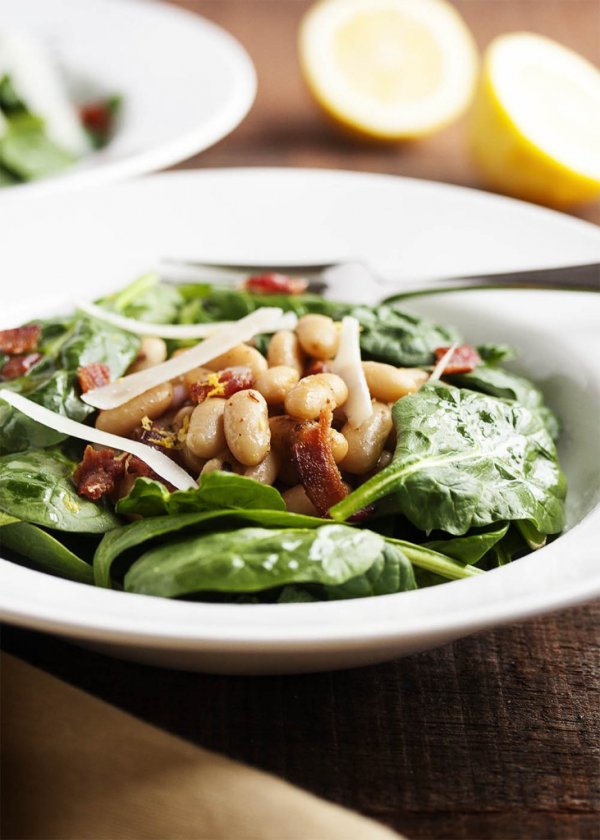 Recipe: justalittlebitofbacon.com
I don't know what part of this salad I like the most, the white beans or the bacon, but my, do they complement each other!
5

Roast Chickpea and Avocado Salad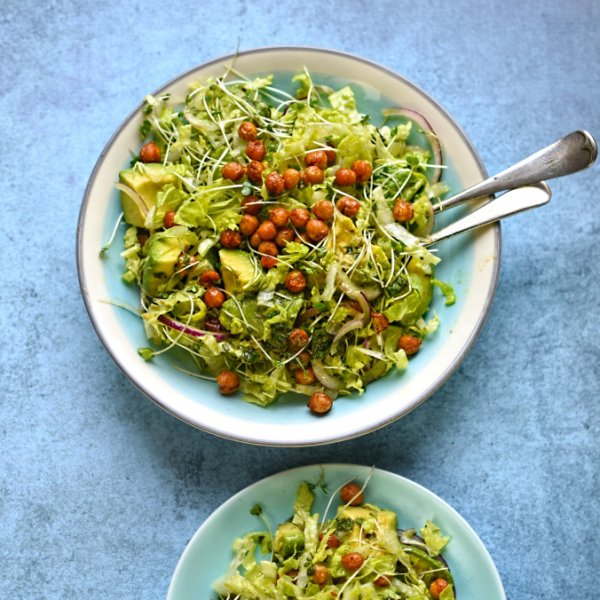 Recipe: circusgardener.com
This salad is so filling, it's perfect for weekday lunches, especially if you want to brown bag it.
6

Saffron Chicken & Herb Salad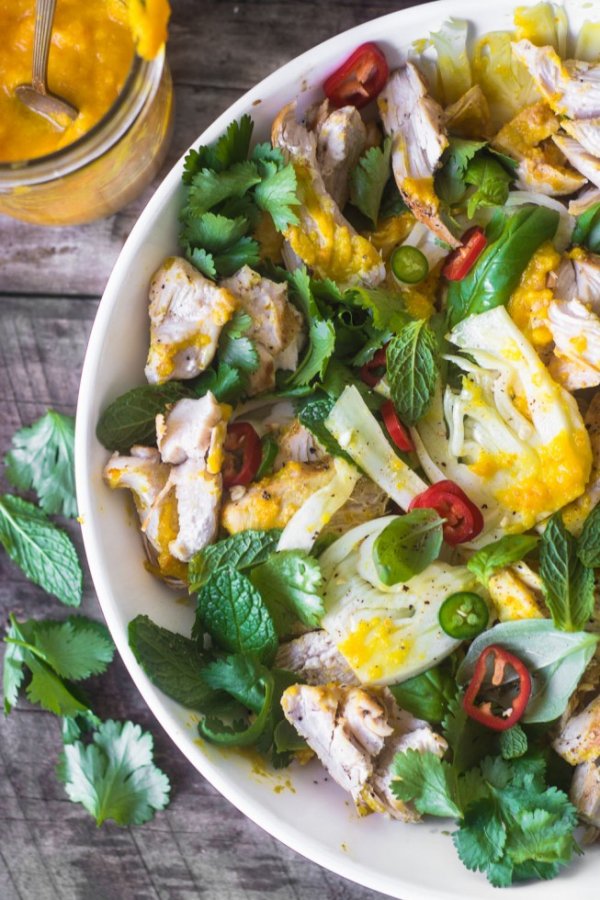 Recipe: theviewfromgreatisland.com
Now, when you're in the mood for something flavorful and exotic, throw together this easy culinary masterpiece. It's so good, it tastes like it takes twice the ingredients and three times the time it actually takes to make.
7

Sweet Apple Salad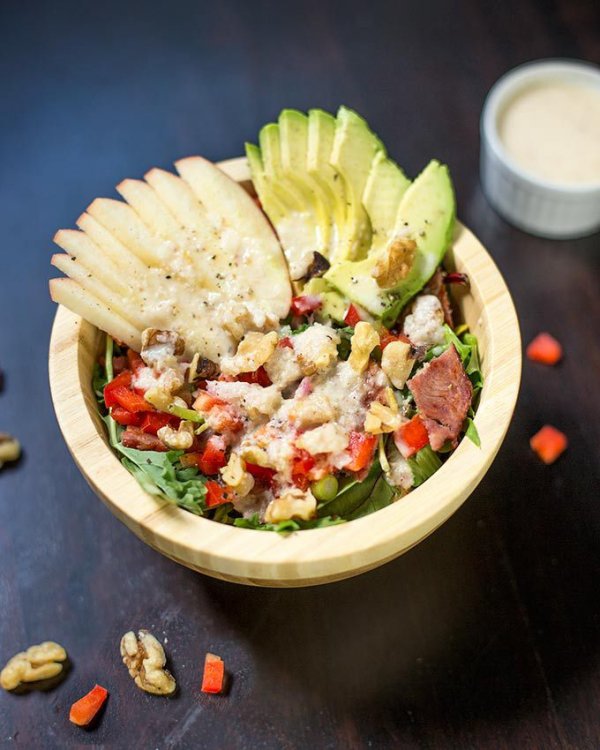 Recipe: kiwiandcarrot.com
Mmmm. A little apple makes any salad even better.
8

Lime, Avocado, & Grape Vegan Quinoa Salad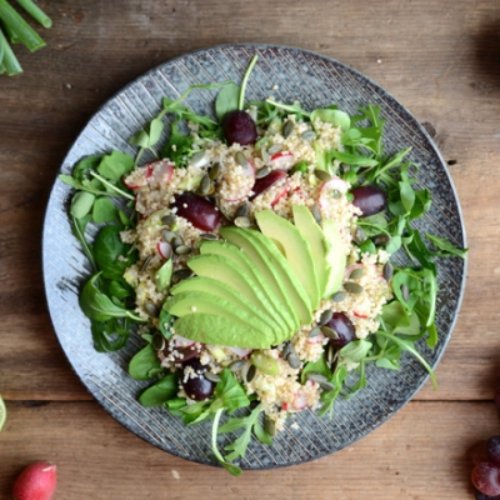 Recipe: waffleandwhisk.com
Even if you're not a huge fan of quinoa, I think you'll enjoy it in salad – in this salad, in particular. The mix of lime and avocado gives it a really fabulous southwestern flavor, too.
9

Roasted Delicata, Arugula, and Raddichio Salad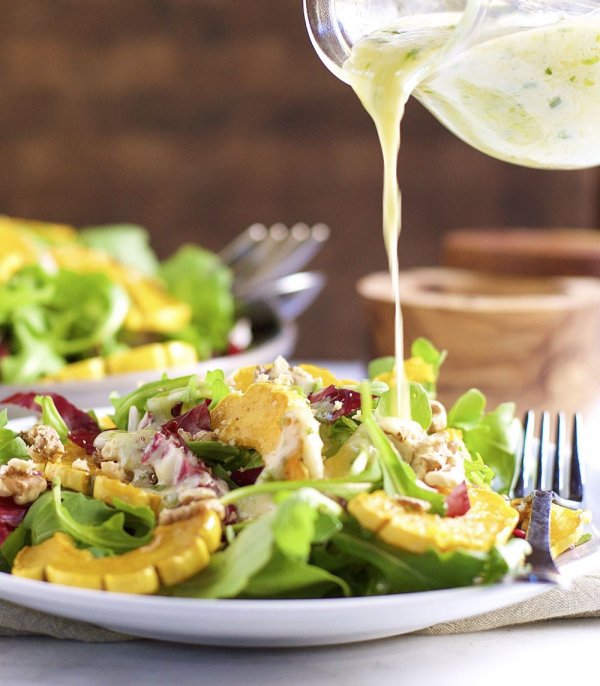 Recipe: pinchandswirl.com
So, if you've never had delicata squash, you've been missing out. Fortunately, here's your chance to try it. This one might become your favorite salad, not in the least because that dressing is money.
10

Crunchy Blueberry Avocado Salad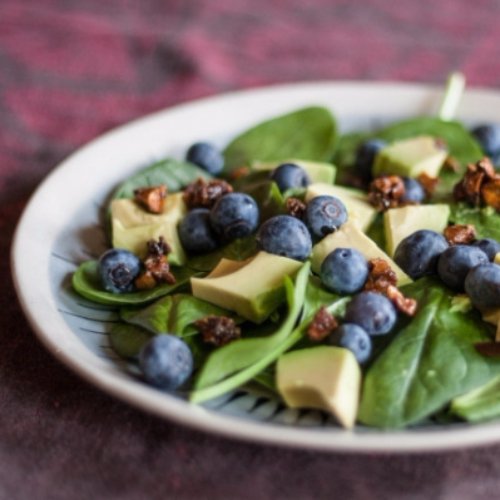 Recipe: dirtylaundrykitchen.com
The crunch in this salad is the kicker, and the blueberries are absolutely divine.
11

Arugula & Blood Orange Salad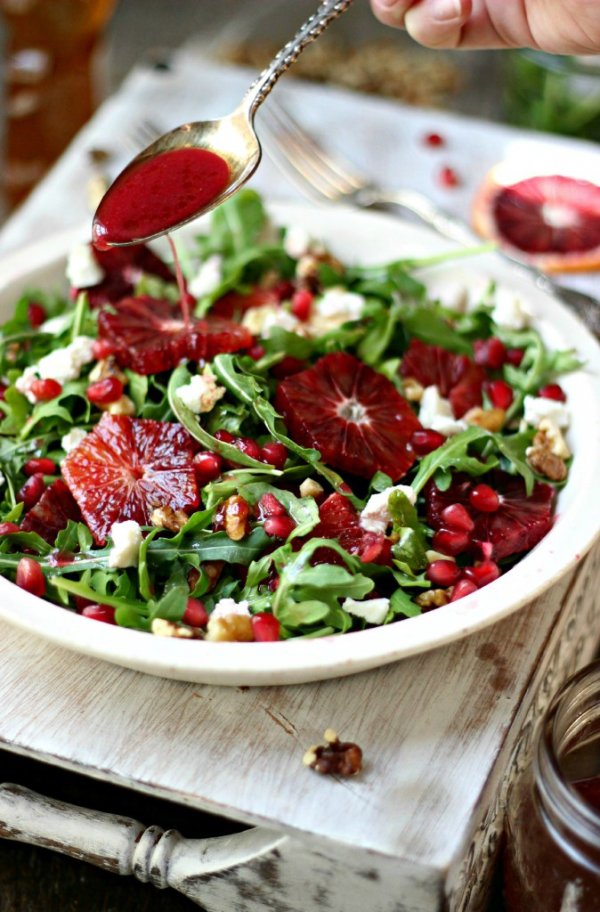 Recipe: thegourmetrd.com
There's something ever so slightly gourmet about adding blood oranges to a salad. Although the orange and the honey are sweet, you get the perfect amount of tangy funk from the goat cheese.
12

Winter Citrus Salad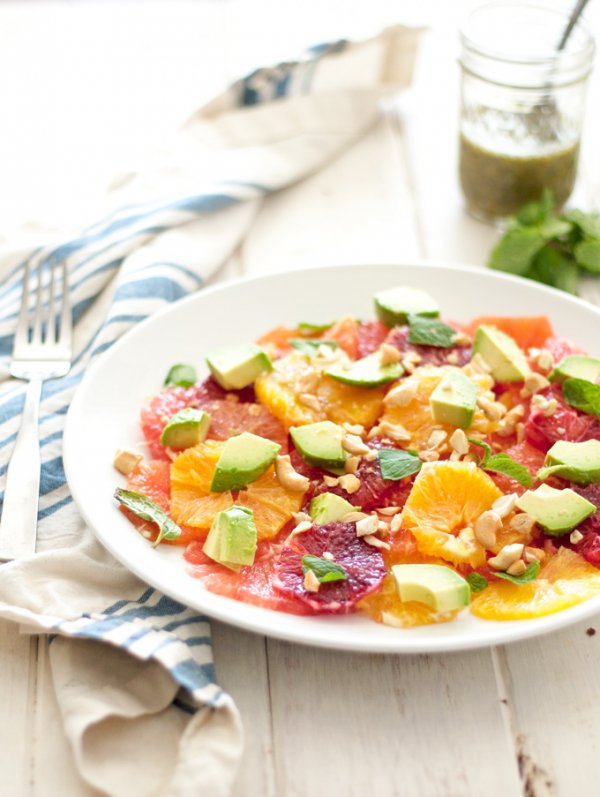 Recipe: ahappyfooddance.com
This dressing is also money. Like, you will want to keep a bottle of it in your fridge at all times.
13

Roasted Winter Root Vegetable Salad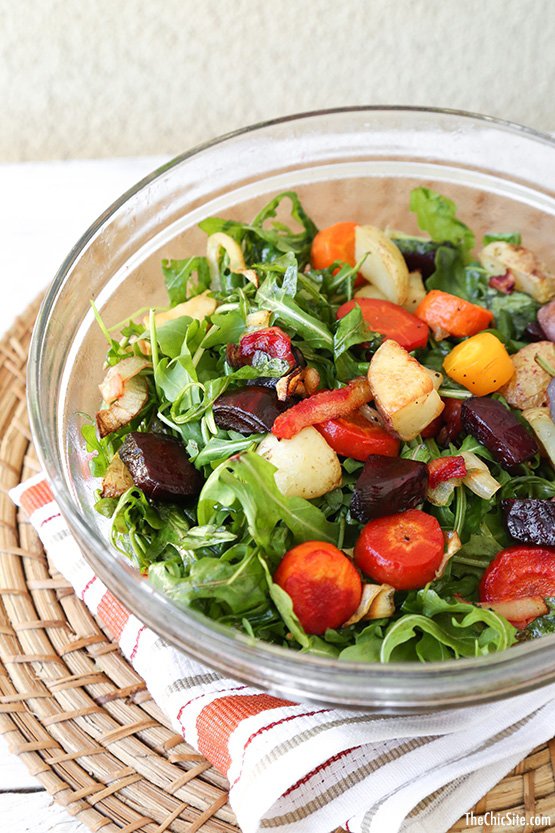 Recipe: thechicsite.com
When it's cold outside, you probably crave soups with root vegetables. I beg you, however, try this salad. Having all your favorite winter veggies in a scrumptious salad is an experience for your taste buds.
14

Chopped Apple & Chicken Salad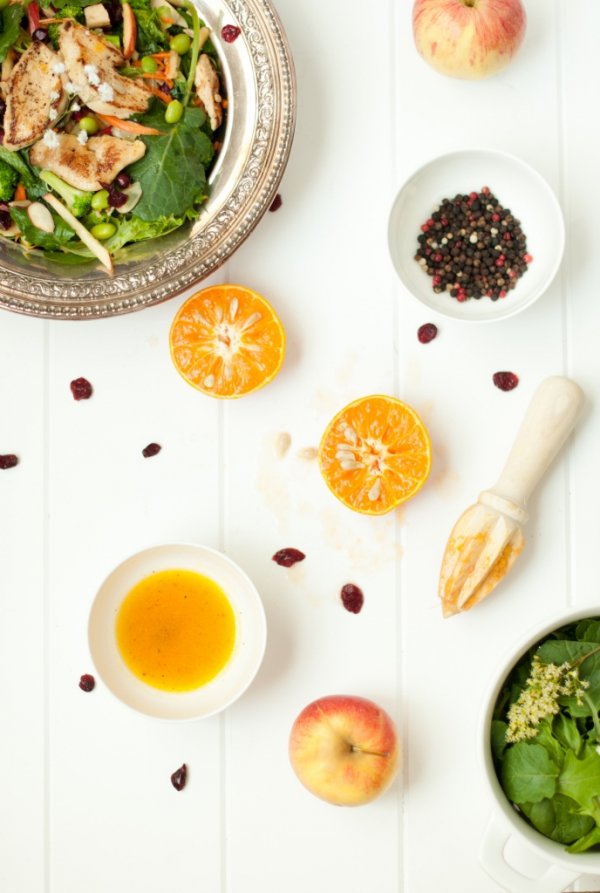 Recipe: kirantarun.com
This is a classic. It's a fantastic lunch, as well, and it's easy to make with leftover chicken – just FYI.
15

BBQ Salmon Kale Salad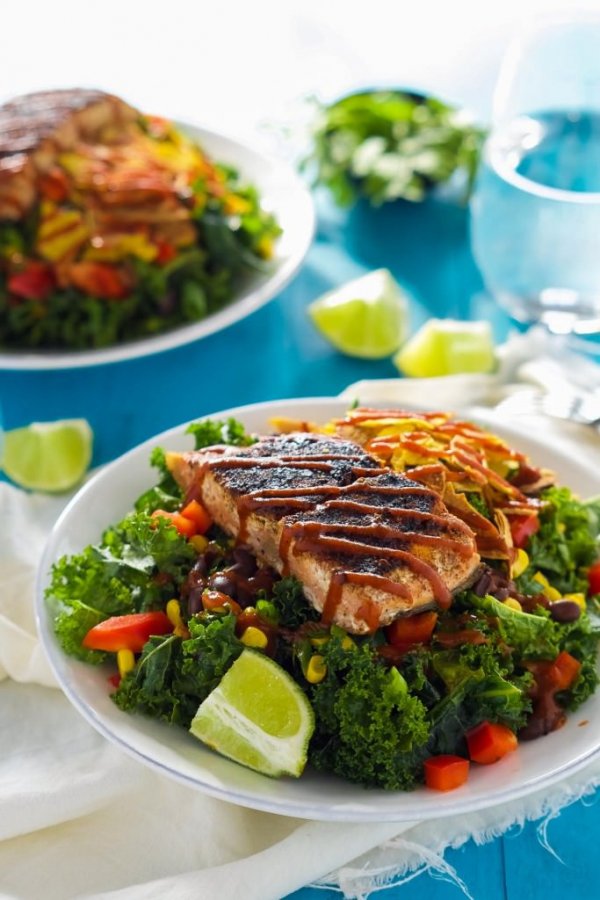 Recipe: withsaltandwit.com
Need an entree salad? Here you go. From the barbecue salmon to the epic vinaigrette, you'll end up licking your salad plate.
16

Salmon, Avocado, and Cucumber Salad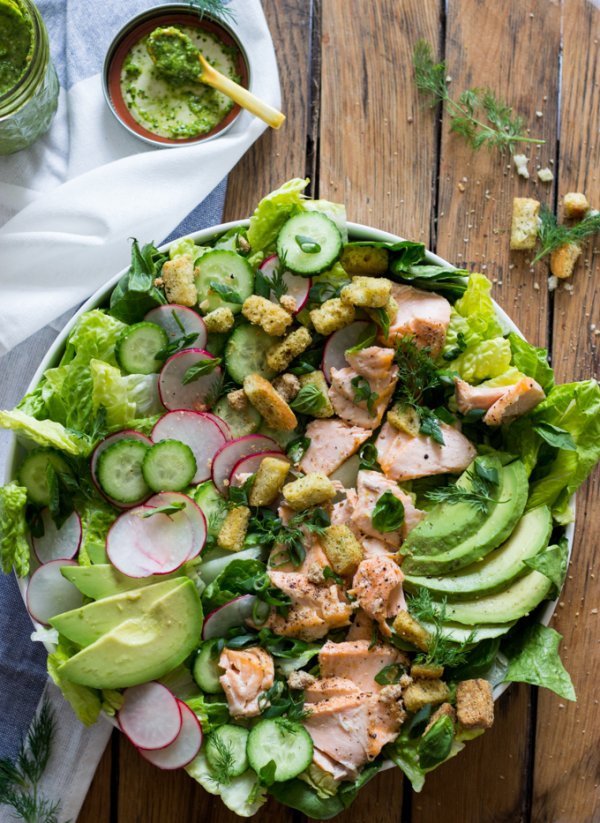 Recipe: littlebroken.com
And if you don't use all your salmon in #15, feel free to try this light, refreshing salad, too. Thanks to the cucumber and the cilantro, especially, it's a beautifully bright meal that's ideal for summer.
Salads are so much more than just vegetables and some dressing, especially if you throw in some protein. Plus, you hardly need dozens of ingredients to put together the perfect salad. Do you have a five-ingredient favorite?
Please rate this article