17 Things to Add 🥓🥑 to Spice up 💥 a Plain Old Grilled Cheese 🧀 Sandwich ...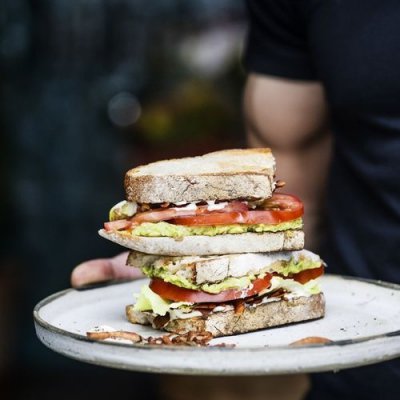 A grilled cheese sandwich is great, as is, but if you want to make it a bit more exciting, there are lots of tasty options. When you pile these on your sandwich, you get something you love, while also trying something new. If you want to really impress someone, a gourmet grilled cheese sandwich is just the thing you've been looking for. Here are some super yummy ideas. The only problem will be choosing which one you want to try first.
Bacon is bacon and it pretty much speaks for itself. After all, everything is better with bacon, right?
A couple of thick, juicy slices of tomatoes will turn an ordinary grilled cheese sandwich into something you'd find in a fancy restaurant. Yum!
Whether you choose red, yellow or white onions, adding them to your grilled cheese gives it a perfect crunch and just a dash of spiciness. You're going to love it!
The rich and creamy taste and texture of avocado perfectly balances the flavor of the cheese. Mash it before you put it on or you'll have a sandwich that is really messy and hard to eat.
Nothing tastes better on a fried egg than a gooey slice of melted cheese. If you crave a grilled cheese for breakfast, adding an egg makes it a perfect morning meal.
If you want an epic grilled cheese sandwich, you have to try yours stuffed with cooked macaroni and cheese. Talk about a tasty way to satisfy a cheese craving!
Sandwich experts say that potato chips add just the perfect crunch to a grilled cheese sandwich. Try barbecue or sour cream and onion if you want to really shake things up.
Thick cut French fries are perfect in a sandwich. When the cheese melts, it combines the two ingredients and you get something ooey and gooey and totally perfect. Salt the fries before you put them in for the perfect taste.
If you like things with a little bit of spice, roasted green chilies are the perfect thing for a grilled cheese sandwich. They add crunch and heat and you'll never want yours without them again.
Thinly sliced apples pair surprisingly well with cheese, especially Cheddar. They also add a delightful crunch and tartness to your favorite lunchtime meal.
Want to make your grilled cheese just a little bit healthier? Fresh spinach leaves are the best option. Kale also works if you like it better.
Just when you thought a grilled cheese couldn't get any better, comes one piled with ham and pickles. You will never believe how good this tastes. Try it today!
The wonderful flavor of pesto pairs just right with all kinds of cheese. Smear it on the inside of both slices of bread then melt the cheese in between. Perfect!
Traditionally, smoked salmon is paired with cream cheese. However, it works pretty well on a melty grilled cheese too.
If you love Swiss or Cheddar on your grilled cheese, sautéed mushrooms are the perfect complement. You won't be sorry you tried this one!
Most kinds of olives will taste yummy on a grilled cheese. That includes black and green. They give it just the right touch of tanginess and saltiness.
If you really want to try something new, sauerkraut is the way to go. It's got such a distinctive taste and it perfectly balances your cheese.
What's your favorite thing to put on a grilled cheese sandwich? Which of these are you excited to try?
{{#comments_count}} Show Commnents ({{comments_count}}) {{/comments_count}}