Do you know how many desserts with bacon actually exist? Although this is by no means a new foodie fad, it's certainly trending big right now. I suppose I can understand the appeal: bacon is delicious and desserts are delicious, so certainly they're good together, right? Yeah, I probably made the same ew-face as many of you when I first considered this pairing … but then I boldly tried a chocolate chip cookie with bits of bacon in it, and it really wasn't bad. So naturally I had to go searching for some of the most popular desserts with bacon, just to see what all the buzz was about.
---
1

Bacon Brownies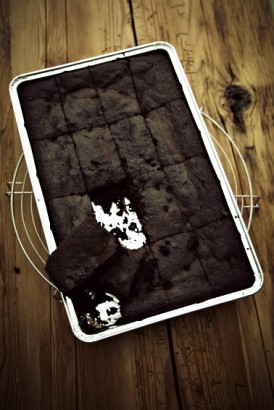 A lot of desserts with bacon mix the meat with chocolate, primarily because the sweetness tends to complement the inherent saltiness of bacon. That's certainly true for this recipe, which is just about as rich as you'd imagine. After all, brownies are rich themselves, but when you add bacon into the mix, you get something that's definitely out of this world.
Ingredients:
125 gram(s) streaky bacon (thin rashers, finely chopped)
2 teaspoon(s) golden syrup
150 gram(s) unsalted butter (softened)
250 gram(s) soft light brown sugar
75 gram(s) cocoa powder
150 gram(s) plain flour
1 teaspoon(s) bicarbonate of soda
4 large egg(s) (beaten)
150 gram(s) dark chocolate (chopped (or dark chocolate chips/morsels))
Directions:
Preheat the oven to 190°C and get out a 25cm square tin and line it, or (as I prefer) a throwaway foil baking tray measuring 30cm x 20cm x 15cm.
Heat a heavy based (preferably non stick) frying pan and when warm, add the bacon bits and cook, stirring occasionally until beginning to crisp. Add the syrup, stir again to mix and transfer the sticky bacon bits to a cold surface, either on some foil or a plate. The syrupy bacon juices left behind are just delicious when mopped up with some bread: a cook's treat!
Melt the butter over a gentle heat in a medium sized saucepan and when it's melted, add the sugar, stirring with a wooden spoon.
Now take the pan off the heat and add the cocoa, flour, bicarbonate of soda and stir, then add the beaten eggs and stir again to mix.
Add the chopped dark choc or chips and the bacon bits, breaking them up with your hands if necessary. Fold together then pour and scrape into the tin.
Place in the oven to cook for 20-25 minutes; you want a little gooeyness inside still.
Transfer the tin to a wire rack and sit until cooled a little (but not to the point of coldness) and cut into 16 squares.
---
2

Maple Bacon Cake Doughnuts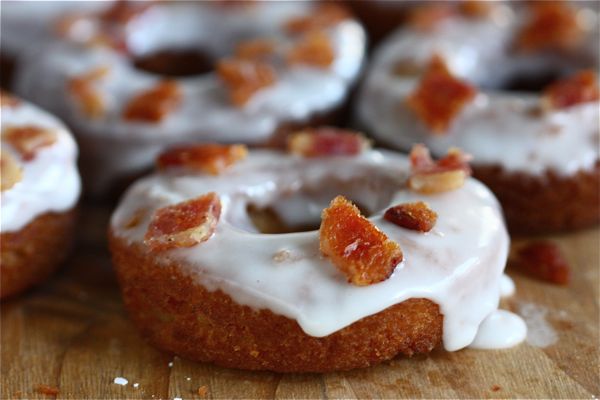 Maple is another popular pairing with bacon, which is easy to understand. When you have any dessert that mixes bacon with maple, you've got something that tastes like a breakfast treat right out of bacon heaven. This recipe really works, and actually makes a great addition to any brunch. The bacon really tempers the sweetness of the maple glaze, so you get a perfect balance!
Ingredients:
Doughnuts:
1 quart peanut oil (or a 50/50 peanut and vegetable oil blend)
1 tablespoon vegetable shortening
1/2 cup white granulated sugar
1 large egg
1 3/4 cup, plus 2 tablespoons, all-purpose flour
1 tablespoon baking powder
1/2 teaspoon kosher salt
1 teaspoon ground cinnamon
1/2 cup whole milk
Maple Glaze:
1 cup powdered sugar
1 1/2 tablespoons whole milk
1 tablespoon maple syrup
Bacon:
4 cooked slices of thick cut bacon, chopped
Directions:
Preheat oil to 365°F.
Whisk together the shortening, sugar and egg yolk until well combined.
In another bowl sift together the flour, baking powder, salt, and cinnamon. Alternate adding the flour mixture and milk to the yolk mixture until a dough has just formed.
Turn the dough onto a clean surface and knead until smooth, 3 to 5 minutes. Lightly flour the surface and roll dough until ½ inch thick.
Use a 3-inch doughnut cutter, cut out doughnuts. Re-roll the scraps to make more doughnuts. I ended up with about 11 doughnuts and 11 doughnut holes.
Carefully drop 3 to 4 doughnuts at a time into the oil and fry for 1 ½ to 2 minutes, flipping the doughnuts after a minute.
Drain on paper towels and repeat until all the doughnuts have been made.
In a small bowl, mix together glaze ingredients until smooth and creamy. To make the doughnuts, dip the doughnuts into the glaze and top with a few chopped pieces of bacon. Repeat until all of the doughnuts and doughnut holes are covered in glaze and bacon.
---
3

Bacon Chocolate Chip Cookies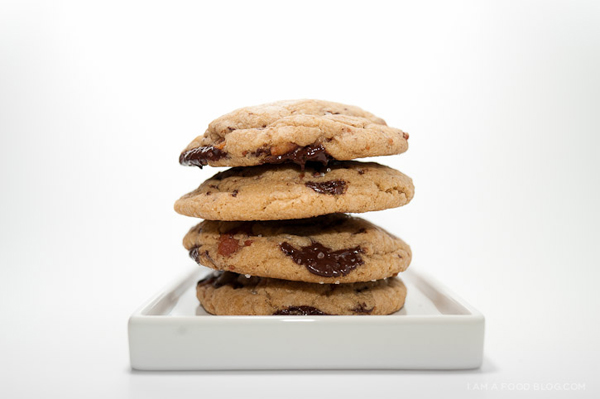 You know I had to include this one! Honestly, although I don't know that I can eat bacon chocolate chip cookies frequently, they do make a magnificent treat every now and then. They're incredibly rich as well, so it's well nigh impossible to eat more than one unless you want to go into a chocolate coma.
Ingredients:
1 3/4 cups flour
1/2 teaspoon baking soda
3/4 teaspoon baking powder
1/2 cup plus 2 tablespoons butter at room temperature
1/2 cup plus 1 tablespoon sugar
1/2 cup plus 2 tablespoons brown sugar
1 egg
1 teaspoon vanilla extract
1/2 cup dark chocolate, chopped
8 slices of bacon, finely chopped then pan-fried until crispy and drained on paper towels
sea salt
Directions:
Sift the flour, baking soda and powder into a bowl and set aside. Cream the butter and sugars until light and fluffy. Add the egg and mix well. Stir in the vanilla. Add the dry ingredients and mix until just combined. Drop in the chocolate and bacon and incorporate. Refrigerate for 24 to 36 hours.
When ready to bake, preheat oven to 350 F. Line a baking sheet with parchment paper. Scoop 6 3 1/2 ounce mounds of dough (the size of large golf balls) onto the baking sheet leaving ample space between cookies. Sprinkle cookies with a touch of sea salt. Bake until golden brown but still soft, 18-20 minutes. Cool on sheet for 10 minutes then move to rack to cool until you are read to enjoy!
---
4

Spiced Bacon Sugar Cookies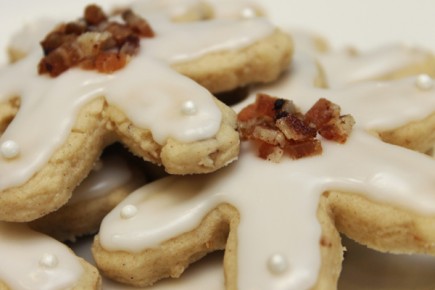 As you'll see, several recipes call for special kinds of bacon. Just take a look at the source material and you'll find a number of excellent recipes for candied bacon, vanilla bacon, and many others. It definitely lends an interesting texture to sugar cookies, so much so that you almost don't notice the bacon at all. You just get a great crunch and a hint of saltiness.
Ingredients:
1½ cup butter, softened
2 cups white sugar
4 eggs
1 tsp bourbon vanilla extract
5 cups all-purpose flour
2 tsps baking powder
1 tsp salt
2 tsp cinnamon
1 tsp nutmeg
4-6 slices of Vanilla Bourbon or Cinnamon Sugar Bacon, cooked, finely chopped.
Directions:
Cook Your Bacon: Lay strips on a foil-lined baking pan. Place in the oven, then turn oven on at 400 degrees. Cook for 17-20 minutes. Drain grease from bacon, chop, and set aside. You'll want to keep an eye on your bacon as the sugar on your bacon can burn if it cooks too long.
Mix Your Dough: In a large bowl, cream together butter and sugar until smooth. Beat in eggs and vanilla. Stir in the flour, baking powder, salt, cinnamon, nutmeg and bacon. Cover, and chill dough for at least one hour.
Cut Your Cookies: Preheat oven to 400? F. Roll out dough on floured surface ¼ to ½ inch thick. Cut into shapes with any cookie cutter. Place cookies 1 inch apart on ungreased cookie sheets.
Bake 6 to 8 minutes in preheated oven. Cool completely.
Decorate Your Cookies: I used a royal icing I found online and some chopped bacon, but you can use whatever your heart desires. The good thing about these cookies is that they taste wonderful now matter how you decorate them! Go hog wild!
---
5

Dark Chocolate Bacon Cupcakes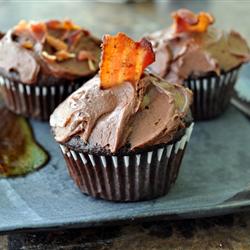 Cupcakes are still riding high on the food trend train, so it's no surprise that they've been infiltrated by bacon as well. This is another case where the saltiness of the meat balances out the sweetness of the chocolate. They're just rich enough, since dark chocolate has a pleasant bitterness. With the addition of coffee, it's almost like breakfast!
Ingredients:
12 slices bacon
2 cups all-purpose flour
¾ cups unsweetened cocoa powder
2 cups white sugar
2 teaspoons baking soda
1 teaspoon baking powder
½ teaspoon sea salt
2 eggs
1 cup cold, strong, brewed coffee
1 cup buttermilk
½ cup vegetable oil
1 tablespoon unsweetened cocoa powder, for dusting
Directions:
Preheat oven to 375 degrees F (190 degrees C). Place bacon in a large, deep skillet. Cook over medium-high heat until evenly brown. Drain, crumble and set aside.
In a large bowl, stir together the flour, 3/4 cup cocoa powder, sugar, baking soda, baking powder and salt. Make a well in the center and pour in the eggs, coffee, buttermilk and oil. Stir just until blended. Mix in 3/4 of the bacon, reserving the rest for garnish. Spoon the batter into the prepared cups, dividing evenly.
Bake in the preheated oven until the tops spring back when lightly pressed, 20 to 25 minutes. Cool in the pan set over a wire rack. When cool, arrange the cupcakes on a serving platter. Frost with your favorite chocolate frosting and sprinkle reserved bacon crumbles on top. Dust with additional cocoa powder.
---
6

Bacon Bourbon Caramel Popcorn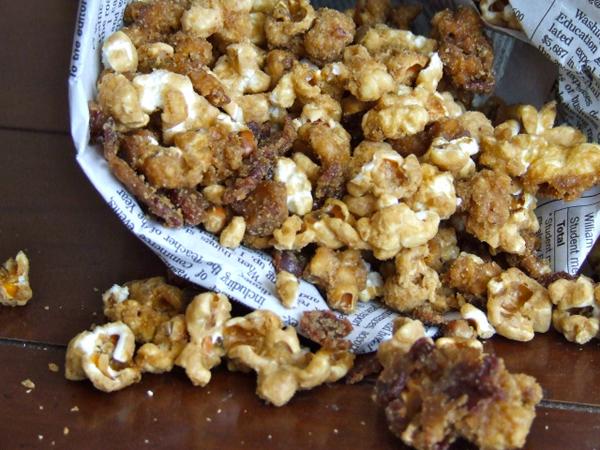 Now this is a fun treat to try the next time you have friends over for a movie or game night. Bacon actually works really well in this recipe, and there's nothing like homemade caramel popcorn. It's sort of like Cracker Jack with a twist – a salty, crunchy, bacon-y twist, that is.
Ingredients:
9 strips of bacon
2 1/4 cups of unpopped kernel corn
1 cup butter
2 1/4 cups brown sugar
1 cup maple syrup
1/2 cup bourbon
1 tablespoon vanilla extract
1 teaspoon salt
1/2 teaspoon baking soda
Vegetable oil
Fleur de sel
Directions:
Fry bacon and set aside.
Put 3 tablespoons of oil in a large pot over medium high heat.
Add 3 kernels to the pot – when they begin to pop, add 3/4 cup of popcorn (you'll be making three batches), cover and shake pot occasionally, so popcorn doesn't burn.
Remove pot from heat once popping has slowed, place popcorn in a large bowl. Repeat for remaining batches.
Heat oven to 250 degrees.
Crumble bacon over finished popcorn.
In a large pot, bring butter, brown sugar, and maple syrup to a boil, stirring constantly. Reduce heat and simmer for 5 minutes, then remove from heat.
Stir in bourbon, vanilla extract, salt and baking soda and mix. Be careful, the mixture tends to take on a life of its own and might over flow.
Pour caramel mixture over bacon and popcorn mixture. Toss to coat evenly.
Spread mixture over three baking sheets covered in parchment. Sprinkle each tray liberally with Fleur de sel.
Bake for 1 hour, stirring the mixture every 15 minutes. Remove from oven. Cool for 1 hour.
---
7

Bacon-Hazelnut Buttermilk Cupcakes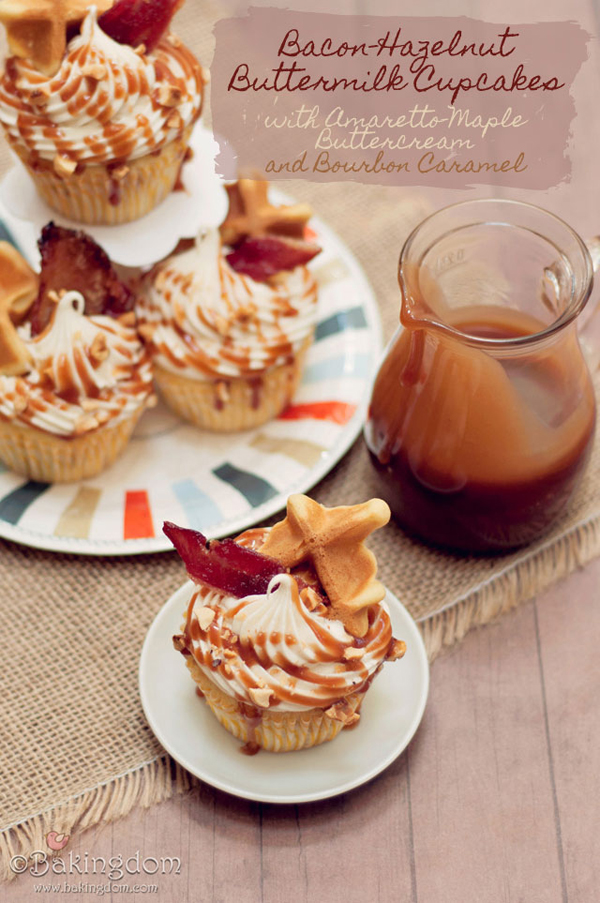 I'm actually really intrigued by this flavor pairing. You can eat these by themselves or with a sweet, decadent maple buttercream. Either way, they're surprisingly tasty. The hazelnut comes through just enough. In fact, I wonder what they would taste like topped with Nutella... What do you think, foodie friends?
Ingredients:
1/2 cup buttermilk, at room temperature
2 eggs, at room temperature
1 teaspoon (5 ml)vanilla extract
1 1/2 cups (180 grams) cake flour
3/4 cup (150 grams) sugar
1 1/2 teaspoons baking powder
1/4 teaspoon salt
1/2 cup (1 stick or 113 grams) unsalted butter, cut into 8 pieces and at room temperature
1/4 cup toasted and skinned hazelnuts, roughly chopped (spread on a baking sheet and bake at 350 for 10 minutes, skins will rub off)
6 slices candied bacon, 3 slices finely chopped (remaining 3 for garnish), do not add pepper
Directions:
Preheat oven to 350 degrees (180 C). Line a muffin pan with cupcake liners; set aside.
In a medium bowl, whisk the buttermilk, eggs, and vanilla until combined; set aside.
In a large bowl, or the bowl of a standing mixer, combine the flour, sugar, baking powder, and salt. With the mixer on low, add the butter pieces, one at a time, then increase mixer speed to medium low. Once the butter is fully incorporated, increase speed to medium and beat until well combined (about 30 seconds).
Reduce mixer speed to low and add half of the buttermilk mixture. Mix until just combined, then increase speed to medium high for about 30 seconds. Repeat with the remaining buttermilk mixture. Batter should be fully incorporated with some small lumps; do not overmix. Fold in the hazelnuts and chopped bacon.
Fill each cupcake liner with three tablespoons of batter. Sprinkle each one with maple crystals (optional). Bake for 18 minutes, or until the edges are light golden brown and a toothpick inserted in the center comes out with a crumb or two clinging to it.
Transfer to a wire cooling rack and allow to cool completely before frosting.
---
8

Bacon Weave Apple Pie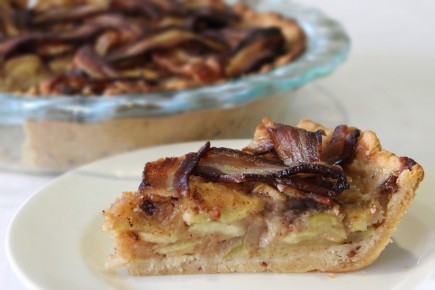 This is less a dessert than a work of art. I haven't tried it myself yet, but it's one of the most popular bacon based recipes I've found, and it definitely makes a pretty picture. The bacon weave almost doesn't look real! As you can see, it requires a flavored bacon as well, which I imagine would taste really fantastic with the apples and a fresh hunk of cheddar!
Ingredients:
1 lb. Vanilla Bourbon or Cinnamon Sugar Bacon
1/3 cup plus 1 Tbsp shortening
1 cup all purpose flour
1/4 tsp salt
2-3 Tbsp cold water
1/2 cup sugar
1/2 cup all-purpose flour
1/2 tsp ground cinnamon
1/4 tsp ginger
1/4 tsp ground nutmeg
3-4 large thinly sliced peeled apples
sharp cheddar cheese slices (optional)
Directions:
Preparation: Pull aside 8-12 strips of uncooked bacon and set aside. Cook remaining strips in a 400 oven for 17 minutes. Chop into small pieces and set aside.
Crust: Mix together 1 cup flour and salt. Cut in shortening using a pasty blender or by crossing 2 knives until particles are the size of course crumbs. Toss in a small handful of chopped bacon, then sprinkle cold water a little at a time, tossing with fork until all the flour is moistened. Roll pastry out into a even circle large enough to cover your pie plate. Press rolled crust into your pie plate.
Heat oven to 425°F. Peel, core, and slice apples. You'll want to pour a little lemon or lime juice over them to keep them from browning.
Stir together 1/2 cup sugar, 1/2 cup flour, cinnamon, ginger and nutmeg in large bowl. Add remaining chopped bacon and apples; toss. Spoon into pastry-lined pie plate.
Using your uncooked strips of bacon, create a bacon weave and carefully place it over the top of the pie. Tuck in the overhanging pieces into the pie so that your bacon strips don't drip grease all over your oven.
Loosely lay a piece of foil or parchment paper over the top of the pie. Bake 40-50 minutes taking the foil or paper off the pie during the last 10-15 minutes of cooking. Pie is done when crust is golden brown and bacon is starting to crisp. Depending upon how thick your bacon is, you may want to cook it a little longer.
Let the pie cool for a few minutes before cutting into it to allow the juices of the bacon to settle. Slice the pie and serve as is or with a piece of sharp cheddar cheese.
I'll be honest, I haven't tried all of these – but again, I can kind of understand the appeal. And even if I can't, a lot of cooks out there contend that these are just the best recipes ever. I might be daring enough to give them a try … eventually. What about you, do you like mixing bacon with your sweets or will you give this trend a pass?
More
Comments
Popular
Recent