Use your muffin tin for more than just muffins and cupcakes with these delicious muffin tin recipes! If there is one kitchen item that is sorely overlooked, it would have to be this one. Not to worry though, these muffin tin recipes will have you digging yours out and experimenting with new uses in no time!
---
1

Mini Apple Pie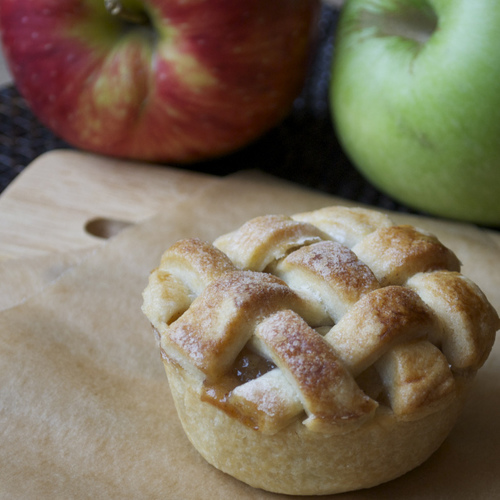 I have the worst sweet tooth! My husband however hates anything even the tiniest bit sweet, which means that every time I bake a confectionery delight I end up being "forced" to eat the whole thing. Since this was having a counterproductive effect on my weight loss plan, I decided to start making a mini-version instead, using my muffin tin! These sweet treats are the perfect size, and are one of my favorite muffin tip recipes!
Ingredients:
2 to 3 apples
Store bought pie crust dough (or home made if you have more patience than I do)
1/4 cup sugar
1/4 cup brown sugar
1 tsp cinnamon
1/2 tsp nutmeg
Pinch of salt
1 tbs flour
1 tsp vanilla extract
Directions:
- Apples
Peel and dice or chop 2 or 3 apples.
- Dry Mixture
Mix together the sugar, brown sugar, cinnamon, nutmeg, salt, flour, and vanilla extract. Then, mix in your chopped apples and stir until they are well coated.
- Construct Pies
Lay your pie crust dough flat. Find a cookie cutter, cup or small bowl to cut circles in your dough large enough to fill your muffin tin cups. Squish these into your ungreased tin. Remove any excess from the top, use a fork to poke holes in the bottoms and fill with your apple mixture.
- Top Crust
Use the left over scraps of dough to cut thin strips and weave them over the top of the pie to create a lattice work crust. Or roll your leftovers flat, cut out enough dough to fit over each pie and poke holes in top.
- Bake the apple pies
Place the cupcake tin on a baking sheet and bake at 375 degrees for about 35-40 minutes or until they start to look like and brown on the top.
2

Bacon Egg & Cheese Cups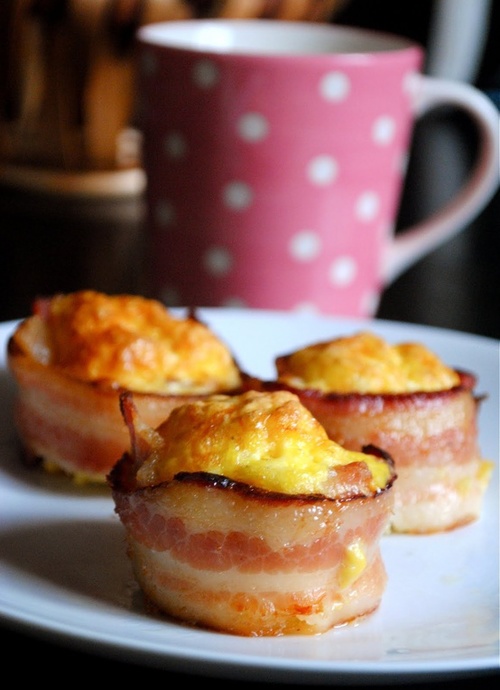 For this muffin tin recipe, the only dishes you need are the tin itself and one bowl, making it my go-to breakfast meal. It is quick, easy and it looks incredibly appealing!
Ingredients:
12 Strips of Bacon
8 Eggs
½ Cup Shredded Cheese (I like to use cheddar)
A pinch each of salt, pepper, onion powder (optional) garlic powder (optional)
Directions:
- Lightly grease your muffin tin and preheat your oven to 350 degrees
-Wrap one bacon strip around the inside of each cup so that it is lining the walls
-Scramble the eggs and seasonings in a bowl and fill each cup of your muffin tin ¾ of the way
-Top each with shredded cheese
-Bake in the oven for 30-35 minutes.
---
3

Cookie Bowls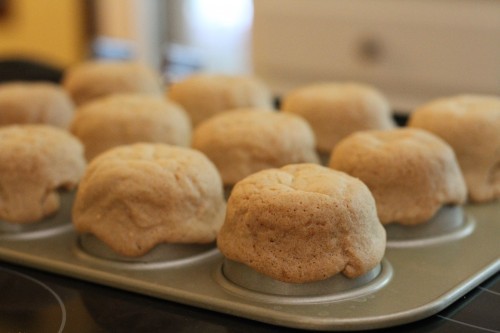 Muffin tin recipes aren't just about what can be made inside the tin, but outside as well, so flip that tin over! I am definitely a kid at heart, so I personally love this cookie bowl recipe. It is such a fun and delicious way to do something creative with your food! Just a warning, you cannot make these with every kind of cookie dough. The dough has to be firm enough that you can use cookie cutters on it, not the sticky or gooey kind.
Ingredients:
2 3/4 cups all-purpose flour
1 teaspoon salt
1 cup (2 sticks) unsalted butter, softened
1 1/2 cups granulated sugar
1 egg
1 1/2 teaspoons vanilla extract
1/2 teaspoon Almond Extract
Directions:
-Preheat oven to 350°F. Turn your muffin tin upside down and spray the bottom with non-stick spray.
-In medium bowl, combine flour and salt. In large bowl, beat butter and sugar with electric mixer until light and fluffy. Beat in egg and extracts. Add flour mixture to butter mixture, 1 cup at a time, mixing after each addition.
-Roll out dough on generously-floured surface to 1/8 in. thickness. Cut 4-1/2 in. circles from dough and lay gently over each up-ended cup in the tin.
-Bake 11-13 minutes or until cookie bowls are golden brown. Allow to cool for ten minutes and then gently remove bowls from the tin using a spatula or knife.
-Fill with ice cream or anything you wish and enjoy!
---
4

Mini Meatloaf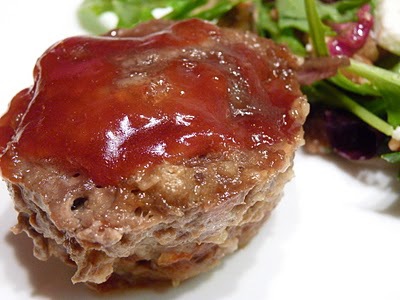 This is one of the best meatloaf recipes in existence… because it's mine, but I'll share it with you. When it is made in muffin tins, this meatloaf comes out crisp on the outside and juicy and delicious on the inside!
Ingredients:
Meatloaf:
1 ½ lb Meatloaf mix (Beef, Pork Veal)
1 Packet Dry Onion Soup Mix
¾ Cup Ketchup
1 ½- 2 Cups Bread Crumbs
1 Egg
Mushrooms & Onions sautéed in butter
Onion Powder & Garlic Powder (Optional)
Glaze:
2 Tbs Yellow Mustard
¼ Cup Ketchup
¼ Cup BBQ Sauce
¼- ½ cup brown sugar
Directions:
-Mix all of meatloaf ingredients together in a large bowl.
Make sure the sautéed mushrooms and onions are tender before you add them to the mix. I always mix it with my hands because it gets the ingredients blended together better.
-If you are not using non-stick muffin pans, you may want to lightly grease the inside, then fill each cup ¾ of the way with the meatloaf mixture.
-In a small bowl, blend all of the ingredients for the glaze. Add the brown sugar last and add enough so that it becomes quite thick.
-Spoon a good amount of glaze onto each mini meatloaf. As it cooks it will drip down the sides of the meatloaf leaving a delicious tangy coating.
-Bake in a 375 degree oven for 30 minutes, or until meat has reached an internal temperature of 160 degrees.
---
5

Chicken Alfredo Pasta Pie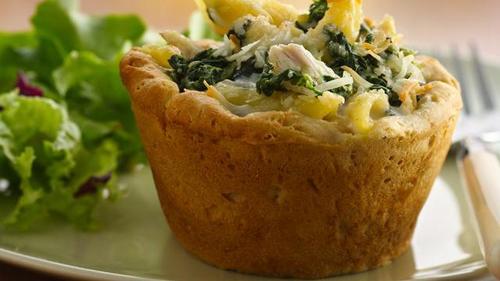 I have to admit I have become rather addicted to the pasta in a bread bowl dinners that have become so popular at pizza places recently. This muffin tin recipe allows you to make mini versions at home!
Ingredients:
1 cup cooked penne pasta
2 cups chopped cooked chicken
1 jar (15 oz) Alfredo pasta sauce
1 box (9 oz) frozen spinach, thawed, and drained
1 can (16.3 oz) Pillsbury® Grands!® refrigerated buttermilk biscuits
½ cup shredded Parmesan cheese
Directions:
-Heat oven to 350°F.
-Mix pasta, chicken, Alfredo sauce and spinach. Separate dough into 8 biscuits; flatten each biscuit and press one into each cup of your ungreased tin so that it covers the bottom as well as the sides.
-Fill with chicken mixture and sprinkle with cheese.
-Bake 28 to 30 minutes or until golden brown.
-Allow to cool and remove from pan
---
6

Jalapeño Popper Cups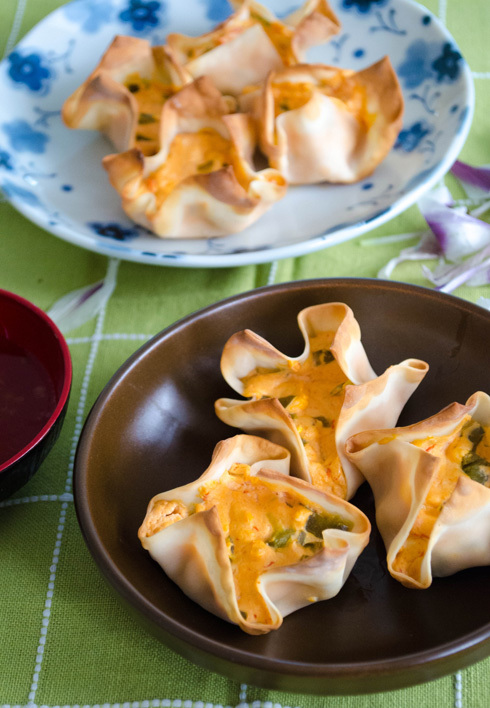 I am a sucker for spicy foods and jalapeno poppers have to be one of my all-time favorites, so this recipe gets used with amazing frequency in my home. I'm sure once you try it, they will become a common concoction in your kitchen as well!
Ingredients:
Wonton Wrappers
4 ounces cream cheese, softened
1/2 cup cheddar cheese, shredded
2 jalapeno peppers, seeded and chopped
1 tablespoon hot pepper sauce
Directions:
-Preheat oven to 350 degrees
-Place wonton wrappers into the cups of your lightly greased muffin tin.
-Stir together cream cheese, Cheddar cheese, jalapenos, and hot sauce in a bowl.
-Spoon mixture into wonton wrappers.
-Bake in preheated oven until golden brown, about 15 to 20 minutes. Serve warm.
---
7

Mini German Pancakes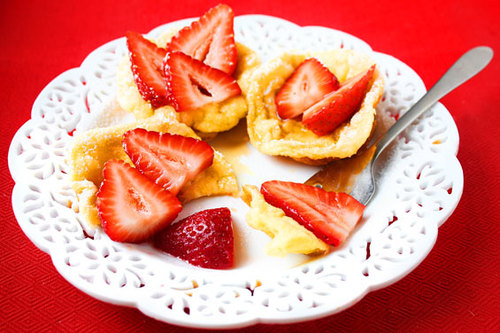 I could eat breakfast food all day, every day. That is in no way an exaggeration; I love everything about breakfast foods. They are warm, comforting and they range from sweet to savory, allowing for a vast array of choices. This recipe is great because it gives you a great base which you can top with whatever you like!
Ingredients:
1 cup milk
1 cup flour
6 eggs
1/4 cup melted butter
Dash of salt
1 tsp vanilla
Any toppings you'd like
**Directions:
**-Preheat oven to 400 degrees and thoroughly grease muffin tins.
-Blend all of the ingredients except your toppings in a blender. Make sure batter is well blended.
-Bake for 15 minutes, or until puffy and golden on top. As the pancakes cool they will start to deflate and for a semi-cup shape which is perfect for holding whatever toppings your heart desires (I strongly recommend strawberries and whipped cream)!
One of the best things about these muffin tin recipes is that if you have any picky eaters to feed, you can alter any of the recipes to take out things they may not like and add things they love! What interesting things do you cook in your muffin tin?
---
Comments
Popular
Related
Recent