I love low calorie comfort food. Growing up in the South, comfort food was just a way of life. Brown beans, ramps, collard greens, homemade macaroni and cheese, fried chicken, chicken and dumplings … I hope you get the idea because I'm making myself hungry and I don't need those calories! That doesn't mean I have to give up my comfort foods though, and neither do you. There are lots of stick-to-your-ribs healthy comfort foods that will keep you warm this winter. A few substitutions, some healthy alternatives, a bit of bait-and-switch: keep those in mind and you'll be enjoying cold weather comfort food in no time!
---
1

Turkey Meatloaf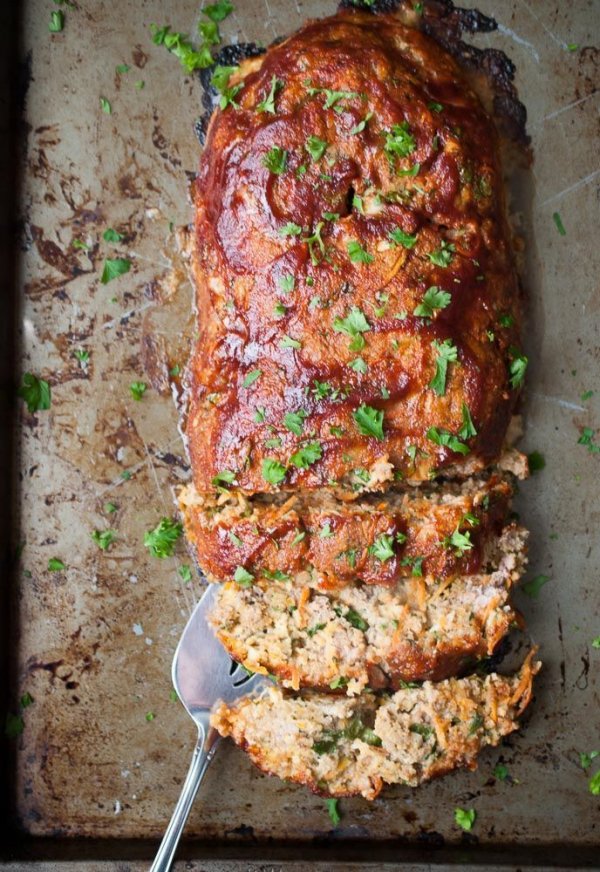 With a few substitutions, you can easily turn hearty meatloaf into a low calorie comfort food. To make it even healthier, further substitute whole wheat bread for white, or try crackers or bread crumbs. Besides that, the ingredients are fantastic! Ground turkey tastes delicious in meatloaf, and with ingredients like Worcestershire sauce and Dijon mustard, this recipe has a wonderfully spicy kick!
Ingredients:
4 slices white bread, crusts trimmed, torn into pieces
8 small sage leaves
1 1/2 pounds ground lean turkey
1 large yellow onion, cut into eighths
1 stalk celery, cut into 2-inch pieces
1/2 teaspoon dried thyme
1 large whole egg, lightly beaten
2 tablespoons tomato paste
4 teaspoons Dijon mustard
1 1/4 teaspoon Worcestershire sauce
3/4 teaspoon coarse salt
Freshly ground black pepper
1 large egg white
Directions:
Preheat oven to 400 degrees, with rack in center. Place bread and sage leaves in the bowl of a food processor; pulse to form fine crumbs. Transfer to a medium bowl, and add ground turkey.
Place onion and celery in bowl of food processor; pulse until finely chopped. Add to turkey mixture, using hands to combine. Add thyme, whole egg, 1 tablespoon tomato paste, mustard, 1 teaspoon Worcestershire, and salt; season with pepper. Combine well. Place in a 9-by- 5-by-2 1/2-inch nonstick loaf pan.
In a small bowl, combine egg white with remaining tablespoon tomato paste and 1/4 teaspoon Worcestershire, whisking with a fork until smooth. Spoon mixture over meatloaf; spread to coat evenly.
Transfer pan to oven; place a baking sheet on lower rack to catch drippings. Cook until a meat thermometer inserted in center of meatloaf registers 180 degrees, about 1 1/4 hours. Remove from oven; let rest 15 minutes covered with foil.
To serve, cut meatloaf into 12 slices, and divide evenly among six serving plates. Serve immediately with mashed potatoes and hot gravy.
---
2

Root Vegetable Stew with Herb Dumplings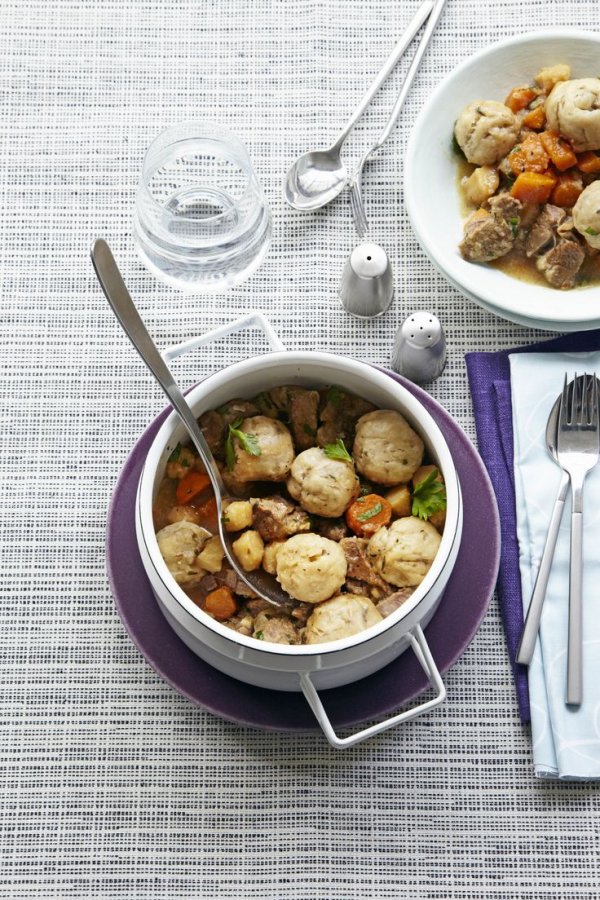 It's easy to turn various stews into low calorie comfort foods, and this one's definitely a winner. I adore stews with dumplings, especially when it's cold outside. This recipe also includes sausage, but you can leave it out if you want to. I wouldn't, though; it blends beautifully with all the herbs and root vegetables.
Ingredients:
Stew:
4 teaspoons extra-virgin olive oil, divided
8 ounces Italian sausage links, hot or sweet
2 pounds assorted root vegetables, peeled (see Tip) and diced
1 large onion, diced
4 cloves garlic, minced
1 tablespoon chopped fresh sage, or rosemary
4 cups reduced-sodium chicken broth
3 cups chopped dark, leafy greens, such as beet, turnip or kale
Dumplings:
1 1/4 cups whole-wheat pastry flour
1/2 cup cake flour
1 tablespoon chopped fresh sage, or rosemary
1 tablespoon baking powder
1/4 teaspoon salt
1 large egg, lightly beaten
1/2 cup low-fat milk
Directions:
To prepare stew: Heat 2 teaspoons oil in a medium skillet over medium heat. Add sausages and cook until browned on all sides, 5 to 6 minutes. Transfer to a clean cutting board. Let cool slightly and cut into 1-inch pieces.
If using parsnips, quarter lengthwise and remove the woody core before dicing. Heat the remaining 2 teaspoons oil in a Dutch oven over medium heat. Cook onion, stirring occasionally, until barely tender, about 4 minutes. Add root vegetables and cook for 5 minutes. Add garlic and sage (or rosemary) and cook until fragrant, about 30 seconds. Add broth and bring to a simmer, stirring often.
To prepare dumplings: Meanwhile, whisk whole-wheat flour, cake flour, sage (or rosemary), baking powder and salt in a medium bowl. Add egg and milk and stir until a stiff batter forms.
When the stew reaches a simmer, stir in greens and the sausage and return to a simmer. Drop the dough, about 1 tablespoon at a time, over the stew, making about 18 dumplings. Adjust the heat to maintain a gentle simmer, cover and cook undisturbed until the dumplings are puffed, the vegetables are tender and the sausage is cooked through, about 10 minutes.
---
3

Lighter Macaroni and Cheese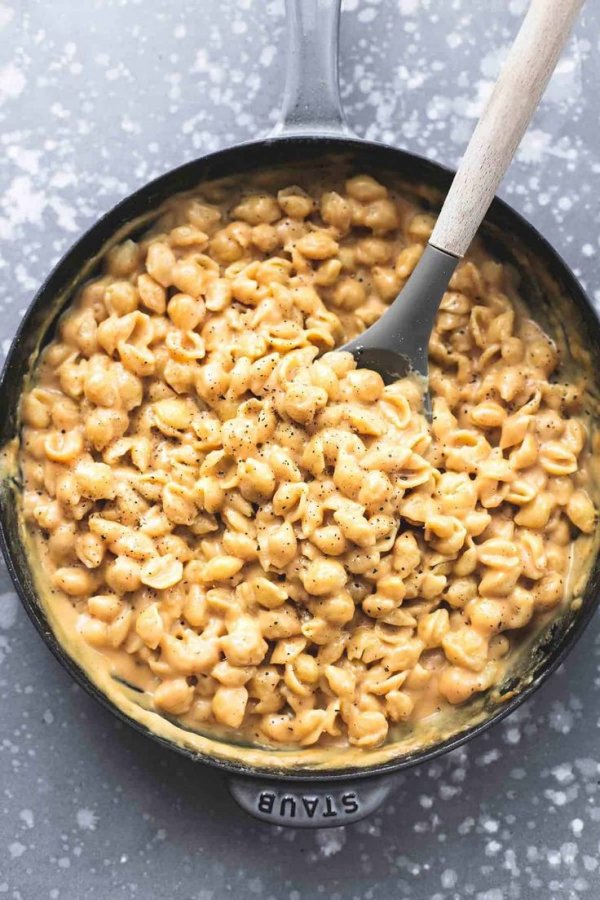 Homemade mac and cheese is a popular comfort food, but it's pretty fattening. At the same time, though, it's so delicious that it's easy to slip! If you don't want to slip down that slippery, cheesy slope, just try this recipe! It uses stronger cheeses so you don't need as much, plus it includes chicken stock, nutmeg, and olive oil for lots of texture and taste.
Ingredients:
6 small vine-ripened tomatoes (3-inch) cut into 24 1/4-inch-thick slices
3 tablespoons extra-virgin olive oil
1 1/2 teaspoons fresh thyme leaves, plus sprigs for sprinkling
Coarse salt and freshly ground pepper
5 slices white sandwich bread, with crust
2 tablespoons unsalted butter
1 pound elbow macaroni
2 cups homemade or low-sodium store-bought chicken stock
5 tablespoons all-purpose flour
Pinch of freshly grated nutmeg
Pinch of cayenne pepper
2 cups low-fat (1 percent) milk
8 ounces (about 2 1/4 cups) extra-sharp cheddar cheese, grated
1 ounce (about 1/2 cup) Parmesan cheese, freshly grated
Directions:
Preheat oven to 400 degrees. Spread tomatoes in a single layer on 2 rimmed baking sheets. Drizzle each sheet with 1 tablespoon oil; sprinkle each with 1/2 teaspoon thyme, and season with salt and pepper. Bake until tomatoes have softened, about 20 minutes. (Leave oven on.)
Process bread in a food processor until coarse crumbs form. Melt 1 tablespoon butter with remaining tablespoon oil in a medium skillet over medium heat. Add breadcrumbs, and toss to coat. Season with salt and pepper; set aside.
Bring a large pot of water to a boil over high heat. Add 1 tablespoon salt and the pasta. Cook pasta until almost al dente, about 5 minutes. Drain, and run under cold water to stop cooking. Transfer to a large bowl; set aside.
Whisk 1/2 cup stock into the flour in a medium bowl; set aside. Melt remaining tablespoon butter in a medium saucepan over medium heat. Stir in nutmeg, cayenne, remaining 1/2 teaspoon thyme, and 1 teaspoon salt. Add milk and remaining 1 1/2 cups stock. Whisk in flour mixture. Bring to a boil, whisking frequently. Reduce to a simmer. Cook 8 minutes, whisking frequently. Add cheeses; cook, stirring, until melted. Pour over macaroni, stirring to combine.
Put eight 4 1/2-by-1 1/4-inch ramekins on a baking sheet. Put 2 tomato slices in bottom of each ramekin. Divide macaroni mixture evenly among ramekins. Top each with a tomato slice. Sprinkle with breadcrumbs and thyme sprigs. Bake until bubbling and golden brown, about 30 minutes. Serve immediately.
---
4

Lighter Chicken Potpie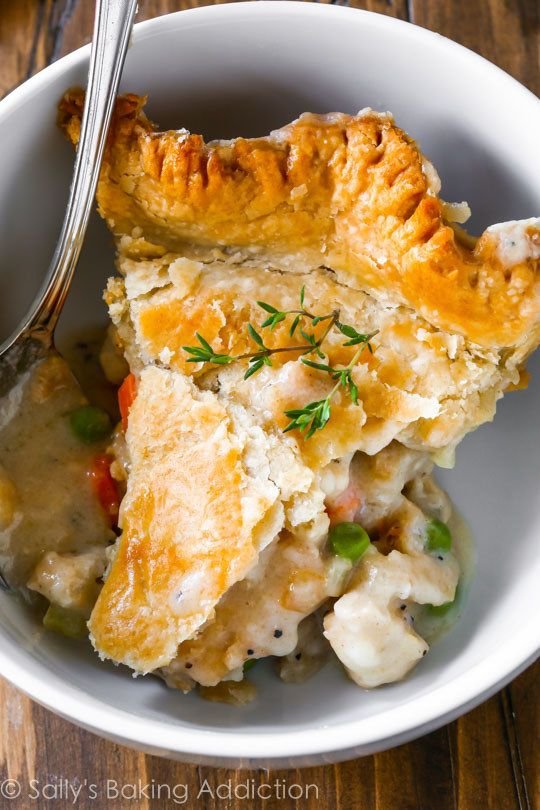 I'm a sucker for chicken potpie so I was thrilled when I discovered how easy it is to turn it into a low calorie comfort food. It relies on white meat, lots of vegetables, and a low-fat or no-fat milk – your choice! You can easily use what vegetables you want as well – and remember, the key to a good potpie lies in the gravy!
Ingredients:
2 bone-in, skin-on chicken breast halves (12 to 14 ounces each)
Coarse salt and ground pepper
3 tablespoons olive oil
4 carrots, sliced 1/4 inch thick
1 medium onion, finely chopped
1/4 teaspoon dried thyme leaves
1/4 cup all-purpose flour
2 1/2 cups low-fat (1%) milk
1 package (10 ounces) frozen peas, thawed
2 tablespoons fresh lemon juice
6 phyllo sheets (each 12 by 17 inches), thawed
Directions:
Preheat oven to 400 degrees. Place chicken on a rimmed baking sheet; season with salt and pepper. Roast until an instant-read thermometer inserted into thickest part of breast (avoiding bone) registers 165 degrees, 25 to 30 minutes. Let cool slightly; discard skin and bones. Shred meat, and set aside.
While chicken is roasting, heat 2 tablespoons oil in a large saucepan over medium. Add carrots, onion, and thyme; season with salt and pepper, and cook until carrots are crisp-tender, 8 to 10 minutes. Add flour, and cook, stirring, 1 minute. Gradually add milk, stirring until smooth. Cook, stirring occasionally, until mixture comes to a simmer and thickens.
Remove from heat; stir in peas, lemon juice, and chicken, and season with salt and pepper. Pour filling into a 9-inch deep-dish pie plate.
Stack phyllo on a work surface. Using a paring knife, cut out an 11-inch circle from the stack; discard trimmings. Stack 2 circles on work surface, and brush gently with 1 teaspoon oil; repeat with remaining circles and oil. Place phyllo stack over filling, and press down about 1/2 inch from the edge so phyllo fits inside rim of pie plate. Bake until golden and bubbling, 20 to 25 minutes. Let potpie cool 15 minutes before serving.
---
5

Tomato Soup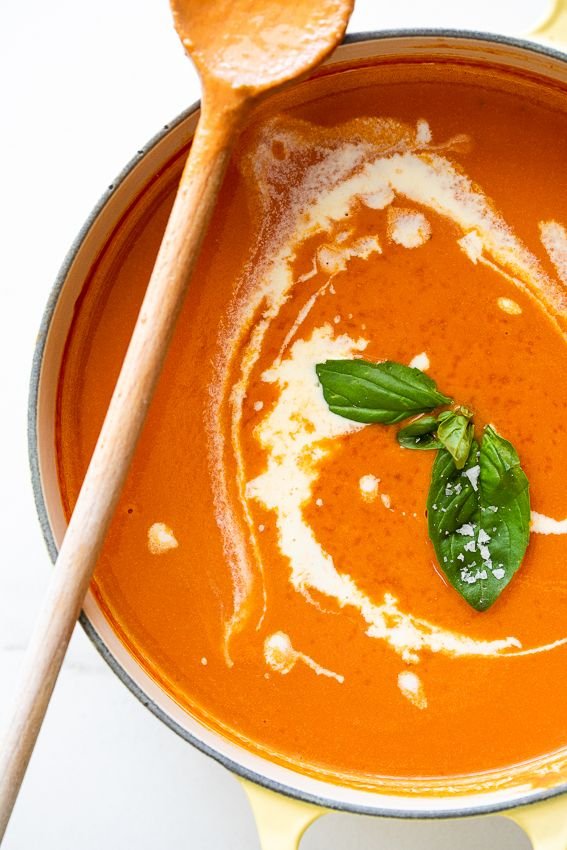 When you're looking for healthy comfort foods, think about soups! They're ideal in cold weather, they work great for lunch or dinner, and they're easy to make in advance, too! Rather than getting your soup out of a can, this winter you should try this healthy, homemade alternative – along a cheese panini, maybe!
Ingredients:
1 tablespoon butter
1 tablespoon extra-virgin olive oil
1 medium onion, chopped
1 stalk celery, chopped
2 cloves garlic, chopped
1 teaspoon chopped fresh thyme or parsley
1 28-ounce can whole peeled tomatoes, with juice
1 14-ounce can whole peeled tomatoes, with juice
4 cups reduced-sodium chicken broth, "no-chicken" broth (see Note) or vegetable broth
1/2 cup half-and-half (optional)
1/2 teaspoon salt
Freshly ground pepper to taste
Directions:
Heat butter and oil in a Dutch oven over medium heat until the butter melts. Add onion and celery; cook, stirring occasionally, until softened, 4 to 6 minutes. Add garlic and thyme (or parsley); cook, stirring, until fragrant, about 10 seconds.
Stir in canned tomatoes (with juice). Add broth; bring to a lively simmer over high heat. Reduce heat to maintain a lively simmer and cook for 10 minutes.
Puree the soup in the pot using an immersion blender or in batches in a blender. (Use caution when pureeing hot liquids.) Stir in half-and-half (if using), salt and pepper.
---
6

Buttermilk Baked Chicken with Spinach Salad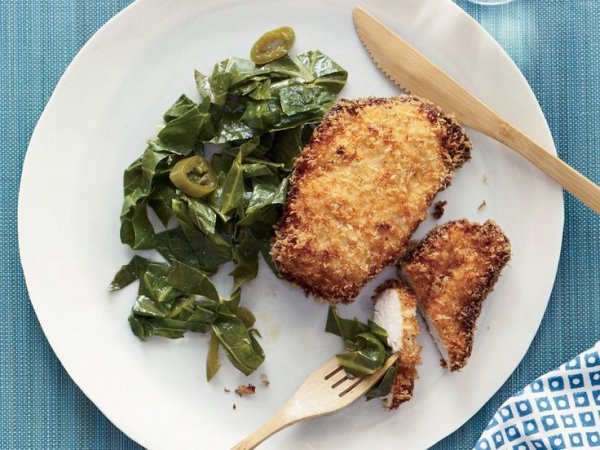 Fried chicken is delicious, but it's so bad for you. After you've tried this amazing baked alternative, you'll never want to go back. It has just as much crunch but three times as much taste, thanks to a variety of herbs and spices.
Ingredients:
2 1/4 cups low-fat buttermilk
3 tablespoons plus 1 teaspoon honey
6 cloves garlic, minced
Coarse salt and ground pepper
4 bone-in chicken breast halves (10 to 12 ounces each), skin removed
2 tablespoons reduced-fat sour cream
1 tablespoon cider vinegar
3 slices white sandwich bread, torn into large pieces
2 teaspoons olive oil
3/4 teaspoon herbes de Provence
1 bag (5 ounces) baby spinach
1 medium red apple, halved, cored, and thinly sliced
1 cup seedless red grapes, halved
Directions:
Make marinade: In a large bowl, whisk together 2 cups buttermilk, 3 tablespoons honey, garlic, 2 teaspoons coarse salt, and 1/2 teaspoon pepper. Place chicken in a resealable plastic bag (or baking dish); add marinade and seal (or cover). Refrigerate at least 2 hours or up to 1 day.
Make salad dressing: In a jar, combine remaining 1/4 cup buttermilk, sour cream, vinegar, and 1 teaspoon honey; season generously with salt and pepper. Shake vigorously to combine. Refrigerate.
Preheat oven to 425 degrees. In a food processor, pulse bread, oil, and Herbes de Provence until fine crumbs form; season generously with salt and pepper (you should have about 1 1/2 cups).
Line a rimmed baking sheet with foil. Lift chicken from marinade, letting excess drip off (discard remaining marinade). Place chicken on foil, bone side down; sprinkle with breadcrumbs, patting them on lightly. Bake until crumbs are browned and chicken is cooked through, 30 to 40 minutes.
Meanwhile, in a large bowl, combine spinach, apple, and grapes. Add dressing and toss. Serve salad with chicken.
---
7

Lighter Mashed Potatoes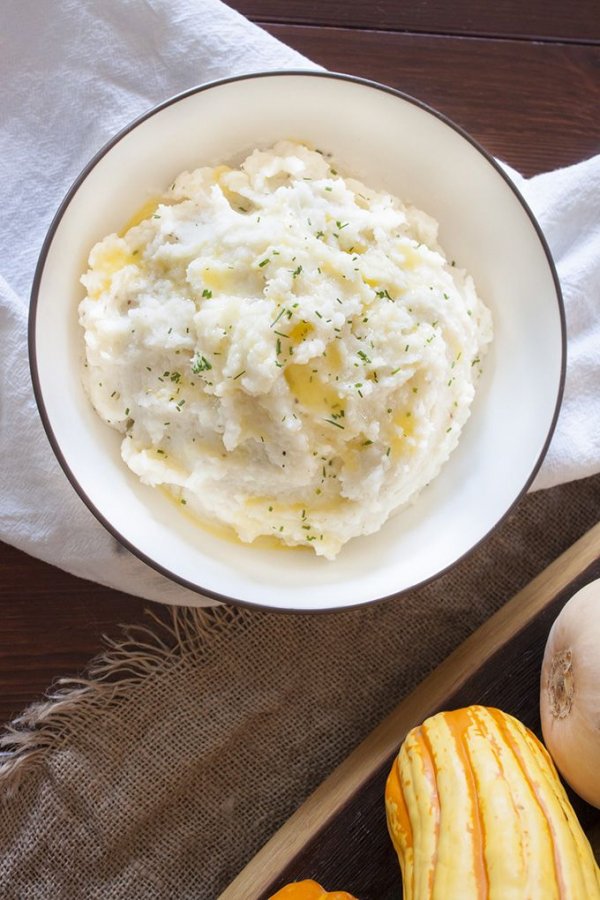 If you're looking for a side dish for any of these recipes, I've got one last low calorie comfort food for you. Who wouldn't love a healthier version of mashed potatoes? This recipe is really interesting, due to the inclusion of cottage cheese (low-fat, of course) and skim milk.
Ingredients:
16 ounces small-curd low-fat cottage cheese
2 pounds small red potatoes, halved if large
Coarse salt
1/4 teaspoon freshly ground white pepper
2 tablespoons finely chopped fresh chives, plus stems for garnish
2 tablespoons unsalted butter, softened
2 tablespoon skim milk
Directions:
Puree half of the cottage cheese in a blender; set aside. Cover potatoes with water by 1 inch in a medium saucepan. Add a large pinch of salt. Bring to a boil. Reduce to a simmer, and cook until tender, about 15 minutes. Drain.
Transfer potatoes to a large bowl. Add both pureed and whole-curd cottage cheese, pepper, chives, butter, and milk. Season with salt. Mash to desired consistency. Serve garnished with chives.
Enjoying low calorie comfort food is no sacrifice. These recipes taste just as good as their counterparts, with are all too often loaded with bad fats and carbohydrates. When the weather gets cold and you want to curl up with something delicious and hearty, you can do so without worrying about your calorie intake. Are there any healthy comfort foods you'd like to share?
Sources: marthastewart.com, eatingwell.com, marthastewart.com, marthastewart.com, eatingwell.com, marthastewart.com, marthastewart.com
Top Image Source: mobilebaymag.com
More
---
Popular
Recent