Having only recently been introduced to pearl couscous, also known as Israeli couscous, I've fallen in love and started scouting for recipes using pearl couscous. The texture is absolutely phenomenal, and it's moist in a way that couscous itself isn't. It's a fabulous vehicle for all sorts of flavors, plus it's wildly versatile. If you've never tried it or if you love it as much as I do, try some of these recipes using pearl couscous for your next meal. You'll never look back!
---
1

Pearl Couscous with Chicken and Peas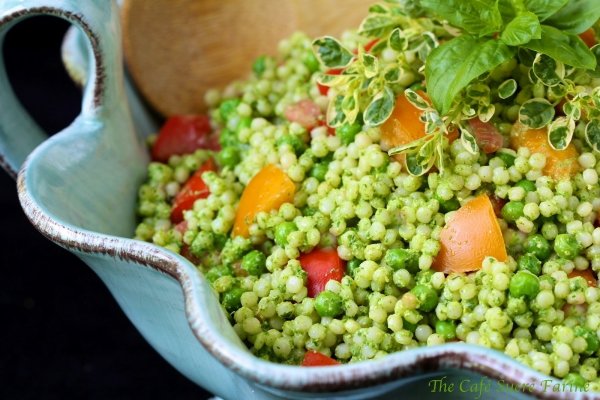 Israeli couscous just goes so well with peas, it's crazy. This is one of my favorite recipes using pearl couscous not just because it makes me enjoy peas (even though I hate them), but also because it's so hearty and complete. You get vegetables, a nice protein, and there's even some Parmesan thrown in for good measure! Giada De Laurentiis uses a rotisserie chicken, but I always just make my own breasts.
Ingredients:
2 tablespoons extra-virgin olive oil
1 1/3 cups (about 7 ounces) pearl (Israeli) couscous
2 1/2 cups low-sodium chicken broth
Zest of 2 large lemons
1/4 cup fresh lemon juice (from 1 large lemon)
2 teaspoon kosher salt
1/4 teaspoon freshly ground black pepper
1/2 cup freshly grated Parmesan
4 green onions, chopped
1 cup frozen peas, thawed
1 rotisserie chicken breast, chopped to yield 1 cup of meat
Directions:
Get a large saucepan and heat up your oil on a medium-high setting. Add in your couscous and cook it until it's a little roasted; this should take 2-3 minutes. After that, pour in the broth and add the lemon juice and zest, plus your salt and pepper. Bring it up to boiling, then reduce your heat down to medium-low and let it simmer without the cover until your couscous feels tender but is still a bit firm when you bite it. It should take about 8 minutes. After that, stir in your chicken, the peas, the onions, and the cheese. You're done!
Source: foodnetwork.com
---
2

Heirloom Tomato Salad with Pearl Couscous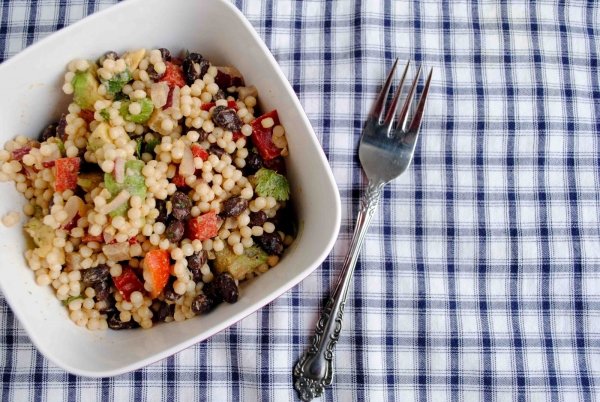 I'm pretty sure this is going to be a staple in my house come summer. I haven't tried it yet, but it sounds so fresh and delicious. Of course, I adore anything with fresh heirloom tomatoes, don't you? You'll adore this for summertime lunches, or for those smoldering evenings that call for cool, invigorating suppers.
Ingredients:
2 cups vegetable stock
1 tablespoon extra-virgin olive oil
1 cup pearl (Israeli) couscous
1/2 cup packed fresh basil leaves
1/4 cup flat-leaf parsley leaves
1 clove garlic, crushed
1 tablespoon chopped fresh oregano
1 tablespoon chopped fresh thyme
1/2 cup pitted green olives
4 heirloom tomatoes, quartered
15 cherry tomatoes, quartered
1 English cucumber, cubed
1/2 small red onion, thinly sliced
1 cup crumbled feta cheese
1/4 cup white balsamic vinegar
1/2 cup extra-virgin olive oil
1 lemon, juiced
Directions:
Pour the vegetable stock into a saucepan and bring it to a simmer using medium heat. Get another skillet and heat up a tablespoon of olive oil, also using medium heat. Add the couscous to the skillet and stir it until it turns golden brown; it should take 10 minutes or so. Then add the couscous to your stock, give it a stir, and bring it back to a simmer. Cover your saucepan and cook it until the couscous absorbs the stock, which will be around 15 minutes. Pour the couscous into a bowl, give it a fluff using a fork, and let it cool down.
Meanwhile, get out your food processor and add in the olives, basil, garlic, parsley, thyme, and oregano and pulse it for a coarse chop. Add it to the couscous and stir to mix, along with both the cherry and heirloom tomatoes, the onion, the cheese, and the cucumber. Give it a drizzle of dressing, using the vinegar, half a cup of olive oil, and the lemon juice, then stir to coat.
Source: allrecipes.com
---
3

Cheesy Pearl Couscous with Roasted Broccoli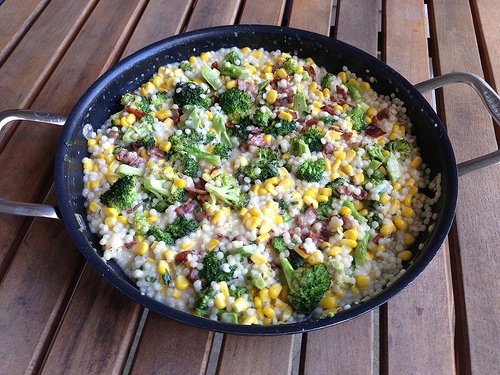 If you need a trick to get the kids to eat their broccoli, this is so much better than broccoli and Cheese Whiz. You'll love it too – and so will your partner, your friends, your mom, your father-in-law … you get the picture. It's basically the perfect vegetable dish for people who don't even like vegetables. It's also pretty high class. I mean, it has Gouda! (And bacon!)
Ingredients:
5 tablespoons butter
2 cloves garlic, finely chopped
1 bunch broccoli, cut into florets
1 package (8 oz.) bacon, cut into 1-inch pieces
1 box (6.3 oz.) Israeli or pearl couscous
10 ounces frozen corn, thawed
4 scallions, chopped
2 cups chicken stock
Salt and pepper
3 cups (about 8 oz.) grated aged Gouda
Directions:
Preheat your oven to 450 degrees. Get a small bowl, melt 3 tablespoons of butter, and then add the garlic to it. In one layer, spread your broccoli onto a baking dish with a rim, then drizzle it with your garlic butter. Roast it until it gets tender, which should take about 10 minutes.
Next, get a skillet and cook your bacon until it's crisp; 10 minutes on medium-high should do it. Put it on a plate lined with paper towels to soak up the grease but keep your skillet and a tablespoon of the fat from the bacon.
Now get a big pot, salt the water, and bring it to the boil for the couscous. You want it al dente, so it should only take about 6 minutes. Drain it when you're done.
Now add the scallions and the corn into your skillet, cooking it on medium-high until everything is warmed right through. Add in your couscous and the chicken stock, taking it to a simmer. You want it to absorb all the liquid, which takes around 2 minutes. Use salt and pepper to taste, then add in the remainder of your butter, the Gouda, and the bacon. Serve it all up with your broccoli and watch it disappear!
Source: rachaelraymag.com
---
4

Pearl Couscous with Prosciutto, Asparagus, and Mushrooms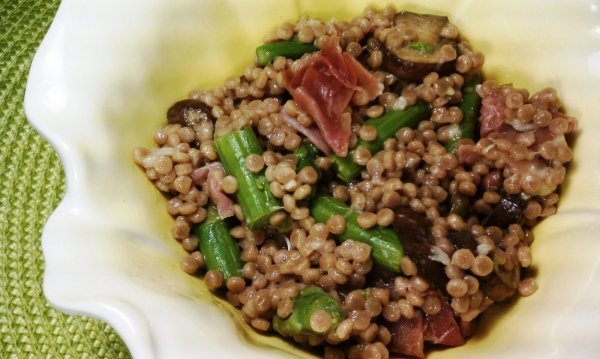 I'm a sucker for anything that has asparagus and I'm a huge fan of prosciutto. Pair them together and I'm hooked. Add in pearl couscous and that's it, I'm done. This is the only meal I ever need. Not really, of course, but once you've tried it, I think you'll be a fan too. It's so rich and decadent!
Ingredients:
8 oz. Israeli (pearl) couscous
6 oz. fresh asparagus, trimmed and cut into 1-inch pieces
1/4 cup extra-virgin olive oil, divided
8 oz. crimini mushrooms, sliced
2 garlic cloves, minced
1 pinch crushed red chili flakes
1/2 cup dry white wine
3 oz. prosciutto, roughly chopped
1/2 cup finely grated Parmesan cheese, plus more for serving
1/4 cup (packed) chopped fresh flat-leaf parsley
Salt and pepper to taste
Directions:
Put some water in a large pot, salt it, and bring it to a boil. Add in the couscous and cook it until it's al dente. The last few minutes it's on the stove, add your asparagus, then drain both the couscous and the asparagus.
As all of that cooks, get a big skillet and heat up a tablespoon of olive oil, using medium-high heat. Add in your mushrooms and cook them until they're tender. Now add more olive oil, about 3 tablespoons, and stir in your garlic and the chili flakes. Cook that for about 30 seconds, then add your wine and bring up it up to a fast simmer for about 2 minutes. You can then add your prosciutto and keep it simmering until it's heated through, which should only take another minute or two.
Then add the asparagus and couscous with the sauce and the mushrooms, tossing it all together. Sprinkle in the parsley and the Parmesan, then give it another toss. Season it with salt and pepper, then serve – or you can top it with some more Parmesan first.
Source: cookincanuck.com
---
5

Pearl Couscous with Feta and Radicchio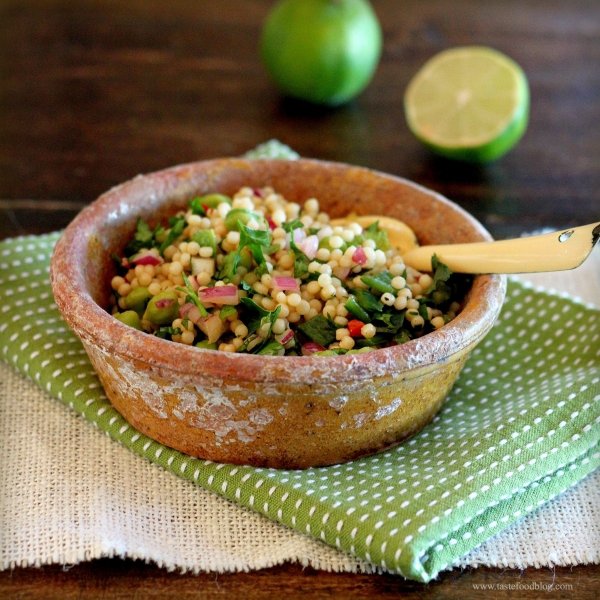 Are you sensing a cheesy theme here? Israeli couscous is just the bee's knees with cheese, and it doesn't seem to matter what kind. That sharp, funky feta flavor goes so well with the texture, and the fresh basil makes all the difference.
Ingredients:
1 1/12 cups pearl couscous (also called Israeli couscous)
kosher salt and black pepper
1 head radicchio, chopped
3/4 cup crumbled Feta
6 tablespoons olive oil
2 tablespoons white wine vinegar
3/4 cup torn fresh basil leaves
Directions:
Salt some water and bring it to a boil in a big pot, then cook your couscous for 8-10 minutes. Drain it and give it time to cool, then toss it with the feta, the radicchio, the vinegar, and the oil. Season it to taste with salt and pepper, then chill it a bit. Before you serve it, toss it up with your basil, and you're good to go!
Source: realsimple.com
---
6

Couscous Meatball Soup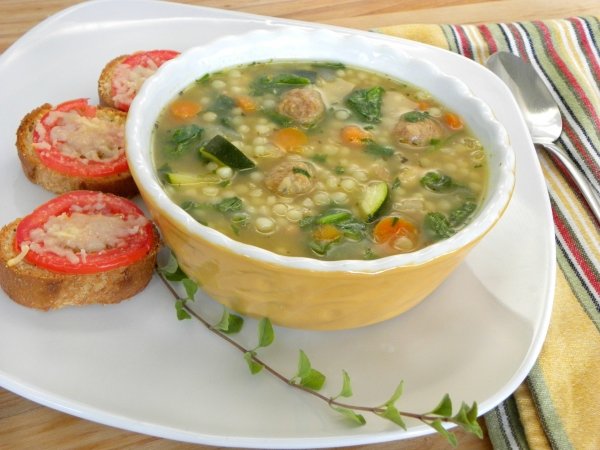 I had to include at least one soup, because pearl couscous is amazing in soup, just amazing! You have to be careful and never add so much that it soaks up all the broth, though. I love this because it reminds me of an Italian wedding soup, a little. You definitely need to serve it up with some delicious bread. Once you've tasted it, I think it will become a wintertime staple for you, too. The best part? It's fast! Less than half an hour of prep, 40 minutes to cook, and that's it!
Ingredients:
1 pound lean ground beef (90% lean)
2 teaspoons dried basil
2 teaspoons dried oregano
1/2 teaspoon salt
1 large onion, finely chopped
2 teaspoons canola oil
8 cups chopped collard greens
8 cups chopped fresh kale
2 cartons (32 ounces each) vegetable stock
1 tablespoon white wine vinegar
1/2 teaspoon crushed red pepper flakes
1/4 teaspoon pepper
1 package (8.8 ounces) pearl (Israeli) couscous
Directions:
Get a small bowl and combine your beef with the oregano, the basil, and the salt. Shape the meatballs into half-inch rounds. Spray a big, nonstick skillet with cooking spray and brown your meatballs, then drain the grease. Put your meatballs aside on a paper towel covered plate.
Next, use the skillet to brown your onion in the oil. Add in the kale and the collards, then cook them until they wilt. It should take 7 minutes or so.
Using a Dutch oven, combine the meatballs, the greens, your stock, the vinegar, the pepper flakes, and the pepper. Bring it up to a boil, then reduce the heat, cover it, and let it simmer for 10 minutes. Bring it back up to a boil, add your couscous, and stir to mix everything together. Reduce the heat again, cover it up, and let it simmer for an additional 10-15 minutes. Just make sure the couscous is tender, and stir everything at least once.
Source: tasteofhome.com
7

Israeli Couscous, Lemon, and Spinach Soup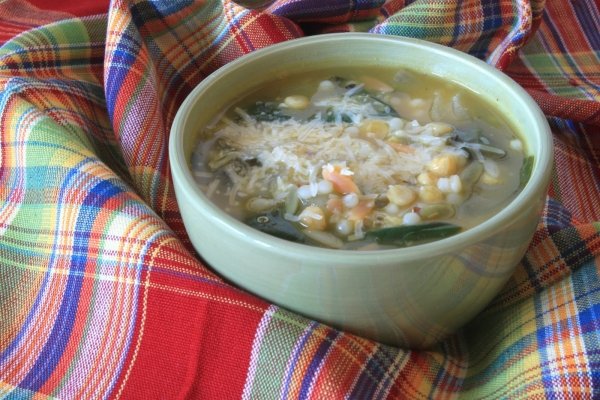 Okay, so I added another soup. It's just because this one is so light and delicious. Thanks to the lemon, it's also great to have when you're feeling sick, or to serve to a loved one who has the flu. Of course, it's also delicious for no reason at all. Honestly, couscous goes beautifully with greens, too. I hate cooked spinach, but I love this.
Ingredients:
1 tbsp olive oil
1 white onion, diced
3 cloves garlic, minced
1 tsp red pepper flakes
1 tsp dried thyme
1 lemon, zested and juiced
3 cups fresh spinach leaves
1 cup Israeli Couscous
6 cups vegetable broth
salt, to taste
Parmesan cheese, for topping
Directions:
Using a Dutch oven or a big pot, add your olive oil and, on medium-high heat, add the garlic and the onion, then cook them for about 4 minutes. Add in the thyme, the lemon zest, and the red pepper flakes, then cook them for 3-4 minutes, or until the onions turn translucent.
Add in the couscous and the spinach, then cook for another minute. Finally, add the lemon juice and the broth, then simmer it for about 15 minutes. You want the couscous to only just be tender. Top it off with the grated Parmesan and you're done!
Source: greensnchocolate.com
Pearl couscous is just so tasty, and I really can't get over the texture. You can make it simply or you can go all out with it. Whatever you do, it's bound to taste delicious and it will quickly become a favorite side dish. Do you use pearl couscous in your cooking? If you have any fab recipes, please share!
---
Popular
Related
Recent