If you're thinking of giving up java, perhaps you're trying to find some good substitutes for coffee to give you that warm and cozy feeling coffee seems to give us. I'm not about to give up my one or two cups of java each day. I love the smell, the flavor and whether it is decaf or caffeinated doesn't matter to me. It's the ritual of the flavor, aroma and warmth that sends people over the moon for coffee, including myself, but some people actually dislike coffee. Many people out there have marvelous substitutes for coffee that they enjoy instead. I thought I would share with you some of these that seem to be the most popular and ones I like too. When finding a perfect substitute for coffee, be sure to experiment until you find one you like. There's no reason you should give up coffee in small amounts, but if you're looking to, give a few of these a try!
---
1

Goji Lemon Tea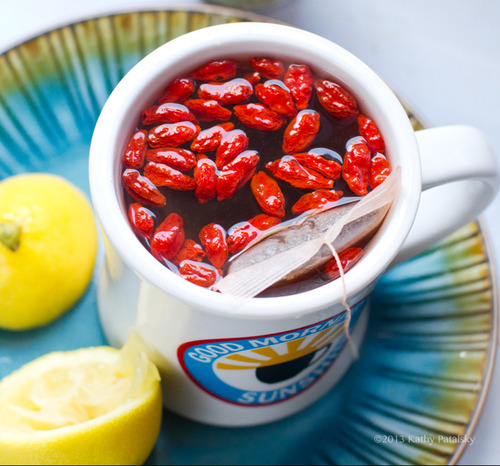 Goji lemon tea is one of the hottest substitutes for coffee of the moment. Goji lemon tea is a new idea and one that is catching on quickly. Bloggers all over the web, such as Kathy Patalsky from Happy Healthy Life, are in love with the beverage, along with a few I know myself. To make goji lemon tea, simply steep 1 cup of either prepared green or black tea with some lemon juice, and a couple tablespoons of goji berries. Add a dash of cayenne and sweeten with maple syrup or honey if desired. Goji berries are rich in antioxidants and Vitamin A, which increases longevity and immune health, and aids in clearing the skin. Lemons, maple syrup or honey and cayenne are a powerful cleansing trio, and green or black teas are both rich in antioxidants and contain some caffeine. The combination of all these flavors will give a sense of enlightenment, just like coffee, and this beverage is extremely warming.
2

Maca Cacao Coffee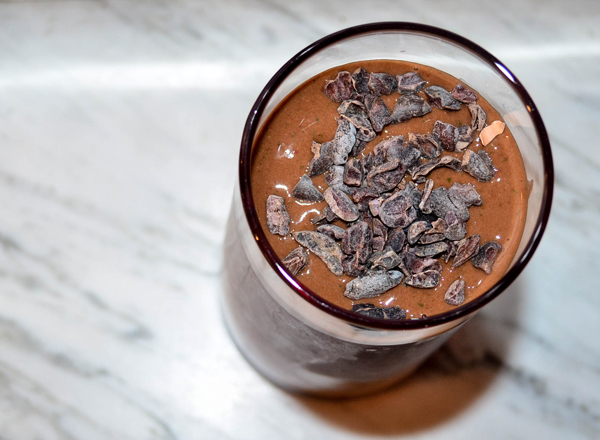 One of my favorite ways to make a mock coffee without actual coffee is so incredibly easy. I'm not going to lie, it tastes almost exactly like coffee, though I haven't figured out how. I actually prefer coffee over this drink because of the smell, but this drink does taste as close to coffee as one could get. This drink is also very uplifting and gives a balanced sense of energy and focus just like coffee. To make it, simply boil enough water to make one cup. When the water has boiled, pour into the mug and immediately stir in 1 tsp. maca powder (like Navitas Naturals brand), 2 tbsp. cacao or cocoa powder and add either stevia or honey to sweeten. Last, add a dash of cayenne for heat and energy. Drink! The maca powder, which is a superfood that originates from Peru, acts as a natural creamer and gives a sense of enlightenment. It also balances the hormones and provides steady energy to the body. Cacao, or raw chocolate powder, stimulates dopamine in the body just like coffee and acts as a stimulant, while providing incredible energy and focus. The combination of these flavors with the cayenne is divine and I actually love to drink this beverage after lunch if I need a pick-me-up.
---
3

Green Tea with Stevia and Lemon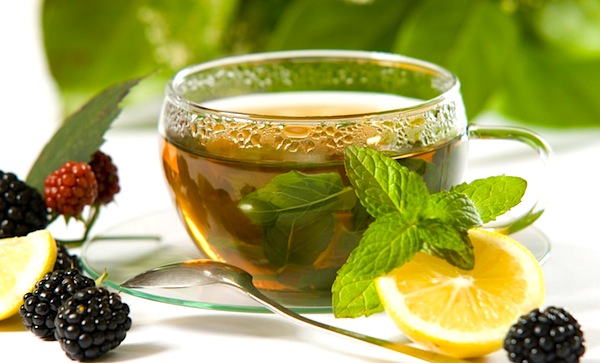 If you want a simple, yet effective way to get some steady energy in the morning, go with a basic green tea beverage. Add some stevia for sweetness and lemon for a nice bite, and you'll find yourself quickly addicted to the calming and cleansing properties of this beverage. Some of my favorite green tea brands are Yogi Green Tea Antioxidant and Lipton's Green Tea, which has been proven to be richer in antioxidants than most other green tea brands.
---
4

Matcha Green Tea Latte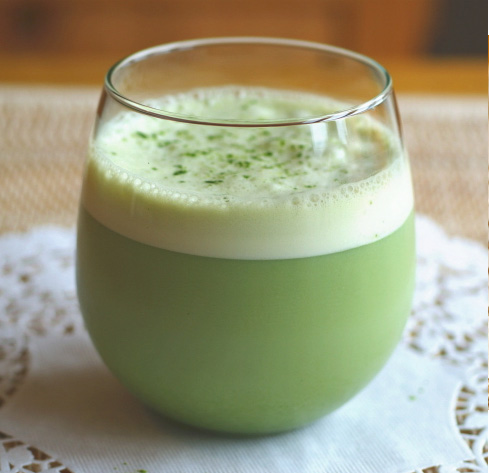 So maybe you're in love with lattes. No need to give them up! Just make them with matcha instead of coffee! These are a beautiful green color too, which is just kind of fun to drink in the mornings, much like a green smoothie. Matcha is an unheated form of green tea, making it richer in antioxidants than standard green tea, which is heated during processing. Matcha tea is extremely energizing, balancing and cleansing. It is also wonderful for replacing your morning coffee, though it doesn't taste like it at all. To make a Matcha green tea latte, buy quality Japanese grade Matcha, which is richer in antioxidants than cheaper American made versions. Matcha can be expensive, but a little goes a long way so the container will last you forever! I like Tao of Tea brand, which is very inexpensive for a three month supply. All you need to do to make a Matcha Green Tea Latte is heat one cup of your choice of milk; I like unsweetened almond, but soy or coconut would work. After your milk is heated but not boiling, stir in in ½ tsp. matcha green tea powder. You can use 1 tsp. if you want, but I like to stretch out my tea as much as possible and it is very strong, so you don't need too much to get a great effect. Next, add in some stevia, honey or maple syrup. I use 2 droppers full of NuNaturals stevia, vanilla flavored. Last, add a touch of cinnamon if you want, or ginger powder, which I like to do for extra heat. Sometimes I like to add in a dash of peppermint extract too, for a mint version. Matcha lattes are so delicious! It would be hard to miss coffee if you got used to these, I imagine, but I'll just take both!
---
5

Cocoa Lattes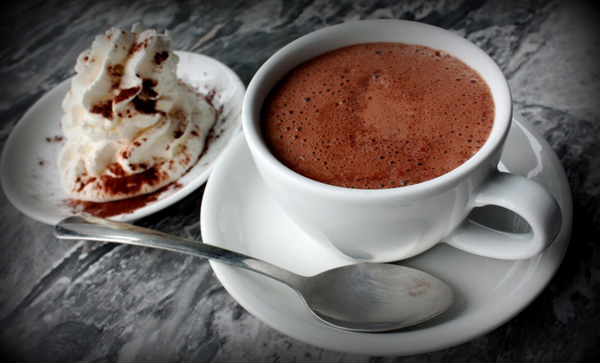 Now, one of my favorite secret ways to get in a nice little buzz in the evenings without any caffeine is to make a cocoa latte. What is a cocoa latte? Well, some would consider it to be hot chocolate, but I like to think a cocoa latte is a bit more dressed up than hot chocolate. To make mine, heat one cup of almond milk on medium heat until it is heated but not boiling, then stir in 3 tbsp. dark cocoa powder, like Hershey's Special Dark, or use raw cacao. Add in a dash of cinnamon for heat and sweetness, and add in some stevia for sweetening. Last, add a bit of organic whipped cream and let it melt on top, or feel free to use soy whipped cream if you're vegan. As the whipped cream melts on top of the latte, this delicious foam takes place, which is just incredible! Sprinkle with additional cocoa powder or chocolate nibs. If you want to get really fancy, drizzle on some chocolate syrup, though I omit that part and use cacao nibs instead.
---
6

Oolong Tea with Honey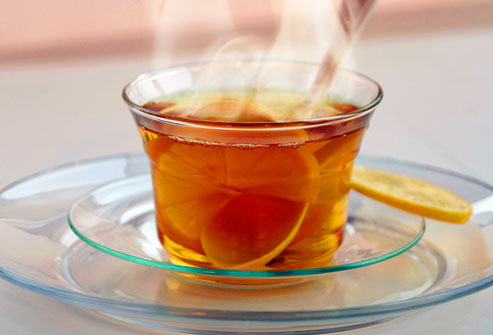 Oolong tea is touted by Dr. Oz as one of the best teas for weight loss and antioxidants. I can't testify to either, but the stuff is pretty darn tasty! I don't drink oolong tea on a regular basis, but I like the warming and balancing taste of it. Oolong isn't as stimulating as black tea, but is less earthy than green tea, giving it a great flavor. Simply brew some oolong tea and add in some honey to sweeten, which enhances the flavors of the tea more so than other sweeteners. Add in a little lemon if you want, for an extra zing. Oolong tea increases skin health, heart health and has been said to be a powerful source of antioxidants that fight cancer.
---
7

Roobios Chai Tea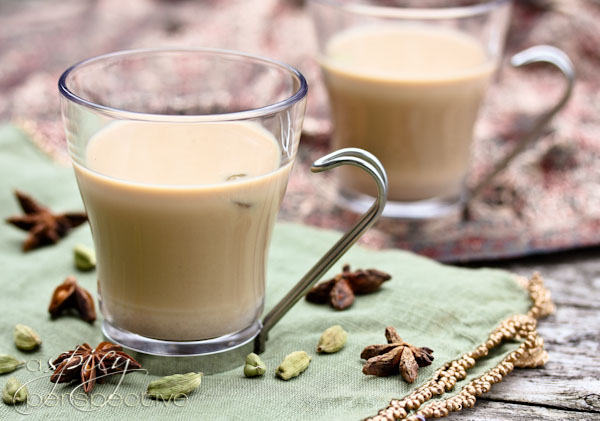 I saved one of my favorite teas for last. Roobios tea, or red tea, is an unfermented tea that is rich in antioxidants and tastes incredibly sweet. I love Roobios because it makes your skin pretty and takes away a craving for sweets because it is so satisfying. I like buying vanilla Roobios tea, which is just amazing in depth and richness, but you can buy any kind you like. Roobios tea is sweet on its own. I like to dress mine up a bit with chai flavors, which you can do by brewing loose Roobios tea in your coffee maker like you would with coffee, or boiling some water and letting a tea bag steep in a cup with the hot water when it is done. After that, add in a little stevia to sweeten, some cinnamon, or use pumpkin pie spice, which has all the chai flavors in it. Lastly, add in 1/4 cup of almond milk for creaminess and give it a gentle stir.**
**
I can't imagine giving up coffee forever, though I have done so from time to time to experiment a bit. If you're looking to get rid of a coffee addiction or just looking to try something new, give these substitutes a try. Do you drink coffee? If not, do you have a favorite morning beverage you like to drink? Share it!
Sources: kblog.lunchboxbunch.com, doctoroz.com
---
Comments
Popular
Related
Recent