I always turn to fresh juice blends to cool me off during the summer. They are packed full of nutrients and they can taste delicious too, if you make them correctly. I like to add a balance of fruit and vegetables, so that you have enough fruit for them to taste great, while still remaining healthy. Fresh-pressed juice only requires a juicer, and that is great because you don't have to heat up the house. I like to add ice to my fresh juice blends for an extra cold and delicious treat.
---
1

Pink Juice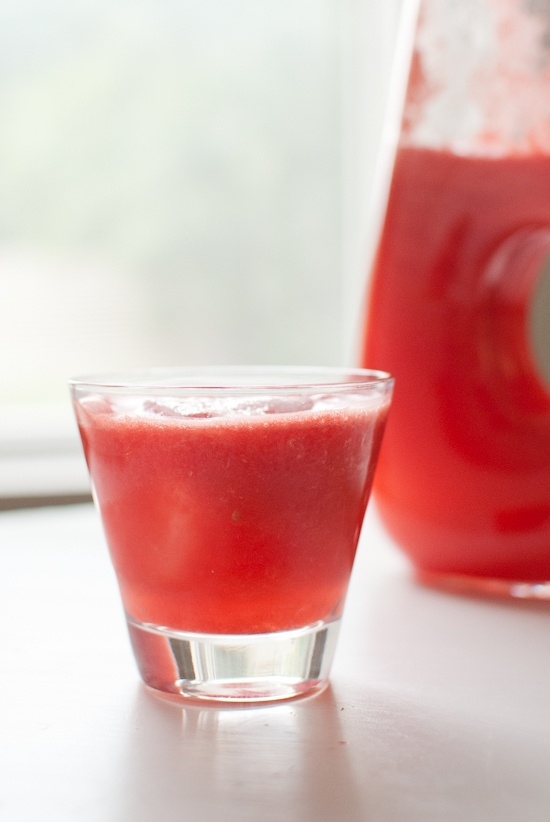 These fresh juice blends are all so delicious, and this juice is no exception. The gorgeous pink color shows how vibrant and fresh the produce going into it is. At the same time, this juice is sweet and refreshing – perfect to enjoy on a summer day! This juice is best served with a little ice to make it even cooler. The addition of mint and cucumber is also really refreshing and cool.
Ingredients:
1 beet
1 cucumber
2 apples
2 oranges
3 tomatoes
1 lemon
Some mint leaves
2 sticks of celery
2 slices of pineapple
Directions:
Wash, chop and peel the produce as needed. Put through your juicer, drink up the goodness, and get the glow.
Source: thisrawsomeveganlife.com
2

Secret Weight Loss Juice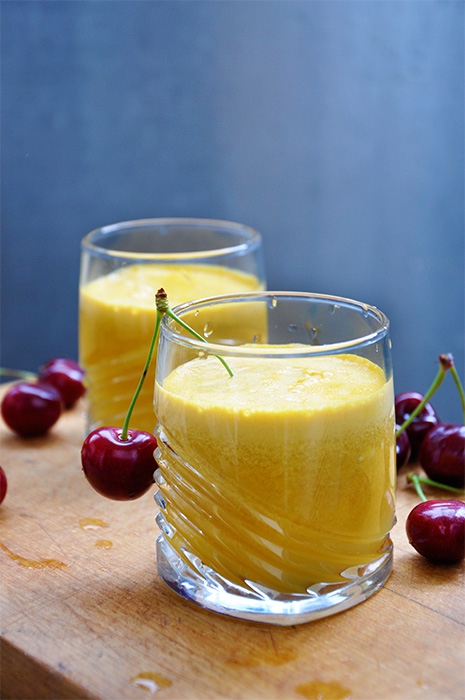 If you are looking for a cheap juice, this would be it! It literally costs only a dollar or two to make, and it tastes so refreshing and delicious. Not only that, but cabbage is a secret weight loss ingredient in this juice if you are trying to lose weight. I love how unique the cabbage is in this juice, because I never would have thought about juicing cabbage until I came across this recipe. This is a perfect thing to drink this summer.
Ingredients:
3 oranges, peeled [can use apples instead]
1/2 young cabbage [yes, this is the secret ingredient!! Cabbage is AMAZING for weight loss, and also really cheap!]
half a lemon's juice
1 small carrot
a thumb size piece of ginger [great for boosting metabolism - burn that extra fat!!]
ice [optional]
Directions:
Just juice them all! Easy as that! There's no need for any sweetener, but if you want, you can add some Stevia extract which is non-calorific
Source: skinnylimits.com
---
3

Sweet Kale Grape Juice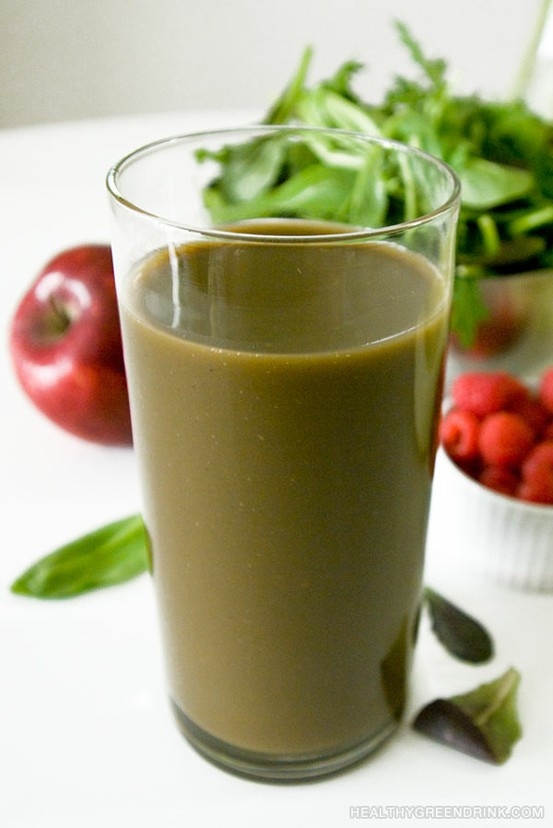 Have you ever tried kale juice, only to find it tasting bitter? I know I have. That is, until I found this recipe. This kale juice tastes like delicious, sweet grape juice (you can use as many grapes as you want to make it taste more or less like kale) and you can hardly taste the kale. The kale taste is just a refreshing addition instead of a bitter after taste in this juice. This is by far the best kale juice I've ever had, and it only requires two ingredients! It makes a nice big glass, and you can drink it all guilt-free.
Ingredients:
1 - 2 bags of red grapes depending on sweetness preference
1 whole head of kale
Directions:
Process all ingredients through your juicer. Strain with a fine mesh strainer, filtration bag, or sheer nylon hosiery. Serves 1 - 2.
Source: healthyblenderrecipes.com
---
4

Green Watermelon Cooler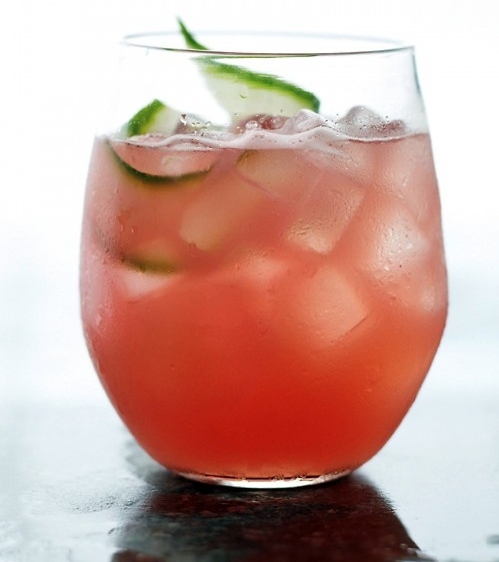 The name of this green juice is refreshing in itself. It really is cooling and perfect for the summer when watermelon is freshest. The addition of mint and lime just adds to the fresh and cooling aspects of this juice. Romaine is the green in this juice, which means you won't be able to taste this mild green at all. It will give you all the benefits of greens, but will taste like a sweet and juicy watermelon drink.
Ingredients:
3 cups watermelon, cubed
1 bunch of organic celery
1 English cucumber, peeled if not organic
3 sprigs of fresh mint
2 limes, peeled
1 head of romaine lettuce
Directions:
Following the instructions of your juicer and run all of the ingredients through. Stir your juice yield and drink immediately, or save in airtight containers such as mason jars in your refrigerator for up to 48 hours. The sooner you drink your juice the more nutrient rich it will be. Enjoy!
Source: soletshangout.com
---
5

Spinach, Pineapple, and Orange Juice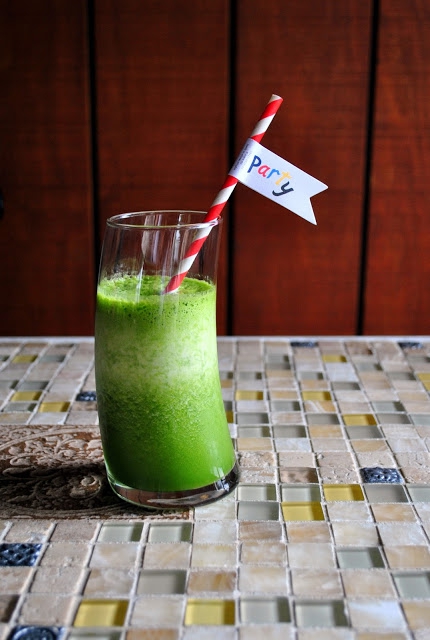 I know this drink only has three ingredients, but when they are combined they taste so good! I can't get enough of this delicious green juice. It tastes like you are sipping a tropical drink and cooling off in the tropics. You won't even be able to taste the spinach, yet you will get all of its concentrated nutrients and benefits. This juice blend tastes so sweet and good, you won't regret trying it! It also makes a nice smoothie, if you are interested in that.
Ingredients:
1 cup of fresh diced pineapple
1 cup of spinach
3-4 medium oranges (1 cup of orange juice if making smoothie)
Directions:
Juice everything in a juicer or put everything into the blender, and blend until completely smooth.
Source: sweetcarolinescorner.com
---
6

Strawberry Kale Lemonade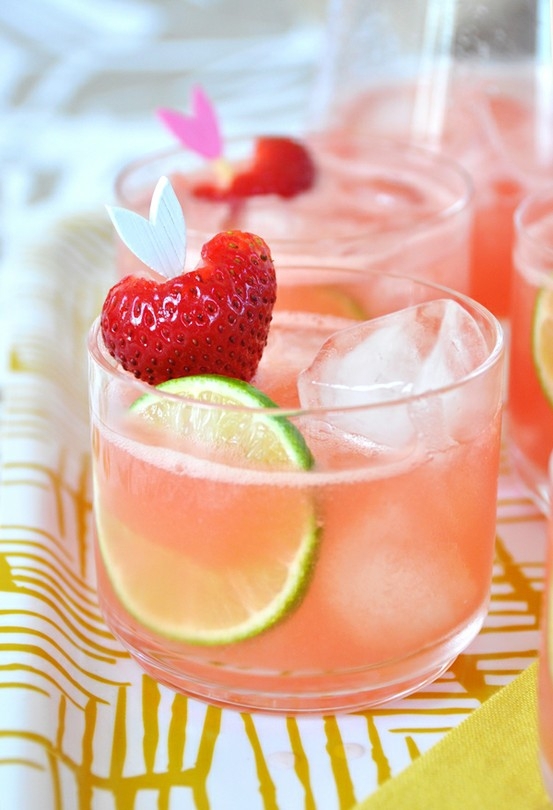 Instead of drinking a glass of lemonade full of processed sugar, try this green lemonade! It is so delicious, and full of nutrient-rich kale. You won't even be able to taste it! This lemonade is sweetened only with apples and strawberries, and you can add more apples if you find it's not sweet enough too. The strawberry juice is great, especially during the summer when they are in season. That makes this drink a perfect thing to sip by the poolside in the heat.
Ingredients:
1 bunch (about 6 leaves and stalks) kale
1 lemon
1 pint strawberries
1 (1/2-inch) slice fresh ginger
1/2 sweet apple such as Fuji
4 fluid ounces water
Directions:
Peel lemon if not organic. Hull strawberries. Peel ginger. Core apple. Run all produce through a juicer. With my centrifugal juicer, I juice the pulp a second time. Add water and whisk. Enjoy within 24 hours.
Source: centerstagewellness.com
---
7

Minty Grapefruit Green Juice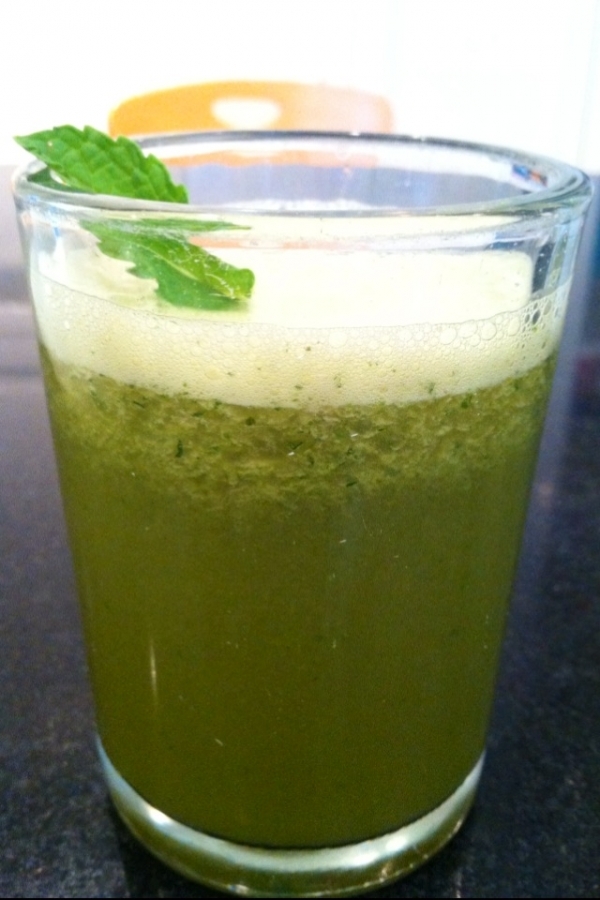 There is something about fresh mint that makes a summer drink so refreshing. It almost cools you by itself, and the flavor is definitely enhanced by the grapefruit. The kale will not even be tasted, as it is disguised by the apple, grapefruit, and mint. Ginger also adds some tang, while giving you anti-inflammatory and digestive benefits. If you love mint, you will love this juice!
Ingredients:
1 green apple
1/2 grapefruit, peel removed
1 cup kale leaves and stems
Fresh mint (as much as you'd like- I used about 1/2 cup, if packed)
1/2 inch piece of fresh ginger
1/2 cucumber, peeled
Directions:
Chop, slice, and dice your ingredients to fit into your juicer and feed the juicer! Sip and enjoy.
Source: whatrunslori.com
The summer is the perfect time for juicing. You will get an abundant amount of fresh produce and cooling off, and you will be enjoying it! No matter what you may have heard, you do not need to drink purely greens juice to have a healthy juice; you can make it taste great by adding in fresh, whole fruits. What is your favorite juice blend this summer?
---
Comments
Popular
Related
Recent