When you take your first bite of one of these flourless muffin recipes, you will be sold. Never mind that these recipes are actually healthy, gluten-free, and easy to make – these flourless muffin recipes taste amazing. If you have ever tried flourless recipes before, you may have had the experience of a dry, dense product that wasn't so great. That's what happened to me when I first started trying out flourless recipes, but I kept trying and finally found some stellar recipes that are light, moist, and can easily compete with their unhealthy counterparts.
---
1

Flourless Almond Butter Chocolate Chip Muffins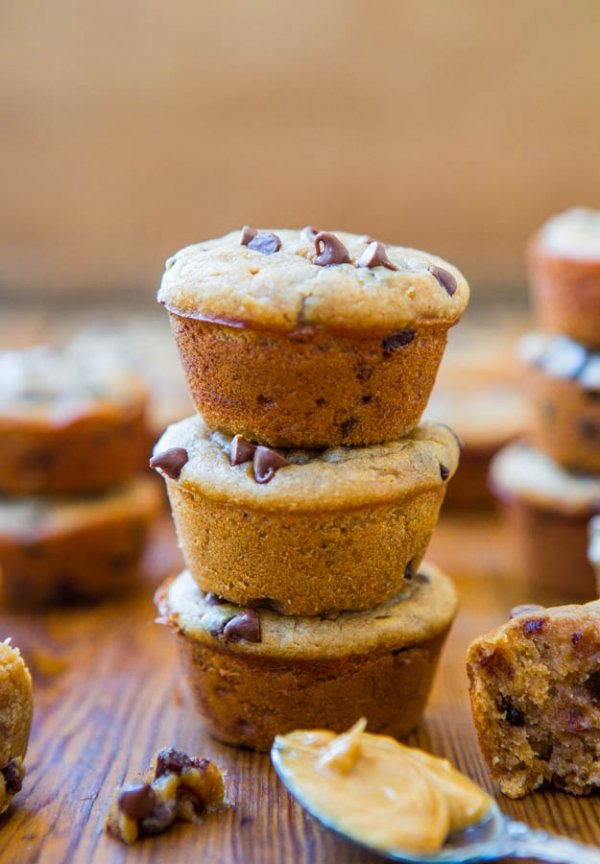 This is one of my favorite flourless muffin recipes, and the muffins are a real treat. The chocolate chips make these muffins taste like a dessert, but the bananas, almond butter, flax seeds, and oats make these muffins healthy enough for any time of the day. Amanda from the blog Running with Spoons has mastered the art of flourless baking with this light, fluffy muffin recipe!
Ingredients:
1/2 cup almond butter (can use other nut butter as well)
1 ripe medium/large banana
1 egg
1/4 cup honey
1/2 cup rolled oats
2 Tbsp. ground flaxseed
1 tsp. vanilla extract
1/2 tsp. baking soda
1/4 mini chocolate chips, plus more for sprinkling
Directions:
Preheat an oven to 375 degrees and prepare a muffin pan by spraying it with cooking spray or lining it. Blend all of the ingredients except the chocolate chips until smooth in a high powdered blender. Stir in chocolate chips by hand. Pour the batter into the muffin pan, about ¾ of the way full in each. Bake for 10-12 minutes, until your muffins are set and a toothpick inserted into the middle comes out clean. Let the muffins to cool in pan for about 10 minutes before removing.
Source: runningwithspoons.com
---
2

Pumpkin Spice Chocolate Chip Mini Muffins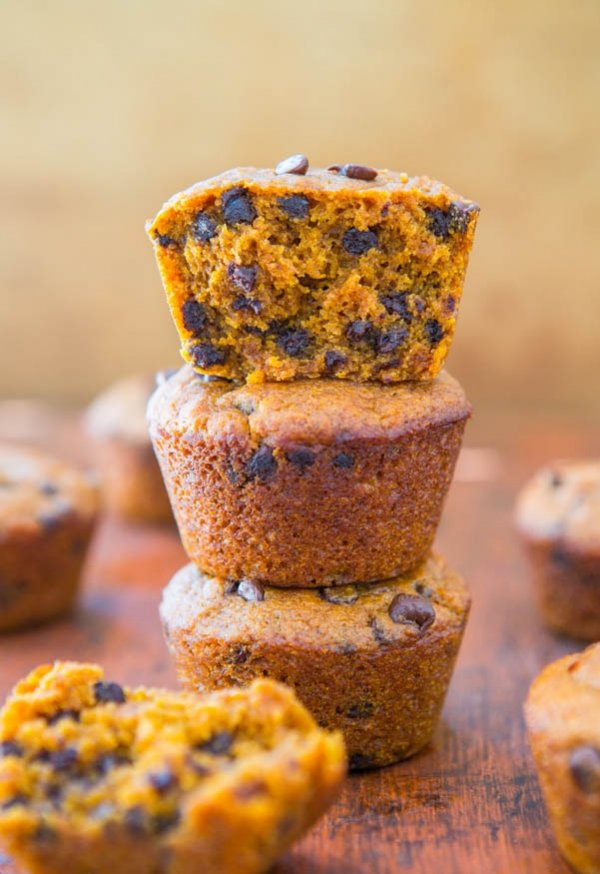 This recipe is actually quite similar to the last one, but with the addition of nutritious pumpkin. Pumpkin is actually rich in beta-carotene, which is converted into vitamin A in the body. That means these tasty muffins are beneficial to your skin and eyes too! Plus, the pumpkin gives these muffins a festive and spicy tone that you will surely enjoy at any time of the year.
Ingredients:
⅔ cup almond butter
⅓ cup canned pumpkin
2 eggs
3 Tablespoons honey
1 Tablespoon pumpkin pie spice
1 teaspoon vanilla
½ teaspoon baking soda
pinch of sea salt
⅓ cup mini chocolate chips
Directions:
Preheat an oven to 375 degrees and prepare a mini muffin pan (or a regular sized one) by spraying well with cooking spray, or by lining the pans with paper liners. Set aside. Blend all of the ingredients except the chocolate chips until smooth. Stir in the chocolate chips by hand. Fill each muffin cavity about ¾ full with the batter and bake for 7-8 minutes. They are done when the tops are set and a toothpick inserted into the center comes out clean without any batter. Let the muffins cool for 5-10 minutes and then remove from tin and let cool completely on a wire rack.
Source: eatingbirdfood.com
---
3

Flourless Peanut Butter and Jelly Muffins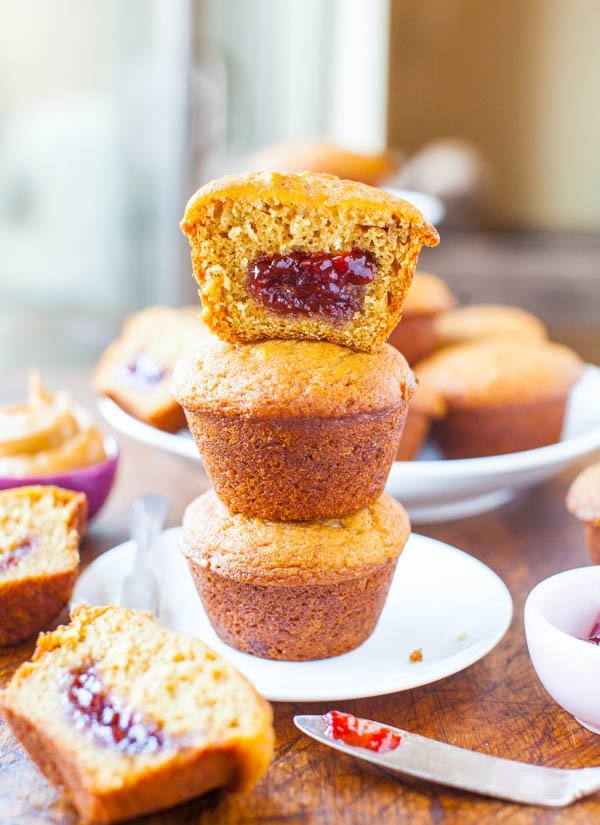 If you have had bad experiences with flourless recipes in the past, I recommend you try these first. These are some of the best muffins I've ever had – flourless or not. They taste like a peanut butter and jelly sandwich, but with melted peanut butter chips in the middle. These do not taste healthy at all, even though they are made with healthy peanut butter, bananas, apples, and oats. I suggest that you make a double batch!
Ingredients:
1/2 cup peanut butter (or other nut butter)
1 small banana, overripe
1/4 cup apple butter
1/2 cup oats
3-4 Tbsp honey
1 egg
1/2 tsp baking soda
1/4 cup strawberry fruit spread
1/4 cup peanut butter chips
Directions:
Preheat oven to 425 degrees and grease a muffin pan with cooking spray or line with muffin liners. Blend all of the ingredients except the fruit spread and peanut butter until smooth. Pour the batter into the muffin tins about halfway full and put about 1tsp of fruit spread in the middle. Pour on another layer of batter over the fruit spread. Sprinkle peanut butter chips on top and repeat until all your batter is used up. You should get 9 to 10 muffins. Bake the muffins for 5 minutes then reduce heat to 350 degrees and bake for another 8-10 minutes. Let muffins cool in the pan for 5 minutes before eating.
Source: thenutritiouskitchen.com
---
4

Flourless Peanut Butter Banana Muffins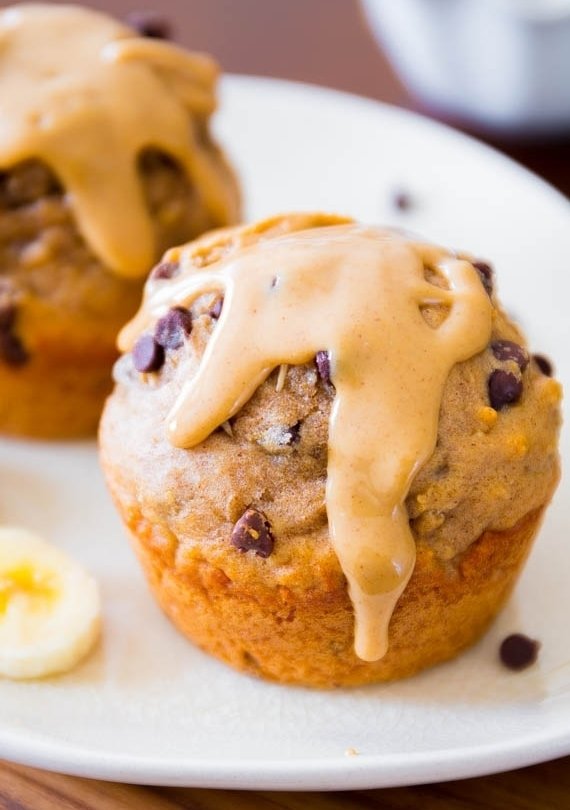 These are probably the easiest muffins you'll ever make. Literally all you have to do is place all of the ingredients in a blender and blend until smooth, pour it in a pan, bake them and you're done! For something so simple, these muffins are so delicious. They have notes of banana bread that are balanced out with a hint of peanut flavor, which combines with vanilla very nicely. Trust me, you won't even miss processed flours in this recipe!
Ingredients:
1½ cup peanut butter
3 ripe medium sized bananas (mashed)
3 large eggs
1½ tsp vanilla
2 tbsp of honey
1 tbsp coconut sugar (optional)
1 tsp baking soda
1½ tsp apple cider vinegar
Directions:
Preheat an oven to 400 degrees. Blend all of the ingredients until well mixed in a blender or food processor, scraping down the sides as needed. Pour the batter into greased or lined muffin pans. Sprinkle with chocolate chips, if desired. Bake for 10-15 minutes.
Source: eatrealhealthyfood.com
---
5

Flourless Chocolate Cashew Muffins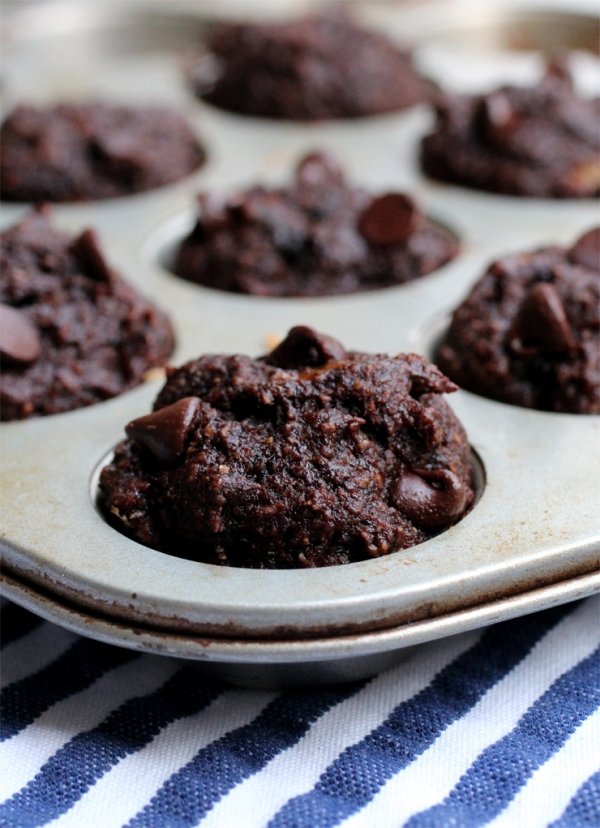 If you have never heard of cashew butter, it is simply like peanut butter, but made from ground cashews instead of peanuts. It is creamy, smooth, and adds an entirely new substance to these muffins. I also like that cocoa powder is used in place of flour in this recipe to provide additional antioxidants. These muffins taste fudgy and moist like brownies, so you would never guess that they are actually full of nourishing, flourless ingredients.
Ingredients:
1 1/2 cups smooth cashew butter (substitute almond, pecan or other nut butter, but make sure it's a very smoothly ground butter--nothing course or crunchy), slightly warmed until easily stir-able
5 large eggs
2/3 cup maple syrup (substitute honey; do not use agave)
2/3 cup unsweetened cocoa powder, sifted
1 tablespoon vanilla extract
1 teaspoon kosher salt
1 teaspoon baking soda
Directions:
Preheat oven to 350 degrees. Grease an extra-large muffin tin (or use a regular muffin tin). Beat together cashew butter and eggs with an electric mixer until smooth and creamy. Add in the maple syrup, cocoa powder, vanilla, salt, and baking soda. Pour the batter into the prepared muffin pans. Bake 15-20 minutes, or until puffed up and cracked on top. A toothpick inserted into the center should come out clean. Remove from oven and let cool in pan about 5 minutes, then transfer to a cooling rack.
Source: alwaysorderdessert.com
---
6

Flourless Blueberry Banana Oat Muffins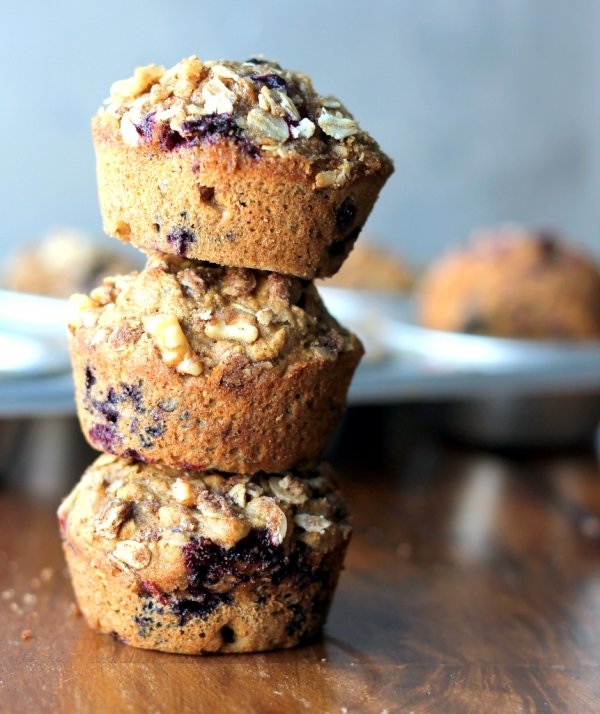 It was really difficult for me to find a good-tasting, flourless blueberry muffin recipe because there weren't a lot of strong flavors going on (such as chocolate or peanut butter) to help mask anything. I knew I would have to find a recipe with a good base muffin that would let the blueberries stand out, and this recipe does just that. It contains absolutely no unhealthy ingredients, and can easily be enjoyed at any time of the day.
Ingredients:
2 1/2 cups old fashioned oats
1 cup plain low fat Greek yogurt (or dairy-free coconut yogurt)
2 eggs
1/2 cup honey
2 tsp. baking powder
1 tsp. baking soda
2 Tbsp. ground flax seeds
1 tsp. vanilla
2 ripe bananas
1 1/2 blueberries
1/4 cup stevia (optional)
Directions:
Preheat an oven to 375 degrees. Blend all of the ingredients (except for the blueberries) together. Stir in the blueberries by hand. Bake for 10-14 minutes or until a toothpick comes out clean.
Source: runningwildblog.com
---
7

Flourless Lemon Poppy Seed Muffins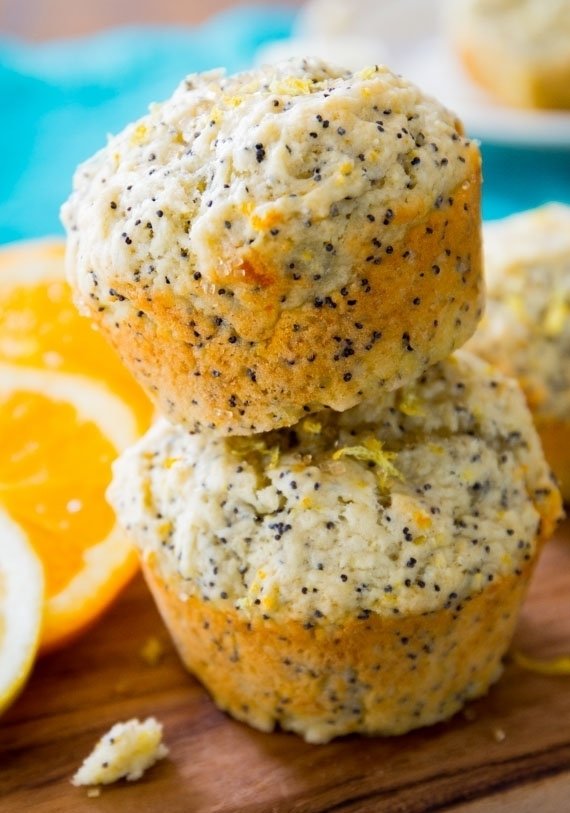 Lemon poppy seed muffins are the epitome of spring and summer muffins. Their light citrus taste is the perfect treat for when you want a baked good during the warmer months of the year. This flourless take on these popular muffins is just as good as – if not better than – the original. They are fluffy and full of zesty yet refreshing lemon flavor. The crunch of poppy seeds added in makes these muffins simply irresistible.
Ingredients:
1 tbsp chia seeds + 3 tbsp water (or 1 egg)
½ cup raw creamy almond butter
¼ cup unsweetened applesauce
3 tbsp pure maple syrup
Juice (about 2 tbsp) and zest of half a lemon
1 tsp vanilla extract
3 tbsp unsweetened shredded coconut
1 tbsp poppy seeds
¼ tsp baking powder
Pinch of salt
Directions:
Preheat oven to 400F. Spray a mini muffin tin with cooking spray and set aside. Stir together chia seeds and water to make chia "egg." Set aside to gel for a few minutes. Combine the rest of the ingredients in a blender or food processor, adding chia egg last. Blend to combine. You may need to use a spatula to fully incorporate the almond butter and to get all the batter into the muffin tin. Pour batter evenly into muffin tin, filling almost to the top. Bake for 10-12 minutes, or until muffins are set.
Source: hummusapien.com
I hope you enjoy these healthy, flourless muffin recipes as much as I have. If you have been disappointed by healthy or flourless baked goods in the past, I encourage you to give these muffin recipes a try. I promise you won't be disappointed! They are so delicious that you won't mind doing your body a favor by eating them. What are some of your favorite flourless recipes?
More
Comments
Popular
Recent