7 Healthy New Food Products to Check out ...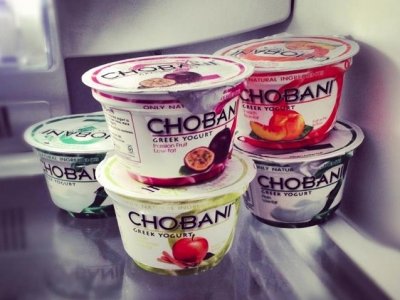 Try to branch out of your eating comfort zone this year and try some of these new food products that are not only tasty, but also pretty healthy. A whole food diet is optimal, but sometimes we need a few minimally processed foods to fill in the gaps, like almond milk, yogurt, and even a little bit of chocolate too. That being said, let's take a peek at some new food products out this year that I think you'll love as much as I do!
1.

Silk Unsweetened Almond Coconut Milk
silk.com
This new non-dairy milk by Silk is one of the top new food products out in April 2014. It's free of sugar, and controversial additives found in other brands like carrageenan and guar gum, and it also contains no gluten, MSG, soy, dairy - for only 35 calories per cup. I can drink to that... what about you?
2.

So Delicious Unsweetened Vanilla Coconut Yogurt
sodeliciousdairyfree.com
A dairy-free vegan coconut yogurt made with no sugar or funny additives has just hit the market. It's made by So Delicious. This delicious, creamy yogurt is made with non-GMO organic coconuts, vanilla beans, and is only 60 calories per serving. I wonder how this would taste frozen?
3.

The Happy Egg Co. Eggs
thehappyeggco.com
When you purchase eggs during your next grocery trip, keep your eye out for The Happy Egg Company eggs. They're from pasture-fed, free-range hens that aren't given hormones or antibiotics. Remember, a happier hen means a better tasting egg, which means a happier you!
4.

Green Mountain Coffee Antioxidant Blend
greenmountaincoffee.com
For all you Keurig fans out there, try the new Antioxidant Blend K-Cups by Green Mountain Coffee. They contain a mix of light and dark roasts that have 10% of your daily vitamin C and vitamin E requirements per serving. Now you can fight that sleepy feeling, aging and disease all in one delicious cup!
5.

Harmless Harvest 100% Raw Tea
harmlessharvest.com
Harmless Harvest, makers of the first 100% raw coconut water, now make a 100% raw tea product you have to try! The tea leaves are never heated, are harvested straight from Japan, and are 100% USDA Certified Organic and non-GMO. There are three tea flavors - unsweetened, raw honey and lemon, and peppermint - which are all refined-sugar free.
6.

Lifefood Mini Chocolate - Pink Salt and Spirulina
foodbev.com
Lifefood is a raw foods company from the UK, which specializes in raw vegan specialty items. Their latest chocolate bar features raw cacao, raw agave, raw Himalayan pink salt, and raw spirulina. They don't yet market to the U.S. yet, but are in the process of doing so, thank goodness!
7.

Chobani 100 Calorie Greek Yogurt
chobani.com
If you love Greek yogurt, check out the new 100 calorie yogurts from Chobani, available in 6 flavors. They have 5 grams of fiber, 5 different live and active probiotic cultures, and all average 12 grams of protein per serving. They're also free of refined sugar and funny additives. For 100 calories of hormone-free, creamy yogurt, you sure can't go wrong!
Whenever you purchase food products, new or old, do your best to pick foods with as few ingredients as possible, such as the ones above. Do you have a new favorite food product I need to check out? I'm always looking for more!
{{#comments_count}} Show Commnents ({{comments_count}}) {{/comments_count}}