Ingredients You Never Thought to Put in a Pie ...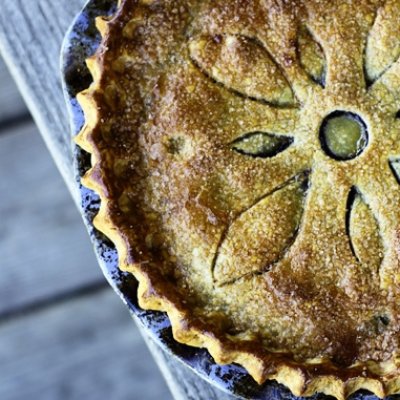 Pie has got to be one of the best desserts around. You can easily change up what you put in yours based on what's in season and what you love the best. Sometimes it's really fun to experiment and try new things when you bake your favorite dessert. Looking for some new pie ingredients to jazz things up after dinner? You're in luck because there are some really tasty pie fillings that you may never have thought to try. Check it out!
1.

Grapes Are a Juicy Pie Filling That You Will Love
I recently stumbled on a recipe for grape pie and I immediately wondered why I had never thought to try it before. Grapes have a great natural sweetness that makes them an obvious choice for a fruit pie filling. Since part of serving pie is the presentation, try making yours with a mixture of red and green grapes. Here's a delightful recipe to try: saveur.com.
2.

Tangy Kiwis Make a Really Delicious Pie
Never had kiwi in a pie? You are totally missing out! They have a really scrumptious taste that turns a basic pie crust into something really special. The great thing about kiwis is that they pair really well with other fruits, but they also taste heavenly on their own. Try combining kiwis with strawberries or blueberries for a pie that everyone is going to want another slice of. Check out this recipe: mrfood.com.
3.

Juicy Watermelon Makes for a Unique Treat
Watermelon is so sweet and juicy that it makes total sense to put it in a pie. Don't you just love the juice that accumulates at the bottom of the pie crust? If you do, this pie won't disappoint. It's the perfect summer dessert, but I say make it anytime the craving strikes. Here's a recipe that will quickly become your new favorite: mrfood.com.
4.

Pink Lemonade is a Perfect Alternative to Lemon or Key Lime
Instead of making your regular old lemon meringue or key lime pie, use pink lemonade as your citrus of choice. It gives your pie a really tangy flavor and a fun pink color that simply can't be beat. Serve this pie when you want to impress someone and you're pretty much golden. Try this recipe: mrfood.com.
5.

Raisins Make for a Treat No One Will Have Ever Tried before
The Amish typically serve raisin pies at funerals, but who says you can't eat one anytime you want to? The raisins give your slice of pie a nice chewy texture that makes it sort of gooey and really tasty. If you don't care for raisins, try dried cranberries or apricots instead. I think you'll love this idea. Here's the perfect recipe to get you going: marthastewart.com.
6.

Bacon Makes Everything Better
Sweet and salty combos are a total thing right now, and for good reason because they taste so good! Gourmet chefs all over the world are trying bacon in their treats so there's no reason to think that you can't put bacon in your fruit pies. Try this one: bakepedia.com.
7.

Pine Nuts Are a Pleasant Surprise in Place of Walnuts or Pecans
Any pie that calls for nuts can be taken to a new level by using pine nuts instead of the ones the recipe calls for. Pine nuts have a really unique flavor that I think you'll love biting in to when you serve pie. Try this recipe and let me know what you think: food.com.
Is pie one of your favorite desserts? Which of these are you dying to try?
{{#comments_count}} Show Commnents ({{comments_count}}) {{/comments_count}}