If you're vegan or vegetarian, chances are that getting omnivores to try some of your vegan recipes may pose a bit of a challenge. Or, perhaps you're considering eating more plant foods, and even trying to transition to a vegan or vegetarian diet yourself. Either way, I can promise you that certain vegan recipes out there are anything but boring! In fact, I find vegan foods are so much easier to make satisfying because they're straight from nature and taste so fresh. Full of nutrients, enzymes, flavor and energizing properties, plant foods don't only satisfy your body, but also your taste buds. There are some vegan recipes that stand out more than others though. I pulled together my top 9 favorite vegan recipes that I think make perfect dishes to make for someone new to the lifestyle, or perhaps for yourself. Enjoy!
---
1

Roasted Sweet Potatoes with Cranberries, Quinoa, Kale, and Pecans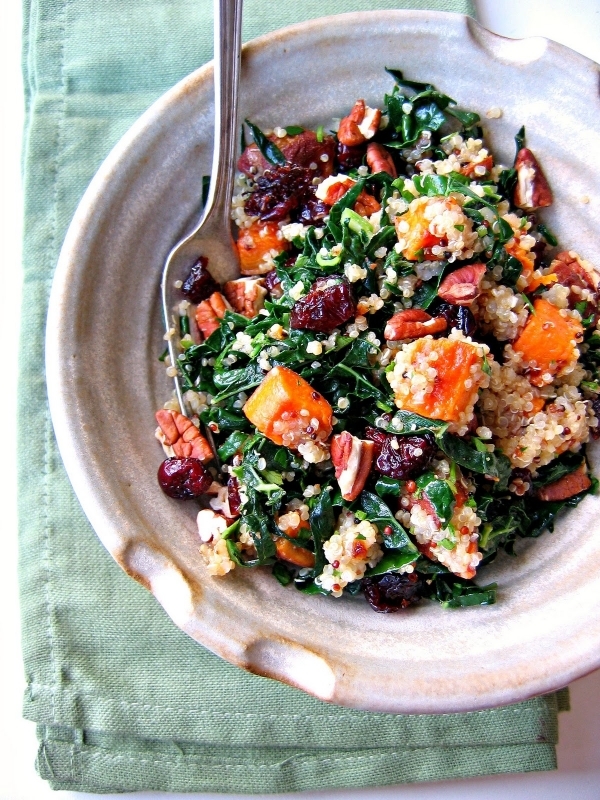 This recipe has just the right amount of savory and sweet, making it one of the best vegan recipes to introduce to people who are new to eating all plant foods. Since people new to this lifestyle assume that it is unsatisfying and boring, recipes like this one are great to prove them wrong. Plus, this dish contains all main macronutrients from protein, complex carbs and healthy fats. That is also important for introducing people to vegan food, because when combined, these macronutrients satisfy the body sooner and don't leave you wanting more. This dish is also gorgeous, and anything that appeals to someone's eye makes them more likely to eat it!
Serves: 4
Ingredients:
3 medium shallots
1 1/2 pounds sweet potatoes
olive oil
salt and pepper
1/2 teaspoon dried oregano
6 large kale leaves, washed and dried
1/3 cup pecans
1/3 cup unsweetened dried cranberries (or raisins)
½ cup prepared steamed quinoa
Directions:
Before making this dish, have the ½ of cup quinoa cooked over the stove and already cooled so it will be ready to use when serving the dish. Preheat the oven to 425 degrees F. Peel the sweet potatoes and cut them into 1/2-inch dice and transfer to a large bowl. Cut the shallot halves into thin slices and add to the bowl along with the oregano. Season with salt and pepper, drizzle about 1 tablespoon of olive oil over the sweet potato mixture and toss to coat. Spread the mixture in a single layer on an oiled rimmed baking sheet and bake for 30 minutes or until the potatoes are tender and lightly browned, turning once about halfway through. Roll the kale leaves into a tight roll and cut crosswise into thin ribbons. Transfer to a bowl, drizzle with a little olive oil and season with salt and pepper. Spread the kale on an oiled baking sheet and place in the oven when the sweet potatoes are about halfway done roasting until the kale is crisp and lightly browned, about 15 minutes. To serve, transfer the sweet potatoes to a bowl, add the nuts, cranberries, prepared quinoa and kale and sprinkle with a few grinds of black pepper. Toss gently to combine. Serve hot.
Source: yummyplants.com
---
2

Mexican Ceviche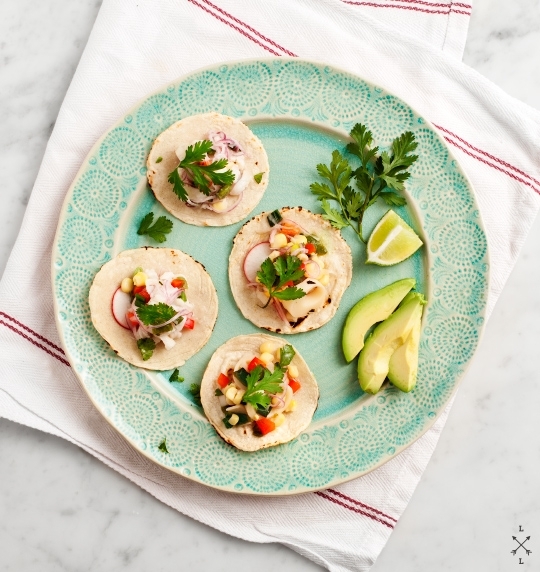 I don't know many people who don't enjoy salsa, and ceviche is a version of salsa in most Mexican dishes that is somewhat fresher and usually paired with salmon or shrimp when served. This vegan version is just as hearty, yet completely animal-free. Ceviche is a great way to get others to enjoy eating vegan food that also leaves them satisfied. I love to serve this with some chopped avocado for a rich heartiness.
Serves: 5
Ingredients:
1 cup fresh tomato juice
1/2 cup tomatoes (seeded)
1 serrano or jalapeño pepper finely chopped
1/4 onion finely chopped
Juice of 1/4 lemon
Juice of ¼ lime
1/4 cup chopped cilantro
1/4 cup cucumber chopped (no seeds)
1/2 chopped avocado
1 cup chopped mushrooms raw or cooked
Salt to taste or 1 tbsp. Bragg's liquid aminos
Directions:
Mix all ingredients and chill. It is better if prepared the day before. Feel free to serve it over raw crackers or organic corn chips or even pita bread when ready to serve.
Source: yummyplants.com
---
3

Sundae Superfood Smoothie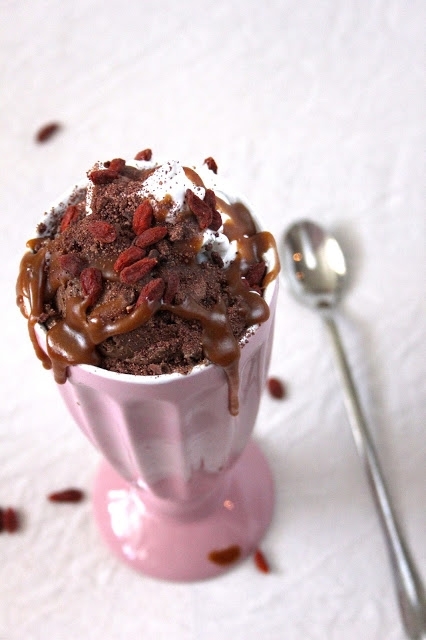 Smoothies are one of the most loved recipes of everyone, vegan or not. The best part about smoothies is, there's no limit on what you can put in them. This makes smoothies a great place to start to introduce someone to a vegan lifestyle, without them even initially realizing it. For instance, just use a vegan plant based milk, vegan protein powder and tasty superfoods in place of dairy milk, dairy protein, and other animal based ingredients like yogurt. This smoothie is a great place to start since it combines a flavor combination of berries, chocolate, and has a nice creamy factor to go along with it. It is reminiscent of a sundae flavored smoothie, so it makes for a perfect treat for someone new to the vegan lifestyle.
Serves: 1
Ingredients:
1 1/2 Cups of Unsweetened Vanilla Almond Milk (I like Silk)
1 packet of frozen Sambazon acai puree (unsweetened)
2 Tablespoons raw cacao powder
1/4 cup of walnuts
1 cup of frozen banana slices (keep these in your freezer all the time. They're great to sweeten up a recipe!)
Directions:
Place all the ingredients in the order listed into your blender. Blend until incorporated.
Source: yummyplants.com
---
4

Hearty Winter Vegetable Soup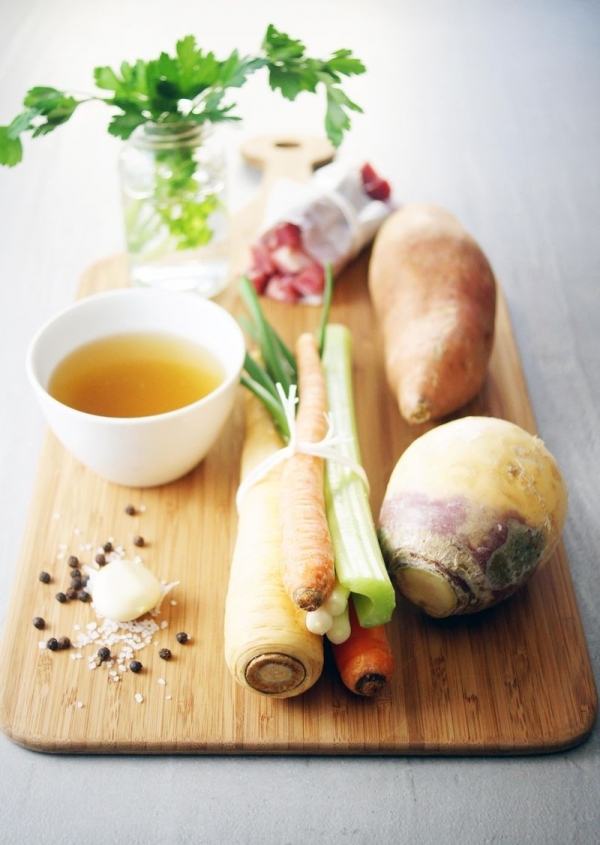 Everyone loves soup, right? Before I ate a plant-based diet, I just assumed meat should be added to soup to make it hearty. I mean, even my mom's best vegetable soup had meat in it! Yet, I learned you don't need meat to "beef" up a soup in terms of heartiness or texture. All you need is to implement plant foods to do this that don't make you miss meat at all. I love this hearty soup recipe, which is perfect for this time of year. It creates comfort, great taste and an amazing flavor profile, for just one small serving. Make a big bowl of it and serve it for your guests. They won't believe you left out the meat, I promise!
Serves: 4
1 ½ cups fresh mushroom slices
1 carton of organic vegetable broth (or you can make your own)
2 leeks, white parts only, split in half lengthwise, cut into 1/4-inch slices
1 medium carrot, diced
2 stalks celery, diced
1 large Yukon gold potato, diced
1 large sweet potato, diced (or you can use 2 small red potatoes instead)
1 cup cooked chickpeas, rinsed and drained (or any other cooked canned bean)
1 small bunch kale, thick stems removed, leaves roughly torn
1 teaspoon tamari
Kosher salt and freshly ground black pepper
1 tablespoon cornstarch mixed with 1 tablespoon water
1 to 2 tablespoons fresh juice from 1 lemon
2 tablespoons chopped fresh parsley leaves
Extra-virgin olive oil
Directions:
Add mushrooms, broth, leeks, carrot, celery, potatoes, chickpeas, kale, and tamari to a large saucepan. Bring to a boil over medium-high heat, reduce to a simmer, and cook, stirring occasionally, until potatoes are completely tender and beginning to fall apart, about 25 minutes. Stir in cornstarch slurry and allow to simmer 2 minutes longer. Season to taste with salt and pepper, stir in lemon juice and parsley, and serve, drizzling extra-virgin olive oil into bowls as you eat.
Source: seriouseats.com
---
5

Toasted Oatmeal with Maple Syrup and Raspberries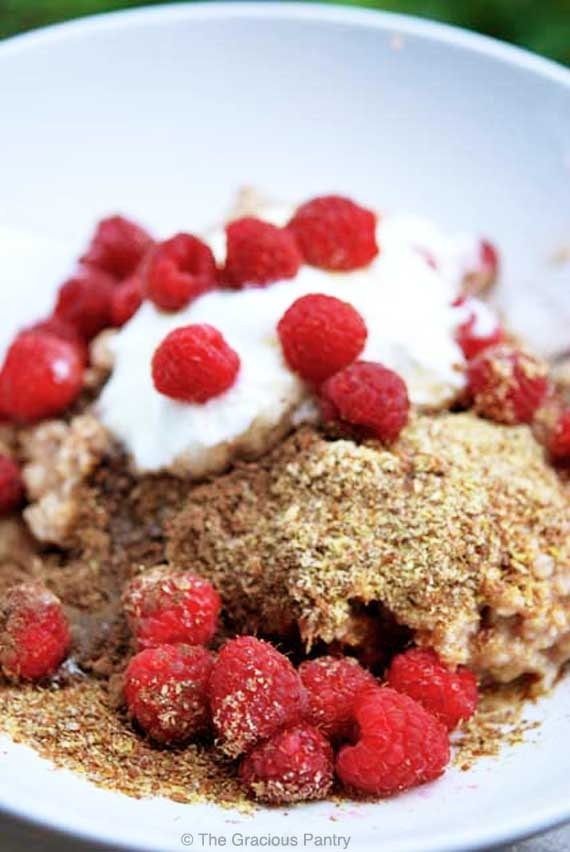 Many people who aren't vegan eat oatmeal every day without even being conscious they're making a vegan choice. This makes oatmeal the perfect dish to make for someone who isn't vegan, or is new at it. Perhaps the person you're making this for, or even yourself, thinks they don't like oatmeal. Well, this recipe is a great way to turn that around. This oatmeal is hearty, sweet and so indulgent tasting. It tastes nothing like the cardboard so many people accuse oatmeal of resembling. Try it and I think you'll see just how delicious oatmeal can actually be.
Serves: 4
Ingredients:
1 cup steel cut oats
1 ½ cups water
1 ½ cups unsweetened almond milk
1/3 cup whole fresh or frozen raspberries
2 tablespoons coconut sugar (or 1 tsp. pure stevia to cut down on sugar content)
Pinch sea salt
2 tablespoons maple syrup for serving
Directions:
Heat oats in a medium saucepan over medium heat, stirring and tossing constantly until pale golden brown and a nutty aroma develops, about 3 minutes. Be careful not to burn them and watch the heat, stirring constantly. You can skip this step, but they won't have a toasted flavor. Add water, almond milk, berries, sweetener, and salt. Bring to a boil over high heat then reduce to a bare simmer.
Cook, stirring occasionally until oatmeal is cooked and berries have softened, about 20 minutes total. Gently mash berries with the back of a wooden spoon as they cook to rupture them. Serve immediately, drizzling with maple syrup at the table if you wish.
Source: seriouseats.com
---
6

Chocolate Fudge Zucchini Brownies with Frosting- Gluten Free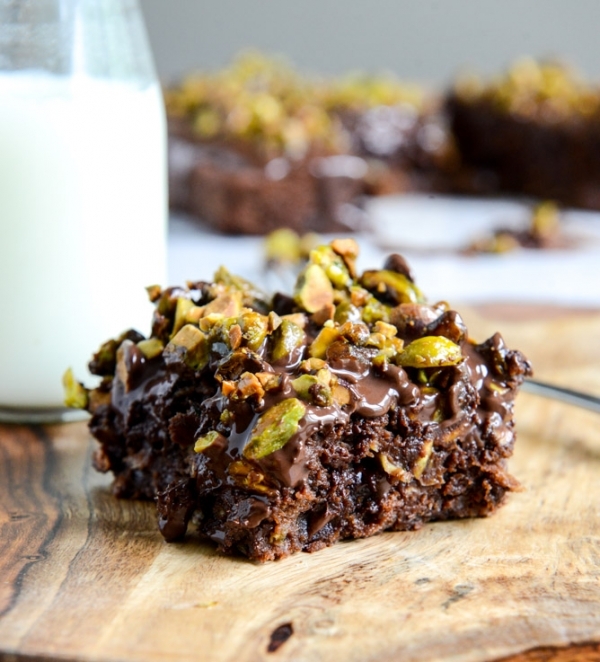 One of the best dishes to make for someone trying to eat vegan is a great dessert! I promise, these brownies by Chocolate Covered Katie are not only amazing in taste, but also amazing for you! They're healthy, simple to make and include some of the best ingredients sure to please the palate. They include a frosting which you can leave out, but in my opinion, the frosting completes the brownies so I would include it. Besides, anything that tastes rich and indulgent while actually being healthy is a must when getting someone to try vegan foods. Enjoy this with a hot cup of cocoa, almond milk or with some vegan ice cream if you like!
Serves: 20-24 brownies
Ingredients:
For the brownies:
1/2 cup shredded zucchini
1/3 cup unsweetened applesauce
1 cup plus 2 tbsp water
2 tsp pure vanilla extract
3 tbsp ground flax seeds (also called milled or flax meal)
1/2 cup plus 2 tbsp vegetable or coconut oil (115g)
3/4 cup dark cocoa powder
1 cup coconut flour
1/2 tsp salt
1/2 tsp baking soda
3/4 cup xylitol
1 tsp pure stevia extract
1/2 cup dairy-free mini chocolate chips
For the frosting:
1/2 cup cocoa powder (40g)
2 tbsp pure maple syrup or agave (30g)
1/2 cup virgin coconut oil, melted (75g)
Directions:
For the brownies: Preheat oven to 350F, and line a 9×13 baking dish with parchment paper. Set aside. In a large mixing bowl, whisk together the first 6 ingredients and let sit at least 5 minutes. (Tip: shred zucchini in a food processor for fine shreds.) Combine all other ingredients in a separate bowl, and stir very well. Pour wet into dry, stir until evenly mixed, then pour into the baking dish. Using a full sheet of parchment or wax paper, press down very firmly until the brownie batter evenly covers the pan. Bake 19-20 minutes, then pat down hard with a pancake spatula or another sheet of parchment. Let zucchini brownies sit 15 minutes before trying to cut into squares. Tip: as a general rule, cutting brownies with a plastic knife prevents crumbling. Top with frosting.
For the frosting:
Mix frosting ingredients together to form a sauce. Spread sauce over the zucchini brownies, then fridge or freeze 10-20 minutes and the sauce magically transforms into fudgey chocolate frosting! These brownies taste much richer the next day, after the flavors have had a chance to intensify. Due to the melted nature of the frosting, frosted brownies are best stored in the fridge or freezer. They thaw really well and are perfect for any guest, vegan or not!
Source: Adapted from: chocolatecoveredkatie.com
---
7

Gluten-Free Cinnamon Sugar Waffles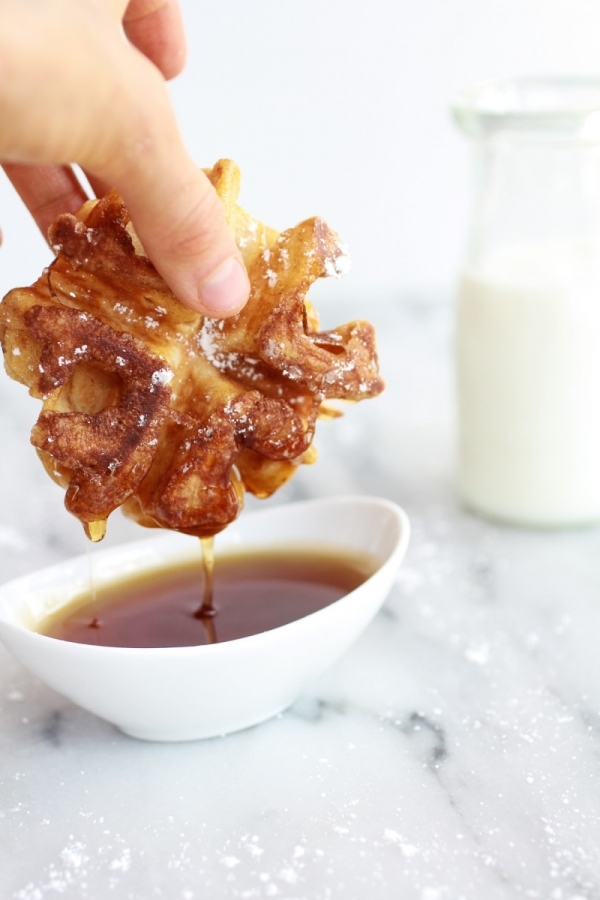 Did you love waffles when you were young? Gosh, I did! I still love waffles to this day and they are such a great comfort food. If you're making vegan waffles, no need to fret a lack of eggs will sacrifice the taste of your waffles, or how fluffy they turn out. On the contrary, vegan waffles are actually quite simple and one of the best vegan recipes to introduce newbies to. I find I never tire of them and love making them anytime I need a great healthy breakfast.
Serves: 2
Ingredients:
1/4 cup brown rice flour
2 tbsp buckwheat flour
2 tbsp arrowroot starch
1/4 tsp salt
1/4 tsp baking soda
1 tsp baking powder
1/2 tsp cinnamon
½ tsp. pure stevia extract
1/4 cup plus 3 tbsp applesauce
2 tsp oil OR 1 tbsp more applesauce
3 tbsp. unsweetened vanilla almond milk
1 tsp pure vanilla extract
Directions:
Combine all dry ingredients in a mixing bowl. Stir well. In a separate bowl, stir together all liquid ingredients. Grease a waffle iron with oil or oil spray: be sure to grease it very well if using all applesauce in the recipe. Preheat the iron according to manufacturer's instructions. Pour wet into dry, and stir until evenly combined. When the iron is hot, pour half the batter into the center, and close the lid. If your waffle machine has a light that goes out when the waffle is cooked, don't lift the lid before the waffle is done. If not, allow it to cook about 2 minutes and then lift. If they are toasty brown in color, with a slight golden hue, they're done. Serve with sugar-free vegan pancake syrup, raw coconut nectar pure maple syrup, or fresh fruit.
Source: chocolatecoveredkatie.com
---
8

Healthy Pumpkin Spice Frappuccino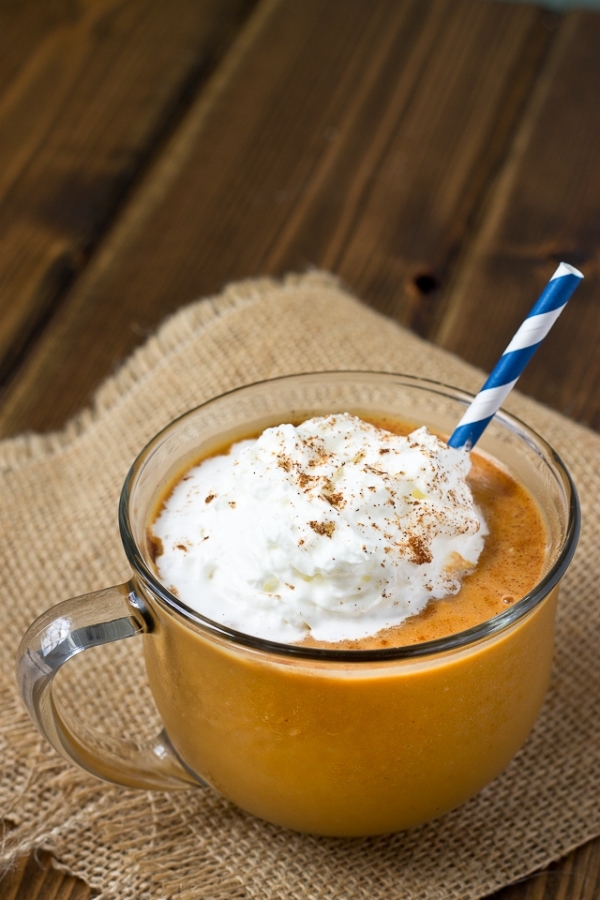 I always turn to this recipe to show people that even a classic Starbucks drink that became a worldwide phenomenon can not only be made vegan, but (gasp) better than the original! I'm serious if you're doubting me on this one. Just try this recipe I've brought to you that is adapted from one by Chocolate Covered Katie. She's the go-to girl for me when I want to make a great tasting vegan version of a non-vegan dish. I promise you won't believe how simple this is, or that you haven't made it sooner. If I'm wrong, your next Starbucks is on me!
Serves: 2
Ingredients:
2 cups unsweetened vanilla almond milk
1/2 tsp pure vanilla extract
8 espresso beans or 2 tsp. ground coffee (instant is fine)
½ tsp. pure stevia extract
1/2 cup canned pumpkin
1/4 tsp cinnamon (or pumpkin pie spice)
Directions:
Mix the ingredients together in 1 or 2 shallow plastic containers. Freeze. (You could also use an ice cube tray.) Once frozen, pop the blocks out of the containers. Thaw until just soft enough for your blender to be able to handle it, and blend until desired slushiness is reached. Add extra sweetener if needed, but do NOT add ice! It will dilute the flavor. Pour into two glasses and enjoy. Note: the flavor and texture will obviously vary depending on your choice of milk. I'm sure many types of milk will yield a good result, but I've only tried the recipe with Silk unsweetened almond milk.
Source: chocolatecoveredkatie.com
---
9

Decadent Dark Chocolate Mint Smoothie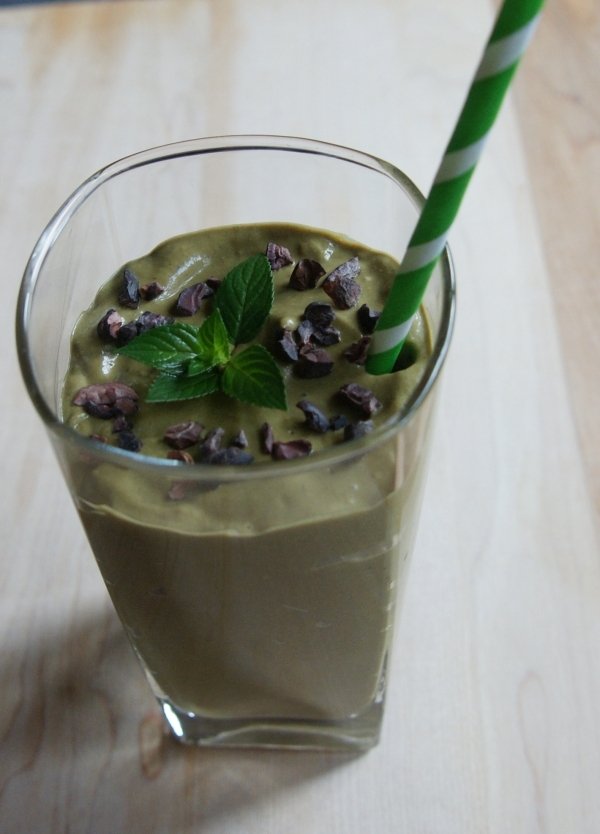 Not many people aren't a fan of chocolate, so make your friends a chocolate smoothie that happens to be vegan, and they'll love you forever. Dark chocolate is one of the best foods to enhance the mood and is great for your heart, but best of all, it tastes so good! Make this for you and your friends next time you get together. I promise they won't know it's healthy, nor will they care!
Serves: 4
Ingredients:
1 1/3 cup raw cacao powder
2 ripe avocados
1 1/2 cup coconut water
1 cup frozen blueberries
1 tbsp. raw honey or 1/2 tsp. pure stevia extract
1 tbsp. fresh mint leaves or you can use 1/8 tsp. extract
1 tsp. chia seeds
4 ice cubes
Directions:
Pit the avocado and scoop the flesh into the blender. Discard the pit and peel. Place the remaining ingredients into the blender in the order listed. Blend until the ice is crushed and smoothie is nice and thick. Serve in regular, or pre-frosted glasses to make them extra-chilled.
Source: passionaltelyraw.blogspot.com
Showing others that eating vegan can be delicious and satisfying is so rewarding, so I hope you'll give it a try. Have you ever tried any of these vegan recipes, or have a classic favorite of your own? Feel free to share any links so I can check them out!
More
Comments
Popular
Recent