This fall, I've already planned on all kinds of tasty things to make with canned pumpkin and can't wait to try out each and every idea. Don't ever assume that making foods with canned pumpkin is limited to your standard pumpkin pie and pumpkin bread. There are literally tons of unique things you can make with canned pumpkin that are simple, tasty, and can even be good for you too! Pumpkin is full of Vitamin A, fiber, has no fat and is low in calories. While calories aren't as important as quality, pumpkin is a vegetable after all, so it is naturally low in calories and contains tons of phytochemicals that are great for your skin, heart, and even your mood. Pumpkin is dense, slightly sweet, and so satisfying. If you think you're not a pumpkin fan, let me show you some amazing things to make with canned pumpkin first. I hope you'll give them a try!
---
1

Pumpkin Smoothies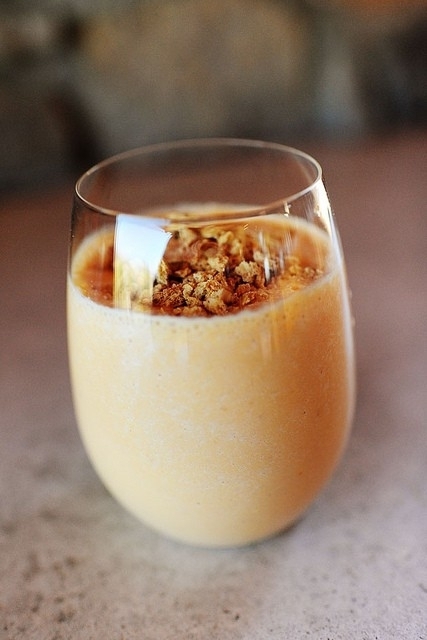 Possibly one of my favorite things to make with canned pumpkin is pumpkin smoothies! They are so tasty and so satisfying! Try this recipe below for a great example:
Serves: 1
Ingredients:
2 cups almond milk
8 ice cubes
½ cup canned pumpkin
¼ tsp. cinnamon
1 tsp. vanilla extract
Directions:
Place the ingredients in the order listed in your blender, blend and enjoy!
Source: soulfulspoon.com
---
2

Homemade Pumpkin Lattes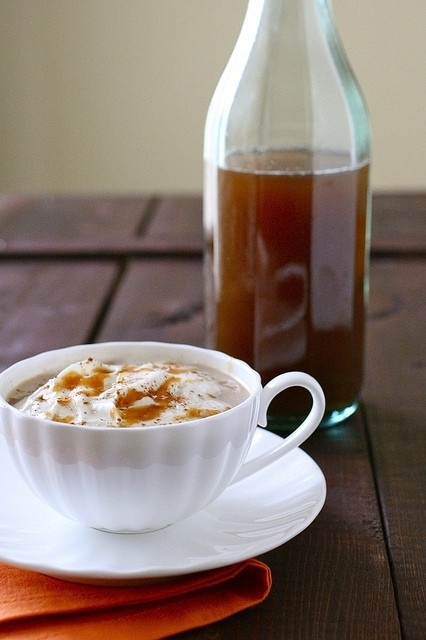 Pumpkin lattes are another fall and winter treat sure to satisfy just about anyone! Hot mugs of pumpkin, almond or coconut milk, vanilla extract and a touch of cinnamon all warm and cozy in a mug are just the perfect homemade rendition of the unhealthier, annual Starbucks treat.
**Serves:**1
Ingredients:
8 ounces brewed coffee (or 1-2 shots of espresso)
¼ cup pure canned pumpkin (preferably organic and BPA free brand like Farmer's Market)
½ cup unsweetened vanilla almond milk
1 teaspoon pumpkin pie spice
½ teaspoon vanilla extract
2 full drops of liquid stevia, ¼ tsp. pure stevia powder, or your sweetener of choice
sprinkle of cinnamon
Directions:
In a blender, or small appliance like the magic bullet, blend the almond milk and pumpkin together with the vanilla, stevia and pumpkin pie spice. Pour this into a saucepan and cook on medium heat until it reaches a high heat, but not a rolling boil. You can also cook this in the microwave for 30-45 seconds. Remove from the stove, and blend again to make extra frothy or use a milk frother. Pour into a mug, and add your brewed coffee. Stir well. Top with cinnamon and enjoy!
Source: eatingbirdfood.com.
---
3

Pumpkin Nut Butter Cookies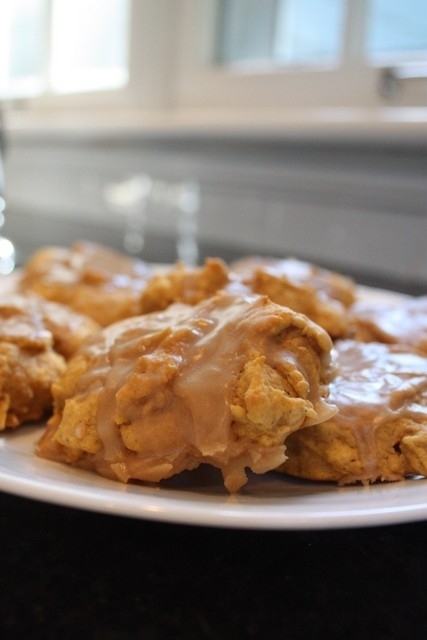 Have you ever had pumpkin nut butter cookies? They are one of my favorite guilty treats, and so easy to make too! All you need is nut butter, pumpkin and a couple other ingredients to make a healthy, delicious and satisfying cookie in no time! The best part is, these are completely vegan and you need no eggs to make them, so don't fret if you're all out or don't eat them.
Serves: 24 cookies
Ingredients:
1 cup almond butter, cashew butter or peanut butter (natural)
1/2 cup pure canned pumpkin (not pumpkin pie mix)
1/4 cup your choice of honey, coconut nectar, pure maple syrup, 1 tsp. pure stevia extract or 1 tsp. liquid stevia
2 teaspoons pumpkin pie spice (or you can use cinnamon)
1 teaspoon vanilla extract
1/4 teaspoon sea salt
optional- 1/2 cup raw cacao nibs or nondairy chocolate chips like Enjoy Life brand
Directions:
Preheat your oven to 350F, and line a baking sheet with parchment paper. Combine all of the ingredients in a medium bowl, and mix until a thick batter is formed. If adding cacao nibs or chocolate chips, fold them in last. Using a tablespoon or cookie scoop, drop the batter onto the line baking sheet, and gently press each mound with a wet fork (to prevent sticking) to flatten. Bake at 350F for 12-15 minutes, until the edges are golden.
Allow to cool completely before using a spatula to remove from the baking sheet. Serve immediately, or for a firmer cookie, chill before serving.
Sources: detoxinista.com.
---
4

Healthy Pumpkin Peanut Butter Fudge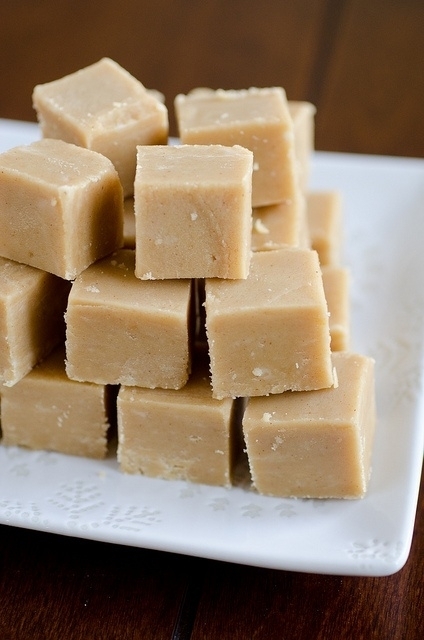 Have you ever had peanut butter fudge? I'm sure you have more than likely, but try a piece of this pumpkin peanut butter fudge instead of the traditional kind this fall! Even better, make this incredibly healthy, yet decadent fudge for your friends and family. They'll never believe it is actually healthy for them!
Serves: 1 6 inch pie (6 pieces)
Ingredients:
1 cup pure canned pumpkin (or if you have fresh, use that)- preferably organic brand like Farmer's Market for canned varieties
1/2 cup coconut butter, softened, or use coconut oil in a pinch
2 full drops of liquid vanilla stevia (alternately you could use 3 tbsp. honey, agave, maple syrup or coconut nectar)
1 tsp. pumpkin pie spice or you can use plain cinnamon if you don't have any
Directions:
Place all the ingredients in a high powered blender such as the Vitamix. Be sure your coconut butter is fairly soft so it blends easier. You could also use your food processor here. (You may have to warm the coconut butter up a bit either on the stovetop in a sauce pan or for about 5 seconds in the microwave to soften.) Blend everything together (or process) until smooth and creamy. Scrape this mixture out of your food processor or blender into a six inch pie pan or cake pan until firm and flat. If you don't have a pie pan, you could use a mini muffin pan for easy pieces of fudge, or even an ice cube tray. Set this in the freezer for 3-5 hours or until firm to the touch. Remove, let thaw for about 5 minutes and serve. Keep this in the fridge or freezer for about a week.
Source: purelytwins.com
---
5

Pumpkin Brownies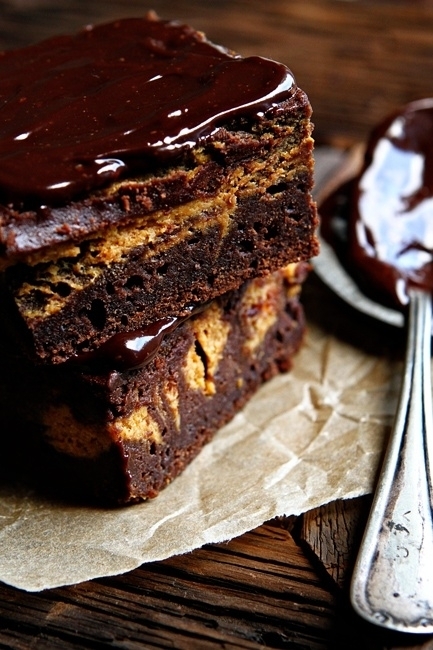 I'm in love with chocolate, so why not combine it with pumpkin for a double dose of delicious? These healthy pumpkin brownies, inspired by Chocolate Covered Katie's recipe but tweaked a bit, are some of my favorites of all. They aren't only delicious, but healthy for you too. Be sure to make a batch as soon as the fall air starts to move in, or anytime you want something tasty and guilt-free that tastes like an indulgence!
Serves: 16 brownies
Ingredients:
1/4 cup unsweetened cocoa powder (I like Dutch processed for a richer flavor such as Hershey's Dark)
1/2 cup Oat Flour (you can grind ¾ cup oats in your coffee grinder or food processor if you don't have oat flour to make it)
1/4 tsp baking powder
1/4 tsp plus 1/16 tsp salt
½ cup maple syrup or coconut nectar
5 full drops of NuNaturals liquid stevia (or your choice brand)
1/2 cup canned pumpkin
3 tbsp. organic coconut oil
2 tbsp almond milk
1 1/2 tsp pure vanilla extract
1/2 cup dairy-free chocolate chips like Enjoy Life brand
Directions:
Combine dry ingredients, and mix very well. Next, combine wet ingredients, then stir gently into the dry ingredients. Pour the mixture into an 8x8 inch greased glass pan. I like to grease mine with coconut oil. Bake for 21-23 minutes on 330 degrees. Let them cool one hour on the counter or in the fridge after baking. The longer they sit, the sweeter they taste. Enjoy and share these with your family and friends!
Sources: chocolatecoveredkatie.com
---
6

Pumpkin Protein Pancakes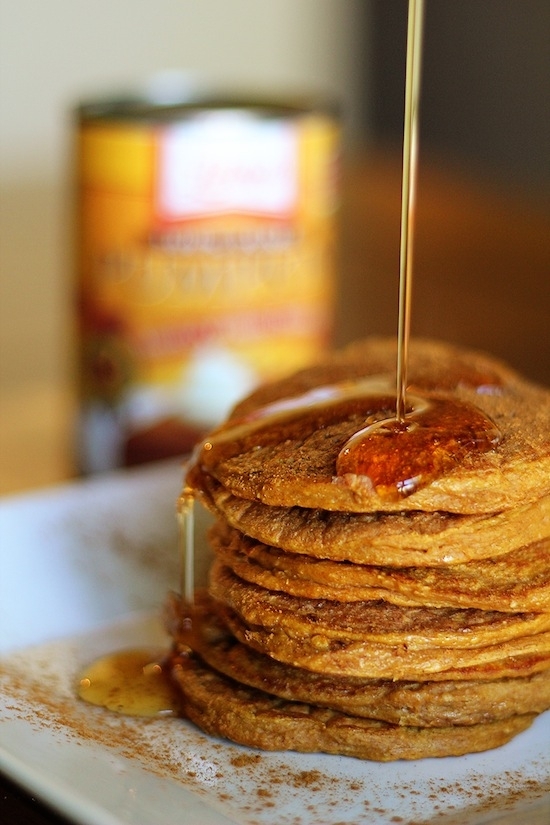 Don't you just love protein pancakes? I do! They are some of my favorite healthy recipes to make. If you're not sure how to make protein pancakes, don't be intimidated! Once you learn, you'll wonder where these healthy pancakes have been all your life. Plus, with the rich, dense taste of creamy pumpkin, there's no reason not to try these today. This is a large batch so feel free to make ahead and freeze for later. Enjoy!
Serves: 12 pancakes (3 servings of 4 pancakes each)
Ingredients:
1 scoop vanilla protein powder (I like Sunwarrior Raw Warrior Blend Vanilla here)
½ cup pure canned pumpkin
½ tsp. cinnamon
½ cup oats
½ tsp. baking powder
2 egg whites (or use 2 tbsp. ground flax and 4 tbsp. warm water if you're vegan)
½ cup plus 2 tbsp. water
2 full drops of liquid stevia or ½ tsp. pure stevia powder (or 5 packets)
Directions:
Place all your ingredients in a blender until smooth to make a silky smooth batter.
Heat a nonstick griddle pan coated with coconut oil or cooking spray over medium heat. Spoon about ¼ cup batter per pancake onto the griddle. If you don't have a griddle, cook them on a skillet on the stove on medium high heat, two pancakes at a time. Turn pancakes when the tops start to bubble and the edges look golden brown and cooked. Cook one more minute on the other side and repeat until all the pancakes are through cooking. Serve warm and enjoy!
Source: dashingdish.com
---
7

Pumpkin Pie Oatmeal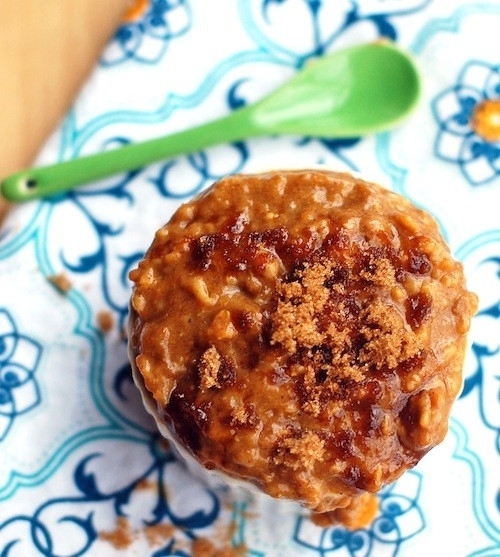 Finally, why not just keep things simple, right? How about some deliciously warm pumpkin oatmeal for a hearty breakfast, or even a light dinner? Pumpkin oatmeal is super simple, incredibly filling and so comforting. It is one of my favorite comfort foods of all and you can even make it in the slow cooker overnight for an easy morning breakfast. Enjoy!
Serves: 1
Ingredients:
½ cup rolled oats (rolled oats are much heartier, but you can use the plain quick cook oats in a pinch)
1 cup filtered water
¼ cup unsweetened almond milk such as Silk unsweetened vanilla- or make your own!
½ cup pure canned pumpkin
2 packets of stevia, or 1 full drop of liquid stevia
1 tsp. vanilla extract
1 tsp. pumpkin pie spice (or use extra if you like more spiciness)
1 tbsp. pecans, walnuts or almonds (optional but recommended)
Directions:
Microwave water and oatmeal for 2 minutes, stir in almond milk to give it a creamy texture. You can also cook this on the stove uncovered for about five minutes. To do so, place the oats and water or almond milk in a small saucepan on your stovetop and stir. Heat on medium high heat until a low boil forms. Turn to low heat and let it simmer for 5 minutes. After the oats and water have cooked, stir in the pumpkin, pumpkin pie spice, vanilla extract, and stevia. Top with nuts of choice if using. Serve while warm.
Source: undressedskeleton.tumblr.com
Now, my only problem is which one of these recipes I'm going to make first. What about you? Which one is your favorite?
More
Comments
Popular
Recent