If you want to do something festive, there are snowman snack recipes that you can follow. You don't have to go outside and brace the cold to make an adorable snowman. You can make one inside of your own kitchen! All you have to do is follow one of these snowman snack recipes:
---
1

Thumbprint Snowman Cookie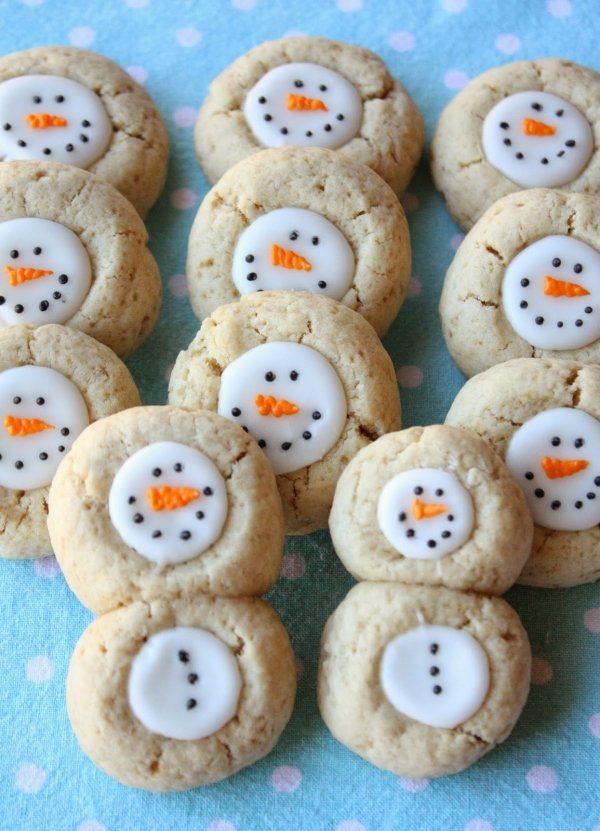 Here's something that's easy to make, but will look like it took you hours to design. It's the cutest of all the snowman snack recipes you could make, so don't skip past it.
Ingredients:
1/2 cup butter, softened
1/4 cup granulated sugar
1/4 cup packed brown sugar
1 teaspoon baking powder
1/2 teaspoon salt
1 egg
1 tablespoon milk
1 teaspoon vanilla
2 cups all-purpose flour
Icing (to fill cookies)
Icing:
1 1/4 cups powdered sugar
2 Tablespoons milk
1/2 teaspoon almond extract or vanilla (optional)
Gel paste food coloring (black, orange) for decoration
Instructions:
Preheat oven to 375F. In a large bowl beat butter with an electric mixer and add granulated sugar, brown sugar, baking powder, and salt. Beat until mixture is combined, then beat in egg, milk, and vanilla, and flour. Shape dough into 3/4-inch balls. Press thumbs into each ball to form an indentation. Bake for 7 to 9 minutes. Let cookies cool. Fill each indentation with icing. Let icing dry for several hours.
Tint some of the royal icing black, and some orange. Apply buttons and eyes with black icing. With the orange, add a carrot nose.
Source: inkatrinaskitchen.com
---
2

Snowman Cupcakes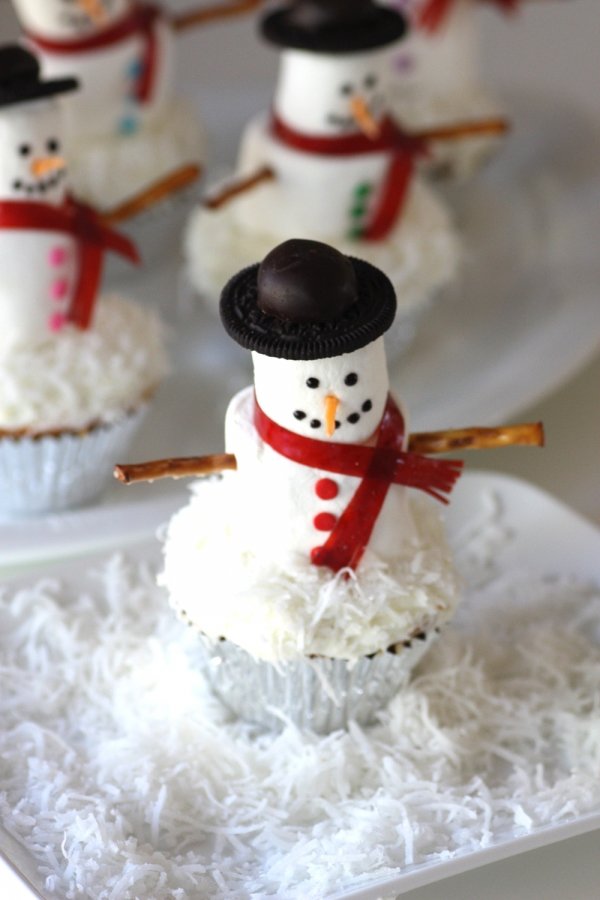 The best way to make snowmen is with marshmallows. That's why this recipe will make your little creatures look as realistic as they would if you were out in the actual snow.
Ingredients:
1 box white cake mix
Water, vegetable oil and egg whites called for on cake mix box
1 container fluffy white frosting
White decorator sugar crystals
1 bag (16 oz) large marshmallows
Pretzel sticks
Chewy fruit snack rolls, any red or orange flavor
Assorted candies (such as gumdrops, gummy ring candies, peppermint candies, chocolate chips, pastel mint chips, string licorice)
Instructions:
Heat oven to 350F. Make, bake, and cool cake mix as directed on box for 24 cupcakes. Set aside 1/4 cup frosting. Frost cupcakes with remaining frosting. Sprinkle frosting with sugar crystals. Stack 2 or 3 marshmallows on each cupcake, using 1/2 teaspoon frosting between marshmallows to attach. For arms, break pretzel sticks into pieces. Press 2 pieces into marshmallow on each cupcake. Cut 1-inch mitten shapes from fruit snack. Attach mittens to pretzels. For hat, stack candies, using frosting to attach. For earmuff, use piece of string licorice and candies, using frosting to attach. For faces and buttons, attach desired candies with small amount of frosting.
Source: bettycrocker.com
---
3

Winter Wonderland Snowman Brownie Recipe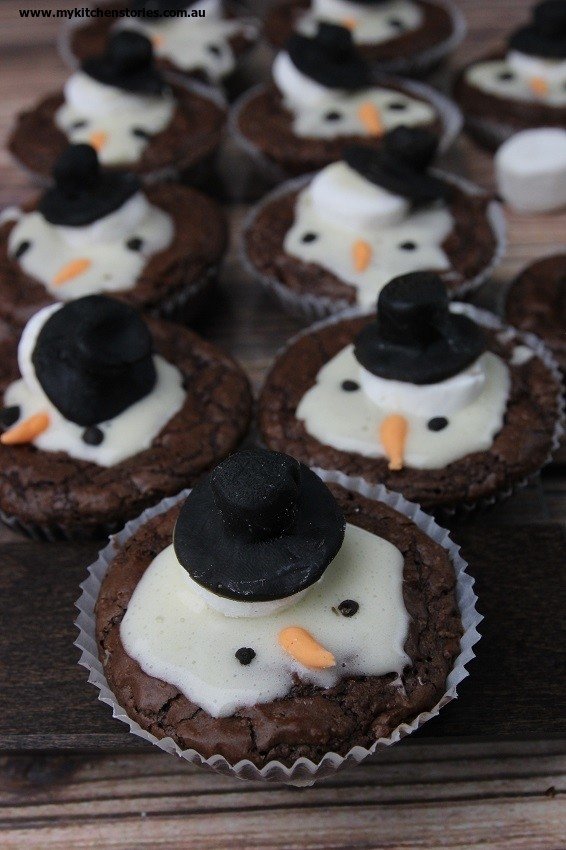 Your snowmen don't always have to be white. They can be made of delicious chocolate, like with these gooey brownies.
Ingredients:
3/4 cup HERSHEY'S Cocoa or HERSHEY'S SPECIAL DARK Cocoa
1/2 teaspoon baking soda
2/3 cup butter or margarine, melted and divided
1/2 cup boiling water
2 cups sugar
2 eggs
1 teaspoon vanilla extract
1-1/2 cups all-purpose flour
1-2/3 cups (10-oz. pkg.) REESE'S Peanut Butter Chips
Powdered sugar (optional)
Instructions:
Heat oven to 350F. Stir together cocoa and baking soda in large bowl and stir in 1/3 cup melted butter. Add boiling water and stir until mixture thickens. Stir in sugar, eggs, vanilla, and remaining 1/3 cup butter. Add flour. Stir in peanut butter chips. Pour into prepared pan. Bake 35 to 40. Cool completely in pan. Cover and refrigerate. Remove from pan. Cut into shapes with cookie cutters, or cut into squares. Just before serving, sprinkle with powdered sugar, if desired.
Source: hersheys.com
---
4

Oreo Snowman Cookie Balls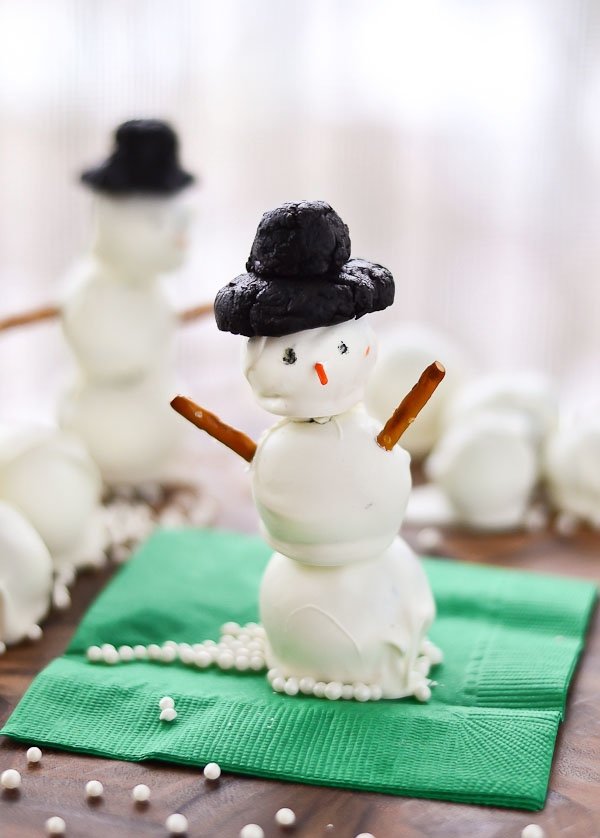 You won't be able to tell these snacks are made from Oreos until you bite into them. Of course, the way they taste isn't deceptive. They're as good as they look.
Ingredients:
1 pkg. (8 oz.) brick cream cheese, softened
36 OREO Cookies, finely crushed
3 pkg. (4 oz. each) white baking chocolate, melted
1 tsp. black decorating gel
2 tsp. orange decorating icing
Instructions:
Mix cream cheese and cookie crumbs until blended. Shape into 1-inch balls. Freeze for 10 minutes. Dip balls in melted chocolate. Decorate with remaining ingredients to resemble snowmen. Refrigerate for 1 hour or until firm.
Source: snackworks.com
---
5

Snowman Cups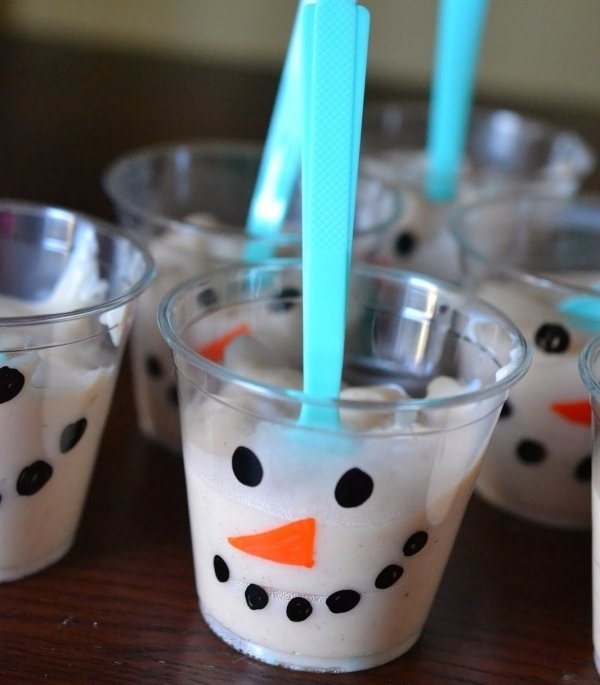 In the mood for some pudding? Well, as luck would have it, you can make tiny snowmen to sit on top of your pudding cups. What's cuter than that?
Ingredients:
2 pkg. (3.9 oz. each) JELL-O Chocolate Instant Pudding
1 qt. (4 cups) cold milk
20 OREO Cookies, crushed (about 2 cups), divided
2 cups thawed COOL WHIP Whipped Topping
Assorted decorating gels
Instructions:
Beat pudding mixes and milk with whisk for 2 minutes. Let stand 5 minutes. Stir in 1 cup cookie crumbs. Spoon remaining cookie crumbs into 10 paper or plastic cups and cover with pudding mixture. Drop spoonfuls of Cool Whip onto desserts to resemble snowmen. Decorate with gels for the eyes, noses and scarves.
Source: kraftrecipes.com
---
6

Pretzel Stick Snowman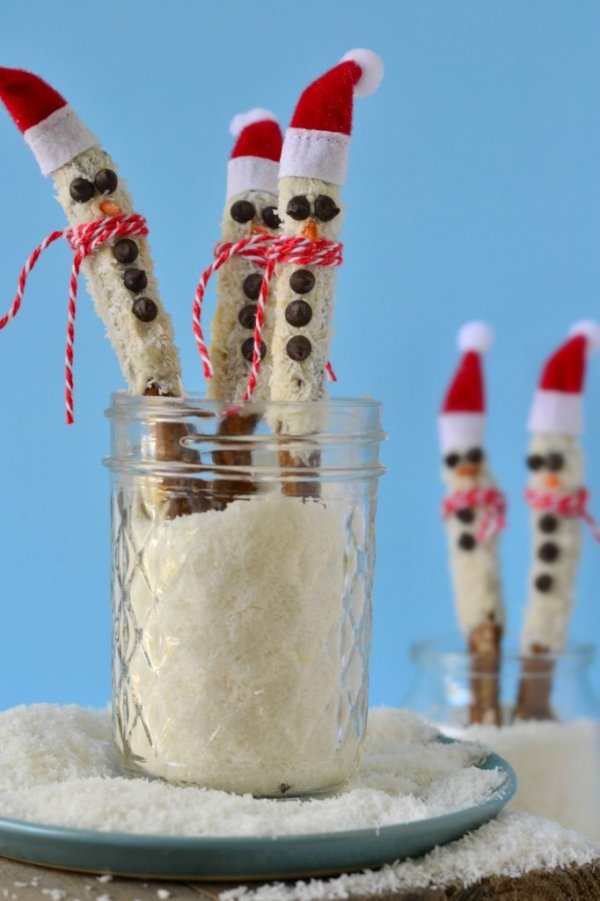 You've never bitten into anything like this before. Coconut and pretzels go surprisingly well together, but you should taste it to find out for yourself.
Ingredients:
Pretzel sticks
1/2 c. nondairy white chocolate chips
1 Tbsp. coconut oil
1/2 c. shredded coconut, unsweetened
1/4 c. nondairy chocolate chips
shredded carrot, cut into triangles
Mini Santa Hats for Crafts
Instructions:
Melt the white chocolate. Dip 3/4 for the pretzel stick into the white chocolate until well-coated. Cover with shredded coconut. Set on a piece of wax paper. Using a toothpick, dip into the melted white chocolate and "glue" the mini chocolate chips for the eyes and buttons, as well as shredded carrot triangle. Add Santa hats.
Source: forkandbeans.com
7

Cheesy Snowman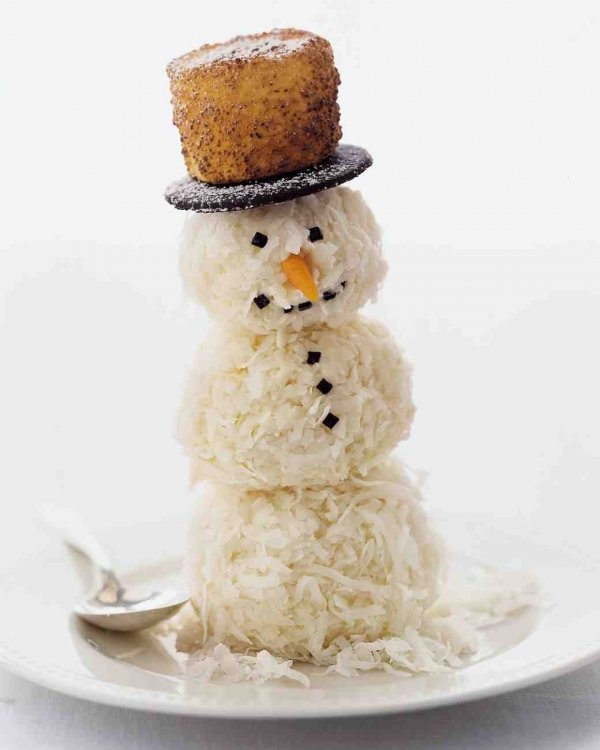 Your snowmen don't always have to be made out of chocolate or even vanilla. There are snacks that are equally as delicious that are made out of cheese!
Ingredients:
1 pound cream cheese, softened
1 1/2 cups Monterey Jack cheese, grated
1 garlic clove, finely chopped
Salt and freshly ground pepper
Celery, clove, pumpernickel slice, black olives, and carrot
Instructions:
Combine cream cheese, 1/2 cup Monterey Jack, garlic, and salt and pepper. Freeze for 30 minutes. Shape mixture into 3 balls. Roll balls in remaining Monterey Jack. Freeze for 1 hour. Just before serving, stack balls and secure with toothpicks. Use vegetable peeler to shave celery scarf and pin with clove. Cut bread into 1- and 1 1/2-inch rounds. Glue hat together with cream cheese, then secure with toothpick. Punch dots from olives with plain round pastry tips, and cut end off carrot; press in place. Serve with crackers.
Source: marthastewart.com
You might as well enjoy the season by creating cute snacks. Have you ever made a snowman craft or snack before?
---
Comments
Popular
Related
Recent