If your garden is anything like mine, it is literally bursting with summer produce right now, which means I am on the hunt for green bean recipes to use up the bounty. They are plump and beautiful hanging there on the vine, but it gets old eating them steamed or sautéed all the time. You might have a cache of zucchini and tomato recipes, but green bean recipes are something you should definitely add to your repertoire. Your friends and family will thank you.
---
1

Green Beans with Roasted Nuts and Cranberries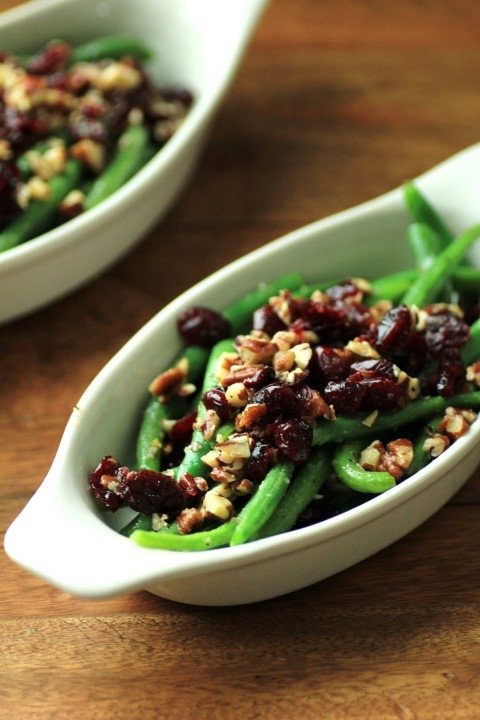 This is one of my favorite green bean recipes because it combines the delicious taste of the green beans with the nutty crunchiness of the other ingredients. It's a great one to share at family gatherings and will quickly become one of those recipes everyone asks you to make all the time.
Ingredients:
Salt and pepper
1 ½ pounds trimmed green beans
2 tablespoons olive oil
½ cup roughly chopped unsalted mixed nuts, roasted
¼ cup dried cranberries
Directions:
Add 1 tablespoon of salt to a pot of boiling water and add the green beans. Cook for 4 to 6 minutes, or until tender. In a large bowl, combine the oil, nuts and cranberries. Drain the green beans and add them to the nut mixture. Season with salt and pepper and stir to combine.
2

Chinese Buffet Green Beans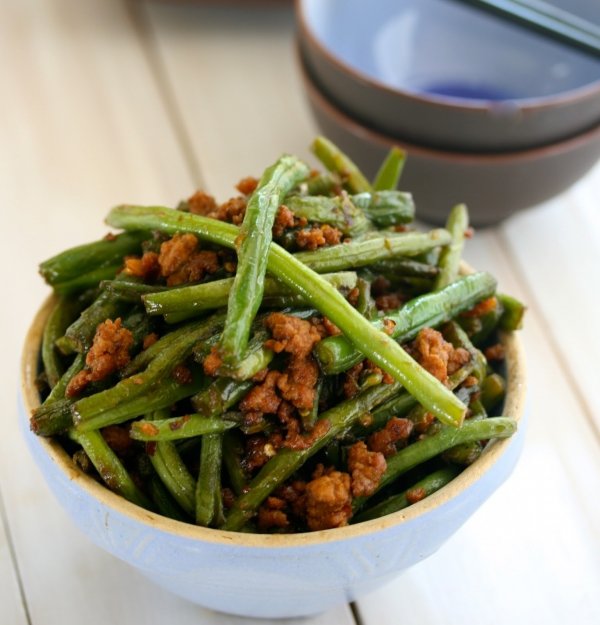 Sometimes vegetables just taste better in a restaurant. That's often because of the amount of unhealthy ingredients used. By cooking this recipe you can recreate a favorite with some control over what goes into it.
Ingredients:
1 tablespoon sesame oil
2 thinly sliced garlic cloves
1 pound fresh trimmed green beans
1 tablespoon sugar
2 tablespoons oyster sauce
2 teaspoons soy sauce
Directions:
Heat the oil over medium-high heat in a skillet. Cook the garlic for about 20 seconds. Add the green beans and cook about 5 minutes. Add the sugar, oyster sauce and soy sauce and stir to combine. Cook until the green beans are tender.
---
3

Jamie Oliver's Best Ever Green Beans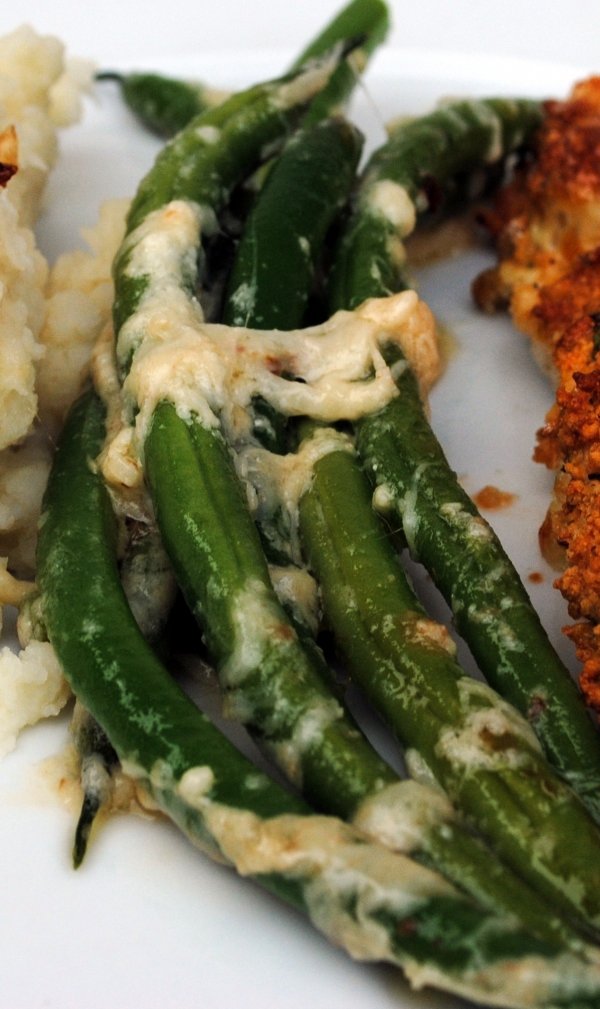 Well, if it's good enough for Jamie Oliver, it's good enough for me! I like his style of cooking because it focuses on healthy, fresh foods that taste wonderful. You're going to love this side dish!
Ingredients:
1 ¼ pounds green beans
Pinch salt
3 sliced garlic cloves
1 ½ cups finely grated Parmesan cheese
Olive oil
½ a lemon
Directions:
Trim the beans. Boil the green beans with a pinch of salt for about 6 minutes, drain and reserve some of the cooking water. Set aside. Reheat the pan and add the garlic and olive oil. Cook until the garlic browns then add the green beans. Add a bit of reserved cooking water, the cheese and the juice from the lemon. Stir and cook until the cheese gets gooey.
---
4

Balsamic Green Beans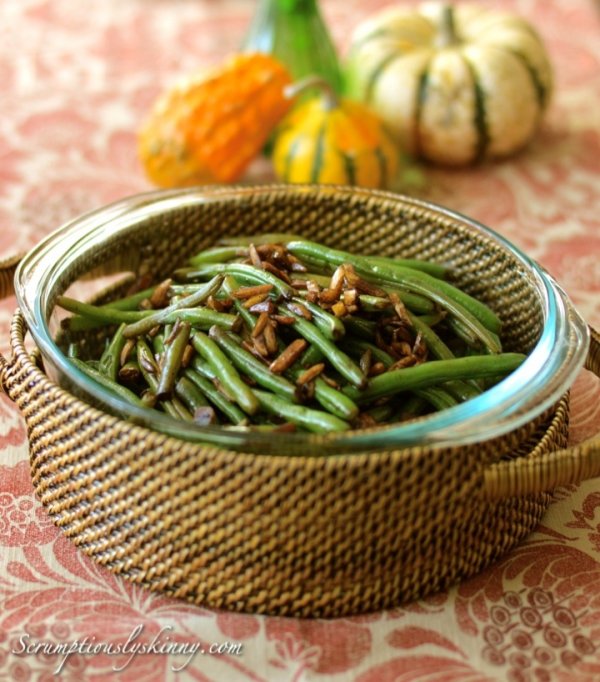 There's nothing like balsamic vinegar to add flavor and dimension to your cooking. It makes a great addition to this green bean recipe.
Ingredients:
2 pounds trimmed green beans
6 large shallots
Oil
½ cup balsamic vinegar
1 tablespoon brown sugar
3 tablespoons butter
Salt and pepper, to taste
½ cup roasted almonds, lightly salted and coarsely chopped
½ cup cooked, crumbled bacon
Directions:
Cook the beans until tender, then drain. Slice the shallots and separate into rings. Heat one inch of oil in a skillet over medium-high heat. Fry shallots until crisp. Drain. Reduce the vinegar and sugar by cooking together over medium-high heat for about 6 minutes, stirring often. Add the butter and stir. Add the green beans and saute for about 5 minutes. Season with salt and pepper and serve topped with the shallots, almonds and bacon.
---
5

Herb Buttered Green Beans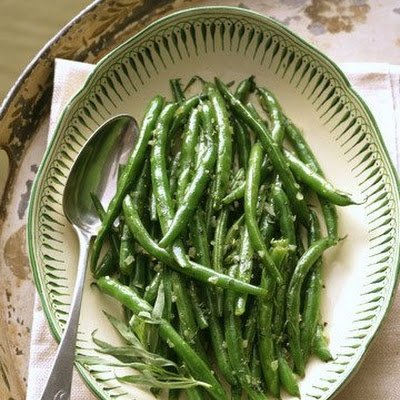 I absolutely love this recipe! It's such an easy and great way to serve a common vegetable with loads of flavor that you'll look forward to eating again and again.
Ingredients:
1 ½ pounds fresh trimmed green beans
1/3 cup onion, finely chopped
1/3 cup celery, finely chopped
3 tablespoons sesame seeds
4 minced garlic cloves
2 tablespoons dried parsley
¾ teaspoon salt
¾ teaspoon dried basil
¾ teaspoon dried oregano
¼ teaspoon crushed dried rosemary
1/3 cup butter
Directions:
Steam the green beans for 7 to 9 minutes, or until crisp-tender. Saute the onion, celery, sesame seeds, garlic and all of the herbs in the butter in a large skillet until onion and celery are tender. Add the green beans and stir to combine.
---
6

Southern Green Beans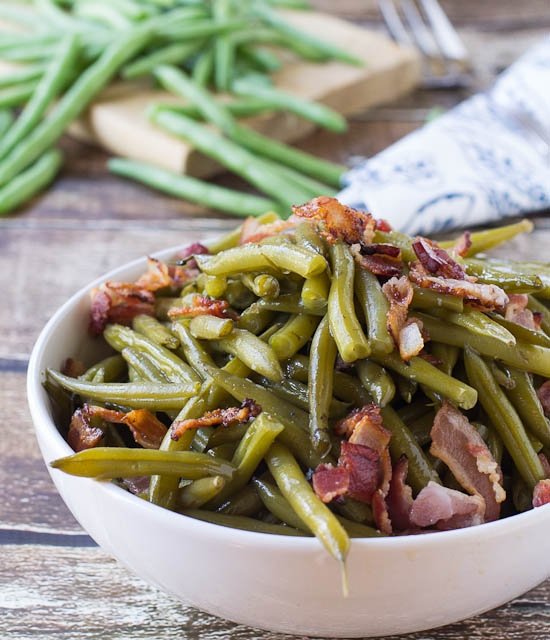 Southern food is comfort food and this recipe is no exception. After a bowl of the deliciousness that is these green beans, you'll never want to make them any other way.
Ingredients:
4 chopped bacon slices
1 chopped shallot
1 chopped medium onion
2 minced garlic cloves
¼ teaspoon cayenne pepper
1 ½ pounds fresh trimmed green beans, cut into pieces
2 to 4 cups chicken stock
Salt and pepper
Directions:
Cook bacon until crispy, then remove and drain, reserving the drippings. Keeping the bacon drippings hot, add the onion and cook for about 5 minutes. Stir in the garlic, shallot and cayenne and cook for an additional minute. Add the green beans and bacon stir. Cover the mixture with chicken stock and season with salt and pepper. Bring to a boil, reduce the heat and simmer for 25 to 45 minutes, or until the green beans are crisp-tender. Season to taste with salt and pepper and serve.
---
7

Sweet and Spicy Green Beans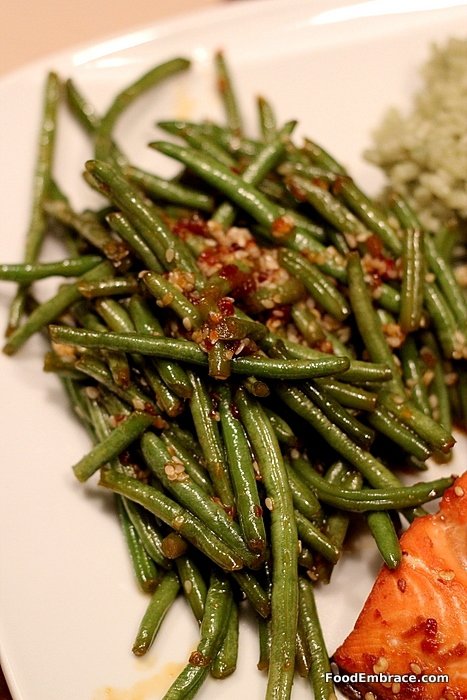 The combination of sweet and spicy makes these green beans something you'll never forget. They are the ideal addition to any meal.
Ingredients:
¾ pound trimmed fresh green beans
2 tablespoons soy sauce
1 minced garlic clove
1 teaspoon garlic chili sauce
1 teaspoon honey
2 teaspoons oil
Directions:
Steam the green beans for about 4 minutes. Combine the soy sauce, garlic, chili sauce and honey in a bowl. Heat the oil to medium heat in a skillet and add the green beans. Cook for about 5 minutes, then add the soy sauce mixture. Cook for 2 more minutes and serve immediately.
Do you grow green beans in your garden? Which of these recipes will you make next?
---
Comments
Popular
Related
Recent