I find it as somewhat of a hobby to find new health food products on the market, especially as a health food and nutrition blogger. Yet, I'm also pretty picky about what health food products I buy, recommend and promote. Just any old new product won't do. I like to look for health food products that are high in nutrition and have a clean ingredient profile. No funny stuff, or ingredients I can't pronounce are allowed to be included on the nutrition label. While I'm not a purist completely, I do try to buy the best things possible, which is what makes these new health food products so intriguing. Each are different in their own way and offer different benefits for each of us. Check them out and let me know if you have a new health food product to tell me about!
---
1

So Delicious Cashew Milk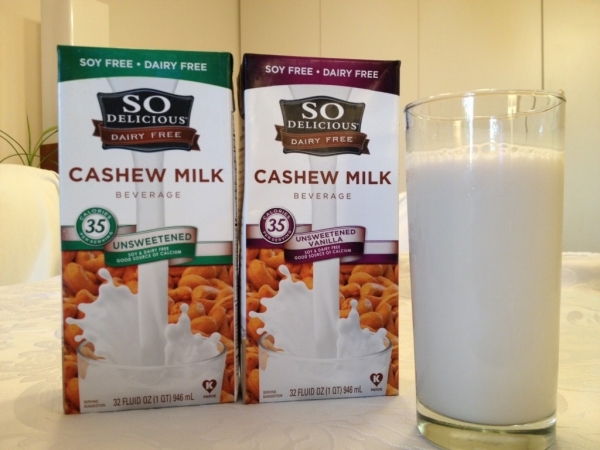 I was fortunate enough to be able to try one of the best new health food products on the market recently, which is the new So Delicious unsweetened cashew milk. I must say, it is so creamy and tasty! It is the latest non-dairy, organic, gluten-free, sugar-free, soy-free, 100% vegan, and GMO-free non-dairy milk on the market. It comes in two varieties, which are plain and vanilla, and both are extremely tasty. It is also the first So Delicious nondairy milk not to contain the controversial ingredient carrageenan, which is a huge plus. I highly suggest picking some up and trying it in your morning coffee or smoothie. You can find this shelf stable milk wherever So Delicious products are sold.
2

Green plus Smart and Fit Superfood Vanilla Chai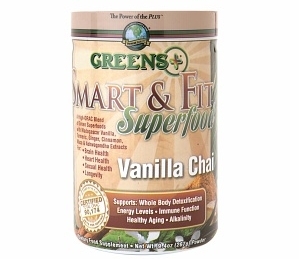 I have to admit, I'm kind of addicted to trying new superfood powders and green powders, specifically ones that are raw, non-GMO, with no added sugar and are allergen-free. I've hands down found a new favorite, which is by the company Greens Plus. It is the latest green powder by the company, which is called Smart and Fit Vanilla Chai, and wow, is it good! Greens Plus Smart and Fit Superfood Vanilla Chai is rich in all the typical green superfoods, but includes specific detoxifying herbs, delicious chai flavored organic spices, and anti-inflammatory adaptogens such as maca, turmeric, ashwaganda and ginger to heal the body, provide energy, relieve stress, alkalize the body and enhance the libido. I just like it because it tastes great, does what it says it will do, and it makes one incredible smoothie! You can find it online through various retailers or at Whole Foods,and learn more at greensplus..com.
---
3

Garden of Life Raw Meal Marley Coffee and Yerba Mate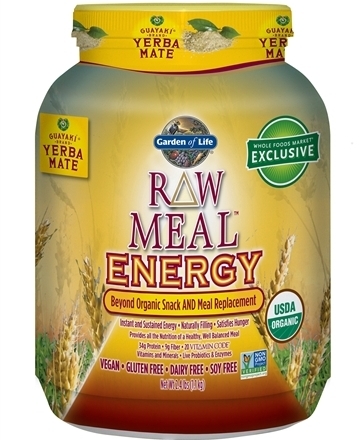 Oh, wow! I'm so excited about this new health product by Garden of Life. This is one of the best companies, in my opinion. Garden of Life is the best company for health, healing and nutrition. You'll find nothing funny on their ingredient lists and many of their products are completely raw and derived only from whole foods. I've turned to them for eight years now and used a variety of their products. I recently read on their website that they have a new Raw Meal out, exclusively sold at Whole Foods stores nationwide. The new flavors are Raw Meal Marley Coffee and Raw Meal Yerba Mate, which are also available in their new Raw Protein formulas. The new Raw Meal varieties are completely raw, organic and have no added sugar at all. It also has no fillers, binders, gluten, dairy, soy, GMO's, aritificial flavors, colors or preservatives and it is 100% vegan. I love using the other flavors of Raw Meal in my morning smoothie, which is a complete multivitamin and meal replacement in one. It is the only one I've ever used to keep me full, satisfied and energized throughout the day that is also easily digested. These new Raw Meal formulas are known as the new Raw Meal Energy formulas, which are a first in the line by the company. If you can get your hands on these new products, definitely do so! This company is hands down one of the best of the bunch in the health food market. You can find these exclusively at Whole Foods and learn more at gardenoflife.com.
---
4

Chia Vie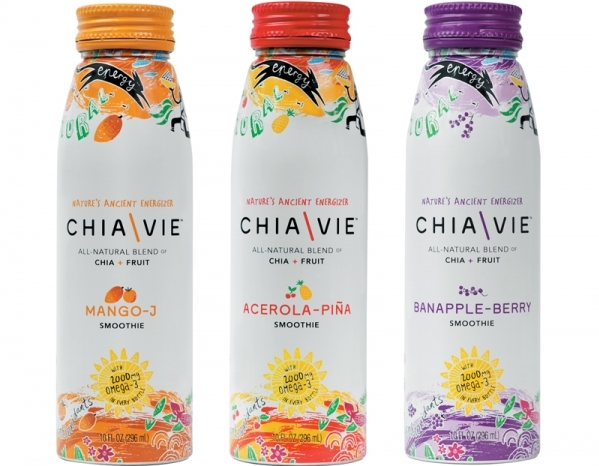 Who doesn't love chia, right? Gosh, is there anything chia seeds can't do? They're like little energy bombs and full of antioxidants! Chia Vie is a new drink out that brings the bliss of chia seeds and a smoothie to combine them in one incredibly energizing and tasty beverage with no added sugar at all. These drinks are vegan, soy free and gluten-free. They are high in sugar, but the sugars come naturally from whole fruits or fruit juice only. If you're sensitive to sugars, I wouldn't recommend them, but if you need an incredibly powerful pre-workout juice on the go, they might be worth giving a shot. Either way, chia seeds are one superfood not to be reckoned with! You can learn more at: drinkchiavie.com.
---
5

Tumeric Alive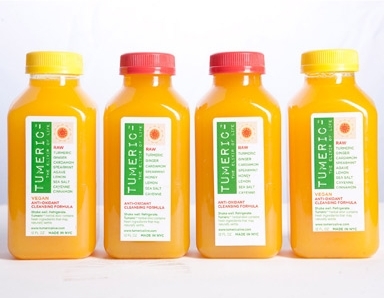 This beverage is being called "Yoga in a glass" and with good reason. Turmeric alive is one pretty impressive drink. It features only raw ingredients and has no fillers, additives, preservatives or flavors whatsoever. Turmeric is a powerful anti-inflammatory root that you can buy as a spice, much like ginger. Turmeric is well known for detoxifying the liver, clearing the skin, purifying blood, relieving pain, and even improving memory. It is often used in Chinese medicine and is highly regarded now in North America as a common "superfood". The yellow root spice is now being used in this beverage known as Turmeric Alive, which features turmeric and other amazing spices and herbs, along with natural sweetness from either coconut nectar, raw honey or agave. These drinks do contain added sugars, but since they are raw, they will be better than your average energy drink. You can buy these at Whole Foods.or online at turmericalive.com.
6

Mamma Chia Squeeze Packs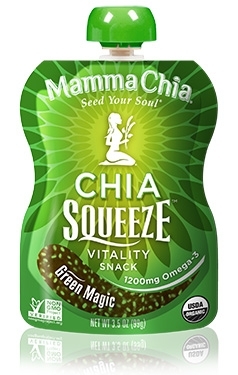 A dear friend and co-worker introduced me to the wonders of the Mamma Chia beverage months ago, and now the company has a new line of squeeze packs, which are super kid-friendly and adult-friendly too. These would be great to throw in your purse for a quick snack, or pack in your kids book bags or lunch boxes. They are full of nutrition with raw chia seeds, powerful superfoods like spirulina, banana, kale and chlorella, strawberries, purple carrot juice, apples, blackberries and more. The four flavors are Green Magic, Blackberry Bliss, Apple Cinnamon and Strawberry Banana. They contain 1200 mg of Omega 3's per serving, are vegan, non-GMO, gluten-free, and only 70 calories per pack. Give these a try, and I know you'll love them as much as I do. They can be found at Whole Foods or wherever Mamma Chia products are sold. You can also buy them online at the Mamma Chia website.
---
7

Kolat's Nut Butters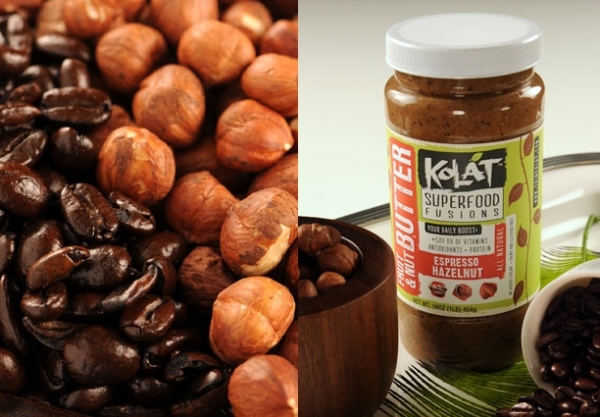 Many of you have probably heard of Nutzo by now, but there's a new superfood nut butter in town! Meet Kolat Superfood nut butters! These are filled with insanely nutritious foods and raw superfoods to boot. Think intense flavor choices such as Hazelnut Espresso, Dark Chocolate Coconut, Cherry Vanilla Almond, and Blueberry Cinnamon Walnut. They are organic, non-GMO, and are only sweetened using a little bit of raw dates. There's no palm oil used, and instead, only a tiny bit of coconut oil. The only ingredients used are almonds, blueberries, cacao, dates, espresso, hazlenuts, cherries, raw vanilla beans, raw sea salt, walnuts, cinnamon, coconut oil and/or coconut, depending on the flavor you choose. These nut butters look incredible and I highly suggest you give them a try. These products are only available at select Whole Foods in the country right now, but you can buy them online at thinkolat.com.
I'm all about finding new health food products that are non-GMO, organic and as healthy as possible. Depending on your personal choices, some of these may be better than others, but either way, you're sure to see more of them in the coming year. Is there a new health food product you've spotted that you'd like to share? Feel free to attach links!
Sources: sodeliciousdairyfree.com, greensplus.com, gardenoflife.com, drinkchiavie.com, tumericalive.com, mammachia.com, thinkolat.com, thinkolat.com
---
Comments
Popular
Related
Recent