I am a huge fan of eating raw foods, and there are many great raw recipes I have used over the years to enhance my energy, mental clarity and my skin. Raw foods are nature's finest gifts to us girls! They keep us alkaline, nourish us more effectively and efficiently than any other food, and they are one of the quickest foods to eat. You don't need a stove, or even one of those fancy dehydrators or mandolins so many raw chefs use. In fact, I don't use any of those spiffy tools. Check out my favorite raw recipes for energy, a great mood, and great skin, hair and nails. After all, if you're going to eat, why not eat for beauty and energy at the same time?
---
1

Happy Hemp Bars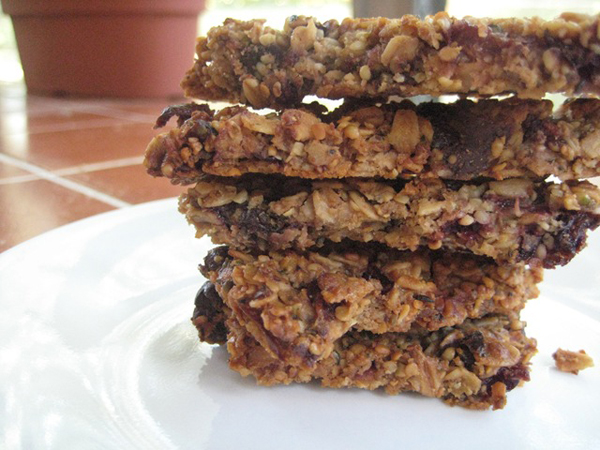 Hemp seeds are a must have ingredient in many of my raw recipes. In fact, I keep hemp seeds and hemp protein in stock at all times. Hemp seeds are one of the best raw foods to eat for energy for a few reasons. They are rich in protein to keep you energized and keep your blood sugar stable, they promote lean muscle mass, contain no sugar, and they have healthy Omega 3 fats to keep your cells healthy, which is crucial for energy stores. Make these raw bars and keep one with you in your purse when you need a snack or just a little pick me up!
Makes 12 bars
Ingredients:
1 cup raw hemp seeds, like Nutiva brand
2 tbsp. raw maca powder (optional)
8 dates, pitted and soaked in water 1 hour
½ cup unsweetened shredded coconut, or pumpkin seeds, sunflower seeds or sesame seeds
1 cup raw almond butter
Optional add ins: cacao nibs, cinnamon, ginger
Directions:
Add the soaked dates to the food processor plus 2 tbsp. of the soaking water ,and then add the remaining ingredients. Process until a thick dough forms.
Scoop the thick dough into an 8x8 inch glass pan and press down firmly.
Freeze for 30 minutes or refrigerate 1 hour and cut into 8 bars by cutting the pan in half both horizontally and vertically, and then slicing into 4 bars per each half.
Storage Tips:
You can wrap each bar in a Ziploc baggie or in saran wrap. Place in the fridge or freezer for storage. Put all of the bars in a sealed container like a large Ziploc freezer bag if storing in the freezer to prevent freezer burn. If you keep these in the fridge, consume within 2 weeks and within a month in the freezer.
They sweeten up when chilled and taste great!
---
2

Date Rolls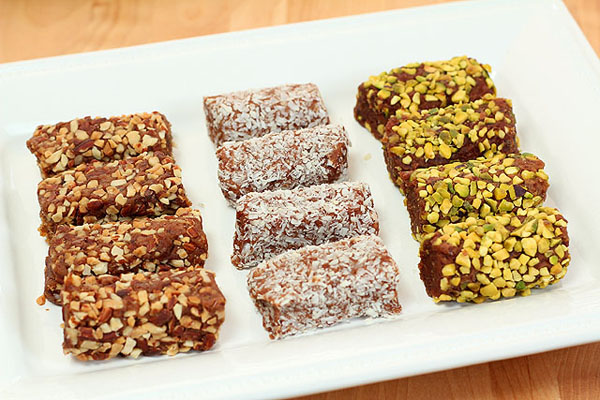 Dates are a great source of energy. They are full of potassium and one date contains 3 times as much as one banana, plus 2 grams of fiber, magnesium, manganese and Vitamin C. All of these nutrients are great for your energy stores, especially if you're active or an athlete. One of my favorite easy recipes are date rolls. Make these and eat them before a workout. Just 1 or 2 will give you sustained energy for hours without weighing you down. You can also buy these at the store pre-made in the produce section, but it is much cheaper to make your own.
Makes 12 rolls
Ingredients:
12 pitted dates
1 cup of one of the following- unsweetened shredded coconut, soaked cashews, soaked almonds, chia seeds or ground flaxseeds
Directions:
Process all of the ingredients in your food processor until a thick dough forms.
Roll into 12 little logs
Storage Tips:
Store these in an airtight container on the counter for a week or in the fridge for 2 weeks.
---
3

Green Smoothies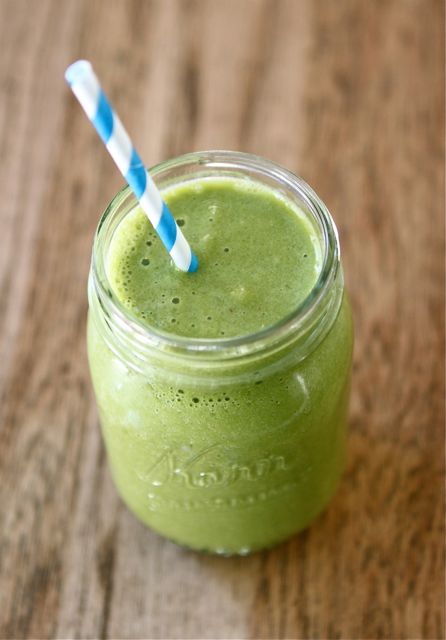 Who doesn't love a smoothie, right? Green smoothies are a great source of energy, and they are so easy to make! You can use whatever ingredients you have on hand. Greens are one of the best sources for energy because they are full of iron, potassium, Vitamin A, Vitamin E, plant protein, magnesium, B vitamins and fiber. They are also rich in chlorophyll. Chlorophyll is the pigment that causes plants to be green, and it alkalizes the body better than any other food. Alkalinity is key to preventing inflammation, which can rob your energy levels. Add a little fruit or honey, some almond milk or water, plus a little ice and you've got a great source of energy straight from nature that tastes like a frosty treat.
Ingredients:
2 cup spinach or romaine for sweeter options, or kale if you're accustomed to a more stout green smoothie
1 cup frozen fruit (or 1 tbsp. honey, ½ tsp. stevia plus 1 cup ice)
1 cup unsweetened almond or coconut milk
Optional: protein powder, green superfoods powder, chia seeds, coconut oil, etc.
Directions:
Blend all of the following and enjoy any time of day for a dose of pure energy that will last for hours!
Drink immediately or store in a mason jar or blender bottle for longer storage (up to one day in the fridge).
---
4

Veggie Power Girl Juice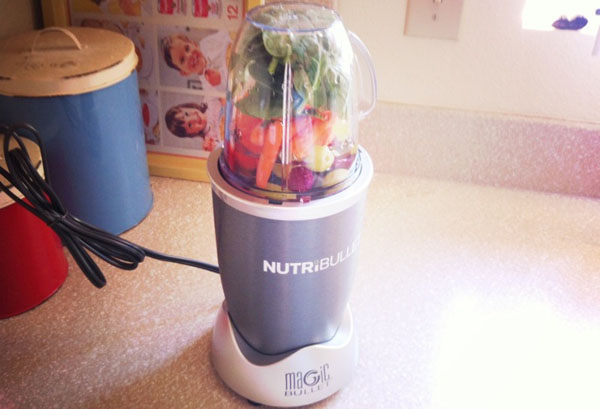 I don't juice enough, and I wish I could afford to because juicing is a great way to enhance your energy. Many people believe juicing is only for fasting, but in all actuality, it is a great health practice for any lifestyle, especially an active one. Juicing takes the fiber out of veggies, which we all know is great for us, but without the fiber, our bodies only receive immediate nutrients from the food. This means, we don't have to break down all those tough fibers that are healthy for digestion, but not so much for immediate energy. When we receive those nutrients immediately, we get a rush of natural energy that can fill you up, hold you over, and enhance your beauty. This is my favorite combination for a serious surge of energy. It is naturally sweet too, which is great when you're craving junk food.
Ingredients:
1 large carrot
1 inch knob of ginger
1 head of romaine lettuce
1 cucumber
1 lemon
Directions:
Run all the ingredients through a juicer and consume before or right after exercise, or when you need a little extra energy.
*If you don't have a juicer, you can blend all of this with ½ cup water and strain the pulp away from the juice in a nut milk bag, cheesecloth, a sieve, or a fine meshed colander.
---
5

Nut Butter Logs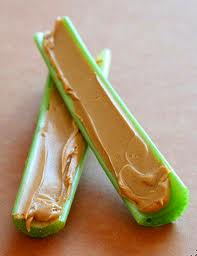 Raw almond butter is one of my favorite foods for energy, but if I eat it off the spoon, I usually eat way too much, so I make nut butter logs instead. Roasted nut butters are really heavy and hard to digest. They are also devoid of many nutrients that raw nut butters are rich in. Almonds are full of magnesium, fiber, Vitamin E, protein and healthy fats to keep you energized, plus almonds are one of the easiest nuts/seeds to digest. I spread my almond butter on celery stalks for a naturally salty, sweet crunch that is also full of water and fiber to hydrate my cells and prevent dehydration. Celery is also rich in Vitamin K to keep your bones healthy and celery decreases your blood pressure to beat stress! It also flushes out excess water weight that can steal your energy levels.
Makes 6 nut butter logs
Ingredients:
6 large celery stalks
12 tbsp. raw almond butter
Directions:
Spread 2 tbsp. raw almond butter on one washed celery stalk and eat for a snack or a pick me up later in the day. These make great treats for kids too!
---
6

Raw Ice Cream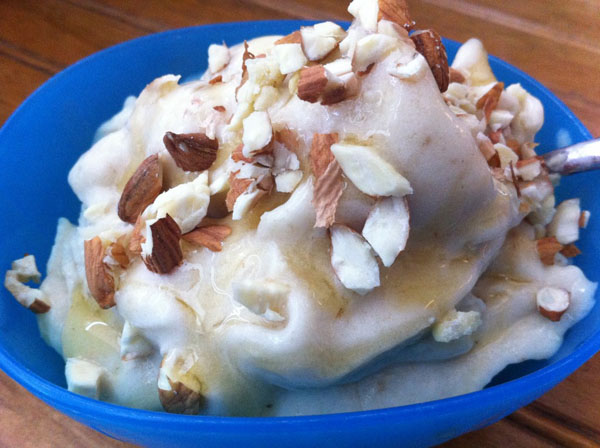 Since summer is almost here, one of my favorite treats to eat for energy is raw ice cream! This is incredibly easy to make and one of the most popular raw recipes out there today. Enjoy anytime you wish without guilt for a healthy treat and great dose of energy. Bananas are rich in potassium, B vitamins and magnesium, all crucial for healthy energy stores. When frozen and blended with a little almond milk and a few add ins, they make the perfect ice cream substitution.
Makes 4 ½ cup servings
Ingredients:
4 bananas, sliced and frozen
½ cup almond milk, unsweetened
1 tsp. vanilla extract
Optional add ins: 1 tbsp raw coconut butter, raw almonds or raw cacao nibs, cinnamon, cocoa powder for a chocolate flavor or frozen berries (½ cup)
Directions:
Blend all of the ingredients in a powerful blender or a food processor until you get a thick cream like ice cream.
Pour into bowls immediately to serve, or store in the freezer in a Rubbermaid container sealed until ready to eat.
If you eat this after freezing, be sure to use an ice cream scoop and let it thaw a few minutes on the counter first.
7

Raw Fudge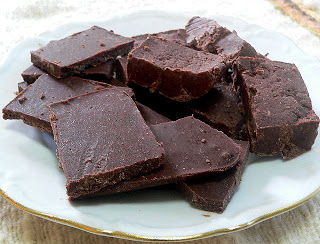 Yes, you can have fudge and still eat raw! I love making raw fudge. It is so easy, full of energizing ingredients, and best of all, it takes 5 minutes. Did I mention this fudge is great for your metabolism? It uses coconut oil, which most of us know is great for weight loss, your skin, hair, nails, energy, thyroid, sex drive, mood and just about anything else you can think of. Don't fear this fat, ladies! It will enhance your beauty and nutrition routine more than you could imagine. Raw cacao is rich in magnesium, iron, natural stimulants that contain no caffeine, zinc, copper, and fiber. All of these nutrients give you energy and sustain you.
Ingredients:
1 cup raw coconut oil
¼ cup raw honey or agave (or you can sub in stevia, about 1 tsp)
¼ raw cacao powder
Directions:
Melt coconut oil either over the stove on low heat, or use my favorite method. I place the coconut oil in a small Pyrex dish or heat stable glass bowl, and put it on the hot plate of my coffee maker. I turn the coffee maker on and it heats the oil slower and more stable so it doesn't burn, all within about 5 minutes.
Add the cacao powder and honey, agave, or stevia to the melted coconut oil.
Stir until fully incorporated and pour the mixture into mini cupcake liners in a mini muffin pan. You can also use an ice cube tray.
Place in the freezer for 30 minutes to harden before removing.
They will stay hard at room temperature unless it is above 75 degrees, at which point the coconut oil will melt.
Now you have raw chocolate you can enjoy anytime, without guilt, for a true source of raw energy!
---
8

Raw Honey Oat Bars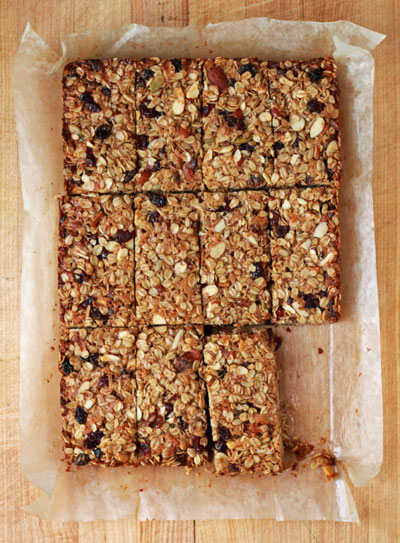 Whole grain oats are a great source of energy and you don't even have to cook them to get all of their energizing benefits. These bars are great for kids, or if you're a fan of granola bars. The ingredients are simple, easy to use and can be bought at any grocery store. These ingredients are full of energy and make great pre-workout snacks or can even be eaten at breakfast.
Makes 6 bars
Ingredients:
1 ½ cups old fashioned oats, preferably gluten-free oats
1/2 cup raw honey (local honey is a great option)
½ cup unsweetened shredded coconut or you can use chopped raw almonds or cashews
½ cup raisins or pitted dates or figs soaked in water for one hour
2 tbsp. raw flax seeds, chia seeds or sesame seeds
Optional: cinnamon, ginger
Directions:
Add the oats and either coconut, almonds or cashews to a bowl. Stir to combine.
Next add the soaked dried fruit (raisins, dates or figs) plus ¼ cup of the soaking water
Stir again.
Place this in a food processor and add the honey, flaxseeds and optional spices.
Process until a thick dough forms.
Scoop out the dough into an 8x8 inch glass pan.
Cut into 12 bars (3 cuts vertically and horizontally).
Separate the bars and wrap them in saran wrap. You can keep them on the counter for a week and in the fridge for 2 weeks.
I find that eating raw is so much easier than cooking as much as I used to. I also find it is much cheaper than buying pre-made snacks. I don't have a problem with cooking and I actually enjoy it. However, raw foods just make me feel good, especially in the summer when it is hot out and the last thing I want to do is be near a stove! What are your favorite raw foods for energy?
---
Comments
Popular
Related
Recent