If you are a huge fan of gluten-free products, then I have some exciting news to share! There are some amazing new gluten-free products hitting the market now through summer that you definitely don't want to miss! Even if you're not allergic to gluten, going gluten-free can clear up allergies, spur weight loss, lift depression, aid in better digestion, and even better, going gluten-free is easy! You don't have to buy these products to eat gluten-free since nature's finest foods, such as produce, are all naturally gluten-free. However, if you live a busy lifestyle and want some healthy-on-the-go options, then check out these new gluten-free products that I love and I'm sure you will too! You can find many of these at your local supermarket or health food store such as Whole Foods, or alternatively, purchase them online.
---
1

Udi's Gluten-Free Tortillas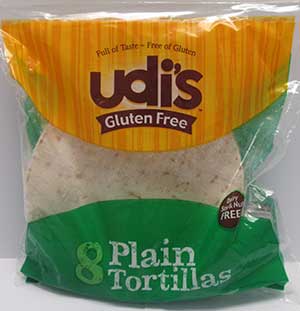 If you're a fan of Udi's gluten-free bread line, you'll be happy to know the famous maker of gluten-free products now has a gluten-free tortilla! The product comes with a certified gluten-free seal and only contains 90 calories per serving and no refined sugar. Now you have a gluten-free option to satisfy all your taco and burrito cravings!
---
2

Coco Libre Vanilla Coconut Protein Shake

A new on-the-go protein shake has hit the market, totally unique to all others. This new line of protein shakes features coconut water, high quality whey protein, and absolutely no added sugar. Many protein shakes contain ingredients that could be disguised as gluten, but this one is certified gluten-free so you can get an on-the-go protein shake with no worries!
3

Crunch Ma-Me Jalepeno Endamame Snack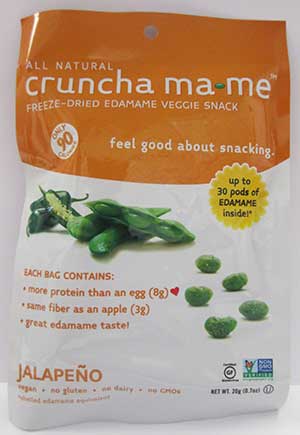 Crunch Ma-Me brand has been making tasty little endamame snacks for several years, and now the line has come out with new flavors, including Jalapeno! For only 90 calories per serving, 8 grams of protein and no preservatives, this is a product you definitely want to keep around when you get the munchies and don't want to turn to sugar or caffeine. Eat some healthy veggie protein instead! These snacks are said to taste like salty chips that are jalapeno flavored, but they are actually pretty low in sodium, making them even better.
---
4

Dr. B's Coconut Water Microbrewed Gluten-Free Tea

If you're a fan of coconut water and iced tea, then this product is for you. With a base of coconut water, this tea is specifically brewed with absolutely no gluten or sugar. It is also made with rooibos tea, a naturally sweet, caffeine-free herbal tea. I have tried this product and it is absolutely amazing! It sure doesn't taste like a 10 calorie beverage either. I highly recommend giving it a try.
---
5

Vigilant Eats Coconut Maple Vanilla Superfood Oat Cereal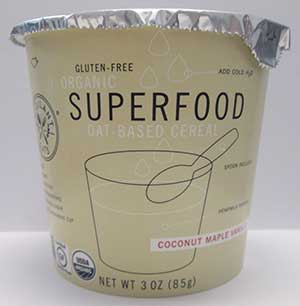 Vigilant Eats has a new line of instant oatmeal containers that are great for an on-the-go breakfast or snack. They are certified gluten-free and come in tasty superfood options, including this Coconut Maple Vanilla version, which seems to intrigue me the most! As a bonus, this hot cereal is also certified GMO-free and vegan. Containing dried coconut, maple syrup, and superfoods such as sweet lucuma and protein-rich hemp seed powder, this superfood cereal only needs to be opened, and given a little hot or cold water to be ready in seconds!
---
6

Go Macro Banana and Almond Butter Macrobar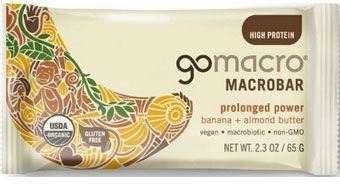 I love a good on-the-go bar, and this new gluten-free macrobar is fantastic! There are five new flavors, all with yummy combinations, but this banana and almond butter would be a great first-try. This macrobar is vegan, gluten-free, contains 10 grams of protein and is certified non-GMO.
---
7

Garden of Life Raw Fit Protein Powder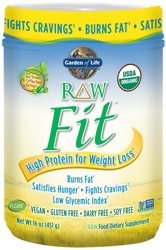 I'm a huge fan of Garden of Life products, and especially their RAW Meal powders, which are all gluten-free. Many people also love their RAW Protein products that came out three years ago. Now the line has created a protein powder free of all sweeteners, real or artificial. Raw FIT protein contains sprouted grains and seeds that are all gluten-free, and even contains metabolism enhancing ingredients such as green coffee bean extract, green tea extract, adaptogens such as Ashwaganda root, and even better, it contains 28 grams of protein per scoop! This product has just hit the market in the last 2 weeks so if you can't find it yet, be patient! You can also visit Garden of Life's website to learn where to buy online.
---
8

So Delicious Unsweetened Vanilla Coconut Milk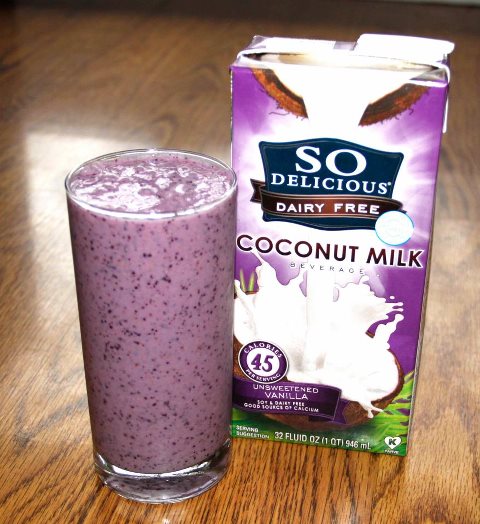 So Delicious is one of my favorite brands for dairy-free products, but an even better bonus is that their products are also all gluten-free! This new coconut milk product just out this year is one of the tastiest I've had yet by the company's coconut milk line. It is creamy, slightly sweet with no sugar, and makes one seriously tasty smoothie! I highly recommend trying it if you're new to coconut milk!
Going gluten-free does not mean you have to eat unhealthy gluten-free foods. There are really healthy options out there outside of the best, of course, which are fresh fruits and veggies. These on-the-go products new to the market this year are a great place to start if you're looking to try healthier gluten-free products. What are some of your favorite gluten-free foods?
Sources: naturalnews.com, webmd.com
---
Comments
Popular
Related
Recent