Every girl needs a few grilled chicken wing recipes in her personal cookbook. Chicken wings are always awesome, no matter what the occasion. They taste even better with that smoky flavor you get when you grill them. Whether you serve them as snacks, appetizers, or meals, grilled chicken wings are always a hot favorite.
Here are 5 delicious grilled chicken wing recipes that are easy to prepare. These recipes are my personal favorite and every time I host a party, I make sure to use at least one of them, because in my opinion, you cannot have a party without wings!
---
1

Irresistible Grilled Chicken Wings
These grilled chicken wings are probably the best you will ever have. They really are irresistible, I kid you not! Prep time is just 10 minutes while cook time is 30 minutes – in just 40 minutes, you have a plateful of lip-smacking grilled chicken wings to serve 30.
Ingredients:
3 lbs chicken wings – separated into drummettes and wingettes and tips discarded
For the marinade:
1/3 cup dark soy sauce – dark soy brings color, sweetness, and flavor to food
1/4 cup light soy sauce – light soy gives food saltiness and loads of flavor
3 tablespoon vinegar
1/2 cup olive oil (you can use vegetable oil too, if you prefer)
2 teaspoon each of dried oregano and granulated onions
1 teaspoon each of granulated garlic, black pepper, dried parsley, and kosher salt
1/4 teaspoon each of dried basil and dried thyme
1/2 teaspoon of cayenne pepper (if you want a stronger kick, you can use a little more, or you can leave it altogether if you do not like spicy food)
Instructions:
- Take a large Ziploc bag and combine all the marinade ingredients. Close it and shake well.
- Add the chicken wings, close the bag and massage the marinade into the chicken wings, making sure that all the wings are properly covered. Next, expel as much air as possible, close the bag and put it into the refrigerator for 2 hours minimum. I prefer leaving it overnight.
- Preheat your outdoor grill to 350 degrees to 400 degrees Fahrenheit.
- Take out the chicken wings from the marinade and use a paper towel to pat dry.
- Brush the grill grate with cooking oil so that the wings do not stick. I soak a paper towel in vegetable oil and give the grate a quick wipe. Remember that you have preheated your grill, so you need to be careful as it will be very hot – wear a heat-resistant glove for safety.
Now it is time to cook the chicken wings. Cook them with the lid closed for 10 to 15 minutes on each side. Let them cook until the wings are nicely browned and the juices run clear. If you are not sure, you can use an instant read thermometer. If the thickest parts of the meat registers at least 165 degrees Fahrenheit, it means that your wings are ready.
Nutritional content:
Calories: 181
Fat: 5.4g
Cholesterol: 23mg
---
2

3 Ingredient Grilled Chicken Wings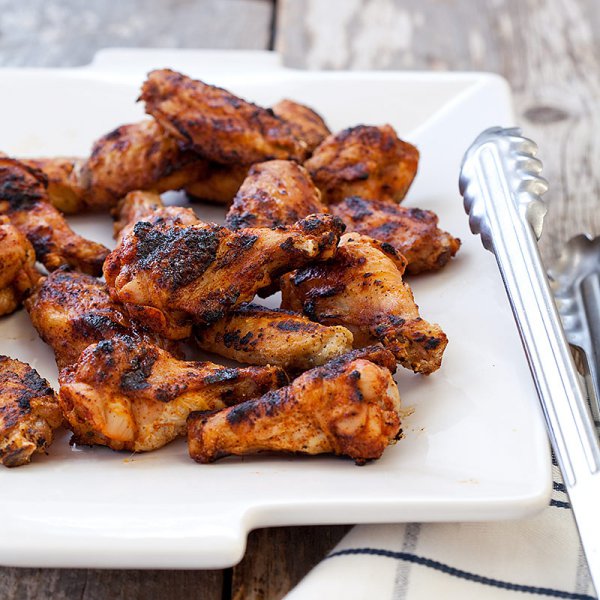 This is a fantastic recipe not just for chicken wings, but for other cuts as well, like chicken breasts or chicken thighs. This is another simple and quick recipe that will be a hit at any party you have.
Ingredients:
2 pounds chicken wings/drummettes
1/2 cup barbeque sauce
1 cup KRAFT Zesty Italian Dressing
Instructions:
- Pour the Italian dressing over the chicken and toss to coat the pieces of meat well. Put it in the refrigerator at least 30 minutes to marinate.
- Heat your grill to medium heat.
- Drain the chicken and discard the marinade.
- Grill the chicken wings 8 minutes on each side, or until you think it is done.
- Brush the wings with barbeque sauce and then grill for another 2 minutes or so.
- Remove and serve your mouth-watering grilled chicken wings!
Nutritional content:
Calories: 209
Fat: 3gm
Cholesterol: 83mg
Trendinig Stories
More Stories ...
3

Sweet and Spicy Grilled Chicken Wings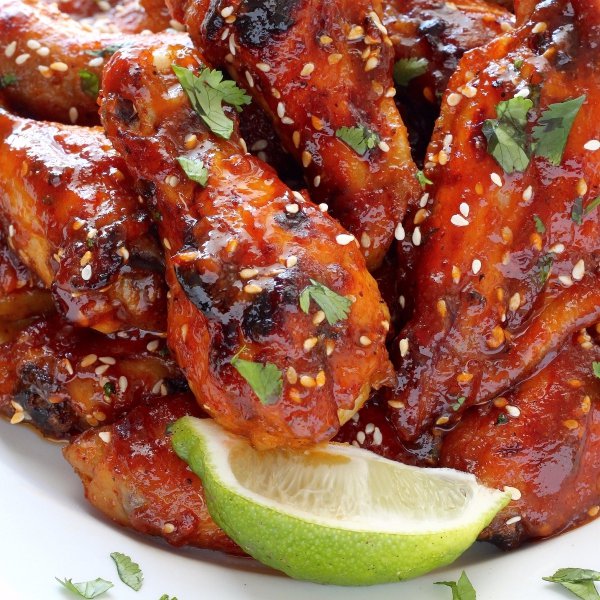 There are not that many people who do not like the combination of hot and sweet, and this recipe gives you the perfect way to get that combo in your chicken wings. They are delicious with a side of sweet potato fries. This chicken wing recipe is ideal for any occasion, but I think it is especially awesome for game-time grub!
Ingredients:
4 pounds chicken wings (bone-in and thawed)
1/4 cup honey
1/4 cup balsamic vinegar
1/4 cup hot chilli pepper sauce
Instructions:
- First, whisk the honey, balsamic vinegar and hot chilli pepper sauce together. Set aside.
- Place wings on low, direct heat on your grill.
- Grill each side for 15 minutes and then baste with sauce. Turn the wings and continue to baste until they are done and you achieve the color, crispness, and coverage you desire.
- Remove from the grill and serve piping hot!
Nutritional content:
Calories: 210
Fat: 11 mg
Cholesterol 40mg
---
4

Dry Rub Grilled Wings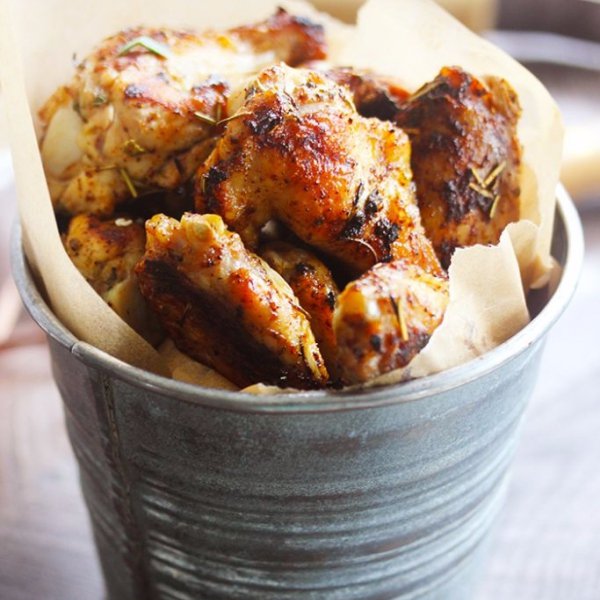 When you think of wings, your mind usually goes to the fried, unhealthy chicken wings you used to eat when you were in college, but I am here to tell you that this does not have to be the case. This grilled chicken wing recipe is a flavor-packed, guilt-free one – plus it is super easy!
Ingredients:
2 pounds organic chicken wings
3 cloves of garlic, minced
2 tablespoon extra virgin olive oil
1/2 teaspoon cayenne pepper (adjust based on how spicy you want it)
1 teaspoon oregano
1 teaspoon rosemary
1 teaspoon onion powder
1 teaspoon chilli powder
1/2 teaspoon ground garlic
1 teaspoon fine pink sea salt
Garnish with sesame seeds and scallions.
Sriracha Mayo:
1/3 cup homemade mayo
1 tablespoon Sriracha
Instructions:
- Place wings in a Ziploc bag and add oil, spices and garlic – toss to combine.
- Let it marinate for 30 minutes. I like to leave it overnight.
- Preheat your grill to medium heat.
- Grease the grill and start placing your wings on it.
- Let the wings cook for 7 minutes and then flip them for another 7 minutes.
- Serve with the sriracha mayo you prepared earlier, or any other dipping sauce you desire.
Nutritional content:
Calories: 189.8
Fat: 13 mg
Carbs: 6mg
---
5

Jack Daniels Whiskey Grilled Wings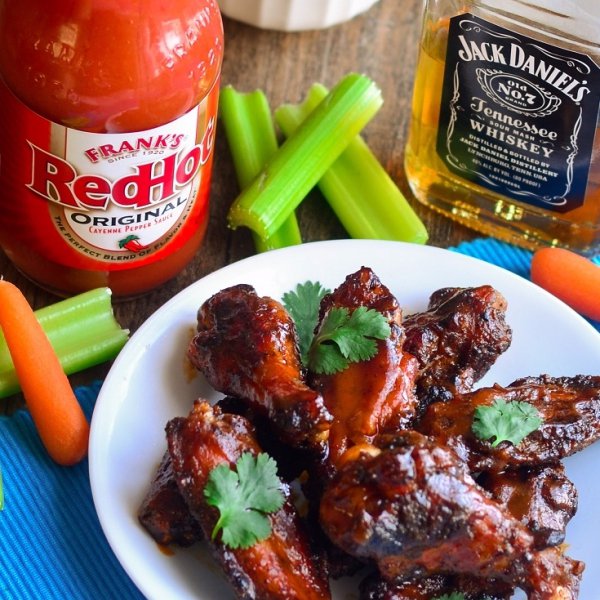 Have you ever tried a sauce that has Jack Daniels in it? It is guaranteed to blow your mind! It is not tough to make at all, so do not be intimidated. These grilled wings are sure to be a hot favorite at your next party.
Ingredients:
2 dozen chicken wings
Jack Daniels Sauce:
1/4 cup + 2 tablespoons Jack Daniels (you can use any other whiskey you like)
1/3 cup butter
1/4 cup Franks hot sauce
1/4 teaspoon each granulated garlic, or garlic powder, and black pepper
3 tablespoons brown sugar
1/2 teaspoon chili powder
1 tablespoon corn starch
Instructions:
- First off, make the sauce by heating butter on medium heat in a medium saucepan.
- Once the butter is melted, remove it from the heat and add the rest of the ingredients, stirring until well combined. Simmer to reduce the alcohol.
- Next, prepare your charcoal grill with two piles of coal on opposite sides for indirect cooking.
-Once the grill is hot, place the chicken wings in the middle of the grate. Add smoking wood to each pile – I like cherry wood, but you can use anything you prefer.
- Let it smoke for 20 minutes.
- Remove the wings from the grill and move the coals to the grill's center to grill over direct heat. If you need to, add more coal and allow heating up.
- Place the wings back on the grill over direct heat and cook until you think they are crisp enough – I think 20 minutes or so will do.
- Once that is done, coat your wings with the sauce, serve and enjoy your lip-smacking Jack Daniels grilled chicken wings
Nutritional Content:
Calories: 540
Fat: 15g
Carbs: 56g
As you can see, grilling the perfect chicken wings is not a tough task, and it does not take too much time either. I love grilling and personally feel that people should do it more. Make sure that you try out these delicious grilled chicken wing recipes, even if you are not having a party.
---
Popular
Related
Recent