After a long winter of eating hearty stews, it is always so refreshing to have lighter spring meals made with fresh produce. When grocery stores begin to carry fresh spring produce items I get very excited. Not only is it a sign that the weather is warming up, it is also a sign that tasty produce is on its way. Spring produce is always so refreshing and delicious, and there are so many different ways to include it in your spring meals. Just take a minute to read about all of the wonderful produce items that are in season during spring. You will be wanting to head to the grocery store to get your hands on some of these tasty items.
---
1

Artichokes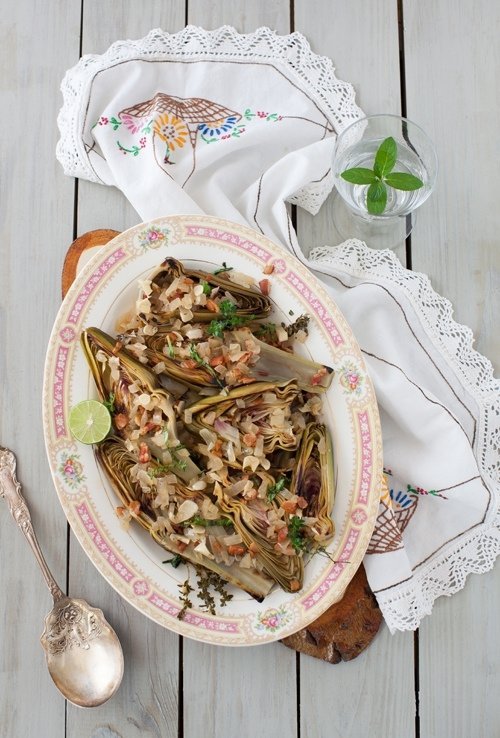 The main harvest for artichokes is in the spring, which makes them a perfect addition to your spring meals. Usually when I cook with artichokes I buy the frozen artichoke hearts, but who can resist the wonderful taste of fresh artichokes? When you are picking out your artichokes, make sure they have tight compact leaves and fresh stalks. Once you get them home, you should cook them in boiling water with some lemon juice to prevent browning. After they are cooked, remove the leaves one at a time and scrape out the flesh at the base. You can either eat this as is or add the flesh to mushrooms that have been sautéed with olive oil, lemon juice, and thyme. It is simply delicious.
2

Asparagus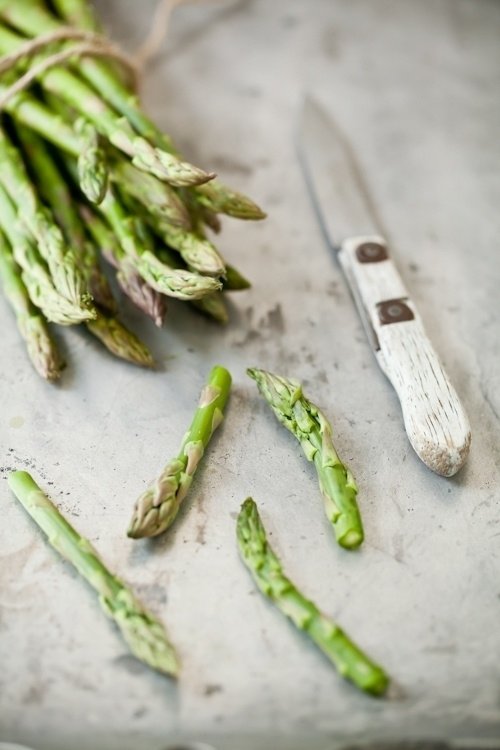 Although you can get asparagus all year, it is best from March to June when it is tender and fresh. It can be so easy to get woody asparagus when it is out of season, but when it is in season even larger stalks are very tender. You should look for asparagus that has firm stems and deep green or purple closed tips. This will be the tastiest asparagus. In fact, when asparagus is in season I will eat it lightly steamed. It is so good it doesn't need anything else. However, you can always roast it with olive oil, salt, and pepper for a simple but delicious side.
---
3

Fiddleheads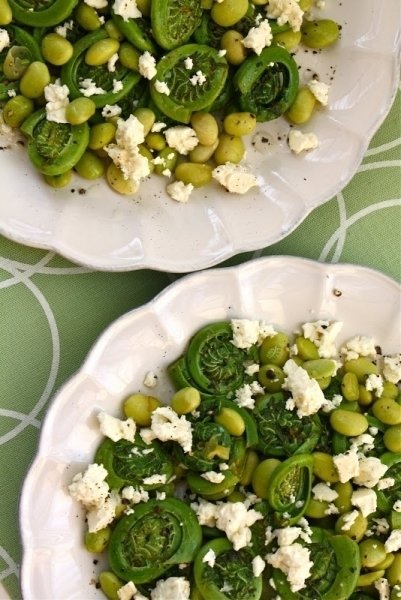 I have never had fiddleheads before, but I really want to try them. They are young wild ferns that are available from early spring to early summer. I have been told that they have a grassy flavor that has a slight nuttiness, and they taste like something that is between asparagus and spinach. When you buy fiddleheads make sure they are bright green with tight coils. Also, you shouldn't eat fiddleheads raw, you should always cook them by steaming or sautéing. I suspect they would taste wonderful sautéed in olive oil with a splash of lemon.
---
4

New Potatoes
While I have never had fiddleheads, I have had lots of new potatoes. They are so tender and tasty. New potatoes are just young potatoes. They have more moisture and are slightly sweeter. You want to buy new potatoes that have smooth, undamaged skin, as these will taste the best. I always cook my new potatoes by steaming them, but you can also roast them in the oven with some olive and rosemary for a special treat.
---
5

Peas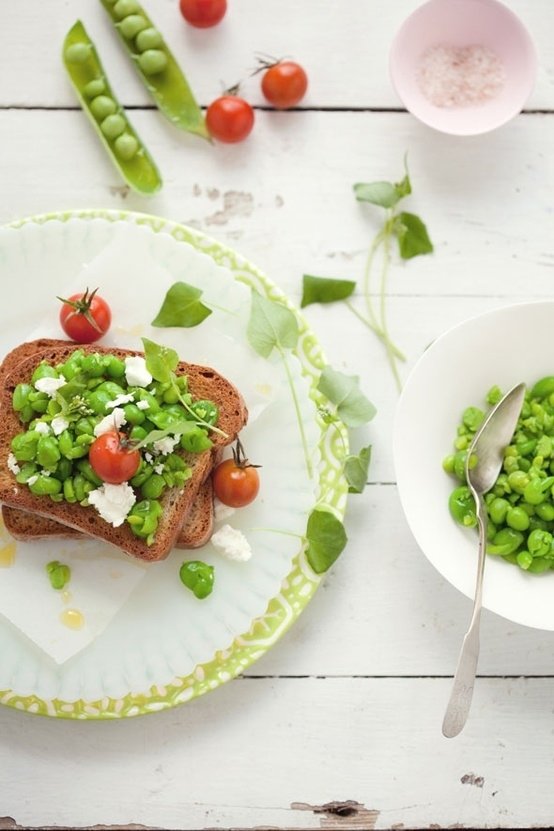 Peas can be a boring side dish, but fresh spring peas are sweet and delicious. If they are tender enough, you can even eat them raw in salads. Personally, I prefer to make pea soup that has ginger, basil, and mint. It is like spring in a bowl and so simple. Everything gets cooked together in a big pot and then blended in a blender. There couldn't be anything easier or more wonderful. Although, fresh snow peas are a close to being just as wonderful.
6

Ramps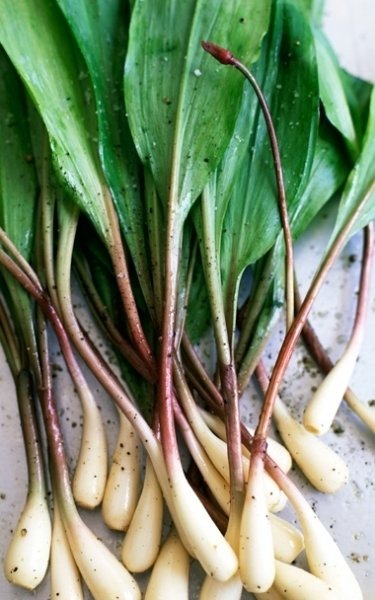 Ramps are another spring produce item that I have never had the pleasure of trying, but if they taste as good as they sound I am sure I would love them. Ramps are wild onions that resemble scallions. They have a very strong flavor that is across between onion and garlic. You can eat them raw or cooked, but if you eat them raw you may want to stick to the green tops, which are much milder. A traditional way of cooking ramps is to sauté them with scrambled eggs. It certainly sounds like a lovely brunch item, especially if you topped them with fresh parsley.
---
7

Strawberries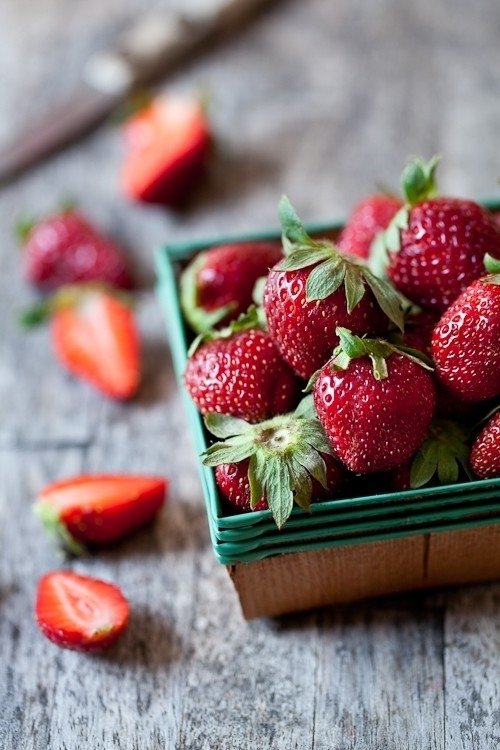 You can purchase strawberries in the grocery store year round, but their peak season is between April and June. Of course when strawberries are best will depend on where you live. I live in a colder climate, so June is strawberry season for me. When strawberry season does hit, I can't get enough. I eat them plain, add them to salads, and make strawberry shortcakes. Strawberries are by far one of my favorite fruits, which is fortunate because they are the first fruit to come into season in the spring.
I love all of the fresh produce that starts coming out in the spring. It is always so delicious, and most of it needs very little extra flavor added to it to make a lovely meal. When I have simple steamed potatoes as a side dish with strawberries for dessert, I am a very happy woman. What is your favorite spring produce?
Source: localfoods.about.com
---
Popular
Related
Recent