Ice-cream cones were the highlight of my childhood. And ice-cream was definitely better in a cone than in a cup. But there is no reason why you should stick to plain old ice-cream, right? There are so many wonderful treats you can make with ice-cream cones and here are 13 types that'll make your dessert even yummier.
---
1

Popcorn Ball Ice-cream Cones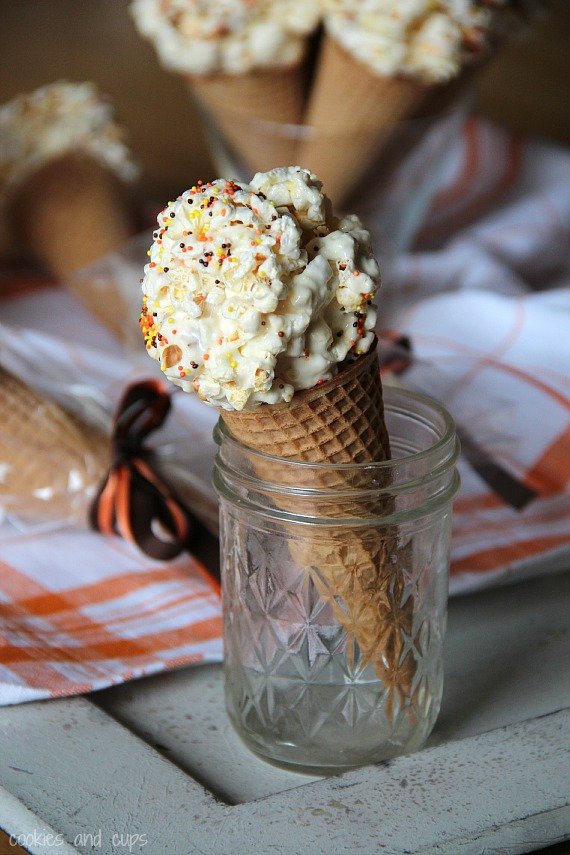 Source: cookiesandcups.com
Popcorn, marshmallows, M&Ms and sprinkles, all in an ice-cream cone. What's not to love about this quirky and fun dessert, right? And look how pretty! Perfect for when you want to do something out of the ordinary!
---
2

Rainbow Meringue Truffle Cones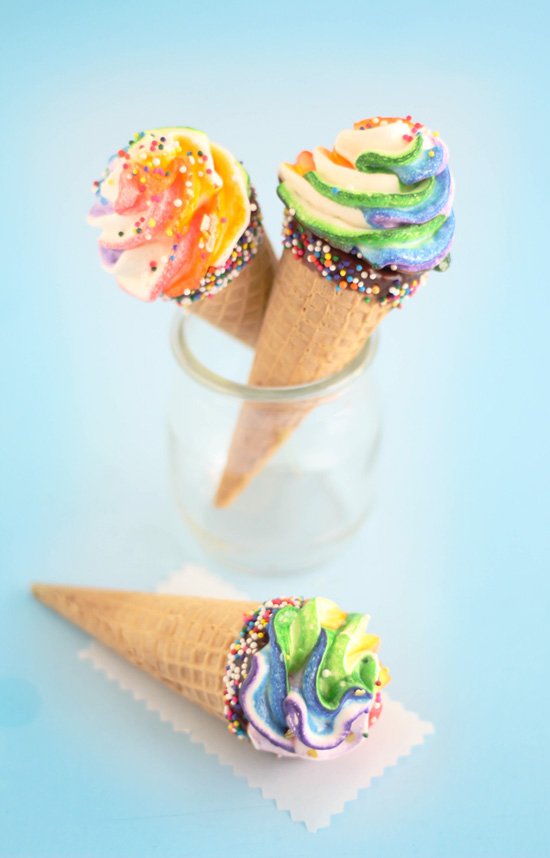 Source: sprinklebakes.com
OMG, how pretty is this! Substitute regular ice-cream for melted chocolate and top it off with a rainbow meringue and sprinkles. Yummy and gorgeous all in one dessert!
---
3

Chocolate Dipped Ice-cream Cones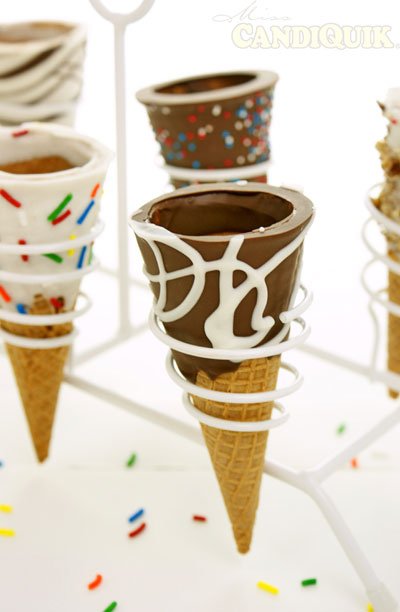 Source: blog.candiquik.com
I love eating ice-cream cones by themselves. And then I saw this super easy way of transforming them into something more – chocolate dipped cones. How simple and fun, right? And you can always top the cones with your favorite ice-cream!
---
4

Mini Marshmallow Ice-cream Cones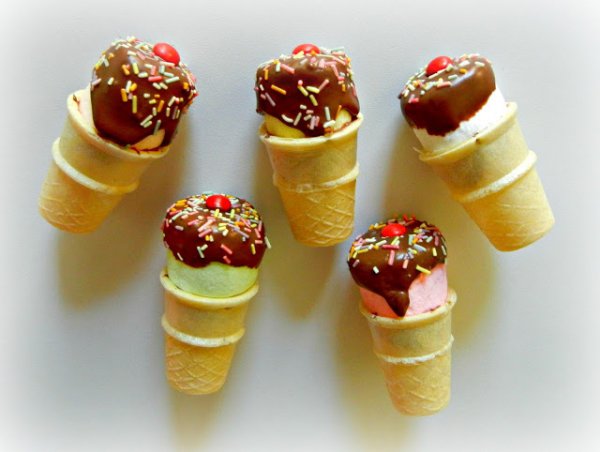 Source: sugarswings.com
Who doesn't love miniature desserts, right? And this easy-to-make and attractive mini marshmallow ice-cream cone fits the bill perfectly. Yum!
---
5

Cheesecake Cones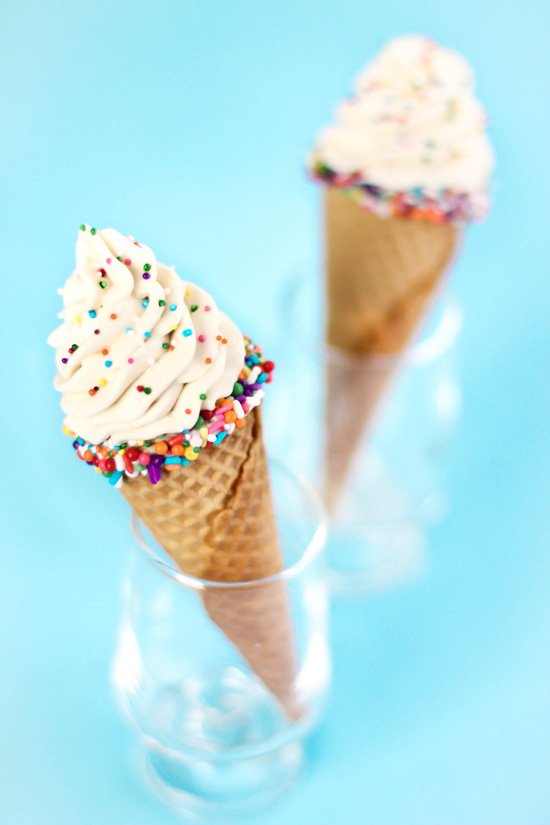 Source: sprinklebakes.com
Here are two of my favorite things together – cheesecake and ice-cream cones. It's the perfect dessert, I say! Delicious, familiar yet different and lovely to look at!
---
6

Homemade Drumsticks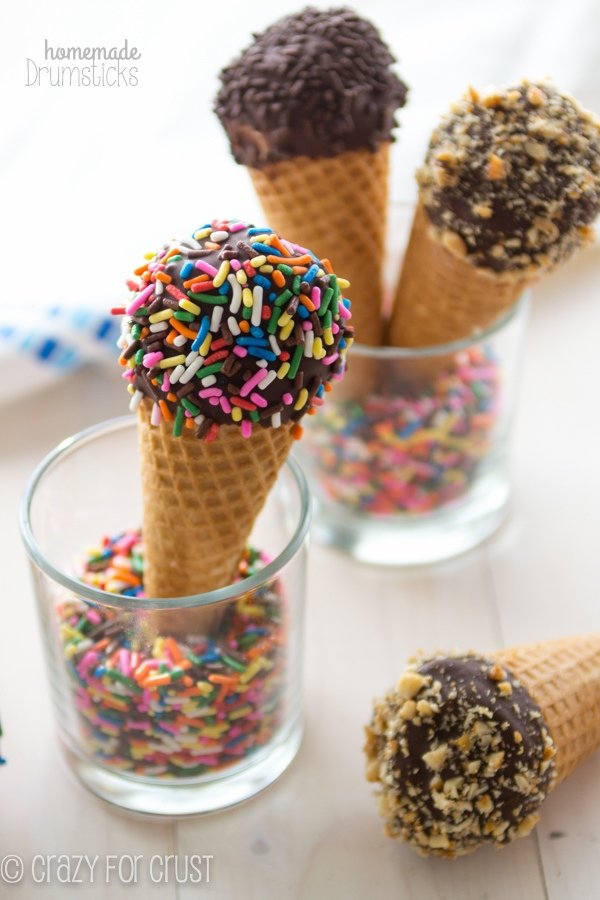 Why pay for ice-cream when you can have the pleasure of making your own at home? Jazz up your Sunday night desserts by putting together your favorite flavors and toppings!
---
7

Fro Yo Ice-cream Cone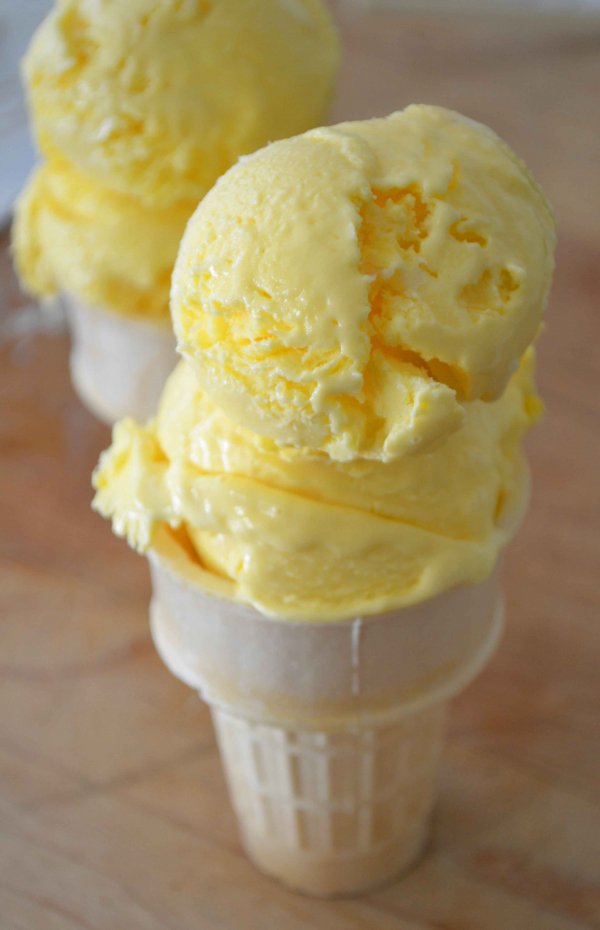 Source: babble.com
After cheesecake, my favorite dessert is frozen yogurt. And so obviously, I totally love the idea of fro yo in a cone. And if it can be whipped up at home, well, yay!
---
8

Grape Sorbet Cones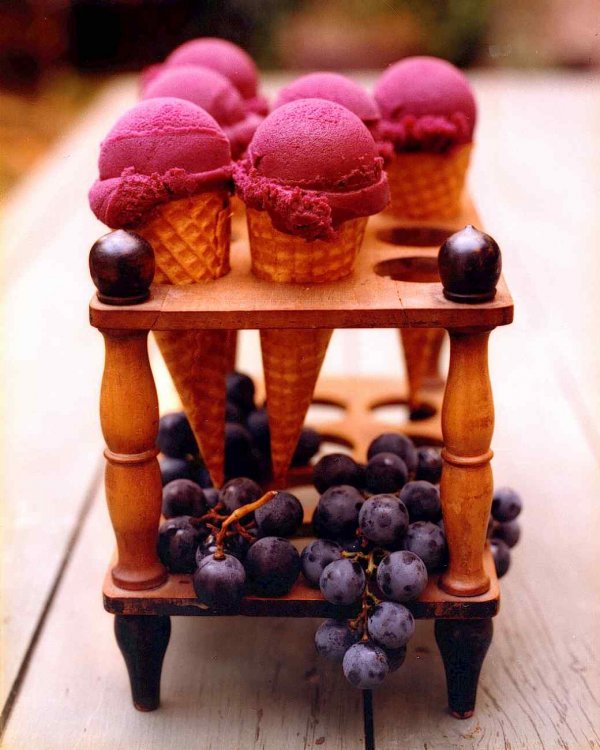 Source: marthastewart.com
I would eat this just for the colors. Have you seen anything more gorgeous looking?
---
9

Rocky Road Cupcakes in a Cone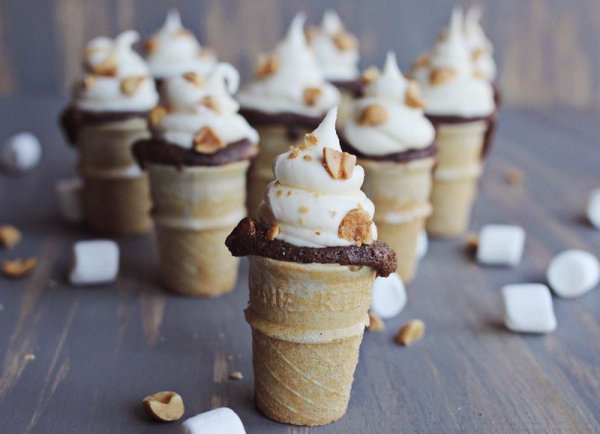 Source: abeautifulmess.com
Love s'mores? Then you'll love these rocky road cupcakes in a cone. Marshmallows and chocolate come together to give you one yummy treat!
---
10

Fruity Pebbles Ice-cream Cone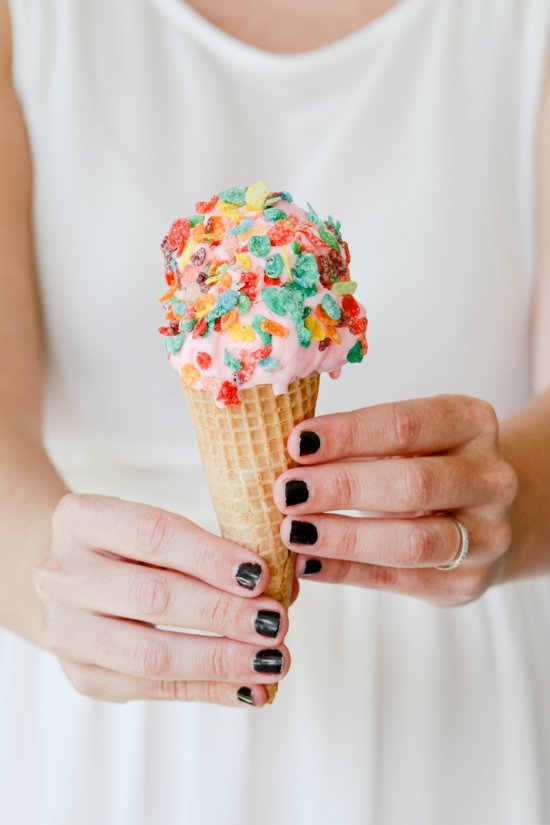 Source: dudefoods.com
How perfect would this be for children's parties? Just those colors would be the highlight of the evening, don't you think? Also, you could have this for breakfast and not feel guilty, right?
---
11

Cake Pops in a Cone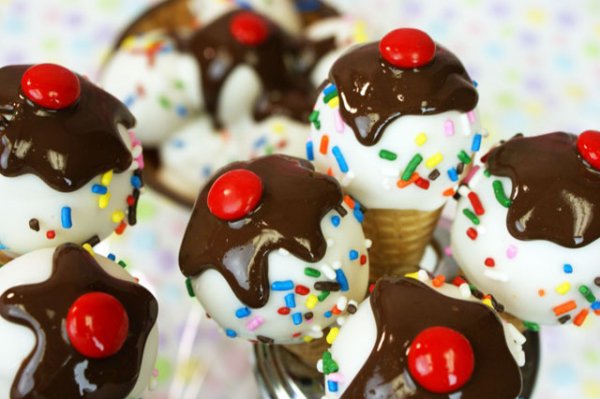 Source: blog.candiquik.com
I love the idea of cake pops in a cone because they actually do look like little scoops of ice-cream, don't they? You could hand them out as dessert and watch people get surprised as they bite into cake!
---
12

M&M Cupcake Cones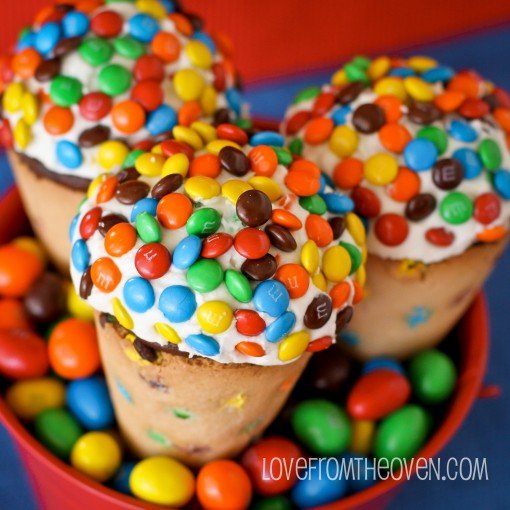 Source: lovefromtheoven.com
I love M&Ms so I had to put this on the list. And not only because these M&M cupcake cones look so darned pretty!
---
13

Ice-cream Cone Cupcakes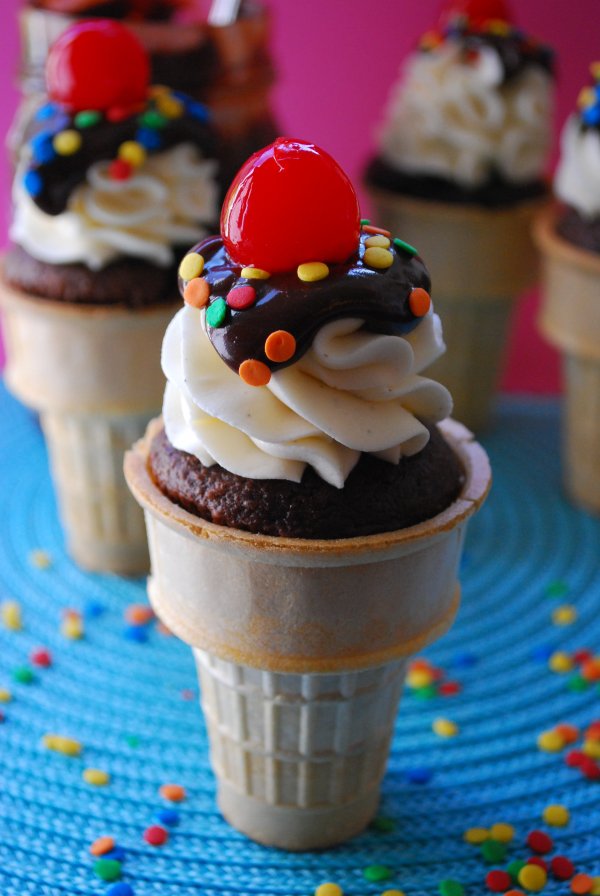 Source: thedomesticrebel.com
Very popular these days, ice-cream cone cupcakes can be found at all kinds of events from birthday parties to baby showers. They're easy to make and very pretty to look at. Perfect, I say!
Ice-cream cones have been around forever. It's only lately that they've started being reinvented and made more versatile and the simple ice cream cone is now being used for more than just ice-cream. What's your favorite type of ice-cream cone?
More
Comments
Popular
Recent