A Whole Load of Deliciousness Awaits with These 20 Fruit Muffin Recipes ...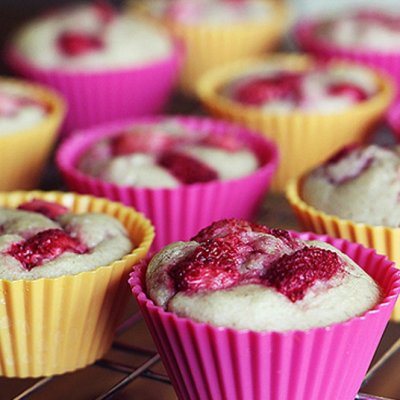 It's true that not all muffin recipes are healthy, but if you feel like indulging, make them a bit more nutritious by adding fruit. Fruity muffins are perfect for breakfast and also make a yummy snack. The fruit adds fiber, vitamins A and C, potassium and iron so you can feel a little bit better about eating one. Just keep it at one so you don't overdo it on sugar, fat or calories. See - you can have your muffin and eat it too! Check out these delicious fruity muffin recipes and life will never be the same.
11.

Banana Streusel

Via howsweeteats.com
These are like tiny bites of banana bread. What more could ask for in the morning?
12.

Orange Strawberry

Via My Happy Place: orange strawberry ...
Oranges and strawberries aren't a combination I would have considered on my own, but it really works in these muffins.
13.

Applesauce Spice

Via Applesauce Spice Muffins
The applesauce gives these muffins a moist consistency that makes them the perfect snack.
14.

Cherry Delights

Via duncanhines.com
When cherries are fresh and ripe, use them to make these wonderful muffins.
19.

Lemon Blueberry

Via crash course
As if blueberry muffins couldn't get any better, this recipe adds lemon. You'll never go back to basic blueberry muffins again.
20.

Apple Raisin

Via Apple Raisin Muffins
These apple raisin muffins are a tasty breakfast and pair really well with a scoop of Greek yogurt.

What's your favorite kind of fruity muffin? I hope you found something delicious to make on this list. Let me know how they turn out.