7 Awesome Salad Recipes for Those Who Are Trying to Lose Weight ...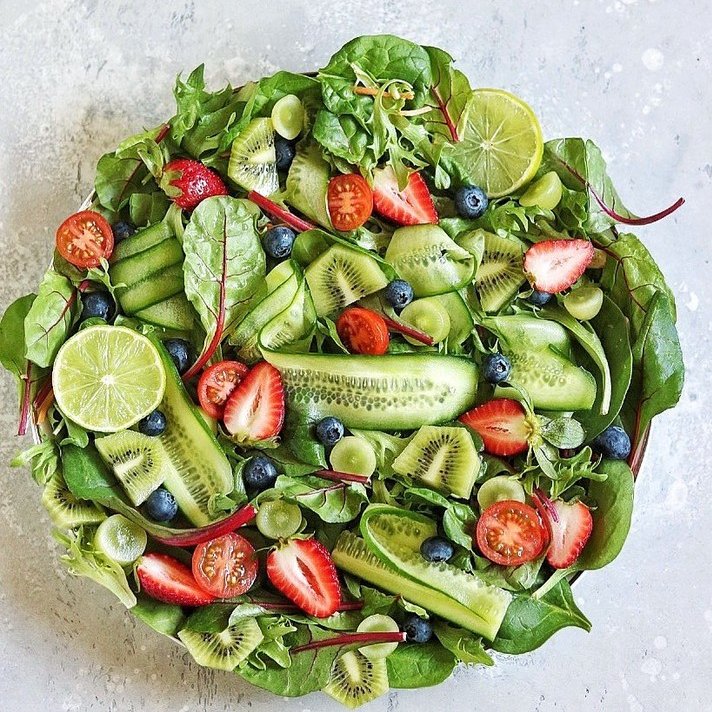 Weight loss can be a real struggle. After all, you have to count calories, which means you probably have to forgo some of your favorite treats. Just because you are watching what you eat, doesn't mean you're stuck eating bland, boring food. Check out these salad recipes! Each is low in calories, but packed to the gills with flavor so you won't feel deprived.
1.

Creamy Pesto Pasta Salad
Normally, you want to avoid creamy dishes when you're dieting, but at only 190 calories per serving, you can indulge in this delicious salad with zero guilt.
Ingredients:
12 ounces whole wheat rotini pasta
1 cup Greek yogurt, low-fat
½ cup prepared pesto
¾ cups sun-dried tomatoes, drained and chopped
Directions:
Cook the pasta according to package directions. Drain and chill. Meanwhile, combine the yogurt and pesto. Add to the cold pasta. Add the tomatoes and toss to combine. Serve cold.
Source: skinnyms.com
2.

Weight Watchers Santa Fe Salad with Chile-Lime Dressing
You are going to feel like you're on a Mexican vacay when you eat this salad. It's great for dinner or lunch and will leave you feeling full and happy.
Ingredients:
6 tablespoons low-fat mayonnaise
3 tablespoons finely chopped cilantro
3 tablespoons water
1 minced scallion
2 tablespoons fresh lime juice
2 teaspoons sugar
½ teaspoon chili powder
15 ounce can of black beans, rinsed
1 ½ cups cooked corn
2 cups grape tomatoes
1 red bell pepper, cut into strips
8 cups shredded romaine lettuce
Directions:
Combine the mayo, cilantro, water, scallion, lime juice, sugar and chili powder in a small bowl. Chill until ready to use. In a large bowl, combine the beans, corn, tomatoes, bell pepper and romaine lettuce. Toss the salad with the dressing and serve.
Source: llstyling.blogspot.com
This salad is the perfect side dish to serve with the rest of your healthy meal. It pairs wonderfully with grilled steak or fish and it has a great spicy taste that will get you excited about mealtime.
Ingredients:
1 pound thinly sliced radishes
¼ cup cilantro
½ red onion, sliced
2 tablespoons orange juice
3 tablespoons fresh lime juice
1 tablespoon olive oil
1 teaspoon sugar
Salt and pepper
Directions:
Combine the orange juice, lime juice, oil and sugar until the sugar dissolves. Add the radishes, cilantro and onion. Season with salt and pepper and toss. Chill the salad for one hour before serving.
Source: laaloosh.com
4.

Chopped Vegetable Confetti Salad
This veggie packed salad is loaded with fiber so it will fill you up and keep you full for hours. It's a fun colorful salad that you will love having in your repertoire.
Ingredients:
4 cups chopped cauliflower
4 cups chopped broccoli florets
2 cups chopped carrot
2 cups chopped celery
1 chopped red pepper
1 cup chopped onion
2 minced garlic cloves
¼ cup apple cider vinegar
3 tablespoons olive oil
2 teaspoons Italian seasoning
1 teaspoon salt
¼ teaspoon pepper
Directions:
Pulse the veggies in your food processor until finely diced. Combine the garlic and vinegar in a small bowl. Whisk in the olive oil, then add the Italian seasoning, salt and pepper. Pour the dressing on the salad and chill one hour before serving.
Source: fooddonelight.com
5.

Crunchy Cabbage Salad with Spicy Peanut Dressing
This salad has something for everyone. It's crunchy and has a pleasantly spicy dressing to go with it. To make it even better, it's low in fat and calories, making it ideal for a weight loss meal plan.
Ingredients:
1 head thinly shredded Napa cabbage
¼ head red cabbage, shredded
1 peeled and julienned carrot
1 cup thinly sliced snow peas
¼ cup fresh basil
¼ cup cilantro
1 diced avocado
¼ cup roasted cashews, chopped
2 tablespoons black sesame seeds
2 tablespoons creamy peanut butter
2 tablespoons rice wine vinegar
1 teaspoon sesame oil
1 teaspoon soy sauce
1 teaspoon honey
½ teaspoon sriracha sauce
1 finely minced garlic clove
1 teaspoon grated fresh ginger
2 tablespoons water
Directions:
Place the veggies and half the herbs in a bowl and toss to combine. In a small bowl, whisk together the peanut butter, vinegar, sesame oil, soy sauce, honey, sriracha, garlic, ginger and water. Pour the dressing on the salad and toss to combine. Top with the other half of the herbs, the cashews and sesame seeds.
Source: scalingbackblog.com
Here's a substantial salad that makes a great choice for a meal. It's filling and won't leave you bored because it's loaded with great taste. This is going to become one of your favorites!
Ingredients:
½ head iceberg, chopped
½ English cucumber, sliced
2 chopped tomatoes
2 hard-boiled eggs, sliced
8 ounces cooked and chopped chicken
¼ cup shredded low-fat cheese
1 cup low-fat buttermilk ranch dressing
Directions:
Toss everything except the dressing in a large bowl. Drizzle in the ranch and toss to coat.
Source: ifoodreal.com
7.

Stacked Summer Vegetable Salad
I can't wait to make this salad all summer long! It's a great way to use up all those garden veggies. You won't be sorry!
Ingredients:
3 zucchini
Salt
4 carrots
½ red onion
1 to 2 cups lettuce, torn
3 tablespoons lemon juice
¼ cup olive oil
2 tablespoons fresh snipped dill
Black pepper
Directions:
Shave the zucchini into thin strips. Season with salt and drain in the colander for 15 minutes. Shave the carrots and thinly slice the onion. Rinse and drain the zucchini. In a serving dish, place one layer of zucchini, followed by layers of lettuce, carrots and onion. In a separate bowl, combine the lemon juice and oil. Drizzle a small bit on the veggies. Repeat the layers twice more. Cover the salad and chill for 1 hour. Sprinkle with dill and pepper and cut the salad into squares for serving.
Source: recipe.com
Which one are you planning to make first?
{{#comments_count}} Show Commnents ({{comments_count}}) {{/comments_count}}